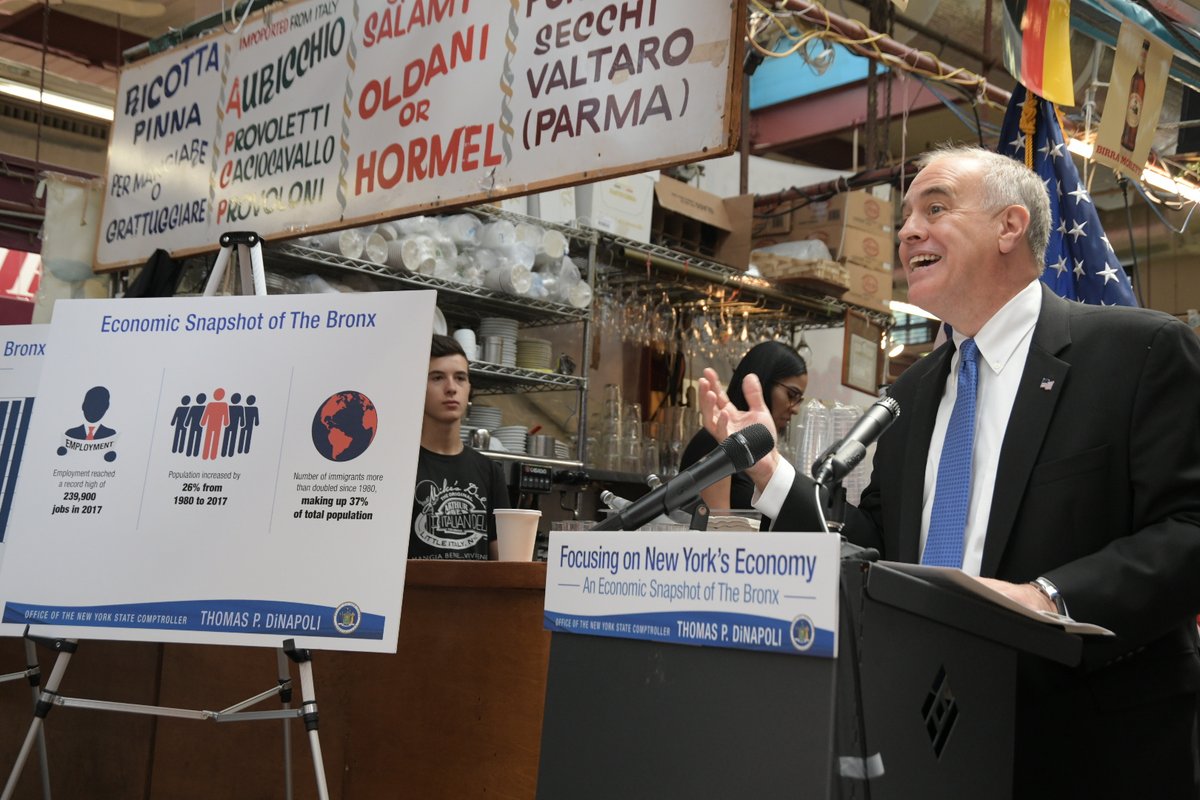 Comptroller DiNapoli (photo: @NYSComptroller)
---
For New York's fiscal picture, "Trump's policies are as great a concern as the economic cycle," according to State Comptroller Thomas DiNapoli, who spoke at length recently about the state's finances and economy, which are precarious for a number of reasons.
During a 30-minute interview with Gotham Gazette Executive Editor Ben Max for a special on Manhattan Neighborhood Network that aired Sunday, DiNapoli discussed the state's limited savings relative to its spending, its high indebtedness, and its weak preparedness for any future economic downturn, whether influenced by federal policy or a more expected cyclical recession.
If the economy sours and tax revenues decrease, New York state government has few methods of recourse beyond cutting spending, DiNapoli said, because of the limited amount that has been socked away. If and when another recession hits, "we don't have the cushion of reserves to draw on," since the state maintains savings well below the statutorily-set minimum, the comptroller said. DiNapoli said that, while New York could be setting aside up to $5 billion in reserves, it only maintains around $2 billion, and that the state last made a deposit in its reserve account in 2015. That's compared to a state budget of about $168 billion for the current fiscal year.
DiNapoli pointed out that the state has decided to spend billions in settlements with financial institutions, as opposed to putting some or most of that money away in savings.
Recession or not, "New York State will suffer" if the Republican Party keeps its majorities in both chambers of Congress, DiNapoli added, with a nod toward the federal tax reform legislation passed by Congress and signed into law by President Donald Trump in late 2017. Trump and Congressional Republicans could fully repeal the Affordable Care Act or further slash funding for social services, DiNapoli warned, both of which could hurt New York.
Otherwise, DiNapoli mostly shied away from political statements; while he is a Democrat, the state comptroller is an ostensibly nonpartisan position, though political ideology certainly has some effect on policy-making and oversight work. It is one of the four statewide elected positions, along with governor, lieutenant governor, and attorney general, and it may be the least-known and least-understood. DiNapoli explained he essentially runs New York's "Office of Accountability" — which audits state agencies, public authorities, and local governments, approves state contracts, comments on state fiscal practices, and manages the state's pool of unclaimed funds, returning over $1.5 million a day to New Yorkers, among other tasks. The comptroller also manages the state's massive public employee pension system.
"It's the best job in government," he said.
New York, DiNapoli said, is in better fiscal shape now than it was during the Great Recession, noting that the state has gained back the jobs and revenue lost during the financial crisis.
But economic recovery in the state has been fractured, with most gains heavily concentrated in New York City and its surrounding area. DiNapoli described New York's post-recession recovery era as "a tale of two economies," with regions like the Southern Tier, Adirondacks, Mohawk Valley, and Central New York far less economically successful than New York City has been.
Still, DiNapoli emphasized, New York is overall in strong economic shape, and he noted that, as opposed to recoveries from previous economic downturns, the state's post-2008 bounceback was not led by Wall Street. Rather, a more diverse group of industries — technology, healthcare, and tourism, for instance — collectively resurrected the economy. To this day, the state's financial industry is smaller than it was before the recession in terms of jobs.
"This strong recovery has been stronger and longer than past recoveries," he said, though, he added, it will end at a certain point. When that time comes, New York may be in trouble.
Beyond maintaining a thin cushion of reserves, New York is one of the country's most indebted states, DiNapoli said, and it's only due to "gimmicks" that the state appears to be under its debt cap. So, when a crisis hits, the state may have no choice but to cut spending on social services. DiNapoli urged New Yorkers to be more conservative in their expectations of future revenue and spending, and he spoke of the political challenge of strengthening New York's long-term financial security.
As the "least partisan of offices," in DiNapoli's framing, the Office of the Comptroller is not as beholden to the political logic of short-term decision-making as the governor's office or state Legislature may be. Crafting the state's budget, though, is ultimately a political project, meaning initiatives that would bolster New York's economic future but provide little immediate political gain, like setting aside reserve funds, are often neglected.
DiNapoli expects the Democrats to take control of the state Senate after this fall's elections, thus bringing unified Democratic rule to Albany in 2018, assuming the governorship and Assembly remain Democratic, which is likely, and for regional interests to dominate spending debates. When asked if New Yorkers should be worried about that possibility -- Republicans often argue that full Democratic control of state government would be fiscally disastrous -- DiNapoli said he does not distinguish between the spending habits of the two major parties — "Republicans are not shy about spending money," he said — and therefore does not necessarily foresee an increase in spending under Democratic control. Many Democrats are calling for higher taxes on top earners, though, something that Republicans continue to sound the alarm about.
DiNapoli urged voters to "evaluate candidates not just on their party labels, but on who they are." A lifelong Democrat who grew up in a Republican household on Long Island, DiNapoli said he joined the Democratic Party for its "open and free-flowing" spirit, which both strengthens and hinders it. Though the response to Trump has made the party stronger, brought more young people and women into its fold, and encouraged "open and honest competition," DiNapoli said, the Democrats "need to not beat each other up and let others win."
He pointed to the divide in the party exposed and deepened by the Bernie Sanders-Hillary Clinton presidential primary, a "wound reopened" by Clinton's loss in the general election, as particularly concerning.
The Democrats "often lose elections by fighting each other," DiNapoli said. Significant intraparty fighting is occurring for Democrats right now in New York, as both Governor Andrew Cuomo and Lieutenant Governor Kathy Hochul are being challenged in the primary, by Cynthia Nixon and City Council Member Jumaane Williams, respectively, among other contentious legislative races. There is also a wide open primary for attorney general, with four strong candidates campaigning. DiNapoli, who is not facing a primary challenge, told Max he is endorsing Cuomo and Hochul for reelection, but declined to endorse any of the Democratic attorney general candidates — Letitia James, Zephyr Teachout, Sean Patrick Maloney, and Leecia Eve.
The four candidates are "all good friends of mine," he said. "So we'll see how that goes."
***
Watch the full interview from Manhattan Neighborhood Network: