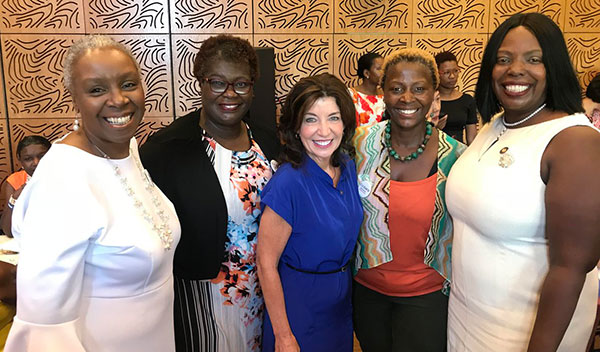 Lt. Gov. Hochul, center, in Brooklyn (photo: @KathyHochul)
---
Lieutenant Governor Kathy Hochul, in campaign mode, has appeared in the Bronx and Brooklyn several times over the past few weeks. The Democratic lieutenant governor, facing a challenge from Brooklyn City Council Member Jumaane Williams as she seeks a second term, has been spending more time in New York City as primary day gets closer.
Hochul's focus on the city, and its communities of color in particular, are indicative of the importance of voters from the five boroughs, especially voters of color, in statewide Democratic primaries, and of her potential vulnerability to Williams, who has been an elected official in Brooklyn since 2010 and is black. A Siena Research poll released Tuesday -- just over six weeks until the September 13 statewide primary vote -- shows Hochul with a 30-21 percent lead among likely Democratic primary voters, with nearly half undecided. In other words, a wide open race.
Hochul seems to know it. The lieutenant governor spent Saturday July 28 at a "Brooklyn Women for Cuomo" event, July 22 in the Bronx with Assemblymember Nathalia Fernandez and City Council Member Vanessa Gibson, July 18 giving remarks at the Bronx Democratic Party's Annual Gala, and July 14 in Brooklyn with State Senator Roxanne Persaud, attending a block party and the opening of Public Advocate Letitia James' attorney general campaign office in Prospect Heights.
These events, among others both campaign and governmental -- in her role as lieutenant governor, she made an announcement at the Brooklyn Public Library main branch on Tuesday afternoon and appeared at a June gun control rally in the Bronx, for example -- have had Hochul appearing with black and Latino elected officials and posting photos with them to her social media feeds, and highlighting state investments in the boroughs with the highest proportions of people of color.
"Beautiful Saturday with my sisters in #Brooklyn – thank you for coming out to support @AndrewCuomo and I as we run for re-election," Hochul tweeted on Saturday, with two photos attached, one of herself with four African-American women including Senator Persaud and Assemblymember Latrice Walker.
At the same time, Hochul has begun to zero in on Williams, returning some of his criticism of her as little more than a booster of Governor Andrew Cuomo, unwilling to be independent or speak up about corruption in state government. Hochul, who is from Erie County, where she was county clerk and a one-term member of Congress, has a conservative record on gun control and immigration that Williams has criticized and she has since distanced herself from, expressing more liberal views.
Hochul's counterattacks have homed in on Williams' own more conservative stances on abortion and marriage equality, and she has also taken him to task around his late and faulty campaign finance disclosures and unwillingness to release his past tax returns.
Last Tuesday, Hochul released a statement chastising Williams for failing to release his tax returns despite having introduced a resolution in the City Council calling for presidential candidates do so. "It's time for Councilman Williams to live up to his calls for transparency," Hochul tweeted recently. "Stop trying to deflect and delay. Release your tax returns to the people of New York."
She has also criticized Williams for issues with filing his campaign finance disclosure and for having to return $50,000 in illegal corporate donations. He has fired back saying that she has talked more about his campaign finance disclosures than about corruption in the state economic development programs that are key to her portfolio as lieutenant governor and have centered in Buffalo, which she represented in Congress.
In some ways, Hochul has appeared to embrace the challenge from Williams -- she calls herself a fighter and has said that while she thinks Democratic infighting hurts the party's chances to flip Republican seats in Congress and the state Senate, she is happy to defend her record and Cuomo's -- she enthusiastically supports the governor and explains her role as helping to get administration programs over the finish line and then to promote them around the state. While Cuomo has declined thus far to debate Cynthia Nixon in the gubernatorial primary, Hochul recently took to a Westchester stage with Williams for a forum, with only a moderator between them.
Any Democrat running for statewide office will have to spend a significant amount of time in New York City, with 55 percent of registered Democrats statewide residing within the five boroughs according to an April report from the State Board of Elections. But Williams may pose a different challenge to Hochul than did Tim Wu, Hochul's 2014 Democratic challenger who ran alongside Zephyr Teachout, who took on Cuomo that year, as he was seeking a second term (Robert Duffy was Cuomo's first-term lieutenant governor).
People of color, and particularly African-Americans, in the city play an outsize role in statewide Democratic primaries, the "base" of the party that is the most strongly identifies as Democratic.
"We can look at the record, just across the entire United States of America: black women are strong voters and strong leaders in our communities," Brooklyn City Council Member Alicka Ampry-Samuel told Gotham Gazette on Monday. "Elected or not elected. And we usually are the ones that come out and help folks to get elected. Look at Alabama, right? And so, [Hochul] knows that, campaigns know that, and so it's the same way you see Jumaane Williams now having conversations with women."
In seeking to draw a wedge between the two candidates that will resonate with Democratic primary voters, Williams has pointed to Hochul's votes in Congress for "concealed carry reciprocity," allowing concealed carry gun permits to be valid in states without concealed carry (it did not pass the Senate), and for Hochul's opposition to former Governor Eliot Spitzer's plan to allow undocumented immigrants to obtain driver's licenses.
"The lieutenant governor has no real record to speak of in 25 years," Williams told Gotham Gazette near City Hall on Tuesday, after receiving the endorsement of the City Council's Progressive Caucus Alliance. "There's a lot of conversation of what their hands have been in, but my record is rich, in the past nine years, whether it's communities of more color, whether it's the LGBT community, whether it's reproductive rights."
Hochul has distanced herself from her more conservative past, criticizing the Trump administration's child separation policy and unsuccessfully campaigning with Cuomo to get the state Senate to pass a "red flag" gun bill, while trumpeting Cuomo's prior gun control victories. She has also expressed regret about, when Erie County Clerk, threatening to turn in to law enforcement any undocumented immigrants who may seek a driver's license from her office. And she's repeatedly pointed to Williams' conservative personal views on abortion and marriage equality, which he has modified in recent years while touting his legislative record on the subjects as separate from his personal beliefs.
Not everyone is convinced that Williams is a threat to Hochul. Political scientist and Democratic strategist Bruce Gyory, of Manatt, Phelps, and Phillips and SUNY Albany, believes that Williams may not have the political capital among African-Americans necessary to mount a statewide challenge against Hochul.
"Does Jumaane Williams start out with overwhelming black support?" Gyory said in an interview with Gotham Gazette. "He didn't back Bill Thompson [in the 2013 mayoral race], he backed de Blasio that time. He never endorsed Ken Thompson [for Brooklyn District Attorney] in the seminal reform race for black progressives in Brooklyn. He undercut black unity by not stepping out of the race for City Council [speaker] and backing [Robert] Cornegy, who had more support. And if you look at blacks in the Council, they were kinda begging him to do that, I'm sure they're not thrilled that right after losing that race, he runs here for this."
Gyory also noted that Williams has not endorsed Tish James, a fellow Brooklynite who would become the first black woman to hold statewide office, for Attorney General. Williams has endorsed Cynthia Nixon for governor and the two are both backed by The Working Families Party. He has also campaigned with Teachout, who is now running for attorney general, and the two seem set up to endorse each other.
Cuomo remains highly popular among black voters, and he, Hochul, and James have all endorsed each other. It's not immediately clear that support from Cuomo and James will help Hochul among black voters, but it is exceedingly unlikely to hurt. The race may hinge in part on money, and there Williams appears at a significant disadvantage -- not only has Hochul raised more, but she has Cuomo's immense largesse behind her as well, while Williams has never been a prolific fund-raiser.
"The Lieutenant Governor is very happy with where she stands in this race and the support that she is receiving statewide," reads a statement from the Hochul campaign. "The poll clearly shows that the people of New York are happy with the record of accomplishments the Governor and Lieutenant Governor have achieved over the past four years. The Lieutenant Governor always campaigns hard and will be spending the next six weeks all over the state talking about that record."
Williams was also optimistic about the poll.
"The biggest poll for me is on election day," he told Gotham Gazette. "So, don't get too high or low on the polls in general. We've seen polls be completely wrong, so it's hard. But I will say, it's encouraging." He noted that the high numbers of undecided voters in the poll -- roughly 50 percent of respondents -- as a good sign for his campaign.
Hochul's campaign acknowledged that New York is a difficult state to become well known in, but expressed confidence that it will have the resources to continue to build her name recognition.
Gyory said that the swingiest demographic in statewide Democratic primaries is upper middle class, educated Catholic white women from the suburban counties; he said that Williams' past personal opposition to abortion rights and LGBT rights would hurt him among that demographic.
He believes that Hochul is being tactically wise to target city voters and voters of color, explaining the recent spate of appearances in the city. While there are just over 300,000 registered Democratic voters in Hochul's home county of Erie, which includes the state's second-largest city of Buffalo, there are more than 3.4 million registered Democrats in New York City, including 1,096,765 in Williams' home borough of Brooklyn.
"It would be hard to argue that she's not being smart, that it's not a good use of her time, to make him work as hard as he can for those votes in New York City," Gyory said. "Because if she pins him down there, it's tough to see him doing what he needs to do outside of New York City. So I think that's a smart approach."