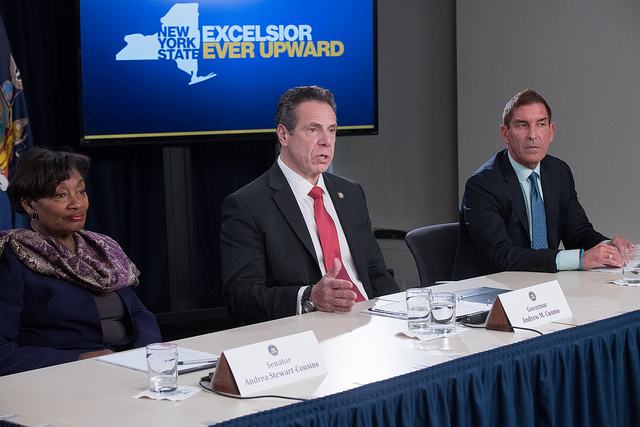 Gov. Cuomo, center, with Sens. Stewart-Cousins, left, & Klein (photo: The Governor's Office)
---
Governor Andrew Cuomo says he wants Democrats to take control of the state Senate and, in reunifying two factions to be able to focus on flipping Republican seats, he publicly offered support for senators who once made up the Independent Democratic Conference, a group of breakaway Democrats that until April held a years-long power-sharing agreement with Republicans.
Cuomo and the leaders of the two Senate groups -- mainline conference leader Senator Andrea Stewart-Cousins and IDC leader Senator Jeff Klein -- said at their "unity" news conference at the governor's Manhattan office that none of the parties would support primary challengers to the other.
Yet with only five weeks till the September 13 primary, Cuomo has not formally endorsed, or been endorsed by, any of the eight senators that made up the IDC. Stewart-Cousins, by contrast, has offered her endorsement of Klein and the other seven members of what was the IDC, each of whom faces a primary challenge.
The now-defunct conference led by Klein agreed last November to disband his breakaway group that had caucused with Republican senators for seven years and to rejoin the mainline Democrats, pending certain developments. Cuomo brokered the deal, which was announced in April (just after a new state budget was announced), after years of saying he was helpless to force the IDC back into the fold. His critics, including his Democratic primary challenger, Cynthia Nixon, say he enabled and benefited from the odd arrangement and that the reunification came too little too late.
Four years ago while also facing primary challenges, Cuomo and Klein endorsed each other for reelection, but this year, amid heightened awareness and criticism of the IDC's role in the Senate, the two have thus far decided to forego a mutual endorsement that could potentially give their opponents ammunition to criticize them. The same goes with the other seven former IDC members, all of whom face primary challengers that are backed to varying degrees by a number of liberal activist groups -- including some that sprung up in direct opposition to the existence of the IDC and a local senator's membership in the group -- and elected officials, like city Comptroller Scott Stringer and City Council Speaker Corey Johnson.
At the April news conference, in a show of bonhomie, Cuomo sat at a table between Klein and Stewart-Cousins, where they announced the reunification deal and Klein's new position as deputy conference leader. Cuomo sounded the alarm about "the Washington agenda" under a Republican-led Congress and President Donald Trump as he emphasized in lofty terms the need for Democrats to take the state Senate and the House of Representatives. "We're all going to, within legal limits, pool our resources, pool our strategy because it's a different type of election this year. It's about getting Democrats energized and getting Democrats out. So I'm all in," Cuomo said.
He later added, "All the Senators agree to support each other. So there will be no primaries supported by one senator against another senator and we agree that we're all gonna work in a coordinated way."
As part of the deal, the State Democratic Party, elected officials and several prominent labor unions vowed to support the former IDC Senators while refusing aid to their challengers. "Together under Governor Cuomo's leadership, we're on the right path, the necessary path to demonstrate to our nation what New Yorkers are made of and the values that we all stand for," Klein said at the news conference.
But that camaraderie doesn't seem to extend to the campaign trail. Asked if the governor planned on endorsing Klein or the other former IDC members, a Cuomo campaign spokesperson, Abbey Collins, did not answer directly but instead emphasized that the governor is more focused on protecting Democrat-held seats.
"For over a decade the Senate Democratic Conference has been dysfunctional and fractured," Collins said in a statement. "The governor supports democratic unity and is focused on growing the Democratic majority in the senate by picking up seats on Long Island and across Upstate to fight Donald Trump and his destructive, ultra-conservative agenda. We stand alongside Andrea Stewart Cousins in supporting all members of the senate Democratic conference."
A Klein spokesperson did not respond to a request for comment.
Stewart-Cousins has indeed formally announced her endorsement of Klein and the other former IDC members, in individual news releases to the press. She has not campaigned alongside Klein or any of the other senators: Sens. Tony Avella, Diane Savino, Marisol Alcantara, Jesse Hamilton, David Carlucci, and David Valesky.
They face challenges from, respectively, Alessandra Biaggi, John Liu, Jasmine Robinson, Robert Jackson, Zellnor Myrie, Julie Goldberg, and Rachel May.
As election season unfolds ahead of the September 13 primary vote, Cuomo, Klein, and many other candidates continue to announce endorsements of their candidacies by groups and leaders. The lists put forth by Cuomo and Klein, both heavy on labor unions and elected officials, continue to grow, but with the glaring absence of one another. Some elected officials, like Johnson, the Council speaker, have endorsed Cuomo and IDC challengers, including Biaggi, who is taking on Klein and used to work in the Cuomo administration, in the governor's counsel's office. Some, like Stewart-Cousins and Bronx Borough President Ruben Diaz, Jr., are backing Cuomo and Klein.
Over the course of the last few months, Nixon has repeatedly criticized Cuomo for allowing the IDC to exist unchecked for years and more specifically for his direct support of Klein in this year's election. Lauren Hitt, a spokesperson for Nixon, pointed to Nixon's comments last month after a New York Times report noted that Klein was sending out campaign mailers that included a photo of him aside Cuomo.
"The Governor cannot be both a feminist and a supporter of Senator Klein," Nixon said in a statement at the time, pointing to allegations that Klein forcibly kissed a former staffer outside a bar in Albany in April 2015. "Klein has not only been accused of sexual misconduct by his own staff, but he led the coalition that repeatedly blocked critical protections for New Yorkers' reproductive rights. Several other New York Democrats have already appreciated what's at stake for New Yorkers and endorsed against Senator Klein. The Governor can either stand with New York's women or against us," Nixon said.