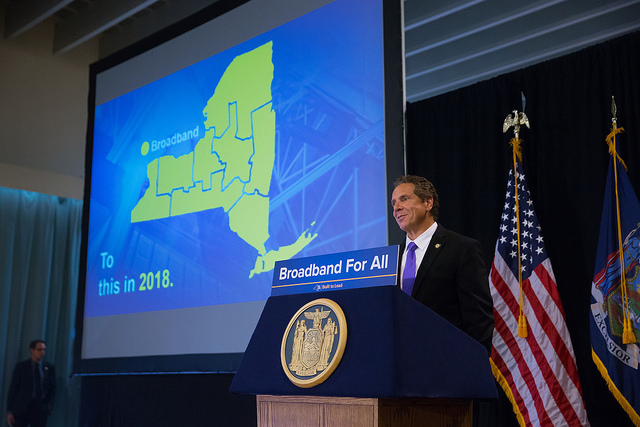 Gov. Cuomo at a broadband event (photo: The Governor's Office)
---
The revocation of Charter Communications' ability to do business in New York State may be seen by many as a win for consumers and for striking workers, but several key questions remain unanswered, including what cable operator will replace it, and if the company will really be forced to relinquish its assets in the first place.
Charter is the largest cable operator in the state, with its umbrella including most of New York City (the Bronx and parts of Brooklyn are dominated by Cablevision) and large swaths of upstate New York. Cable companies are sometimes described as "cartels," divvying up territory where each can be the only operator, enabling higher prices and poorer customer service. Some have accused cable companies of explicit collusion.
When Charter acquired Time Warner Cable, New York City's previous main cable operator, in 2016, the state's Public Service Commission (PSC) approved the merger on the condition that Charter provide statewide broadband at 100 megabits per second (mbps) by the end of 2018 and 300 mbps by the end of 2019, and to provide broadband access to 145,000 unserved or underserved households in rural parts of the state.
The state says that Charter failed to live up to its promises and attempted to deceive the public into thinking that it had fulfilled them, via advertising campaigns. As such, the state revoked its approval of the Charter-TWC merger on July 27 in a hastily called meeting without one of its most vocal members, and banned Charter from operating in the state.
The PSC ordered Charter to "file within 60 days a plan with the Commission to ensure an orderly transition to a successor provider(s)." Charter can appeal or sue to block the decision, but as of yet has not done so.
As it was for Charter, approval from the PSC of a franchise agreement for the replacement provider is potentially extremely lucrative. It is not clear which company will become the successor, though the list of potential suitors includes large donors to Governor Andrew Cuomo's campaigns.
Cablevision, the regional behemoth that operates in the Bronx and upstate, has donated $617,500 to Cuomo's gubernatorial campaigns since 2008, with $92,500 coming since July of 2017. The donations have come from various LLCs affiliated with local affiliates (e.g. Cablevision of New Jersey, Cablevision of Rockland/Ramapo, etc.) as well as from a corporate PAC, though all donations list the address of its headquarters in Bethpage on Long Island.
Cablevision is now a subsidiary of European telecom giant Altice, which is not listed as having ever donated to Cuomo under its name.
Comcast, which has a limited presence in New York State, has given Cuomo $164,700 since 2009, with $55,180 coming on November 27 of last year. With Charter being evicted from the state, Comcast, the largest cable provider in the United States despite being routinely criticized for poor customer service and anticompetitive business practices, may attempt to gain a foothold in the Empire State and the single largest media market in the country.
AT&T and Verizon, both of which compete with cable companies with fiber optic offerings, have donated $137,900 and $72,815.89, respectively, to Cuomo's gubernatorial campaigns. AT&T donated $20,100 on May 28. Cuomo received $187,800 from Time Warner, whose parent company his administration banned from the state.
Asked whether the campaign contributions could influence the process to replace Charter, Cuomo spokesperson Tyrone Stevens called any such notion "baseless" and noted that the replacement process is controlled by PSC without interference from the governor.
"The Governor believes the PSC should not back down to a media giant that has failed to live up to its promises and violated its obligation to build out our broadband system," Stevens said. "The PSC stepped up and took aggressive action to enforce the law, and the Governor stands with New York consumers who deserve the broadband service Charter-Spectrum promised, but has failed to provide."
The PSC, which regulates public utilities in the state such as gas, electricity, water, and telecommunications, is made up of five commissioners, each appointed by the governor. The PSC fined Charter $2 million in June for failing to adequately expand its network.
Charter has 60 days to present to the PSC a six-month transition plan to another cable operator. Charter is entitled to make its preference known as to which company it wants to replace it, but any new operator must prove to the PSC that it intends to serve the public interest in order to be approved to conduct business, and the actual broadband contracts are with localities, not the state.
"The properties that are owned by Charter/Time Warner in New York State are very profitable, and they're essentially a known entity," said Richard Berkley, the executive director of the Public Utility Law Project, a non-profit representing low-income and rural consumers seeking better service and consumer protection by public utilities, in an interview with Gotham Gazette. "So I think you'd see a lot of private entities interested in that."
Charter can seek a "temporary restraining order" from a court, which Berkley had expected the company to do, but as of Monday afternoon, August 6, Charter does not appear to have filed any motions for a restraining order, or filed an appeal or lawsuit.
"In the same way that the state had a role in deciding whether or not Charter could buy Time Warner, or for that matter Comcast could buy Time Warner, whoever is proposed by the company will have to go through that same process," Berkley said of PSC approval.
A large and profitable network of infrastructure suddenly being up-for-grabs may lead to intense lobbying of the PSC for the franchise.
"I would assume to the extent that they're interested in stepping into the shoes of Charter that they have probably started checking in with the department or the state," Berkley said.
"It's a very profitable enterprise, and there are any number of large telecom firms that would want to step forward and try to buy it. The thing which is gonna make it more difficult still is that they have to be responsible. They have to be able to run the operation."
A spokesperson for Altice declined to comment. Spokespeople for AT&T and Verizon did not respond to requests for comment. A spokesperson for Comcast told Gotham Gazette, "at this time we aren't commenting on this issue."
A spokesperson for the PSC told Gotham Gazette, "The final decision as to who succeeds Charter is up to the PSC." The spokesperson did not respond when asked whether telecom companies had been lobbying the PSC, or whether they were expected to. Cuomo told reporters Auburn on July 27 that the PSC is "talking to a number of companies."
Cuomo has repeatedly publicly criticized Charter in the wake of its failure to live up to the terms of the merger deal. On July 31 in Queens, in response to a question about the Crystal Run straw donor scandal by NY1 reporter Zack Fink, Cuomo said that Charter/Spectrum had been "defrauding" the state. NY1's future in a Spectrum-less New York is uncertain.
"You are defrauding the people of this state," Cuomo told Fink. "That's a fraud."
A Cuomo spokesperson has insisted the governor was discussing Spectrum and has no ill-will toward Fink, a veteran reporter who has covered Cuomo for several years. Still, many noted Cuomo's response to legitimate questions about a campaign finance scandal that is being investigated by federal authorities.
In Auburn, where Cuomo was announcing a $10 million economic development initiative, the governor said that he asked the Attorney General to investigate advertisements making potentially false claims about Charter's adherence to the conditions.
"They have breached their franchise agreement by being behind schedule in their build-out, even though their ads state the exact opposite, and they have not been forthright with the consumers in this state," Cuomo said. "If you watch Spectrum-Charter, this issue has been going on for months. They haven't even reported on it. Meanwhile, they're running advertising that says the exact opposite. So, that's why the PSC took that action today, and I support it." Last Thursday, Charter halted its ad campaign touting its expanded broadband network, described by Cuomo and the PSC as misleading, a month after being ordered by the PSC to do so.
Berkley is skeptical that the donations to Cuomo's campaigns by cable companies would significantly influence the PSC's decision. "In the end, the Public Service Commission is an independent entity," he said, despite the fact that Cuomo has a history of interfering in purportedly independent entities. "The governor doesn't sit on the board. Yes, he gets to pick the people who come before the Senate to be vetted and confirmed. But, you know, the Senate has the ability to say 'no' to people."
Berkley said that, rather than looking at large donations to Cuomo's campaign coffers, the greater political influence lies in how much money companies have invested in state and local economic development initiatives. The cable infrastructure is privately owned and constructed, but built on public land, which is what makes it a public utility. Time Warner had, as a public utility, invested in local economic development initiatives such as the governor's now-tarnished Buffalo Billion, announcing in 2013 that it would build a new call center in Buffalo. The larger Buffalo Billion program was at the center of a major public corruption trial earlier this year, which resulted in the conviction of a top Cuomo economic development official as well as Cuomo donors.
Berkley is not optimistic about the chances for municipal broadband to take hold in New York over private companies. Democratic State Senate candidate Ross Barkan has higher hopes: he thinks that the state should create a publicly owned internet company to compete with private cable companies and "break these monopolies once and for all."
"Many New Yorkers are stuck with expensive, slow internet, and can't even shop among companies," Barkan said in a direct message. "A public option for the internet would force private companies to provide better service, lower their prices, and would guarantee everyone in this city and state has a right to access the internet."
Barkan, who is running in a competitive Brooklyn primary to try to unseat Republican Senator Marty Golden, said that if the proposal could be done through the legislative, rather than executive, process, he would be on the front lines for it.
"Either way, we need it. If it came down to introducing and passing a bill, I would do it," he said.
In contrast to Cuomo and the PSC, who blame Charter, the Empire Center, a think tank, has laid blame for the situation on the cozy relationship between Cuomo and the International Brotherhood of Electrical Workers Local 3, which represents Spectrum workers who have been striking for over a year. Just one day before the PSC announced Charter's banishment, New York City launched its own probe into whether Spectrum was fulfilling the conditions of its franchise with the city, namely whether their "cable techs" were local union workers; the IBEW told the Daily News that Spectrum had begun utilizing out-of-state staffers. And on July 31, 23 New York City Council Members called for Charter to not be considered for any future contracts in New York City.
Ken Girardin, a policy analyst at the Empire Center, cited a speech by Cuomo at a rally for striking IBEW workers, where he questioned how Charter could "improve customer service without the workforce that knows how to provide customer service" in the wake of the merger and its attached conditions.
"Cuomo's rhetoric makes it impossible to separate the PSC's actions from the Charter-IBEW dispute," Girardin said. He doubted that Charter would even be kicked out of the state at all, asserting instead that the PSC would revise the merger's conditional deadlines if Charter acquiesced to the demands of the striking workers. Charter can seek a restraining order and settlement to block the state's actions, but has not filed motions to do so at this time.
A spokesperson for IBEW did not respond to a request for comment from Gotham Gazette. The union and its affiliates have also donated generously to Cuomo's campaign accounts.
In an interview, Girardin described the PSC as a "kangaroo commission," an institution that is operating on Cuomo's behalf unchecked by the state Legislature, and said that if the Charter decision stands it would allow the governor to extort favorable outcomes out of companies lest they be kicked out of the state, too.
"The governor makes no illusion about the control he exercises over the PSC," Girardin said. "The PSC has done mental and legal backflips to implement policy on the governor's behalf. And that ranges from inventing a way to subsidize nuclear power plants to creating a basis for expelling Charter out of the state. The PSC's core mission is to ensure the reliability of utilities and to regulate the rates that they charge. Governors going back to Pataki have exploited the PSC's statutory authority."
Girardin is also more suspicious of the cable companies' donations to Cuomo's campaign.
"I can't speak to how contributions influence decision-making," he told Gotham Gazette in an email, "but if the governor were to let the PSC operate as intended -- as an independent panel of experts focused on rates and reliability -- there would be less incentive for regulated utilities to contribute to his campaign."
Cuomo has been a regular target of pay-to-play allegations given the state's porous campaign finance laws, his acceptance of campaign contributions from entities with or seeking state business, and policy decisions that have favored donors. Cuomo's office has consistently said that government decisions are based on the merits, not influenced by campaign donations of any size.
Nevertheless, Girardin said that, despite some seemingly political decisions such as the seizure of the Fitzpatrick Power Plant when the operator wished to close it, and bailouts for nuclear plants lacking in transparency, the banishment of Charter would be without precedent in the state.
"Nothing that the PSC has done in the past rises to this level," Girardin said. Girardin said that the PSC, in normal circumstances, would simply levy a fine and lay out an enforcement plan against Charter, and that it should attempt to foster competition in the market instead of simply choosing a replacement for Charter's franchise.
Republican gubernatorial nominee Marc Molinaro also claimed that the revocation of Charter's franchise was politically motivated, in order to punish NY1, which is owned by Charter/Spectrum.
Molinaro called on the state's Inspector General to look into the decision to revoke Charter's franchise, to determine if the Cuomo administration had "orchestrated" the action for political purposes.
"I'll come right out and say it: It looks to me like Andrew Cuomo is trying to send a chilling message to the news media—'don't mess with me'—and I hope the Inspector General can prove me wrong," Molinaro said.
Note: this story has been updated to reflect additional comments from the governor's office.