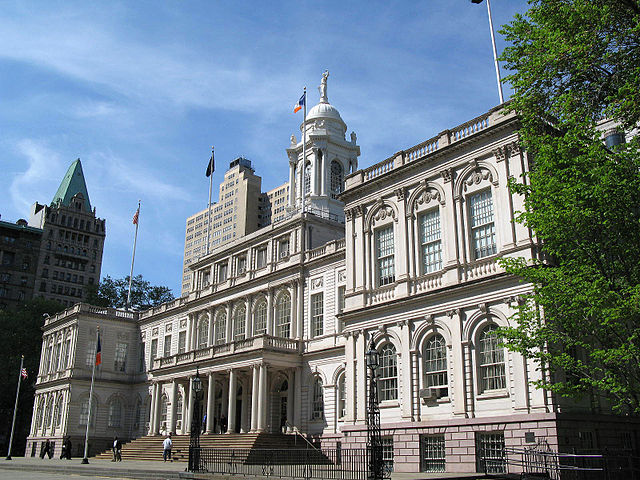 New York City Hall
---
What to watch for this week in New York politics:
A fundraising deadline for candidates for state office passed last week and the latest campaign finance filings are due Monday, August 13, with the state Board of Elections. With just one month till the September 13, and with several competitive primary races for statewide and legislative seats, candidates have been trying to muster all the resources they can to reach voters. Many insurgent challengers in Democratic primaries this year have been more focused on reaching small donors in large numbers as they face off against well-funded incumbents.
As always, there's a great deal happening all over the city, with many events to be aware of - see our day-by-day rundown below.
***Do you have events or topics for us to include in an upcoming Week Ahead in New York Politics?
e-mail Gotham Gazette editor Ben Max: This email address is being protected from spambots. You need JavaScript enabled to view it.***
The run of the week in detail:
Monday
President Donald Trump will headline fundraisers for US Representatives Claudia Tenney and Elise Stefanik on Monday.
From 10 a.m. to 5 p.m. on Monday, WeWork and New York Immigration Coalition will host a voter registration day open to the public at WeWork's 110 Wall Street location.
At 1 p.m. Monday, the state Senate Standing Committees on Labor and Economic Development will hold a public hearing at Binghamton University's Symposium Hall, to discuss the state's Minority-and-Women-Owned Business Enterprises (MWBE) program.
Tuesday
At the City Council on Tuesday
-- The Subcommittee on Zoning and Franchises will meet at 9:30 a.m.
-- The Subcommittee on Landmarks, Public Siting, and Maritime Uses will meet at noon.
-- The Subcommittee on Planning, Dispositions, and Concessions will meet at 2 p.m.
At 1 p.m. Tuesday, Brooklyn Borough President Eric Adams will launch the Platinum Edition of his "BK Sings" karaoke competition, for Brooklyn residents over the age of 60, at the United Senior Citizens Center in Sunset Park.
At 6:30 p.m. Tuesday, City & State will host its 2018 "Albany 40 Under 40" reception at Battery Gardens in Battery Park City, honoring 40 individuals under the age of 40 who work in state government and politics. Keynote speakers will include U.S. Representative Grace Meng and Republican gubernatorial nominee Marc Molinaro.
Wednesday
At the City Council on Wednesday
-- The Committee on Land Use will meet at 11 a.m.
-- The Committee on Transportation will meet at 1 p.m. for an oversight hearing regarding speed cameras, to call on the legislature and governor to reauthorize the city's school speed camera program, and to discuss proposed laws relating to street design, to "requiring a study of dangerous driving," and to "installing radar speed display signs in school zones."
At 9 a.m. Wednesday, Democratic Attorney General candidate Leecia Eve will join the Manhattan Chamber of Commerce to discuss her candidacy, as part of the Chamber's "Attorney General Roundtable" series, open to Chamber members.
At 6:30 p.m. Wednesday, Indivisible Harlem will host a forum for Democratic candidates for Attorney General at Congregation B'nai Jeshurun on the Upper West Side. Attending candidates will be Leecia Eve, Letitia James, and Zephyr Teachout.
Thursday
There are no events scheduled on the calendar as of the start of the week.
Friday and the weekend
Mayor de Blasio may make his weekly appearance on WNYC's The Brian Lehrer Show on Friday at 10 a.m.
***
Have events or topics for us to include in an upcoming Week Ahead in New York Politics? E-mail Gotham Gazette executive editor Ben Max any time: This email address is being protected from spambots. You need JavaScript enabled to view it. (please use "For Week Ahead" as email subject).
***
by Ben Brachfeld and Ben Max
@GothamGazette