Senator Jesse Hamilton with Brooklyn Borough President Eric Adams, center (photo: @BPEricAdams)
---
Amid a heated Democratic primary race in central Brooklyn's state Senate District 20, Brooklyn Borough President Eric Adams is making $1 million of government money available for spending in the district through a process run by Senator Jesse Hamilton, his handpicked, newly-embattled successor in the state Legislature.
Hamilton is a former member of the Independent Democratic Conference, a group of eight Democratic state senators who formed a coalition with the Senate Republican conference from 2011 to earlier this year, bolstering the Republicans' slim legislative majority in the upper house of the state Legislature. After being elected to replace Adams in the Senate in 2014, just after Adams was elected borough president the year before, Hamilton announced he was joining the IDC in November 2016 right before being reelected.
Now, this election year, every former IDC member faces a progressive primary challenger, with the votes set for September 13. Hamilton's challenger, Zellnor Myrie, is receiving widespread institutional support, including the recent endorsements of four Brooklyn members of Congress—Yvette Clarke, Nydia Velázquez, Jerry Nadler, and Hakeem Jeffries—and Mayor Bill de Blasio, among others. Adams, though, seems firmly in support of Hamilton: campaign finance records show that he donated $5,000 on January 12, 2018, to Friends of Jesse Hamilton, the senator's election committee, though Adams has not yet offered a formal endorsement of his protege.
The two have a long-lasting and well-documented relationship. Adams represented District 20, which includes parts of Brownsville, Crown Heights, Park Slope, and East Flatbush, in the state Senate for four terms, from 2006 until just after his election to the borough presidency in late 2013. After Adams vacated his seat, Hamilton, then an attorney and elected district leader, competed against Department of Education administrator Rubain Dorancy in a 2014 race widely seen at the time as a proxy battle between Adams, supporting Hamilton, and Hakeem Jeffries, who'd backed Dorancy.
After Hamilton won the nomination to the seat by a wide margin, Adams reportedly shouted at a victory party, "We showed them who the real kingmaker in Brooklyn is."
The two have partnered frequently since Hamilton's election, the senator's director of communications Ean Fullerton told Gotham Gazette in an email, pointing to past immigration forums, health fairs, and cultural events in Brooklyn.
Two terms and four years after his succession of Adams, Hamilton is again battling for his party's nomination in Senate District 20, after no Democrat contested his renomination in 2016. Concurrently, he is asking his constituents how they'd like to spend the $1 million that Adams recently funded for participatory budgeting in Senate District 20. The borough president made no such allocation available in any other senate district.
Participatory budgeting is a process that allows constituents to decide how to spend a portion of the public budget. Community members submit proposals for capital projects, like school and park improvements, which are then put to a vote among residents in the relevant geographic area. In New York, this typically occurs in a City Council district—this year, 31 of 51 City Council members participated, using a portion of the capital funding they receive each year through the larger Council budget process—though Adams has taken up participatory budgeting using the funds at his disposal as borough president.
In New York City, representatives who opt to participate in participatory budgeting must allocate at least $1 million of their district's budget to the process. Senate District 20 is the site of the first participatory budgeting conducted by a New York state legislator, a landmark made especially noteworthy by the fact that the funds arrived from a borough president. The timing is also exceptional, given its alignment with the election calendar. The senator's spokesperson said Hamilton and Adams had discussed a participatory budgeting proposal "some time ago" and have been working to launch it "as soon as we were ready."
"Sen. Hamilton believes this initiative can serve as an example for more state leaders to pursue [participatory budgeting] on the state level," he added.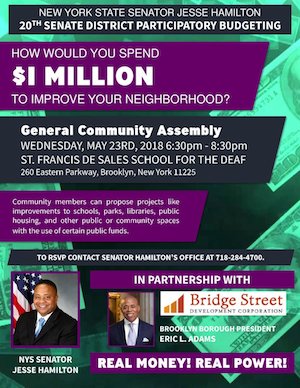 The process began this past May 22 with an announcement from Senator Hamilton's office that framed the participatory budgeting as "in partnership with Brooklyn Borough President Eric L. Adams." Proposals were due, atypically, only 12 days later, on June 4, though on that day Hamilton extended the deadline to June 8. The proposed PB projects in District 20 would upgrade school facilities, repave streets and sidewalks, install security cameras, and improve green space in the district. Residents aged 11 and up could vote on the proposals between August 6 and August 12, and Hamilton's office, in partnership with the Bridge Street Development Corporation, launched a get-out-the-vote effort replete with "mailers to the district, email blasts, robocalls, text messages, flyering at subway stations, and community meetings," according to a handout from a May 23 neighborhood assembly on the topic in Crown Heights.
All proposed projects must be located within Senate District 20, and flyers and mailers publicizing the initiative prominently feature Hamilton's face and name. (They also come alongside a series of other mailers that Hamilton has sent to constituents using state funds allocated to his office for communications with district residents, a perk state legislators have long taken advantage of during election years.)
The New York City Charter allows the five borough presidents to allocate funds towards capital projects in their boroughs, and Adams was the first elected official in New York City beyond the City Council to fund participatory budgeting, said Stefan Ringel, Adams' communications director. Adams has funded projects in various Brooklyn Council districts to the tune of $1 million a year for the past three years.
Hamilton approached Adams in March 2016 about setting up participatory budgeting in his Senate district, Ringel told Gotham Gazette. Adams obliged, doubling his annual allocation of PB funds in the borough to $2 million, setting aside half of that sum for Hamilton's district, one of nine Senate districts that include at least parts of the borough.
Through his communications director, Adams emphasized that the district includes Brownsville, Brooklyn's poorest neighborhood, where he was born and where he "has committed to reverse decades of underinvestment."
The borough president "would welcome other legislators and agencies who wish to partner on any further expansions," said Ringel. But, for now, he's allocated $1 million only to District 20, as insurgency threatens his hand-picked successor there.
Note - this article has been updated to clarify that Sen. Hamilton is running the participatory budgeting process, not spending the money himself, and that he approached Borough President Adams about participatory budgeting in March 2016, not March 2017.