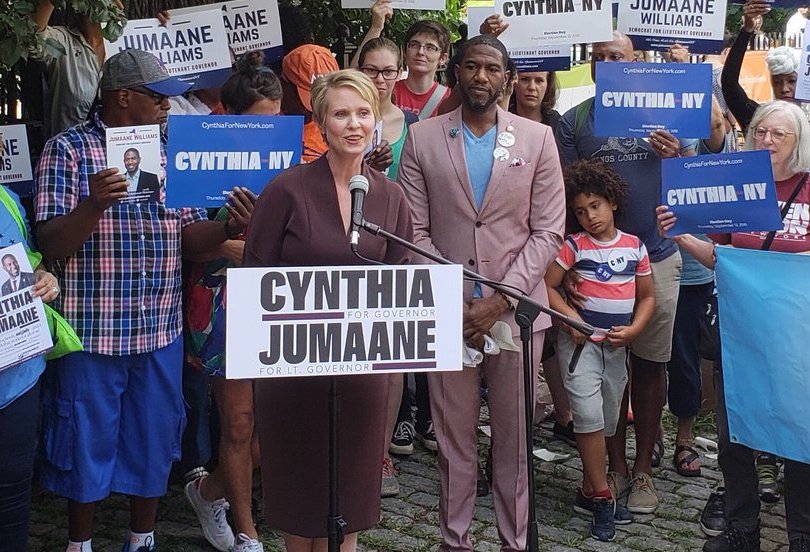 Cynthia Nixon and Council Member Jumaane Williams (photo:@CynthiaNixon)
---
Governor Andrew Cuomo, a two-term Democrat, spent millions over the last month on his reelection campaign, far outpacing his Democratic primary rival, actor and education activist Cynthia Nixon, according to pre-primary campaign finance disclosures filed by candidates this week with the state Board of Elections. Cuomo's running mate, Lieutenant Governor Kathy Hochul, overwhelmingly outraised her own primary opponent, New York City Council Member Jumaane Williams.
Cuomo spent a whopping $7.5 million and raised about $845,000 in just one month, between July 17 and August 13, and still has $24 million left in cash on hand. Most of the money was spent on television advertisements, with over $4 million paid to New Jersey-based Media Fortitude Partners, a media buying firm. Another $1.3 million for advertisements went to Motus Strategies LLC. The campaign also paid $384,000 to Bully Pulpit Interactive, a communications consulting firm based in Washington, D.C. Over the course of the election cycle, the governor has raised $35.5 million and spent $19.6 million in total.
The governor's campaign also made large charitable contributions in this most recent filing period totalling $422,000 to various organizations across the state including the Legal Aid Society, Planned Parenthood, the Puerto Rican Family Institute, the National Institute for Reproductive Health Action and NOW NYC. The donations seem to be drawn from a pot of money set aside by Cuomo in January last year owing to the arrest on corruption charges of several upstate executives who had donated large sums to his campaign along with Joe Percoco, a former top aide and Cuomo campaign manager. Percoco and the executives were recently convicted in federal court.
As he seeks a third term in office, Cuomo has also been bent on making an impact at the national level. He has been putting the state Democratic party's resources into electing more Democrats to the House of Representatives, to reclaim control of the chamber from Republicans. On Tuesday, his campaign announced the creation of a federal political action committee called "Cuomo NY Take Back the House PAC" which, according to the campaign, has contributed the maximum $2,700 each to ten Democratic congressional candidates across New York State. The PAC has yet to file financial disclosures with the Federal Election Commission.
"With Trump and Republicans in Washington threatening New York's way of life – from healthcare and women's rights to immigration and tax reform – the Governor is laser focused on taking back the U.S. House to protect the people of this state," said Maggie Moran, Cuomo's campaign manager, in a statement.
Nixon, on the other hand, raised only about $392,000 for her insurgent gubernatorial bid, and spent $606,000 in the same one-month period. Though Nixon has only about $442,000 left to spend, her campaign has touted the nearly 43,000 thousand individual donations it has received in the last five months as evidence of the strength of her campaign and has repeatedly emphasized that Nixon has refused all corporate donations. Nixon's campaign pointed out Tuesday that those individual donations outnumber Cuomo's own individual donors from his four runs for governor and that 98 percent of Nixon's contributions came from small dollar donors, who only accounted for about 0.2 percent of Cuomo's fundraising. In-kind contributions made up a large part of Nixon's fundraising, with just under $88,000 coming from the Working Families Party and $11,250 that Nixon gave herself. Since jumping into the race, Nixon has raised a total of $2 million and spent $1.3 million.
"We are seeing a level of grassroots momentum that Cuomo has failed to tap into during his entire two decade career in New York politics," said Hayley Prim, Nixon's campaign manager, in a statement. "There is a real hunger in New York to elect a real progressive who is beholden to the people, not corporations and millionaires."
On Monday, Cuomo finally agreed to a primary debate, which Nixon had pushed for months. The two will participate in an hour-long debate hosted by WCBS at Hofstra University on August 29, just two weeks before primary day.
In the lieutenant governor race, Hochul, the Democratic incumbent, raised nearly $460,000 and only had about $143,000 in expenditures, leaving her a balance of about $1.6 million. Candidates for governor and lieutenant governor run separately in the primary election, which is September 13, and on a joint ticket for the general. Hochul has raised a total of $1.7 million for her reelection so far and spent about $375,000.
Williams, Hochul's primary opponent, only raised about $25,000 and spent about $32,000. He has just under $39,000 in cash on hand. Notably, Williams refunded $10,000 to Glenwood Masonry Products after it emerged in his previous filing that he had accepted multiple over-the-limit contributions. He has not yet returned another $25,000 in improper contributions in total from two other firms linked to the same developer as Glenwood Masonry, despite promising to do so. Once he does, his campaign balance will fall to just under $14,000. Williams' total fundraising for the race, including those contributions, is about $207,000, of which he has spent $151,000 so far. A Williams campaign spokesperson did not respond to a request for comment.
The Hochul campaign, which has also repeatedly chastised Williams for not releasing his tax returns from the last five years, pounced on the Council member's failure to return the money. "The question is simple...where's the money?" read a statement from the campaign, "Councilman Williams stated in late July that he would 'definitely' return the donations, and after almost a month he still hasn't kept his word. New Yorkers are clearly seeing that Mr. Williams thinks the rules don't apply to him - they'll have their opportunity to respond September 13th."
Hochul and Williams are set face each other later this month in the second debate of the race. The debate will be hosted by the Manhattan Neighborhood Network and moderated by Gotham Gazette executive editor Ben Max. It will be taped on the morning of August 29 and will air on September 2.
There is no other contested primary in either the race for governor or lieutenant governor. The Democratic primary victors will face off in the general against Republican nominee for governor Marc Molinaro and his running mate Julie Killian; the Green Party's Howie Hawkins; Libertarian Larry Sharpe; and independent candidate Stephanie Miner who is running on a ticket with Michael Volpe.
Note- This article has been updated with the candidates' total fundraising and expenditure for the entire election cycle.