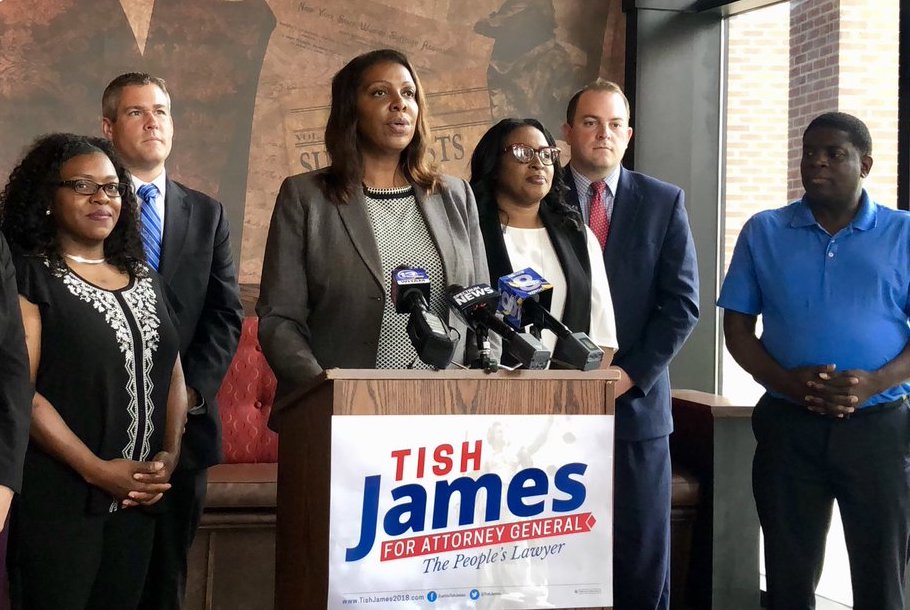 Public Advocate Letitia James (photo: @TishJames)
---
With a month to go before the September 13 primary for statewide elected offices, the four candidates running for the Democratic nomination for attorney general filed their latest campaign finance disclosures on Tuesday, covering the period between July 17 and August 13. The filings, along with a Siena College poll from June, suggest that the race remains competitive as the candidates each seek to gain name-recognition among voters in the closing stretch of the race.
US Representative Sean Patrick Maloney led the pack in the pre-primary fundraising period in both contributions and expenditures. He raised about $696,000 and spent about $883,000. Maloney has about $795,000 in cash on hand. He has retained several consulting firms, including Red Horse Strategies and Canal Partners Media; he spent about $718,000 in fees for those two firms in the filing period, far in excess of any other candidate's spending on consultants. Maloney's largest contributor was the Durst Organization, which gave $150,000 through five real estate LLCs associated with Durst properties under the name "Dolp," and an additional LLC related to the Helena, a building in the Durst portfolio.
Public Advocate Letitia James, who is the most well-known of the four and is the chosen candidate of the state Democratic Party and Governor Andrew Cuomo, did not raise as much as Maloney in the last month, but still has Maloney bested in total cash-on-hand: James has about $1.2 million in her campaign account, against Maloney's $795,000. James paid $85,000 to consulting firm Hamilton Campaign Network. James raised $434,000 in the filing period, and spent about $217,000. James's largest contributor in the filing period was the Transport Workers Union Local 100, which gave her $40,000.
Fordham law professor Zephyr Teachout's haul came in third, totaling about $370,000. She spent the least among the four candidates, dispensing just under $113,000 in the filing period, leaving her with a balance of $474,000. She spent $40,000 in fees for the consulting firm Middle Seat. Teachout's largest contributor was an individual named Clay Kirk, who gave $15,000.
Former Cuomo and Hillary Clinton official Leecia Eve outspent Teachout, with $133,000 in expenditures, but raised by far the smallest amount in the filing period, bringing in about $42,000. She ends the filing period with $159,000 on hand. Eve paid $19,000 to Trippi Norton Rossmeissl for consulting work and $18,750 to Community Linked for canvassing; she also spent $25,000 in fees for Stroock & Stroock & Lavan, a law firm. Eve's largest total contributions came from her own personal funds, about $8,700 in seventy-two individual donations.
James and Maloney have each received $15,000 donations in total during the race from the Real Estate Board PAC, associated with the powerful Real Estate Board of New York (REBNY) lobbying group. Eve got a $5,000 donation from the group in a previous filing while Teachout did not receive any money from REBNY.
The Teachout campaign touted the fact that it had received 6,561 unique donations in the filing period from 5,410 individuals, the most among all the candidates. She had $88,000 in "unitemized contributions," meaning that the contributor's name, address, and amount contributed need not be filed on a disclosure report, if a contributor gives less than $99 in the aggregate of one or multiple donations. Teachout is the only one among the four Democratic attorney general contenders refusing money from corporate political action committees and limited liability companies.
Maloney brought in 1,023 individual donations, James had 374, and Eve had only 118. James and Maloney had no unitemized contributions in this filing period, while Eve had $495 in unitemized contributions.
Maloney may have significantly more funds available to him than are reported in his disclosure. He has over $3 million in his congressional campaign account that he believes he is free to spend in the state race. The legality of Maloney running both for reelection to Congress and for the open attorney general seat was challenged separately by James and Maloney's Republican opponent for his congressional seat, Jim O'Donnell. James' challenge was invalidated by the state Board of Elections, and O'Donnell narrowed his court challenge to only remove Maloney from the congressional race, leaving the congressman free to pursue the attorney general primary nomination.
The winner of the Democratic primary will face Republican Keith Wofford in the November 6 general election.
Note - this article has been updated to note that Leecia Eve received a $5,000 donation from REBNY in a previous filing.