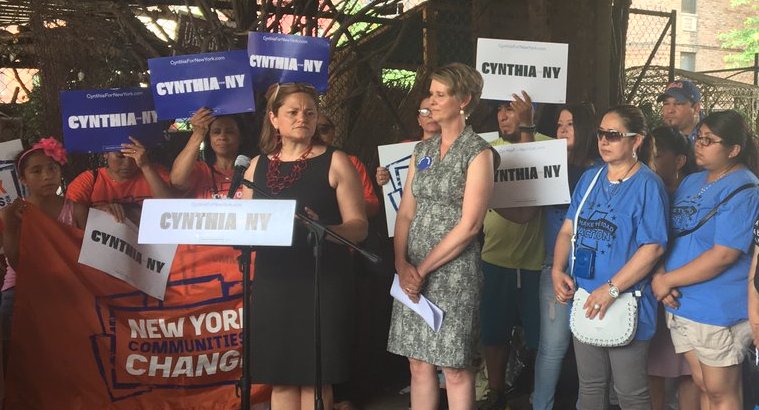 Mark-Viverito & Nixon (photo: @CynthiaNixon)
---
Two of the most compelling storylines of the contentious primaries playing out this election season in New York are which Democrats decide to back Cynthia Nixon in her challenge to two-term incumbent Governor Andrew Cuomo and to what extent an alliance with Cuomo is to the benefit of Letitia James as she seeks to win an open, four-way primary for Attorney General.
Loyalty and litmus tests are being taken daily by elected officials, political club members, labor leaders, and others as the September 13 primary vote approaches. As the party wages something of a civil war both here and nationally, Democrats are choosing sides. Sometimes those choices get complicated.
While Nixon offers many frustrated progressives an alternative to the more centrist Cuomo, the choice for attorney general has different dynamics. Crossing, or pleasing, the notoriously sensitive Cuomo is a factor in both races, as well as the contentious lieutenant governor primary, given his support for both James for attorney general and his running mate Lt. Gov. Kathy Hochul for reelection. But James has a reputation as a progressive, with her bona fides questioned far less often than Cuomo's. Although she is outflanked on the left by Fordham Law professor Zephyr Teachout in the attorney general primary and some Democrats are raising questions about James' acceptance of Cuomo's support, James is holding her own in terms of winning endorsements from progressive groups and leaders. In fact, though Teachout has won the endorsements of many more left-leaning entities, there is a small but growing list of liberal individuals and groups that are endorsing Nixon for governor and James for attorney general.
Several Democratic clubs and current or former elected officials, and one political action committee, have backed both Nixon and James. Generally speaking, those on the list who Gotham Gazette spoke with cite Nixon's history of activism for progressive issues, compared with Cuomo's relative centrism over his two terms, and James' long-time commitment to those same progressive values. Several have deep ties to James from her roots in Brooklyn, where she lives and was a City Council member, before being elected citywide.
Nixon and James' overlapping endorsements come from the Brooklyn Young Democrats, Downtown Independent Democrats, Jim Owles Liberal Democratic Club, New Visions Democratic Club, Grand Street Democrats and the Village Independent Democrats. Elected officials supporting the two include City Council Members Brad Lander and Jimmy Van Bramer, Assembly Members Harvey Epstein, Andrew Hevesi, and Daniel O'Donnell, and former New York City Council Speaker Melissa Mark Viverito. Tenants PAC, which is funded by tenants, labor unions, and other affordable housing advocates, has also endorsed both candidates. The Working Families Party is, to a degree, on the list.
Mark-Viverito was an early backer of James, endorsing her former City Council colleague the day she announced her campaign for attorney general, just ten days after then-office holder Eric Schneiderman resigned following allegations of physical and emotional abuse by several intimate partners. James faces three other Democrats in the primary - Teachout, who unsuccessfully challenged Cuomo in the 2014 Democratic gubernatorial primary; Congressional Rep. Sean Patrick Maloney; and Leecia Eve, a former Verizon executive and former aide to Cuomo, Hillary Clinton, and Joe Biden.
The former City Council speaker's support for James was no surprise, the two having been allies for years when they served together on the Council before James rose to public advocate and Mark-Viverito to speaker. The two are both progressive women of color who held top elected offices in a city where few have done so. Mark-Viverito was the first Latina speaker of the Council and James is the first African-American woman to be elected citywide. James will similarly make history if she wins the race for attorney general, making her the first African-American woman to hold a statewide post.
"I've known Tish a very long time...I value her heart and I value what she stands for," Mark-Viverito said in a phone interview. "For me it was not a leap to be able to stand alongside her and to be able to support her for the position."
Mark-Viverito said she had long conversations with Nixon's camp before announcing her support for the insurgent first-time candidate and her progressive platform. "For me it was again someone that stands and consistently has stood on issues I care about and I believe that that level of thought, without hesitation, her progressive heart and the vision that she has for the state is one that is truly inclusive...So it definitely felt that it was the right place to be in regards to endorsing her."
Mark-Viverito also brushed aside concerns raised about James' alignment with Cuomo and the Democratic establishment. "I take each endorsement separately," she said, praising the "passion" that James brought to the issues before her office as a Council member and public advocate. "To me, Cynthia Nixon's gonna win the governor's race, so that to me is irrelevant," she said of the James-Cuomo connection, with a slight chuckle. "But I don't agree with that. I know Tish, I know what she stands for, I know the issues she's fought on...I see her independence."
In a sense, Mark-Viverito said she wants to see drastic change in direction in the governor's office but a level of continuity and stability in the office of attorney general. Cuomo, she said, has failed to pursue strong progressive legislation the likes of which defined the City Council's own agenda under her leadership on issues such as criminal justice reform and immigrant protections. But the attorney general's office, even under Schneiderman, she acknowledged, has been working on a slew of successful legal challenges in concert with other state attorneys general against a federal administration under President Donald Trump that "seeks to dehumanize us and strip us of rights that we've fought so hard to achieve."
"Despite the horrific reality that we came to terms with with regards to Schneiderman, he was doing a good job. Separate that from the horrible news and what we know about him now," she said. "I definitely think that we need to continue that, take up the baton. [Attorney General] Barbara Underwood is doing good work as well in terms of continuing on that line...I definitely believe that needs to continue and I believe Tish can do that."
"I believe they each have their role to play and I see those roles as very distinct," she added.
Mark-Viverito herself has been rumored as a potential successor to the public advocate's office, should James win, and she said she hasn't "closed the door" on that possibility.
"New Yorkers know Tish James as a fearless leader who has spent two decades fighting to protect and uplift our families. The support from these grassroots groups and elected officials speaks to Tish's longstanding work for progressive causes and her experience and qualifications to defend our rights as our next Attorney General," said Delaney Kempner, a James campaign spokesperson, in a statement.
For some who also threw their weight behind James, her increasing association with the governor and her apparent rejection of her roots in the progressive Working Families Party have hurt how they view their preferred candidate. The WFP endorsed Nixon, putting it in the governor's crosshairs, and James, in seeking the governor's support, decided against asking the prominent third party for its endorsement. The WFP eventually decided to hold off, reserving support for either James or Teachout, if one of the two candidates prevails in the September 13 primary.
Michael McKee, treasurer of Tenants PAC, said the optics were far from ideal but stood firmly behind Nixon and James. "It's much less complicated in the case of Cynthia Nixon," he said in a phone interview, "because [Cuomo] has been a disaster on everything to do with tenants. It's not just that he has failed to push for stronger rent laws, he has refused to push for them."
In 2011 and 2015, both years when rent regulations were expiring and would have to be renewed by the state Legislature, on concert with the governor, McKee said Cuomo "didn't even mention 'rent' in his State of the State speech. Not one word. He didn't even mention that the laws have to be renewed."
The governor has only pushed minor amendments to rent laws, he said, leaving major loopholes intact that allow landlords to harass and force tenants out of rent-regulated apartments. He called Nixon's housing platform "very bold, very expansive and very imaginative," and said she had a "tremendous grasp" of rent issues when she interviewed with the group for its endorsement. "There's no one in the tenant movement in New York City or in the suburbs who at this point would believe [Cuomo] when he says he's pro-tenant," he said. Tenants PAC donated $5,000 to Nixon, a "very big check," McKee said, for a group with limited resources.
"It's a little more complicated for the attorney general's office," he conceded. "I love Tish, I think she's one of the best of all elected officials but we were extremely unhappy with what she did in terms of tying herself to the governor and screwing the WFP."
James has said she expects reconciliation with the WFP, perhaps after the primary, and attended its recent twentieth anniversary gala. James was first elected to the City Council solely on the WFP ballot line.
McKee's group has endorsed James in her past races for elected office and has found her to be a true ally for tenants. As public advocate, James has continued to publish the annual "Worst Landlords" watchlist, and taken legal action and introduced bills in the City Council to protect tenants against harassment. McKee said attorney general is "an ideal job" for James and that she would in no way be beholden to the governor, despite the perception that has emerged in recent weeks.
McKee did say that he thought James could have told Cuomo she was taking the WFP nomination and still gone to the Democratic state convention and gotten the requisite support to automatically make the primary ballot. "Now, she's sort of painted herself into a corner where she's in effect the establishment candidate in a year where that's not the optics of the Democratic Party," McKee said.
Democratic organizers felt much the same, that Nixon is the change candidate they need in executive office while James is an accomplished elected official with a strong record who would do well as the state's top legal officer. Jeanne Wilcke, treasurer of Downtown Independent Democrats, painted it as a tough decision to endorse James over Teachout, who they had endorsed in the 2014 governor's race. Both candidates were familiar to the club but James had continued her association with them as Teachout seemed to fade after 2014. "A number of people voted for Teachout but James edged it out," she said.
In broad terms, Wilcke said her club is fighting for the broader direction of the Democratic Party. "Our own party has to look its ownself and really grasp what they have to do and follow the grassroots sentiment," she said. "They can't be behind the times." It's an argument carried by Nixon as she paints Cuomo as a "fake Democrat" and pushes for a truly progressive Democratic polity in the state. "The Crowley race gave us a lot of heart," Wilcke said, referring to ten-term Democratic Rep. Joe Crowley's congressional primary loss to Alexandria Ocasio-Cortez, a young, insurgent democratic socialist. "If it can happen once, it can happen again."
She did admit that James relationship with the governor is "a little too close for comfort" and that she should keep an arms length from the establishment. But nonetheless, James' record impressed DID's members. "They've seen her on the ground for years. She stood up for people. That resonated," Wilcke said.
"Given Cuomo's record, it's not a surprise at all that Democratic clubs are rejecting him," said Lauren Hitt, a Nixon campaign spokesperson, in an email. "He empowered the IDC, refused to return Trump's $64k in donations, cut taxes for the wealthy, and governed like a Republican in so many other respects."
Cuomo's campaign did not respond to a request for comment. Nixon and Teachout have endorsed each other in their respective races (Teachout was Nixon's campaign treasurer until Schneiderman's resignation prompted her to run for attorney general).
There were a few other endorsements that have shown a similar pattern of embrace of establishment-aligned candidates on the one hand and their rejection on the other. NYC Kids PAC, for instance, endorsed James for attorney general and also New York City Council Member Jumaane Williams, who is running against Lieutenant Governor Kathy Hochul. Both Williams and James have also been endorsed by City Council Member Carlina Rivera.
This year was the first time that the Grand Street Democrats made endorsements in the races for governor and attorney general, said Caroline Laskow, a Democratic district leader from the club. "We evaluated all the candidates on their merits," Laskow said of Nixon and James in a phone interview. "We feel that they're both going to be excellent advocates for all of New York, for different reasons. But I don't think one cancels out the other."
Ben Max contributed to this article.
Note - This article has been updated to clarify comments from Jeanne Wilcke of DID. It has also been updated to note that Wilcke is treasurer, not president of DID.