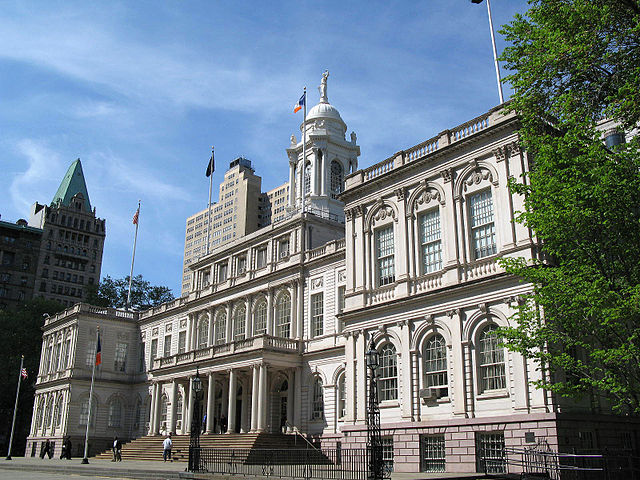 New York City Hall
---
What to watch for this week in New York politics:
This Thursday will mark just two weeks until primary election day, and this week will be full of dramatic debates, including the second of two scheduled televised debates in the Democratic primary for Attorney General, and the lone televised debates in the Democratic primaries for Governor and Lieutenant Governor. See below for details.
Along with the debates, we're watching this week for further endorsement news, such as whether Mayor Bill de Blasio will back Cynthia Nixon or not, and much more. We're also nearing the final campaign finance disclosures of the primary, and we're awaiting any new public polls of the statewide primaries.
Needless to say, between now and the September 13 primaries, there will be little beyond campaign activity in New York politics, though some government is still happening, especially on the city level (including around speed cameras near schools as the school year is close to starting). And even candidates who are not involved in primaries are on the trail, of course, such as gubernatorial candidates Marc Molinaro, Howie Hawkins, Stephanie Miner, and Larry Sharpe.
And there are a few other events to be aware of - see our day-by-day rundown below.
***Do you have events or topics for us to include in an upcoming Week Ahead in New York Politics?
e-mail Gotham Gazette editor Ben Max: This email address is being protected from spambots. You need JavaScript enabled to view it.***
The run of the week in detail:
Monday
Mayor de Blasio will appear on NY1's Inside City Hall on Monday in the 7 and 11 p.m. hours, for his usual weekly segment.
At 1 p.m. Monday, "Brooklyn Borough President Eric L. Adams will be joined by local elected officials, representatives from Brooklyn Community Boards (CBs) 6 and 7, and former New York University Wagner Graduate School of Public Service (NYU Wagner) students to announce the results of a year-long study to reimagine the Prospect Expressway corridor, in an effort to repair the mistakes of Robert Moses-era planning. They will publicly release a joint letter they sent last month to the New York State Department of Transportation (NYSDOT) calling on them to consider recommendations released in a report by students at NYU Wagner's Capstone program as well as to issue a design competition to build off the vision outlined in the report. The report, entitled "PX Forward," detailed proposed reforms for implementing greater community connectivity, increased green space, as well as cyclist and pedestrian safety improvements along the Prospect Expressway, which bifurcates the communities of South Slope and Windsor Terrace and impacts the quality of life of nearly 45,000 residents in the surrounding neighborhoods, as well as approximately 85,000 motorists who use the roadway daily. Borough President Adams and others, while gathered at Thomas J. Cuite Park in Windsor Terrace — an open space overlooking the Prospect Expressway, will liken this challenge to similar visionary urban redevelopment models across the country."
At 6 p.m. Monday, the Assembly Standing Committee on Environmental Conservation and the Assembly Long Island Task Force will meet jointly at the Manhasset Public Library for a public hearing discussing the water quality of the Long Island Sound.
"Candidates for the Democratic nomination for New York Attorney General will attend a forum hosted by the Democratic Rural Conference of New York State (DRC) at 7 pm on Monday, August 27, at Genesee Community College in Batavia. Leecia Eve, Tish James, Sean Patrick Maloney, and Zephyr Teachout have all confirmed their attendance at the event." The forum will be streamed on Facebook. "The DRC represents Democrats from New York counties with populations less than 250,000. Democrats from 47 of the 62 counties in the state belong to the organization, which has been a force in New York Democratic politics for over 20 years."
At 7 p.m. Monday, U.S. Rep. Hakeem Jeffries will join Indivisible Nation BK at Brooklyn Commons to discuss the future of the Democratic Party.
Comptroller Scott Stringer will speak at two events in Queens Monday night: at 7:30 p.m. he'll speak at the Rockaway Point Association meeting and at 8:15 p.m. at the Point Breeze Association meeting.
Tuesday
At 9 a.m. Tuesday, Democratic Attorney General candidate Letitia James will join the Manhattan Chamber of Commerce to discuss her candidacy, as part of the Chamber's "Attorney General Roundtable" series, open to Chamber members.
At 1:30 p.m. Tuesday, the New York City Board of Elections will hold a commissioners' meeting.
On Tuesday at 6:30 p.m., "A group of young women, Latina candidates running for office in New York will speak at a community forum about diversity, political participation of communities of color and LGBTQ issues...at the LGBT Center, in Manhattan. The event, organized by LGBT group Queeramisú, will be moderated by former Speaker of the City, Melissa Mark-Viverito, first Puerto Rican and Latina to hold a citywide office and a staunch LGBTQ advocate and currently Vice President at Latino Victory Fund. Among the panelists figure Jessica Ramos, candidate for NY Senate District 13; Genesis Aquino, candidate for District Leader, 51st AD; Assemblywomen Nathalia Fernandez, running for reelection in the 80th District, and Carmen de la Rosa running for reelection in the 72nd District. Josi Robinson's campaign will also be present."
At 7 p.m. Tuesday, the Democratic candidates for Attorney General will take part in a debate on NY1, moderated by NY1's Errol Louis and Spectrum's Liz Benjamin, at John Jay College in Manhattan. The participating candidates will be Letitia James, Zephyr Teachout, Sean Patrick Maloney, and Leecia Eve. [Watch the first televised debate in the Democratic primary for AG here.]
On Tuesday, Democratic candidates for Senate District 22 will participate in a debate at the United Chinese Association of Brooklyn. The participating candidates will be Ross Barkan and Andrew Gounardes.
Wednesday
On Wednesday morning, the Manhattan Neighborhood Network will host a debate between Lieutenant Governor Kathy Hochul and her Democratic primary challenger, City Council Member Jumaane Williams, which will be moderated by Gotham Gazette editor Ben Max. The taping, at MNN's 59th street studios, will be open to members of the media. The debate will first air on MNN and live-stream online at 6 p.m. Thursday evening, re-air at 9 p.m. Thursday, and will be available on YouTube thereafter.
At 5 p.m. Wednesday, the Max & Murphy show on WBAI radio (99.5FM or wbai.org) -- later posted as a podcast -- will feature appearances by State Senator Jose Peralta and his Democratic primary challenger, Jessica Ramos. Ramos will appear from roughly 5:05 p.m. to 5:25 p.m., Peralta will appear from roughly 5:30 p.m. to 5:50 p.m.
On Wednesday, Governor Andrew Cuomo and his Democratic primary challenger, Cynthia Nixon, will take part in a debate at Hofstra University, moderated by CBS-NY anchor Maurice DuBois and CBS-NY Chief Political Correspondent Marcia Kramer. The debate, the only face-to-face meeting between Cuomo and Nixon of the campaign, will tape at 5 p.m. and air at 7 p.m. on CBS TV (Channel 2), stream on CBSNewYork.com and Facebook, and be simulcast in Spanish on WLNY (Channel 55), and air on radio on 1010 WINS.
On Wednesday evening during NY1's Inside City Hall, there will be a Democratic primary debate between state Senator Jeff Klein and his challenger, Alessandra Biaggi.
Thursday
A new episode of the What's The [Data] Point? podcast from Gotham Gazette and Citizens Budget Commission, typically hosted by Ben Max and Maria Doulis, will tape and publish on Thursday, and will feature Liz Glazer, the director of the Mayor's Office of Criminal Justice.
At 6 p.m. Thursday, the debate between Kathy Hochul and Jumaane Williams will air on the Manhattan Neighborhood Network. The debate will air again at 9 p.m. Thursday.
On Thursday evening during NY1's Inside City Hall, there will be a Democratic primary debate between state Senator Jesse Hamilton and his challenger, Zellnor Myrie.
On Thursday a a debate will be taped between the Democrats in State Senate District 38, State Senator David Carlucci and challenger Julie Goldberg, for FIOS1's "NewsBreakers" moderated by Andrew Whitman. It will air over the weekend.
Friday and the weekend
Mayor de Blasio may make his weekly appearance on WNYC's The Brian Lehrer Show Friday morning at 10 a.m.
On Friday evening during NY1's Inside City Hall, there will be a debate among three Democrats running in the primary for state Assembly District 39 in Queens, including incumbent Aridia Espinal and challengers Catalina Cruz and Yonel Letellier Sosa.
Note: the upcoming weekend is Labor Day weekend, the next Week Ahead will publish on Monday evening, September 3.
***
Have events or topics for us to include in an upcoming Week Ahead in New York Politics? E-mail Gotham Gazette executive editor Ben Max any time: This email address is being protected from spambots. You need JavaScript enabled to view it. (please use "For Week Ahead" as email subject).
***
by Ben Brachfeld and Ben Max
@GothamGazette