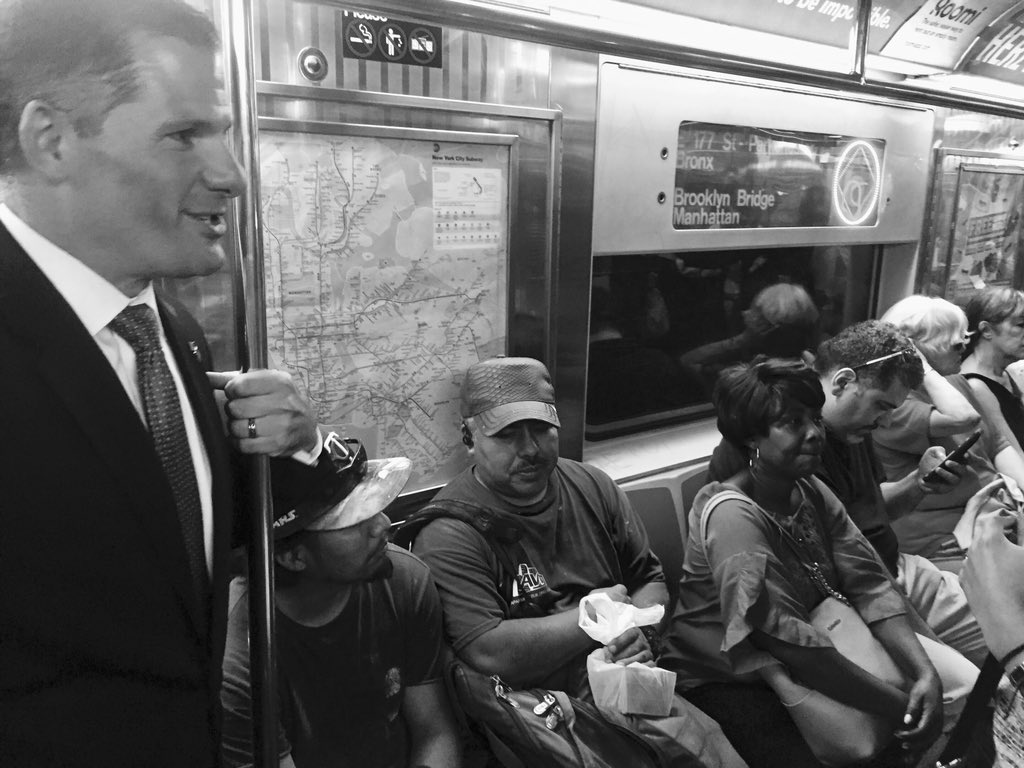 Marc Molinaro on the subway (photo: @marcmolinaro)
---
Republican gubernatorial candidate Marc Molinaro said that his plan to fix the state's ailing subway system is "not sexy," but argued Tuesday that he will fix the MTA by doing away with what he said is Governor Andrew Cuomo's approach, marked by uncontrolled spending, prioritizing "vanity projects" over key improvements and frequent fighting with Mayor Bill de Blasio.
For Molinaro, the chief problem facing the subway system is not lack of funding, but out-of-control costs allowed by bad management. His "Back on Track" plan, released late Monday, diagnoses the problems and puts forward solutions, emphasizing reducing costs and putting an end to what the campaign says are inefficient work rules that slow repairs.
"The MTA is falling victim to waste, fraud and abuse, and we as a state must confront the high cost of labor," he said at a Tuesday news conference outside City Hall, citing among others the Manhattan Institute and the Regional Plan Association as sources for ideas in the 30-page plan, which also supports the recently-released "Fast Forward" plan put forth by New York City Transit Authority President Andy Byford. "If spending more money on the MTA was the answer, we'd have the best transit system in the world," Molinaro said.
To cut costs, Molinaro is proposing lengthening work windows, which would mean longer subway service closures, with the aim of allowing for more efficient, less costly repairs.
And should Molinaro, a former New York Assembly member and currently the Dutchess county executive, be elected governor in November, the days of the state's governor and its largest city's mayor fighting over funding would be over, he said.
"I'm not going to argue with the mayor of New York, because the state's responsible for the MTA," said Molinaro, adding that he would work "hand-in-hand" with de Blasio to do what it takes to fix the subway.
Asked by Gotham Gazette to break down how his plan would fill the over $30 billion in funding needs for subway system repairs, Molinaro declined to discuss specifics, instead pointing to the written plan. In it, Molinaro calls for using value capture — a mechanism that captures the increased tax revenue from rising property prices as a result of new government investment, such as a new nearby subway station.
Molinaro's plan vaguely suggests improving the state's economic development programs to raise revenue with "pro-growth" initiatives. Underscoring his attention to driving down costs, one of the planks under "potential revenue streams" is cutting costs of what he labels Cuomo's "vanity projects." At the news conference, as in his plan, Molinaro said he supports congestion pricing, though "certain boroughs need consideration" on costs of driving into the city, he said. In the plan, Molinaro says that while a version of congestion pricing, which would add a fee to cars entering the core of Manhattan, is "part of the future of the MTA," it would need to be coupled with "major reform efforts to decrease operations and construction costs."
Among those cost-cutting reforms are reining in health care costs, overtime pay and pensions for construction workers on MTA projects. On construction costs, Molinaro said he would welcome new technology and crack down on overstaffing on projects.
While he focused his attention during the news conference on what he views as mismanagement of MTA-related matters by Cuomo, he also embraced the fundamentals of the city's newly passed effort to give discounted Metrocards to low-income New Yorkers. Specifically, Molinaro proposed using state funds to expand the city's new "Fair Fares" policy to make eligible for the program individuals who earn incomes of less than 200 percent of the federal poverty line. The current policy will give half-price metrocards to the 800,000 New Yorkers below the federal poverty line — which is roughly $25,000 for a family of four.
He also proposed assessing transit desserts and expanding subway lines to underserved areas, though he did not specify which areas are most in need of service.
Molinaro on Tuesday took several shots at the governor, likening him to "some sort of deranged Wizard of Oz" due to what he said is the governor's habit of misdirection from the core issues at hand facing the beleaguered subway system. The governor has continued to claim that the city is responsible for the MTA, even though he appoints most of the members on the MTA board — six of 14 — and its top leadership. And though the state typically contributes billions of dollars toward MTA capital plans, most of the funding that goes to the MTA comes from city residents who use its railways, subways and buses.
Abbey Collins, a spokesperson for Cuomo's campaign, in a statement called Molinaro's campaign a "joke," said he lacked credibility, and conflated Molinaro's criticism of the governor's MTA management with attacks on its employees.

"While Trump mini-me Molinaro has been busy copying and pasting the MTA's own plan into his policy book, it is Governor Cuomo who has appointed world-class senior leadership, secured a dedicated revenue stream, enacted the first phase of congestion pricing and charged the MTA to undertake the Fast Forward plan," she said. "It's clear Molinaro has exactly zero ideas of his own and instead is resorting to Trumpian assaults on the hardworking men and women who make the subways run." The president of the state AFL-CIO, which has endorsed Cuomo for re-election, sent out a statement also criticizing Molinaro for "vilify[ing] working people and their unions."
"He would rather blame workers for subway repair costs than recognize New York's highly trained and skilled workforce is the only thing that keeps our state moving forward," said New York AFL-CIO President Mario Cilento of Molinaro.