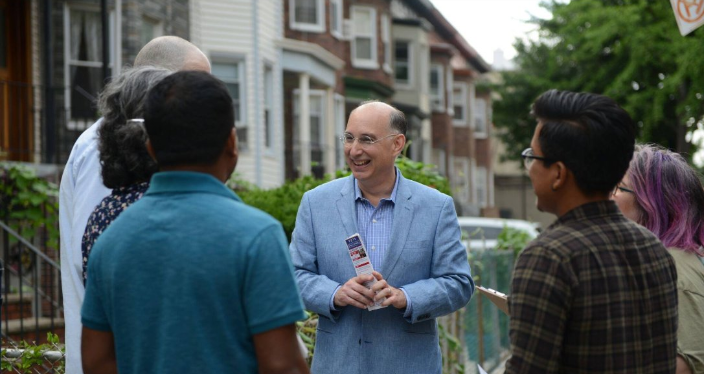 Blake Morris (photo: @BlakeMorris4NYS)
---
The race for control of the New York State Senate is again this year a key touchstone of a state election cycle, but before the November general election that will determine whether Democrats can win a majority from Republicans, and thus control both houses of the Legislature, there is a series of competitive primaries on the Democratic side that will be decided September 13.
Among them are eight races in which incumbents -- former members of the now-defunct Independent Democratic Conference -- are being challenged, mostly by young progressives, despite a "unity deal" fostered earlier this year by Democratic Governor Andrew Cuomo, whereby the rogue conference returned to the mainline Democratic fold, leaving the Democrats just one seat shy of a 32-member majority in the 63-seat chamber.
And while those eight races, including six in New York City districts, have offered immense intrigue and garnered a great deal of attention, it's unlikely that any of them will actually affect which party controls the Senate at the start of the next legislative session in January (though the challengers and some other Democrats say they do not trust the former IDC members to stay true to their Democratic colleagues).
More clearly relevant to party control of the upper chamber (the Assembly is a Democratic stronghold and will remain such), is a primary in Brooklyn where an incumbent Democratic senator who has been part of the Republican conference, giving it a one-seat edge in recent years, is being challenged in the primary.
Senator Simcha Felder, who since 2012 has run as a Democrat but caucused with Republicans, while also running on the Republican line in 2016, has ensured the Republican majority, which was bolstered by the IDC. Felder ran in 2012 after that year's redistricting made the 17th a heavily-Orthodox Jewish district essentially for Felder's taking; that year, Felder, who had left the City Council in 2010, soundly defeated 21-year-old Abraham Tischler in the primary and then defeated Republican David Storobin, who briefly held the seat the year prior to the redistricting. Felder also ran on the Conservative Party line that year.
If he wins the Democratic primary, where he is being challenged by Blake Morris, Felder is likely to take the Republican nomination again this year. In the general election he would face Luis Rivera, who is running on the Reform Party ticket.
Felder has not faced any serious opposition since 2012.
But Morris, who is running to Felder's left as a "real Democrat," emphasizing Felder's alliance with Republicans and its impact on New Yorkers, has significant backing from progressive groups, including the Working Families Party, Our Revolution, and Citizen Action, as well as 32BJ SEIU, the property services workers union.
Morris' campaign has drawn much less media attention and funding, and fewer endorsements from Democratic elected officials, than most of the IDC challengers. Morris says this is because the party "establishment" is afraid of him.
"Elected Democrats are scared," Morris told Gotham Gazette in an extensive interview covering his position on a wide variety of topics, including controversy over the education provided by Orthodox Jewish yeshivas, the fight for school speed cameras, Felder's record, Republicans, Democrats, the State Senate, the diverse priorities of the district, and how Thomas Edison sued his family out of business a century ago.
Felder, an Orthodox Jew whose district, allegedly drawn for him in 2012, has a large Orthodox population, has been a lightning rod of controversy throughout his tenure in both the City Council and, since 2013, the State Senate. He has recently drawn Cuomo's ire, though there is some evidence Cuomo has been happy with a Republican Senate majority, and that of the former members of the IDC. Senator Jeff Klein, the leader of the IDC, has stated repeatedly on the campaign trail and in debates that the Republican majority in the Senate was propped up only by Felder, and not by the IDC -- an argument that is only partially true.
In choosing to remain with the Republicans even after the IDC unity deal, Felder cast his decision as one made for the sake of bipartisanship and the institution of the Senate, while he has long insisted that his top priority is delivering for his constituents, even indicating that his party allegiance is available to the highest bidder.
"Political gamesmanship must not be allowed to jeopardize the leadership, committee structure and staff of the New York State Senate and push this institution into turmoil," Felder said in April, according to the New York Times, just after Cuomo brokered the post-budget unity deal and there were questions about whether Felder might be persuaded to cross the aisle for the rest of the legislative session.
Prior to the April unity deal, Felder appeared ready to hold up the state budget in order to loosen oversight of yeshivas, the Jewish religious schools, many of which have been accused of failing to provide basic secular education to their students, by diluting state "equivalence" standards for non-public schools. This occurred amid a New York City investigation into the yeshivas that has been thrown into some uncertainty based on the new state laws that Felder achieved.
While Felder partially succeeded, the State Education Commissioner also gained new oversight capabilities over the schools. The yeshiva issue has continued to cause controversy throughout the political season. Felder, as chair of the Senate's Cities Committee, has also shouldered much blame for the lapse of the city's school speed camera program, which had been approved by the state, but after expiring was reinstated via an executive order from Governor Cuomo and new City Council legislation. Felder was also one of the loudest voices in opposition to implementing a plastic bag fee in New York City, pushing the state to supercede a city law, much to the consternation of his colleagues in city government.
While he's better known outside the district for what he's blocked than for what he's passed, Felder's politics have been described as "transactional" on behalf of his Orthodox voting base. In the City Council, he opposed same-sex marriage but voted for Christine Quinn, who is gay, as Speaker. In the Senate, Felder's alliance with the Republicans has given him, and the community he represents, outsize power in Albany. One of his most notable legislative achievements was securing state-funded "door-to-door" private busing for yeshiva students, amounting to a $42 million community investment.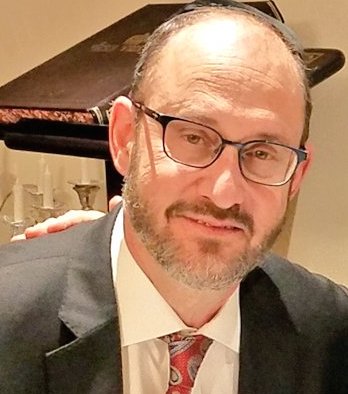 Felder (pictured) declined to be interviewed for this story; his spokesperson said he is not doing interviews.
Morris, a contract and property lawyer whose resume includes volunteer work with Develop Don't Destroy Brooklyn, a group opposed to the construction of the Atlantic Yards project, told Gotham Gazette that he never intended to run for office, much less Felder's seat. In 2016, after four years of Felder's alliance with Republicans and two consecutive elections where Felder was uncontested, Morris was an original member of a new activist group called "NYSD 17 for Progress," which formed in early 2017 to push for progressive action in state and local government, educating district residents on civic matters and registering voters. Its members appeared interested in a candidate to oppose Felder.
Morris said that he is a "reluctant candidate" and that being a candidate was "absolutely not" his first choice; he said he spent considerable time trying to find someone else to run against Felder. He, and others in his orbit, were expecting Felder, who joined the Republican caucus immediately after his election, to face a Democratic primary challenge in 2014 and 2016. In neither election did Felder face one, however, and so Morris decided to run.
"The concept of actually being the horse was never in my mind," Morris said. "If it was, I would've done this a long time ago."
Morris captured the special impact his own victory would have, saying that, unlike the IDC races, he could decisively flip the State Senate to Democrats.
"On November 6, when I win the general election, I've already done the major thing," Morris told Gotham Gazette, forecasting victory. "I hope to do a lot more, but the first big major thing I'm going to do is just by winning the election. Because once I win the election, the Senate gets flipped."
"My election would change everything in New York State," he said, noting that it would solidify Democratic control. Morris' analysis does not, of course, take into account that there are at least a handful of swing Senate districts that will be determined in November, potentially complicating the notion that the Felder seat is all-determinative.
"Everyone has a long story of what they're gonna do for the public when they're elected," he said, referring to the reaction to his pitch that Democratic clubs have at endorsement meetings. "No one ever just says their election changes everything."
Morris' take also does not acknowledge the likely long odds in unseating Felder, though there's minimal data to assess the race other than the fact that incumbents have extremely high reelection rates. While there has clearly been an awakening among many Democrats, new activists who are backing the IDC challengers, Morris, and others, it is unclear how much power there is behind the Morris campaign.
Soon after Morris entered the race, Felder brought a lawsuit aiming to kick him off the ballot, on the grounds that Morris's nomination papers, and his name on the ballot, appeared as his middle name Blake, instead of real first name Lawrence. Morris got the suit tossed, and connects the fairly common practice to a broader critique of Felder.
"He doesn't have any ideology, he doesn't have any pragmatism. It's just all extortion. He just holds things up and extorts people," Morris said. "And so that's what happened in court, and that's they thought they were gonna do, they were gonna take my time and money, my campaign money, and extort me in court on a pointless lawsuit."
As such, the State Democratic Party has abandoned Felder and has pinned its hopes on Morris, as has the Working Families Party, despite Morris's assertion that those Democrats in power are "scared" of his victory, and a unified Democratic government.
Morris, 56, was born in Pennsylvania, the son of a traveling salesman, and has lived in Ditmas Park for 20 years, he said. He has practiced law for 30 years, and has recently become something of a political activist and good government advocate.
In April, Morris won a lawsuit ordering the State Senate to disclose its guidelines for how taxpayer-funded mailers were distributed, which Morris claimed were significantly weighted to favor certain members, such as Felder. Morris claimed that the disparity in discretionary mailer budgets among senators ranged from $500 to $100,000. The Senate appealed, and the matter is currently pending.
Morris described the mailer controversy as an "incumbency protection program" and "discreet corruption," the latter referring to micro, "everyday" corruption occurring within the statehouse versus actions that can land politicians in prison.
Morris said that his several months of campaigning have left him optimistic.
"I've never met a Democratic-voter Felder-supporter," he said. "I've met Republicans who are Felder supporters."
Of the Democratic primary voters he meets, he splits them into two groups, but the end result is the same, he said.
"There's groups who know me and there's groups that don't know me," Morris said. "The groups that know me, those are the people who walk up to me and they say 'thank you for running, you're saving us.' So that's the level of support, people say 'thank you, I have been waiting six years for someone to run, you're saving me." In contrast, the groups that don't know Morris, according to him, give him their support essentially blindly when he says he's running against Felder. "I don't know who you are, you have my vote. I hope you're a good guy, because I'm voting for you."
The Morris campaign told Gotham Gazette that the district is "very diverse," a statement contradicted by Steve Romalewski, Director of the CUNY Mapping Service at the Center for Urban Research. The data provided to Gotham Gazette by the Morris campaign, compiled on Statistical Atlas and based on U.S. Census data, showed the district at 65.5 percent white, but Romalewski noted that the share of the voting age population that's white is nearly 73 percent.
"Based on the data I wouldn't describe the district as 'highly diverse,'" Romalewski said in an email. "It has some diversity, and I'm sure even within the white population there is diversity...But the core of the district is overwhelmingly white."
While Morris' assertion that the district is diverse may not hold up to scrutiny, he wants to change its composition regardless. In 2012, District 17 was gerrymandered, in his view, to specifically empower, and represent the interests of, Borough Park over neighboring communities such as Midwood, Bensonhurst, and Sunset Park.
"All the districts need to be redrawn," Morris said, arguing that the 2012 redistricting had systematically benefitted Republicans by under-populating upstate districts and over-populating downstate ones; he said the average district upstate, which he defined as north of Bear Mountain Bridge in northwestern Westchester County, has 300,000 people, while the average downstate one, including District 17, has 325,000, a finding largely consistent with an analysis of the 2012 redistricting by the CUNY Center for Urban Research.
The 2012 redistricting process has been widely criticized as a questionable deal among Cuomo and legislative leaders that helped solidify the Democratic Assembly majority and the Republican Senate majority. A new redistricting process, approved by voters in 2014, will be in effect for the next redrawing, in 2022, after the upcoming Census.
The district also has a sizable Asian population, with 18.7 percent identifying as Asian according to U.S. Census data. The Asian sections of the district also contain high proportions of immigrants, according to a comparison of the district map with the City's 2013 "Newest New Yorkers" report. The only sections of the district with sizable non-white populations, the ones overlapping Assembly Districts 49 and 51, saw very low voter turnout in the 2012 primary, with just 164 and 356 votes cast, respectively, according to the City Board of Elections. The Morris campaign described the district as 60 percent Jewish, with two-thirds of that 60 percent being Orthodox, with a significant ultra-Orthodox population.
Morris firmly believes that the diversity of the district can power him to victory, dispelling the image of the district as a homogenous Orthodox community.
To prevent himself from being two-faced in appealing to both liberal voters and to more conservative Orthodox voters in Borough Park, Morris says that he tries not to mince words.
"I tell them the truth. I say the 17th Senate District is much larger than Borough Park," he said.
Perhaps the most salient issue in the district beyond Felder himself, that of the investigation into yeshivas accused of failing to educate students according to state law, is a sticking point for Morris, and one he believes distinguishes him from Felder. While Felder helped lead a watering down of the oversight laws, and New York City officials slow-walked an investigation into the yeshivas of whether they are providing the mandated "substantially equivalent" secular education to public schools, Morris called it a "yeshiva dog-and-pony show."
Morris said Felder "worked mischief" but unintentionally provided the State Education Commissioner with new authority to unilaterally withhold state funds from yeshivas that are deemed to be inadequately educating children.
While yeshivas are classified under the constitutional category of "non-public" education, the state still provides resources to yeshiva students in the form of transportation, building maintenance, and textbooks. If a school is found to be deficiently educating students, the commissioner can recommend that the comptroller not disburse funds to those schools.
Morris believes that, per a letter from New York City Schools Chancellor Richard Carranza, the yeshivas that recently turned away city Department of Education inspectors should have their funds withheld, and that the new "status quo" of the commissioner, rather than district superintendents, being able to make recommendations to the comptroller should be maintained.
"I don't think the district superintendent, which is the mayor, I don't think the mayor ever asked the state superintendent, as a referral, to suspend payments to the schools that would not let them in," Morris said. "And that is what should've happened. And my suspicion is, being a contract disputes attorney for over 30 years, my suspicion is that when these schools were ordered, got the letter saying that their payments from the state were gonna be suspended, they might've opened the door."
Morris differentiated himself from Felder in yet another way, by pointing out the differences in their campaign contributions. According to the State Board of Elections, Morris has not taken any corporate donations, and has taken few non-individual donations. These include $5,000 from 32BJ, $3,500 in in-kind contributions from the State Democratic Committee, and $1,000 from the Central Brooklyn Independent Democrats. He has raised $91,500 from 769 donations as of the September filing.
For Felder, meanwhile, 138 out of his 240 donations since January 2017 have been from non-individual donors, including several real estate LLCs, the Real Estate Board of New York (REBNY), charter school advocates, and $11,000 from "Friends of John Flanagan," the committee controlled by the Republican Senate majority leader. Only 12 donations were under $200, with a total of 40 of $250 or less.
"Felder runs around saying 'oh, look at my community, you know, I support my community.' He never uses the word 'district,' he never says the word 'district,'" Morris said. "And he never uses the word 'constituents,' he always talks about 'my community.' And, for the longest time, I've been always saying, we don't know what his community is because we can't figure out who he's representing. And then you look at his financial disclosure, and now you find out his community. His community's REBNY, it's John Flanagan, it's the corrections union, troopers' union, it's the PBA. It's nursing homes, it's bus companies with state contracts -- basically special interests with loaded state contracts. And the real estate lobby."
Though Morris has steered clear of corporate donations, he did not rule out accepting them, saying that if a "masochist" real estate company decided to donate to him, despite his policy preferences, he wouldn't decline the donation.
Morris also said the school speed camera program and establishment of a single-payer healthcare system were key issues for the district he hopes to represent. On his website, Morris' policy objectives include building the TriboroRX subway line connecting the Bronx, Queens, and Brooklyn, passing GENDA, implementing early-voting and no-excuse absentee voting, building protected bike lanes, public financing of state elections, and expanding rent stabilization. Though Morris has embraced the mantle of "real" Democrat and is largely in-line with the IDC challengers, he told Gotham Gazette that he not a "handicapper" in saying that he would not publicly endorse either Cuomo or Cynthia Nixon for governor.
As for Morris' family feud with Thomas Edison, it derives from events of a century ago. Morris' mother's family, "known for their steady hands," was at the apex of the hand-cranked motion projector industry, contracting themselves out to New York City movie theaters to hand-crank the projectors.
"But then Thomas Edison put them all out of business with the electric motor for motion picture projectors," Morris said, noting that Edison invented a stable electric motor that wouldn't spark and cause the highly flammable film stock to catch fire.
Afterwards, the family started selling light bulbs without a license; Edison sued them for patent infringement.
Note: this article has been corrected to clarify Morris' role in SD17 for Progress and the organization's mission.