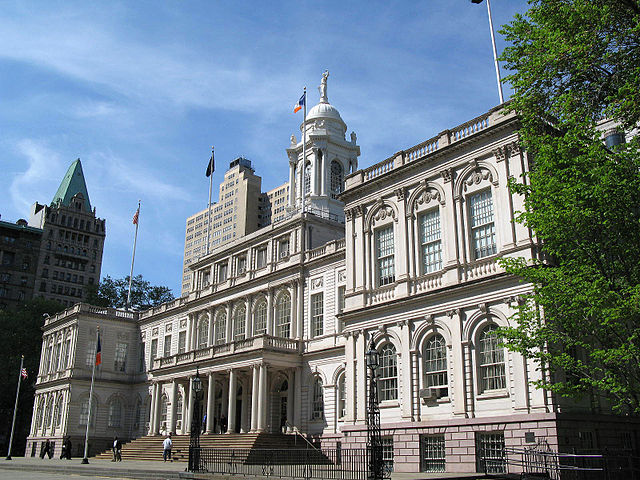 New York City Hall
---
What to watch for this week in New York politics:
Thursday is primary day! After a few more days of intense campaigning, by the end of the night on Thursday, we should know the victors in the primaries -- almost all of them in the Democratic Party -- for Governor, Lieutenant Governor, Attorney General, many state legislative seats, and more.
The most closely watched races are the statewide primaries between Governor Andrew Cuomo and Cynthia Nixon and between Lieutenant Governor Kathy Hochul and City Council Member Jumaane Williams; the Attorney General primary among Public Advocate Letitia James, Rep. Sean Patrick Maloney, Professor Zephyr Teachout, and Leecia Eve, a Verizon lobbyist and former aide to several major Democratic officials, including Cuomo. Also, about a dozen Democratic state Senate primaries, including the eight involving former members of the Independent Democratic Conference, six of which include districts covering parts of New York City.
The week starts after an eventful weekend of campaigning and controversy. While candidates and their supporters were rallying and canvassing and announcing endorsements and tweeting and texting and more, Mayor Bill de Blasio announced he will not make endorsements in either of the primaries for Governor and Lieutenant Governor. A de Blasio spokesperson told Gotham Gazette the mayor has not decided yet whether he will endorse in the Attorney General primary; wherein his wife, Chirlane McCray is backing Teachout, though both de Blasio and McCray have a long relationship with James.
More controversial than de Blasio's announcement, though, was news of a mailing made by the State Democratic Party targeting Nixon as anti-Semitic, which Cuomo and the state party's executive director, Andrew Berman, both denounced after it became public on Saturday. A Cuomo spokesperson said the governor knew nothing about it and Berman said likewise about himself, and that he was going to hold the responsible parties to account. Both declarations appeared confusing to those familiar with how the state party and election season mailers work, including that Cuomo has moved millions of dollars from his campaign account to the state party's, and is the de facto leader of the party apparatus.
Also this weekend, the Cuomo administration had to explain the fact that the governor had held a celebratory ribbon-cutting for a new span of the Mario M. Cuomo Bridge (which replaces the Tappan Zee), including Hillary Clinton, only to have the portion of the bridge not opened due to safety precautions emanating from the old bridge, which is being demolished. Cuomo held the celebration on Friday, just six days before the primary, and questions arose as to whether he had rushed the event to take advantage of good pre-primary press.
While the focus of the week will largely be the primaries, the week starts with the Rosh Hashanah holiday and the anniversary of the September 11, 2001 terror attacks.
There are several governmental and other events to be aware of this week -- see the day-by-day rundown below.
***Do you have events or topics for us to include in an upcoming Week Ahead in New York Politics?
e-mail Gotham Gazette editor Ben Max: This email address is being protected from spambots. You need JavaScript enabled to view it.***
The run of the week in detail:
Monday
Monday is Rosh Hashanah. There will be campaigning, but no public government events.
At 10:30 a.m. Monday, Gotham Gazette editor Ben Max and City Limits editor Jarrett Murphy will appear on The Brian Lehrer Show on WNYC radio, at 93.9FM or wnyc.org.
Mayor Bill de Blasio will be on the campaign trail for one of the three state Senate candidates he has endorsed, Jessica Ramos, in Queens, and he will make his usual weekly appearance on NY1's Inside City Hall in the 7 and 11 p.m. hours.
Tuesday
Tuesday is the 17th anniversary of the September 11, 2001 terror attacks. There will be remembrances across the city. One of this will be at 6:30 p.m., when Staten Island Borough President James Oddo will preside over an annual memorial ceremony for victims of the 9/11 attacks at the Postcards memorial.
Wednesday
The City Council will hold a stated meeting at 1:30 p.m. Wednesday. It will be preceded by a press conference hosted by Speaker Corey Johnson.
Also at the City Council on Wednesday: the Committee on Transportation will meet at 10 a.m. to discuss proposed laws laws related to the L train shutdown, including "designating community information centers in the boroughs of Manhattan and Brooklyn" for the duration of the shutdown, "establishing an ombudsperson within the department of transportation," and to discuss a resolution "calling upon the Governor and the Metropolitan Transportation Authority to commit to an expeditious transition to an electric bus fleet and to use electric buses as a robust part of its replacement service during the upcoming L train shutdown."
At 8 a.m. Wednesday, the Flatiron/23rd Street Partnership Business Improvement District (BID) and Baruch College will host their annual Small Business Assistance Forum at Baruch College's William and Anita Newman Conference Center. The event will include a discussion on issues important to small businesses in New York City featuring Rachel Van Tosh, Deputy Commissioner for Business Services at the New York City Department of Small Business Services, and Carlina Rivera, City Council Member for the 2nd Council District, which includes a portion of Flatiron. That conversation will be moderated by Gotham Gazette Executive Editor Ben Max.
At 10:30 a.m. Wednesday, the Joint Commission on Public Ethics will hold a commission meeting at 540 Broadway in Albany.
At 5 p.m. Wednesday, the latest episode of Max & Murphy will be on WBAI radio, 99.5FM or wbai.org. The show will be a preview of Thursday's primary elections.
At 6 p.m. Wednesday, the City Council's Charter Revision Commission will hold its first public hearing, at Lehman College's Lovinger Theatre. The hearing kicks off a series of events across the five boroughs over the next few weeks.
Thursday
Thursday is primary day in New York for state races, including Governor, Lieutenant Governor, Attorney General, State Legislature, Judgeships, and other races. Polls in New York City and the counties of Nassau, Suffolk, Westchester, Rockland, Orange, Putnam, Dutchess, and Erie will open at 6 a.m., and polls in all other locations statewide will open at noon. All polls statewide will close at 9 p.m. Check your registration status; preview your ballot; and check your polling place.
Friday and the weekend
At 8 a.m. Friday, the Association for a Better New York will host Schools Chancellor Richard Carranza for a "Power Breakfast" at the Roosevelt Hotel in Midtown. Carranza will "present his vision and priorities for the New York City Department of Education and New York City public schools."
At 8:30 a.m. Friday, the Murphy Institute of Labor will host "Is a Democratic Capitalism Possible?" discussing the erosion of democracy as a result of wealth concentration, and steps to "bolster our democracy and create a more equitable society." Speakers will include Deputy Mayor J. Phillip Thompson; Maurice Weeks, Co-Executive Director of the Action Center on Race & The Economy; and NYU professor Kim Phillips Fein. CUNY professor Frances Fox Piven will moderate.
At 9 a.m. Friday, the New York City Board of Correction will hold a public meeting at 125 Worth Street.
Mayor de Blasio may make his weekly appearance on WNYC's The Brian Lehrer Show on Friday at 10 a.m.
***
Have events or topics for us to include in an upcoming Week Ahead in New York Politics? E-mail Gotham Gazette executive editor Ben Max any time: This email address is being protected from spambots. You need JavaScript enabled to view it. (please use "For Week Ahead" as email subject).
***
by Ben Brachfeld and Ben Max
@GothamGazette