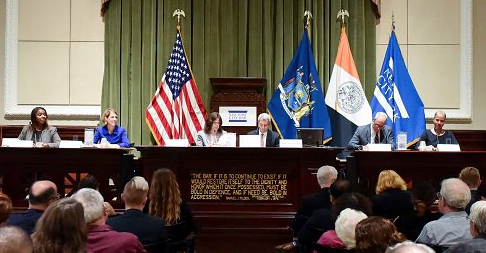 The Democratic AG candidates at the NYC Bar Association forum (photo: @NYCBarAssnNews)
---
At one of several attorney general candidate forums last week, the four Democrats in the race were asked for a highlight of their legal careers, and what is shows about how they'd approach the job.
New York City Public Advocate Letitia James began with a quip about embracing an attack line against her that she wakes up every morning looking for someone to sue, going on to describe a pro bono client she took on whose father was murdered, whose mother abandoned him, and was himself facing deportation. Zephyr Teachout, a Fordham Law professor and corruption expert, spoke about her time working with a team of death penalty lawyers early in her career.
Rep. Sean Patrick Maloney, who has worked at high-end law firms and in the White House under President Bill Clinton, said he did not have much courtroom experience, because he worked at elite firms, but listed other legal credentials, like working at Willkie Farr & Gallagher, Kirkland and Ellis, and Orrick, Herrington & Sutcliffe. And Leecia Eve, a lobbyist for Verizon who previously worked for Joe Biden, Hillary Clinton and Andrew Cuomo, hearkened back to her time as a young lawyer who sued the Washington, D.C. prison system on behalf of incarcerated women.
The candidates' answers to that question, at an event hosted by the New York City Bar Association and New York Law Journal, and to others at prior and subsequent debates and forums, highlight both the candidates' varying backgrounds and the skill sets they believe they would bring to the state's top legal office. The attorney general is both a defense attorney and litigator, tasked with defending New York when the state is sued and upholding many New York laws, protecting consumers, tenants, investors, and others.
A closer look at the four Democrats' legal careers heading into the Thursday September 13 primary vote, when a party nominee will be chosen for the general election against Republican Keith Wofford and smaller-party candidates, shows differing legal backgrounds and expertise and sheds light on the candidates' possible priorities should they be elected.
Tish James
When James kicked off her campaign, she presented herself as a "champion in government" for New Yorkers, and "watchdog for the people."
"Throughout my entire career I have been fueled by this idea that the law is our most effective tool in our quest for justice and for progress," she said in Brooklyn.
James' legal career is extensive, including work as a public defender, government counsel, and assistant attorney general. She's been a legislator as a member of the New York City Council, and as New York City Public Advocate she has focused on both filing lawsuits and passing legislation, both to further degrees than her three predecessors in the citywide elected position, though with mixed results.
Throughout her political career, James has largely been seen as reliably progressive, and has been close with labor unions, activist groups, Democratic clubs, and the liberal Working Families Party, on whose ballot line she was first elected to office. James has mostly been an ally of Mayor Bill de Blasio, a fellow Democrat whom she succeeded as public advocate, and, though she has sued his administration on a number of occasions and at times been critical of the mayor, she has shied away from holding him accountable on a variety of matters that have been among the mayor's largest headaches over almost five years in office.
Seeking to become the next New York Attorney General, James has the backing of Governor Andrew Cuomo and the state Democratic Party, as well as many members of the party establishment, and she is running on her experience, while trying to downplay questions about her independence from the governor and other elected officials.
Throughout her campaign, James has sought to distinguish herself from Teachout, especially, regularly pointing to her practical own work in government while referring to Teachout as "professor" at multiple debates in an apparent effort to brand her as detached from the type of work she's implying an attorney general should have on his or her resume. James, who was previously expected to be a 2021 mayoral candidate before Eric Schneiderman resigned as attorney general amid allegations he had abused several intimate partners, also presents herself as an advocate for the downtrodden and vulnerable rather than a lawyer for the well-heeled.
"As a public defender, I represented New Yorkers who couldn't afford fancy lawyers — but that didn't mean they shouldn't be afforded any less justice," James said in an emailed statement in response to several questions about her legal experience Gotham Gazette sent to the campaign. "And I saw firsthand how so many New Yorkers, especially young men of color, were targeted by an unfair criminal justice system. I've taken these lessons to heart, and I've fought against these injustices throughout my career. I've fought for and won — real criminal justice reforms."
These criminal justice reforms include, suing to obtain the minutes for the Eric Garner grand jury, being the first elected official to push for the NYPD to implement the use of body cameras after a police officer killed Garner. It's a program, currently being implemented in New York City, that James says she wants to help take statewide.
"As Attorney General," she continued, "I'll keep that focus — on using the law to help real people."
At a recent Manhattan Neighborhood Network debate, James took her pitch as a public defender a bit further, saying she has continued to represent defendants. "I'm a former public defender. I've represented countless people in the criminal justice system, and in fact still do," she said. Asked which cases she has been working on, a James spokesperson did not cite any specific instances, saying only that as public advocate James is tasked with representing all New Yorkers, including people affected by the criminal justice system.
Before she ran successfully for the City Council in 2003, James worked for years in Brooklyn as a public defender, then as an assistant attorney general. She has Albany experience as well. There, she served as counsel in then-Assembleymember Roger Green's office. During her time as a City Council member, she sued Mayor Michael Bloomberg when he was attempting to run for a third term over the wishes of the public, and sued on behalf of multiple plaintiffs who were arrested in Zuccotti Park in the Rodriguez v. Winsky case stemming from Occupy Wall Street.
Additionally, James was one of the key figures opposing Atlantic Yards, the mixed-use project sited in her Council district that continues to be built. As Norman Oder, the leading Atlantic Yards watchdog, recently wrote for Gotham Gazette, James was tough and inquisitive when going toe-to-toe with the developers and the city, but has softened her stance in the years since she left the Council and has stretched her record a bit far when touting it in public, including during the attorney general race. James' imprecise language, Oder and others have written, is part of a pattern for the public advocate.
While serving as an assistant attorney general, James led investigations into predatory lenders, worked on consumer complaints, and collaborated with the civil rights bureau in investigating the New York City Police Department's stop-and-frisk policy, her campaign said.
And while during her time as public advocate James' independence from de Blasio and willingness to hold his feet to the fire have been called into question — a charge she has ignored while running for attorney general and claiming her independence had never been questioned until she linked up with Cuomo — she has filed a number of lawsuits against city agencies. James has also filed suits against bad landlords and other entities. In her telling, she has "turned the public advocate's office into a public interest law firm." James also touts that she has passed more legislation than all previous public advocates combined.
It was what James had promised to do upon becoming public advocate and she followed through, hiring more attorneys to the relatively small office and focusing on both litigation and legislation, while largely ignoring hot-button issues related to de Blasio's multitude of political scandals and controversies. Still, her efforts at litigation have brought limited returns, with the public advocate kicked off a number of lawsuits over a lack of standing, according to presiding judges (James has said she wants the City Charter changed to give her more standing). She has had successes as well.
Among the cases James has brought are ones against NYCHA's heating policies, which were found to violate New York City Health and Administrative codes. The suit resulted in a shift from policy where the buildings would only turn on the heat when the temperature dipped below 20 degrees. James also invoked New York City Human Rights Law to file an amicus brief alongside City Council members on behalf of rent-stabilized tenants after a landlord denied them services. The tenants were awarded financial compensation in 2016.
Also in 2016, James alleged the Department of Education was providing insufficient services to students with special needs due to a faulty information portal. A court ruled in James' favor, prompting the DOE to appeal. The case is pending.
During the Bar Association forum, James embraced her reputation for frequently filing lawsuits — an approach she plans to carry with her should she be the state's next attorney general.
"Someone once ridiculed me and said, 'Tish James goes into the office of the public advocate each and every day, she thinks of a lawsuit, and she sues somebody and then goes home.' That's true," she quipped.
James has promised that, if elected, she will go after those who violate the law with respect to the rights of tenants, consumers, workers, and others. Like her competitors, she's pledged to push criminal justice reform. But she received heavy criticism when she told The New York Times that she wouldn't embrace the moniker 'Sheriff of Wall Street' that had been applied to former Attorney General Eliot Spitzer. While James has said she meant that the name belonged to Spitzer and she wants to chart her own path, her opponents seized on the comment, arguing that the New York attorney general must investigate abuses in the financial industry. James during debates and in an op-ed sought to clarify her remarks.
Often citing her office's Worst Landlords List, saying she has "supercharged it" after it had been launched by her predecessor, de Blasio, James is pledging to go after building owners who try to force rent-regulated tenants out or practice other unscrupulous tactics.
During the Bar Association forum, James also cited a specific case in which she represented pro bono an unaccompanied minor whose father was murdered in Honduras and came to the United States without authorization. He was granted Special Immigrant Juvenile Status after a family member was given guardianship, and now lives in the U.S with a green card.
"His mother abandoned him and I went to court and I represented him and was successful in getting an asylum petition granted," she recalled, going on to note the personal relationship they forged. "He recently graduated from high school. And he just introduced me to his girlfriend, who I do not like," she joked.
Zephyr Teachout
Teachout has pitched herself as the candidate who has the experience to tackle what she views as the key issues at hand for the next attorney general, most especially corruption in state government and in Donald Trump's administration, businesses, and other dealings. And as the only candidate who hasn't accepted corporate money for her campaign, Teachout argues New Yorkers can trust her to police Wall Street firms, real estate interests, and others.
Teachout, a Fordham Law professor, has cast herself as the most left-wing candidate in the race, with the most independence and crucial experience addressing public corruption, including her work suing Trump, providing legal advice around prosecuting public corruption cases, and writing a book on the history of the subject in the United States. She also touts that she took on Governor Cuomo in the 2014 primary with a focus on the corruption that he had promised to clean up but hadn't.
Teachout graduated from Duke Law School, serving as editor-in-chief of the school's law review. She worked as a clerk for Chief Judge Edward Becker of the Third Circuit Court of Appeals in the Eastern District of Pennsylvania, and in North Carolina served as a death penalty defense lawyer at the Center for Death Penalty Litigation. In the good government relm, Teachout served as the Sunlight Foundation's first national executive director from 2006 to 2007. She has also worked on political campaigns, including Howard Dean's 2004 bid for the Democratic presidential nomination.
Teachout has since 2009 taught at Fordham Law School, where she is an associate law professor. She was previously a visiting professor at Duke University's law school as well as a lecturer at the University of Vermont.
In 2014, just days after she lost her quixotic gubernatorial primary challenge to Cuomo, Teachout's book, "Corruption in America," was published. It was widely praised and helped elevate her status as a national corruption expert, though she had already been involved in the issue, including, as she has said on the campaign trail, efforts to fight the Supreme Court's eventual Citizens United campaign finance ruling.
It is her scholarship, and her job as a professor more broadly — along with the fact that she is running for her third office in four years — that has been the source of repeated attacks levied against Teachout. Using phrases like, "this is not an academic exercise," her rivals seem to claim that Teachout may know the legal texts from cover to cover but lacks real experience as an attorney and putting theory into action.
Teachout rejects this characterization, saying that she has led teams of lawyers and made complex legal arguments. In a campaign ad released in June, she said she has spent her life combating corruption and democratizing law, ensuring the powerful are held accountable and the powerless defended. One example she often cites is her instrumental role in invoking the emoluments clause against President Trump, alleging he was personally profiting off the presidency by being paid by foreign powers that patronize his hotels and other businesses.
"I have a deep expertise in this area of law that is now painfully relevant," Teachout told The Atlantic.
Teachout only recently joined the New York Bar after being registered in North Carolina, sparking criticism about the depths of her roots in the state and her commitment to practicing law here.
Further, a reprimand from the North Carolina Bar during her time as an attorney there has also been a source of fodder for opponents, especially James, who has claimed that Teachout "abandoned" a death row inmate and was reprimanded by the bar for it (James inaccurately said Teachout had been "censured"). The facts appear to show a minor mistake being blown out of proportion during a political campaign. Teachout was indeed reprimanded, but for failing to notify the court and her opposing counsel that she had a new address. And while the bar did reprimand her — a relatively uncommon finding — it also ruled that the infraction had no bearing on the client or outcome of the case.
In a statement provided by the Teachout campaign, Stephen Greenwald, who worked alongside Teachout on death penalty cases in North Carolina, attempted to clear the air on the matter, and heaped praise on Teachout's legal abilities.
"I worked with Zephyr on several death penalty cases and she was a devoted and excellent attorney," he said. "I worked with her specifically on the case for which she was reprimanded on a procedural point that had nothing to do with the case itself, and I can confirm that it had absolutely no impact on the case, as the bar determined."
He added that Teachout did not in fact "abandon" a client, and said "it's wrong and ridiculous to claim she did."
Greenwald also cited a case in which he worked alongside Teachout to defend a man named Robert Bacon, whose life he said Teachout helped to save via "creative lawyering."
"A week before he was scheduled to be executed we managed to get a stay because we determined that the governor had a been the attorney general previously and therefore had a conflict of interest in determining whether to grant clemency," Greenwald explained. "The state Supreme Court ruled in our favor six hours before Robert was going to be executed."
At a recent press conference, Teachout also spoke about a specific death penalty case, and said she learned how to be creative and use every tool in the box to defend her clients.
"One of the first cases I worked on involved a situation where I was working with a team of lawyers who was representing their client on a case where they had sought clemency — life imprisonment without parole, instead of execution — but they were seeking it from a governor who had previously been a prosecutor," she said. "And we built an equal protection clause challenge around that, which actually led to a three-month moratorium on [death penalty] cases in North Carolina."
Though she is best-known for her book and scholarship on corruption, it was her time working with inmates facing the death penalty that she chose to draw upon at the New York City Bar Association forum. She spoke about representing defendants in post-conviction review.
"As a death penalty lawyer, you learn a lot. You certainly learn about the horrors of our current criminal justice system, but you also learn how to both dig up facts in intense investigations, find things that haven't been found before because there is a threat of the state trying to kill your client," she said. "You also learn how to take out laws and legal theories that haven't been used before."
Teachout has promised to do this as attorney general, and has praised Spitzer for reinvigorating the office's use of the Martin Act to become the 'Sheriff of Wall Street.'
"A lot of the work that I've been involved in has been working in money in politics groups on long-term strategic litigation," she said at the press conference. "As you may know, I was cited in dissent in Citizens United, which is part of a long-term strategy to shift the way the court understands money in politics...I regularly talk to people — when there's a constitutional change like McDonnell [a recent Supreme Court ruling that changed the definition of public corruption], prosecutors will call me and talk through what are the strategies we can deal with in recharging, because I have a specialty in white collar crime."
Teachout then tied her legal work to what she wants to accomplish as attorney general — goals for which she says she has been a consistent champion.
"One of the key themes of my campaign is the wrong people are in jail," she said. "We have to end mass incarceration, and return our focus to white-collar crime. And in the antitrust world, I also worked on strategic litigation there. I've worked on filing briefs myself, but also working with teams of lawyers on shifting the shape of the law."
Sean Patrick Maloney
Maloney has on the campaign trail cast himself as a candidate who is less ideological about the job he wants, but is battle-tested in the upper echelons of law and the toughest political fights. In order to take on Trump, and handle the issues that come the office's way, Maloney has said, an attorney general needs both public and private sector know-how. After graduating from the University of Virginia's law school in 1992, he worked in high-level jobs in law, technology and politics; he went on to unsuccessfully run for New York attorney general and successfully for Congress.
"I think what is critical in this job is to understand the combination of legal and policy issues together with the political issues that determine the success or failure of the attorney general," Maloney told Gotham Gazette in an interview eight days before the primary. "The attorney general needs to be able to win complex legal cases, run major investigations, and to do all that in the context of public policy and political questions that are also at play. If you think about going toe-to-toe with Donald Trump, you've got to both understand the law and the political angle."
In a campaign ad, Maloney says New York is in a "street fight" for its future, arguing that having "nailed corrupt CEOs and landlords," defended hate crime victims, and while in Congress taking on the NRA, he's the most prepared candidate to win the fight.
Maloney began his legal career at Willkie Farr & Gallagher, an international corporate law firm, where he worked as an associate from 1992 through 1997.
Maloney was hired to work in President Bill Clinton's White House, where he served from 1997 to 1998 as special assistant to the president, deputy assistant to the president from 1998 to 1999, and as assistant to the president and staff secretary from 1999 to 2000. After his years in the Clinton White House, he worked from 2000 to 2003 at Kiodex, a software company, as its chief operating officer, managing $40 million in private equity, according to his campaign. He then returned to work as an associate attorney at Willkie Farr & Gallagher from 2004 to 2005. In 2006, he ran for attorney general for the first time, losing in the Democratic primary to Cuomo.
Maloney then returned to government, working in the gubernatorial administration of Eliot Spitzer, working in the executive chamber under Spitzer and his successor, David Paterson. From 2007 into 2009, Maloney served as senior adviser, handled budgetary matters and oversaw 13 state agencies and departments while in the governor's office, according to his campaign.
In early 2007, Maloney began serving as first deputy secretary under then-top Spitzer aide Rich Baum. While in that role, "Troopergate" — a scandal in which the Democratic governor's office misused state police to track then-Republican Senate Majority Leader Joseph Bruno — took place, though Maloney has denied he played any part in it. The New York Times editorial board, however, endorsed the incumbent Maloney was challenging in his successful 2012 congressional race because Maloney "appeared to be most interested in holding back the staff's personal emails from investigators" during a probe into the Troopergate controversy.
Maloney worked briefly for Governor Paterson, who took over when Spitzer resigned amid a prostitution scandal. Maloney moved back to the corporate legal world at the end of 2009 and became partner at Kirkland & Ellis, where he stayed until 2011.
In 2011, he was made partner at Orrick, Herrington & Sutcliffe, a firm specializing in technology and energy law, in its global finance group, working in large part on public-private partnerships and infrastructure projects, according to Law360. In 2012, he ran for Congress and won a seat where he represents what has been a swing district in the Hudson Valley. Maloney defeated a Republican incumbent, and won reelection in 2014 and 2016.
He's on the ballot again this year, though he plans to drop his congressional bid if he wins the attorney general primary. Maloney's dual candidacies have been the source of much criticism from his opponents and others. Maloney insists he's suspended all congressional campaigning, and is pursuing the job he wants in attorney general. He has said if he could get off the congressional ballot already he would have.
Maloney has also been criticized — and sued by Teachout — for transferring well over $1 million from his congressional campaign account to his attorney general coffers. He insists his actions have been legal.
During last week's Bar Association forum, Maloney acknowledged he has not spent much time in a courtroom, but brandished his credentials as an elite lawyer, arguing his experience made him best-equipped to take on bad actors of all kinds.
"You're talking to somebody who's spent years at Willkie, Farr & Gallagher, as partner at Kirkland and Ellis, and Orrick Herrington, so when you're at a really good law firm, they don't let you near a lot of courtrooms," he said to the experienced New York City legal crowd.
While his opponents have not denied his legal experience, some have argued he is too cozy with certain industries and sectors — like big real estate and financial firms — that he'd need to investigate, prosecute, and hold accountable as attorney general, making him less-than-ideal for the job. The Teachout campaign last Tuesday blasted out a story from The Financial Times, which reported that Wall Street had chosen its candidate, Maloney, because the industry had donated the most to him out of the candidates.
Maloney in the interview forcefully denied that he wouldn't take on Wall Street if need be.
"Yeah, that's a bulls*** thing to say," he said when asked about the claim he was Wall Street's candidate and thus would not sufficiently take on its bad actors.
Asked to elaborate, Maloney said that the "city's best lawyers," are supporting his campaign, which "means they respect me as a legal mind and practitioner who can go toe-to-toe with any lawyers the big Wall Street guys throw at me."
"I don't have any experience in Wall Street," he added. "But I have experience in doing sophisticated legal work, and being able to compete at any level."
Moreover, Maloney argued his experience handling classified material and receiving briefings as a member of Congress would be of assistance in combatting Trump.
"I'm the only candidate with a top secret security clearance and I am currently regularly briefed in the Russia investigation and the Justice Department probe. And that's unique in this field of candidates and that's very important right now," he said. "That means I can hit the ground running."
"I have a level of understanding of the extent and scope of the Russia investigation that includes having received classified briefings that just better prepares me to do this work," he added.
Leecia Eve
Born in Western New York, a graduate of Harvard Law School who now lives in Harlem, Eve has described herself as the candidate most well-versed in the in-and-outs of all of New York State, while possessing a broad range of legal skills that prepared her for the attorney general job.
"I'm running as the most qualified and best prepared candidate," she said in Buffalo at the beginning of her campaign. "I'm telling people they should want somebody with an understanding of the needs of this state. And my roots in New York State run deep."
Eve, who like Maloney is also taking her second shot at running for attorney general, has shifted her focus over the decades. As City Limits reported on Tuesday, Eve's career went from taking on the D.C. prison system to a lobbyist for Verizon — a job she described to the outlet as entailing "educating stakeholders." Between, she worked at one of upstate New York's largest law firms as the first African-American general equity partner at Hodgson Russ, specializing in commercial, securities and intellectual property litigation. Eve previously served as an aide to then-Senator Joe Biden and then-Senator Hillary Clinton, giving her broad experience on legal, legislative, and security matters. She is currently on the board of the Port Authority of New York and New Jersey.
In an interview with Gotham Gazette, Eve made the case that, due to her deep familiarity of legal issues in New York and experience working on them, she is the best fit for the job.
"There is no comparison whatsoever, frankly, between my diverse background as a litigator, but also someone who understands a wide array of issues of concern to New Yorkers from a both legal and a policy perspective," she said on September 3.
As she did during the Bar Association forum — and as referenced in a campaign commercial — Eve pointed to her about her time representing incarcerated women as a young lawyer as a high point of her career that she said sheds light on how she would act as attorney general.
As a young associate at Covington & Burling, she was part of a pro bono legal team representing women incarcerated in the Washington D.C. whose rights, the court found, were systematically violated. Eve has also described the conditions faced by the women she represented.
"One of my clients literally had her legs shackled to a hospital bed as she was bringing a child into this world," she said in the interview, reiterating something she has stressed repeatedly on the campaign trail. "Some of our clients literally felt that they had no choice but to engage in sexual acts with prison guards in order to be guaranteed an opportunity to visit with their children, something that they otherwise were entitled to do."
"Obviously, this is inhumane conduct, it's illegal conduct, it's unconstitutional conduct," she continued, "and I'm proud to say that I took on the D.C. prison system, filed suit, fought hard, and we won."
The precedent-setting case — which she said sparked prison reform nationwide — was not the only case from the early part of her career in which she successfully represented victims whose civil rights were violated. A church group of African-American young women who stayed at a hotel in Western New York, Eve recalled, were subjected to racial discrimination, and were granted a favorable ruling after she represented them pro bono.
Asked what she took away from her time in law, Eve said she learned how to "best and powerfully give voice to an injustice" while facing off against a more puissant opponent.
"I say that because I have these very powerful, vivid memories of being in some of the D.C. prisons, spending time with my clients, hearing about what happened to them, and then saying, 'We must fix this, we must stop this,' and then translating that experience … into a detailed complaint," she explained. "When you represent hundreds of women who are incarcerated, who by and large are powerless, by and large [are] uneducated, and your opponent is the government representing the most powerful city in the most powerful nation on earth, you have a battle on your hands."
Thus before she even turned 30 — a "baby lawyer," as she described it — she learned how to fight and beat powerful forces.
Yet those highlights from the fledgling stages of her law career — working to help incarcerated women and victims of racial discrimination — come in contrast to her more corporate, establishment-oriented work in recent years. Eve was proud of her work in both Clinton's and Biden's offices, where she says she advised then-Senator Biden on immigration issues and the Violence Against Women Act. She said these jobs should and would be viewed as an asset, not a fault. She has repeatedly defended her ties to the long-time Democratic politicians whose politics have fallen out of favor with much of the left wing of the party that appears energized by the presidential candidacy of Senator Bernie Sanders and Trump's election.
Eve has argued her own progressive credentials, including her work drafting votings rights legislation and her plan to pursue both voting and criminal justice reform if elected attorney general. For Cuomo, Eve was a top economic development aide.
Asked about her most recent work, corporate lobbying for Verizon, she said, "I am proud to work for a company that employs nearly 20,000 people with good jobs and invests billion in this state."
"People are still hungry for good-paying jobs," she continued. "You want companies to be here. You want companies to expand and grow."
She said should two unnamed candidates — presumably Teachout and James — take the attorney general job some companies would be "running for the hills," in an apparent reference to the candidates' being furthest to the left and promising to crack down on bad actors in a variety of sectors.
Eve went on to say she knows how to appropriately do that work due to her experience and took a less-than-subtle jab at Teachout.
"What you need as an attorney general that understands how most aggressively to go after bad corporate actors. And someone who knows only what she teaches in a classroom is not that person," she said. "Taking on extremely tough fights has prepared me to take on what are going to be tough fights to hold this administration accountable, to hold Donald Trump personally accountable, and to hold bad actors in this state accountable as well."
With additional reporting from Victor Porcelli and Annie Abreu