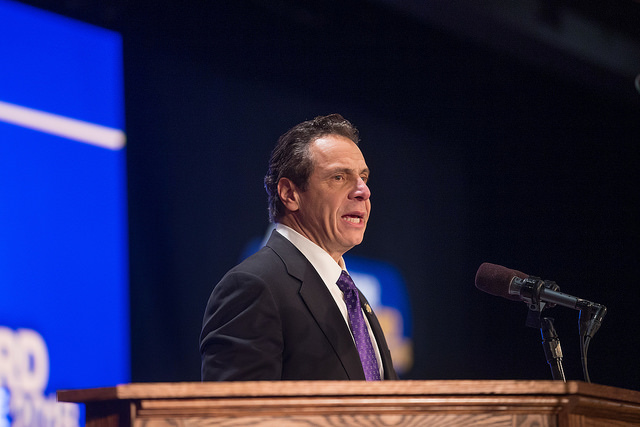 (Photo: Mike Groll- Office of Governor Andrew M. Cuomo)
---
As Governor Andrew Cuomo seeks a third term in office, facing actor and education activist Cynthia Nixon in the primary on Thursday, he has pitched himself as a man of action, a chief executive who gets things done with little regard for politicking. But as even Nixon acknowledges Cuomo as a heavy favorite and Cuomo remains the likeliest winner in November, the Democratic incumbent has largely run on his accomplishments, perceived, exaggerated, and real, while downplaying his actual tendency for political gamesmanship, and has proposed few new ideas about what he will deliver for the state if re-elected.
Nor has Cuomo given much attention to even the long-standing policies and programs that he has supported in the past that would appear to form the foundation of a rationale for another term. His campaign website, perhaps the easiest place for a candidate to outline his or her proposals, offers virtually no mention of forward-looking policy, instead touting the governor's two-term record on several high-profile issues, like marriage equality, the minimum wage, and gun control.
In their only debate of the race, hosted by WCBS, Cuomo and Nixon were not afforded time to give opening or closing statements to lay out their respective visions for the state -- a format that Cuomo is said to have held great sway over in agreeing to the one debate -- and Cuomo is notoriously averse to taking questions from reporters both at campaign and government events, though he does take a handful of questions after some appearances. He has done no sit-down TV or radio interviews to discuss his re-election bid, and has spoken with one print reporter at length, Chris Smith of New York Magazine. The governor has largely centered his pitch around fighting President Donald Trump.
But in April, when Cuomo brought together a split Democratic conference in the state Senate, he came closer than he has since to articulating a legislative agenda for his third term, listing off priorities that he has long expressed support for but that he said Republican senators had shown they will not pass. A Cuomo campaign spokesperson said the governor typically outlines new proposals in his January State of the State address, which is a government event.
Cuomo's critics have derided him as a Clintonian centrist who has, for two terms, triangulated with Republicans and members of his own party to deliver a mixed record of achievement. He has undoubtedly ushered progressive policies through the state Legislature, such as marriage equality and significant gun regulations, while conceding to popular demand for others, including a $15 minimum wage program, paid family leave, and raising the age of criminal responsibility.
But Cuomo has failed in the eyes of many progressives who say he has shown only performative support for their various priorities. The state's campaign finance and ethics laws remain woefully anaemic, with Cuomo taking full advantage of loopholes and seeing top aides convicted of corruption; while voting and elections laws are considered archaic and even suppressive. The governor has not enacted speedy trial reform or done away with cash bail. Activists believe he hasn't provided equitable funding for under-resourced schools and hasn't paid enough attention to environmental justice issues. They critique him for largely ignoring a housing affordability crisis across the state, only paying attention to public housing when it fit his political needs, and channeling billions to economic development programs rife with corruption and conflicts of interest and showing lackluster results. He has also raised the ire of many on the left by not winning codification of the abortion protections of Roe v. Wade or the Dream Act, and hasn't pushed for state-funded single-payer healthcare or driver's licenses for undocumented immigrants.
And perhaps the biggest black eye of all that cuts across political ideologies and allegiances, he has let New York City's subway system fall into crisis while refusing to rightfully take ownership of the state authority that controls it.
Cuomo has said he can achieve most, if not all of those agenda items in a third term if Democrats win full control of the state Legislature, which would require only a net gain of one seat in the state Senate (the Assembly is overwhelmingly Democratic). Here again, Cuomo has been criticized for tolerating -- some say enabling -- an eight-member rogue Democratic faction in the Senate called the Independent Democratic Conference that caucused with Republicans to either create or bolster the GOP majority.
After years of insisting he was helpless to bring them back into the mainline Democratic conference -- and blaming Republicans for not moving legislation he says he supports -- he did just that in April, promising that New York can yet again be a progressive leader on legislation across the country once Democrats pick up more seats to get a numerical majority in the 63-member Senate. The Republican conference currently holds 32 seats including conservative Brooklyn Democrat Senator Simcha Felder, who Cuomo has also apparently left alone in his movement across the aisle.
When Cuomo announced he had brokered the Democratic "unity" deal in April, wherein all involved pledged not to support primary challengers to the others, he provided something of an agenda for 2019, if not beyond, briefly rattling off priorities that he has long-backed but that he said Republicans senators had shown they will not pass.
"We did a lot of good things in the budget, but there are also things that we didn't pass that we need to pass," Cuomo said at the April news conference announcing the newly united Democratic conference that came just after a new state budget was agreed upon. "Child Victims Act, more gun safety, bail reform, the Dream Act, banning outside income, campaign finance reform, early voting - these are all progressive principles that were not passed in the budget and which we will not pass until we have a Democratic Senate."
In response to an inquiry from Gotham Gazette two days before the primary, Cuomo's campaign provided a list of the items that make up his third-term vision, including proposals he has supported but failed to pass for years, including from his first term, and initiatives already under way that he plans to build on.
They include voting reform (early voting, automatic voter registration and same-day voter registration); criminal justice reform (related to bail, discovery, speedy trials and asset forfeiture, closing Rikers Island, passing the Child Victims Act and legalizing the recreational use of marijuana); passing the DREAM Act; strengthening rent regulations; funding the MTA's Fast Forward plan and passing congestion pricing; strengthening the Excelsior program to make college affordable; closing the per-pupil funding gap; ensuring access to quality, affordable healthcare; and ethics and campaign finance reform (closing the LLC loophole and banning outside income for legislators chief among them); gun control; and infrastructure.
"The Governor has led the way in making New York the progressive capital of the nation — from $15 minimum wage to paid family leave to marriage equality to first-in-the-nation Excelsior Scholarship to the toughest and strongest gun laws in the country," said campaign spokesperson Abbey Collins, in a statement to Gotham Gazette. "While Washington tries to take us backward, the governor will continue to build on this unmatched record of accomplishment by winning a Democratic Senate Majority to pass ethics, voting, and criminal justice reform, make college affordable, invest $150 billion in our infrastructure, strengthen our gun laws, protect immigrant families and achieve universal healthcare for all New Yorkers."
Gun control may be the one area where Cuomo has consistently led the way. After successfully passing the SAFE Act in his first term, Cuomo proposed a red flag bill earlier this year, also known as the Extreme Risk Protection Order bill, that would allow courts to order the temporary seizure of firearms from individuals and the homes of individuals deemed a risk to themselves or others. He has also pushed for a ten-day background check waiting period and raising the age for buying a gun to 21.
On some issues like recreational marijuana, Cuomo has been pulled to the left. Last year, Cuomo called marijuana a "gateway drug" but then, in January this year, he announced a task force to analyze the legalization of recreational use for adults. Though it came a few months before Nixon entered the race, some, including Nixon herself, have attributed the governor's movement on the issue, which has since accelerated, to her primary challenge.
"This is the classic tale of the third term," said Douglas Muzzio, political science professor at Baruch College's School of Public and International Affairs. "It's the running for the third term playbook. After two terms, you've spent your energy and your thinking. You get most of the stuff done in your first term and then it tails off, and that was true of Governor [George] Pataki, it was true of the first Cuomo, it was true of Ed Koch [as mayor]. If you think of New York executives who have run for third terms, they haven't been very successful third terms, and they've won them."
Cuomo's biggest bet, however, is infrastructure, with a promised $150 billion five-year plan set to begin in 2019, apparently subsuming and adding to an ongoing $100 billion investment in infrastructure around the state that Cuomo has repeatedly touted. "We're going to show the nation how to build a state that is the epitome of the infrastructure and transportation of the next century," Cuomo said at a news conference last week, announcing the construction of a new entrance to Penn Station.
"There are no new detailed policy ideas with some kind of numbers attached. And if there are discrete pieces, there's no coherence to it, there's no vision to hold it together," Muzzio said.
The inevitable result, he said, is voter fatigue. "You've run through all your ideas in the first two terms, and then on top of that, you've made two terms worth of enemies and people who are dissatisfied," he said. "So the number of dissatisfieds rises dramatically and there's an urge to throw the bums out, whether they're bums or not. And it becomes an 'anybody but' election."
What remains to be seen, of course, is whether Cynthia Nixon has galvanized enough of that Cuomo fatigue, especially around the subways, and provided a vision to voters that will carry her to what would be one of the most shocking political upsets in history. Public polls, however questionable they may be, have shown a Cuomo blowout is likely on Thursday, though the governor has been at the center of several last-minute controversies and continues to spend millions to ensure victory.
The Penn Station announcement was one of several Cuomo has held in recent weeks, and some, including his primary and general election opponents, have criticized him for holding a long series of recent government events to bolster his reelection. Case in point, on Friday, the governor held a grandiose event featuring Hillary Clinton to open the new span of the Governor Mario M. Cuomo Bridge (called the Governor Malcolm Wilson Tappan Zee bridge before it was renamed this year) and just a day later, was forced to acknowledge that it would remain closed due to safety concerns arising from the old span. It opened late Tuesday night.
Asked if Cuomo has presented a third-term vision, Ted Hamm, associate professor and chair of journalism and new media studies at St. Joseph's College, said, "I think the short answer is 'no.'"
"I guess if you say that his infrastructure projects are his vision, then maybe you could make the case that he needs to see those through," he added. "But given what happened with the Tappan Zee, who knows how he'll politicize those projects. Also, he still hasn't accomplished much with the subways as an essential infrastructure project...So if that's his main vision, it's got holes, particularly the subway."
"The Governor has given New Yorkers nothing to vote for," said Lauren Hitt, a Nixon campaign spokesperson, in an email. "His whole campaign strategy has been to get them to see him as anti-Trump, which is tough considering he won't return the $64,000 Trump gave to his campaign - and the many other similarities between them."
Though Nixon is new to running for office, she has issued detailed policy platforms on a raft of issues to make up for what she lacks in government experience, though she has at times stumbled in discussing the specifics or outlining the details of her vision when asked. Nixon's plans also pull mostly from existing proposals, both before the Legislature and put out by various advocacy groups, though together they present an unabashed progressive direction for the state that the candidate has herself aligned with democratic socialism.
"The Governor hasn't presented a plan to fix the subways, he refuses to hold hearings on sexual harassment, he won't support single payer, or promise to end cash bail. All these issues are so important to New Yorkers and progressives across the country, and he won't stand up for one of them," Hitt added. (Cuomo has said he supports single-payer healthcare, also known as Medicare for All, but has insisted that it must be funded by the federal government rather than the state.)
"In terms of policy, there's no comparison, at least from a progressive perspective," Hamm said. "You can get into the questions of how do we pay for this type of stuff, but that's pretty much the case of what you have to do when you're a challenger against a long time incumbent. The corruption stuff only goes so far politically. But she's put forth the agenda of the progressive wing, the Bernie Sanders wing of the party."
Hamm noted, though that Nixon lacks the government experience that various editorial boards cited in endorsing Cuomo while acknowledging his failures. "Mr. Cuomo is flawed. When he allows petty enmity and political grievance to distract him from his commitment to public service, he is his own worst enemy. But when he confronts a real problem and gets down to work, he is a very capable governor," the New York Times editorial board wrote. The board said Nixon's "lack of experience in government or management of any sort do not inspire confidence that she could overcome the old guard in Albany to fulfill her promises and run the state."
Muzzio echoed that view, expecting that Cuomo will get reelected and govern as he always has. "Very strategically, very Machiavellian in the best sense of the word," he said. "There's this clear-headedness of the Machiavellian leader. Even though he often times has a fatal flaw -- It's ego and paranoia...He's a tough force to work for and he's a tough person to deal with."
"His father once said, 'You campaign in poetry and you govern in prose.' And he is a master at his prose," Muzzio said.
But there are early signs that New York may not become the progressive bastion people expect if -- and it's a big if given Republicans' abilities to win state Senate seats -- Democrats are no longer hamstrung in the Legislature. Cuomo himself tempered those expectations when he was interviewed by the New York Daily News editorial board, which endorsed him over Nixon. "It will still be hard," he said. "Whoever is in the minority, it's always easy to say 'I'll vote for that.' But as we learned painfully, when the minority becomes the majority, they often change their tune."
Ben Max and Victor Porcelli contributed to this article.