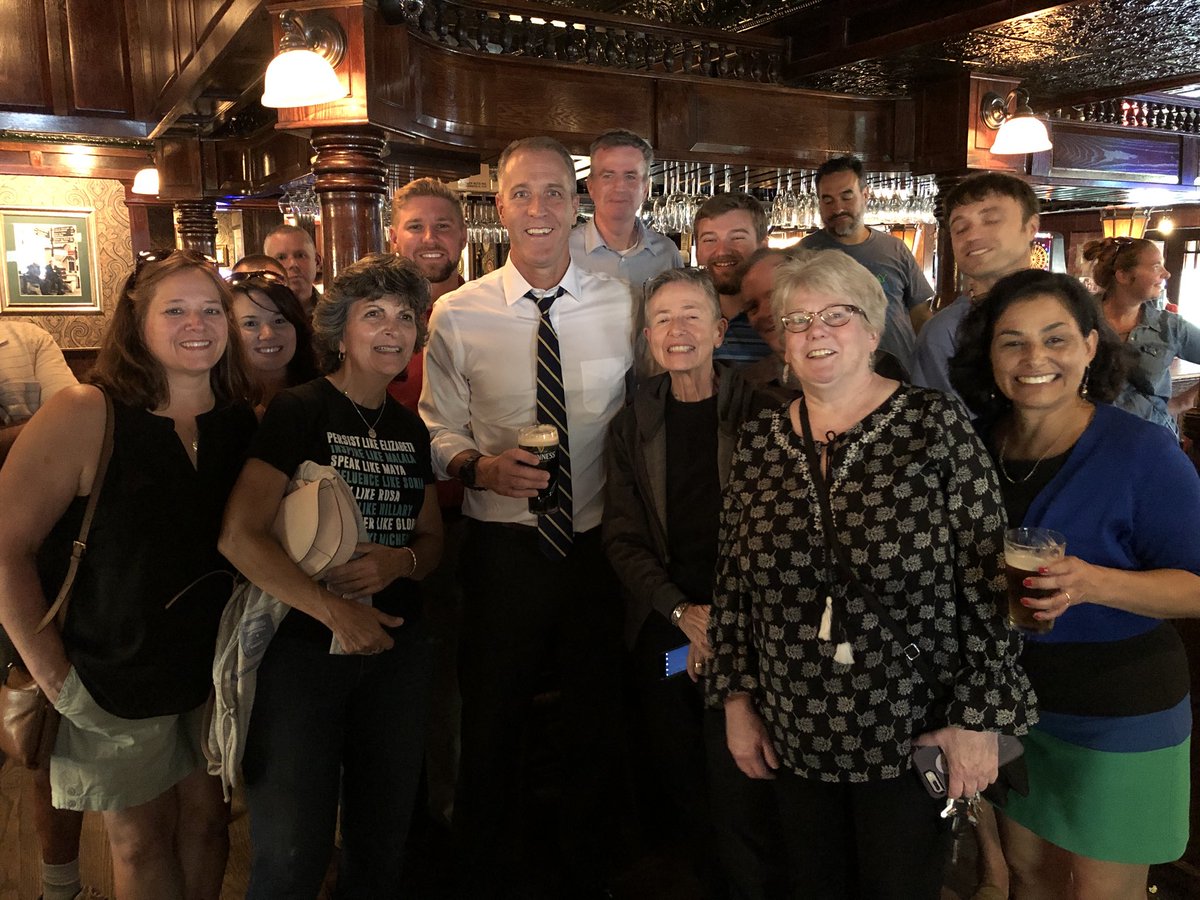 Rep. Maloney at a Syracuse pub (photo: @MaloneyForNY)
---
While the four Democratic attorney general candidates will be in New York City on Thursday evening watching the primary election results come in, two of the race's three frontrunners — Rep. Sean Patrick Maloney and Zephyr Teachout — are polling best upstate, competing for votes there as Public Advocate Letitia James dominates in the city.
Though the New York political establishment has coalesced around James, and several editorial boards have endorsed Teachout, Maloney led the pack in a Siena College poll released Monday, though he was just ahead of James, well within the margin of error of 4.5 percentage points. Maloney received 25 percent of the vote from likely Democratic primary voters; James was at 24 percent and Teachout at 18 percent, with Eve trailing far behind at 3 percent. It also showed Maloney and Teachout running neck-and-neck in upstate New York, with many likely voters undecided.
While there are questions about whether polls are accurately capturing the likely electorate, especially the energized left, likely for the most part behind Teachout in the attorney general primary, the surveys appear to capture the general trend of where each candidate has a base of support. And the polling points to an dynamic in the race that has been clear and could be determinative in the primary: Teachout and Maloney may be competing for so many of the same voters that either may have a hard time outpacing James when all the votes come in.
Still, neither Teachout nor Maloney has ignored New York City by any means, with Maloney blanketing the airwaves and holding events across the city over the past two months, and Teachout regularly appearing all over the city, including a primary day schedule with numerous events in three boroughs. Yet Westchester, the Hudson Valley, and beyond may decide the outcome of the election.
The most recent poll showed Maloney, who represents a Hudson Valley district in Congress, ahead upstate. "Maloney leads by seven points over Teachout upstate, with James a distant third, and has a significant lead in the downstate suburbs, with James 20 points back and Teachout right behind her," Siena College pollster Steven Greenberg said.
While Maloney (39 percent) and Teachout (34 percent) had similar favorability ratings in the upstate region, Maloney polled far better than Teachout in the crucial suburbs of New York City, where he has a 50 percent approval rating compared to 23 percent for Teachout. When she challenged Governor Cuomo in the 2014 primary, Teachout did well outside of New York City, posting a surprisingly high 34 percent of the vote overall. She then built her name recognition and following among Democrats during her 2016 congressional race, while Maloney has been in Congress since flipping his district in 2012.
Asked at an unrelated press conference about her message for voters in the Hudson Valley deciding between her and Maloney, Teachout noted that Maloney had frequently voted with Republican, and added, "We need an attorney general whose going to stand up to Trump, and I have been engaged in the legal fight against Trump since the beginning, and he has a record of voting with him 34 percent of the time."
"He's also taken a lot of money from big real estate interests, which doesn't represent the Hudson Valley," she continued.
Even before the latest poll was released, signs suggested Teachout, who unsuccessfully ran for a neighboring Hudson Valley congressional seat in 2016, and had Maloney's endorsement, viewed Maloney as a threat, as she launched attacks at him at a much higher rate than at either James or Eve. Maloney has mostly shied away from attacking other candidates, but when criticized by Teachout, has intensely fired back, most boldly at debates. Teachout has been the main target of the other candidates in the three broadcast debates of the race.
Teachout throughout the campaign has said that Maloney is ideologically compromised, in cahoots with big real estate and Wall Street financial firms. And while in Congress, he has voted with Trump far too much to show that he's a reliable bastion against him, she has said, while he has boasted of getting things done and working across the aisle for his constituents. Teachout, who has pledged to investigate malpractice in the industry if elected, has criticized Maloney for taking big money from the real estate industry, totaling $338,000 in donations from individuals with ties to the industry, according to Sludge, and from the Real Estate Board of New York's PAC.
Teachout, for example, recently blasted out a Financial Times story that reported that Wall Street had chosen Maloney as its favorite candidate in the race.
"You can't be the Sheriff of Wall Street if you just handed big banks a massive, early Christmas bonus. And you can't protect New Yorkers from consumer fraud, predatory lenders, or housing discrimination or if you're awash in corporate cash and helping Donald Trump deregulate the financial services industry by voting with the administration 34% of the time," she said in a press release. "It's fundamentally disqualifying."
Maloney has responded to attacks by arguing that, unlike Teachout, he does not plan to wage ideological warfare while in office. And, he has said, it is hypocritical for her to lambast him for taking donations from special interests, because she has in the past as well.
Additionally, at a debate last week, Maloney used what the Teachout campaign and others called gendered language to describe Teachout's criticism of his vote to rollback some Dodd-Frank banking regulations. "Her rhetoric on this is completely unhinged," he said, sparking criticism.
On September 6, Teachout escalated the war of words to a legal battle, filing a lawsuit against Maloney for transferring $1.4 million funds from his congressional campaign account into his attorney general coffers. Part of the lawsuit was denied, prompting Maloney campaign spokesperson Caitlin Girouard to reiterate one of the campaign's broader attack lines against Teachout.
"This last-ditch lawsuit was like so much of Zephyr Teachout's legal and political career: mere theatre, designed to generate headlines for her benefit, denigrate others, and achieve nothing of lasting substance," she said.