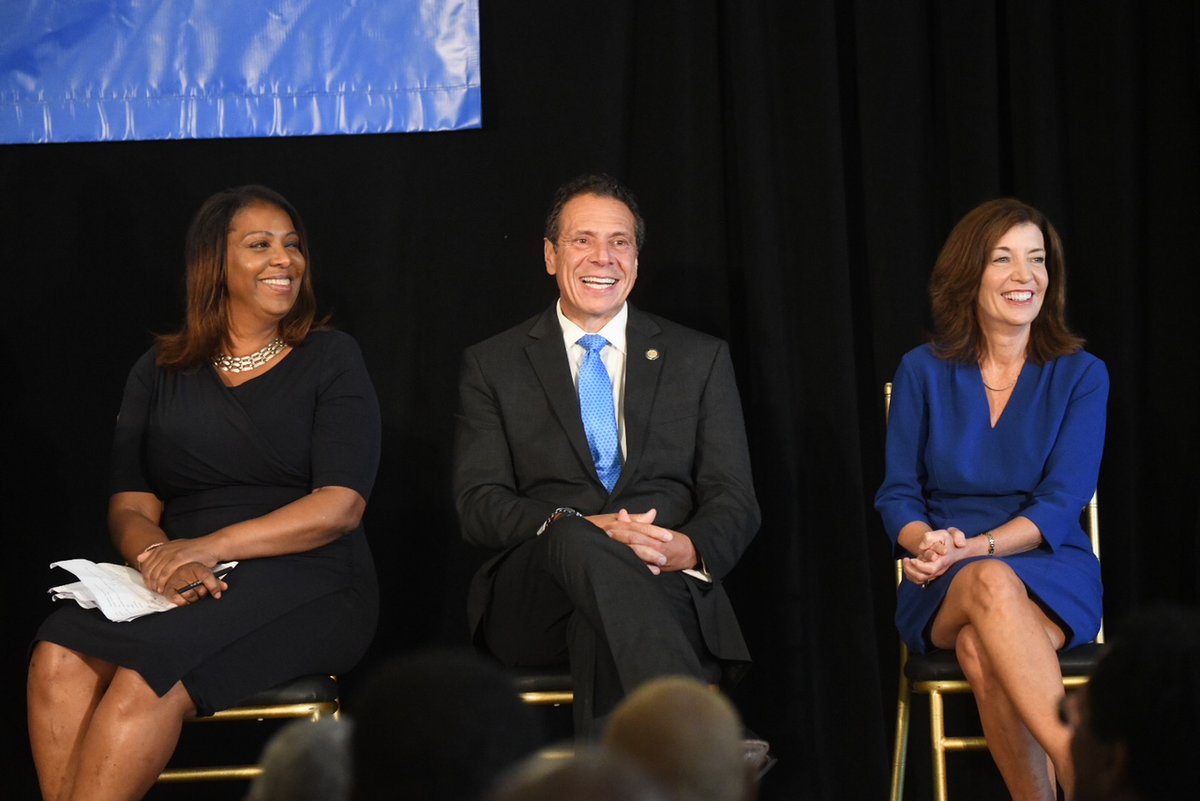 (photo: @andrewcuomo)
---
Governor Andrew Cuomo won the Democratic nomination by a wide margin Thursday, with his running-mate Lieutenant Governor Kathy Hochul surviving a much closer race, Public Advocate Letitia James prevailing comfortably in a crowded Attorney General primary, and more than half a dozen upsets of sitting state Senators, including six of the eight former members of the Independent Democratic Conference (IDC).
Additionally, voter turnout was significantly higher than 2014, the last gubernatorial election year, perhaps owing to the combination of the number and intensity of the challenges to incumbents as well as the awakening spurred by the election of Donald Trump, which itself contributed to those challenges being waged.
Cuomo, who spent more than $20 million in the campaign, defeated actor and activist Cynthia Nixon by about 30 percentage points; the governor seeking a third term earning more than 64% to Nixon's 34.6%, with 96% of precincts reporting as of about 11:30 p.m. primary night.
Hochul beat Williams by about 53% to 47% in what was a hard-fought Lieutenant Governor primary.
James won the four-way Democratic primary for Attorney General, pulling in 40% to 31% for Zephyr Teachout, 25% for Rep. Sean Patrick Maloney, who will now seek reelection to the House of Representatives, and 3% for Leecia Eve.
With the state party-backed candidates, including incumbents Cuomo and Hochul, winning those statewide primaries (Comptroller Tom DiNapoli was not challenged), perhaps the biggest storyline of the night was progressive upsets that occurred in state Senate primaries, including the complete demolish of the IDC, which had folded back into the mainline Democratic minority conference in April, in a deal brokered by Cuomo.
The former leader of the IDC, Senator Jeff Klein, was defeated by Alessandra Biaggi in the Bronx and Westchester seat, despite Klein spending well over $1 million in the race.
Other IDC races included Jessica Ramos unseating Senator Jose Peralta in Queens; Robert Jackson unseating Senator Marisol Alcantara in Manhattan; Zellnor Myrie unseating Senator Jesse Hamilton in Brooklyn; John Liu unseating Senator Tony Avella in Queens; and Rachel May unseating Senator David Valesky in the Syracuse area.
Former IDC members who beat back challengers were Senator Diane Savino of Staten Island and Brooklyn, who defeated Jasmine Robinson, and Senator David Carlucci of Rockland, who defeated Julie Goldberg.
In another upset, Julia Salazar unseated Senator Martin Dilan in Brooklyn.
Senator Simcha Felder, a Brooklyn Democrat who has been part of the Republican conference, giving the GOP a one-seat majority, defeated challenger Blake Morris.
In a Democratic primary to see who will take on Republican Brooklyn Senator Martin Golden in the general election, Andrew Gounardes defeated Ross Barkan.
There were far fewer storylines in Assembly races, but Catalina Cruz did unseat Assemblymember Ari Espinal in a Democratic primary in Queens. Democratic Assemblymember Brian Barnwell held off a challenge from Melissa Sklarz; As of Friday morning, votes were still being counted in the 46th Assembly district in Brooklyn where Mathylde Frontus is leading with 40.68 percent against Ethan Lustig-Elgrably, who has 39.75 percent of the vote; and Michael Reilly won the primary in the Republican Assembly stronghold on the South Shore of Staten Island, where no incumbent is running.
Additionally, Nancy Sliwa won a three-candidate race for the Reform Party nomination for Attorney General.
All of the primary winners will now move on to the general election, where a statewide slate of Republican nominees has been waiting -- the GOP strategically avoided any statewide primaries -- along with some minor party candidates. Along with the statewide races, the focus for the general election will be on which party can win the requisite seats to control the state Senate (the Assembly is overwhelmingly Democratic and will remain so), and battleground House races where New York swing seats could factor into whether Democrats can take control of that congressional chamber.
Note- This article has been updated to clarify that Ethan Lustic-Elgrably has not been declared the winner in Brooklyn's 46th Assembly district. Votes were still being counted as of Friday morning.