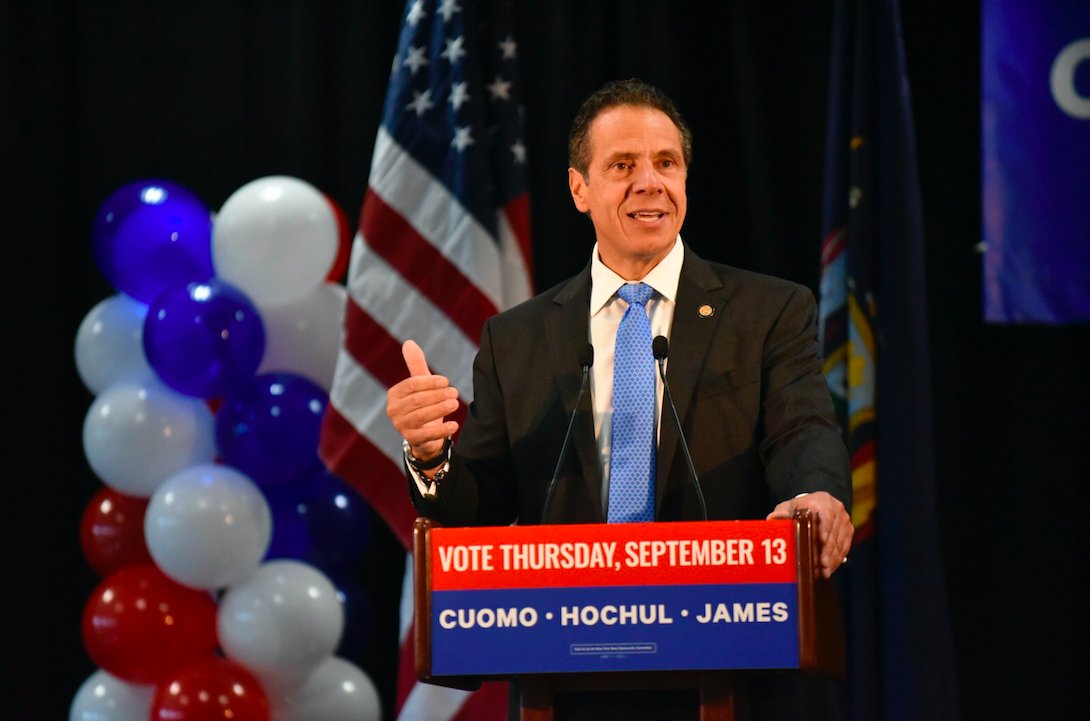 Gov. Cuomo (photo: @andrewcuomo)
---
Governor Andrew Cuomo, a Democrat, won his party's nomination for a third term on Thursday, after a bruising primary battle against actor and education activist Cynthia Nixon, who challenged him from his left. Cuomo won with about 65 percent of the vote against Nixon's 35 percent. Joining Cuomo on the Democratic ticket is Lieutenant Governor Kathy Hochul, who won the party nomination over her own primary challenger, New York City Council Member Jumaane Williams. Hochul received 53 percent against Williams' 47 percent.
Thursday's result was hardly a surprise, though turnout was much higher than four years ago. Cuomo consistently led Nixon in public polling over the last few months, and spent more than $20 million to beat back the insurgent first-time candidate, blanketing the airwaves with advertisements across the state. Nixon ran a far leaner campaign, spending barely $2 million as she attempted to unseat the incumbent, who was running on achievements of his two terms and his pledge to fight President Trump.
Nixon touted her experience as a long-time activist on education, LGBT issues, and women's reproductive rights as she sought to be the state's first female and first openly queer governor. Though Nixon was hoping that a wave of progressive energy would carry her down what she had admitted was a "narrow path" to victory, relying mostly on digital and social media to get her message out, her lack of government experience hampered her electoral chances, as several newspaper editorial boards noted when they endorsed Cuomo for reelection.
The power of incumbency and the support of the State Democratic Party, not to mention several prominent labor unions and wealthy donors, propelled the governor's campaign. He has another $16 million at his campaign's disposal for the general election, and will easily add millions more to his coffers. With New York home to two registered Democratic voters for every Republican, Cuomo is widely expected to prevail against Republican Marc Molinaro and smaller party challengers.
Cuomo, by all accounts, took Nixon's challenge more seriously than he did the 2014 challenge he won in the Democratic primary against Fordham Law professor Zephyr Teachout, who was briefly Nixon's campaign treasurer before running for the Democratic attorney general nomination that she lost on Thursday. In 2014, Teachout pulled 33.5 percent of the vote against Cuomo's 63 percent (Randy Credico received about 3.5 percent), almost exactly the same vote shares as Thursday's primary. Teachout got a total of 192,210 votes that year to Cuomo's 361,380; Nixon pulled 443,014 to Cuomo's 833,616, with 86 percent of precincts reporting.
Nixon ran an unabashedly progressive campaign, advocating a raft of proposals that she said Cuomo has refused to support or had done little to pass. She accused him of governing like a Republican, and for enabling the state Senate's Independent Democratic Conference, which caucused with Republicans in the majority for years before rejoining their own party conference in April. Cuomo's move to reunify the conference was largely attributed to Nixon posing a primary challenge. Most of the former members of the IDC lost their own primaries on Thursday in a rousing series of upsets.
At an election night watch party hosted by the Working Families Party in Brooklyn, a packed room cheered Nixon as she took the stage. "We took on one of the most powerful governors in America," she said. "It wasn't easy."
Nixon claimed a measure of success, emphasizing how she pushed Cuomo to the left and shifted the state's political landscape and said her campaign was part of an ongoing effort to take the Democratic Party from those too close to corporations and big donors. "We have changed what is expected of a Democratic candidate running in New York and what we can demand from our elected leaders...Ours isn't just a symbolic victory. This campaign forced the Governor to make concrete commitments that will change the lives of people across this state," she said.
For his part, Cuomo put forth his marquee accomplishments, such as passing marriage equality, strict gun control measures, a $15 mimum wage program, paid family leave, and a multitude of infrastructure projects. He ran on his experience, government know-how, and early efforts to fight Trump with new laws and lawsuits, as well as programs to step in where the federal government has failed, such as Puerto Rico hurricane recovery. He tried to sidestep questions about corruption in his economic development programs and his mismanagement of the MTA.
It was a rocky race at times for both sides. Nixon struggled to articulate an in-depth knowledge of issues at times or to clearly explain her policy plans, which were extensive. Cuomo's campaign surrogates and spokespeople made light of her inexperience, at times using gendered language to denigrate her candidacy. Cuomo chose to focus his own attacks on Trump, pitching himself as the candidate best poised to stand firm against a Republican-led federal government.
Nixon and Cuomo only faced each other once, at the sole televised debate in the race, hosted by WCBS at Hofstra University. Both sides proclaimed victory after the hour-long face off, though neither was given time to present a cogent vision and discussion of substantive policy issues was sparse.
The last week of the race was its ugliest, with the Cuomo campaign scrambling to contain the fallout from two scandals in quick succession. In the first, more benign of the two instances, Cuomo announced the opening of the new span of the Governor Mario M. Cuomo bridge -- formerly the Governor Malcolm Wilson Tappan Zee Bridge -- only to reverse after safety concerns emerged about the old bridge that could have impacted the new one. Cuomo denied having sped up the opening for political purposes but a New York Times report cast doubts on the story.
The second, more enduring scandal, extended from the weekend before the primary to the night before, over an 11th-hour mailer sent by the state Democratic Committee, which Cuomo controls, seeking to paint Nixon as anti-Semitic. Again, repeated denials from Cuomo and State Party executive director Geoff Berman that the mailer was a mistake and neither of them were aware of it didn't seem to pass muster. On Wednesday, it emerged that the culprit was Larry Schwartz, a former top Cuomo aide and campaign advisor, who claimed the mailer was accidentally sent out without being properly proofread despite reported emails from another Cuomo campaign aide that undercut the denials.
For the waning days of the primary, Cuomo avoided the press, jetting around the city and state without releasing a public schedule. On election night, the governor was in Albany while the state Democratic Party held a celebration in Manhattan.
In the lieutenant governor race, Williams posed a credible threat to Hochul, with strong name recognition in Brooklyn, a borough with a concentration of Democratic primary voters. Polls showed them somewhat close though Hochul consistently had a lead. Williams sought to redefine the role of lieutenant governor, labelling his opponent a "rubber stamp" on the governor's policies and failures. He said, rather, that he would act as a check on the governor.
Hochul, an upstate Democrat, likely recognized her electoral weakness in the city and spent significant time courting African-American and Hispanic voters, essential to winning a statewide Democratic primary. At the same time, her campaign received criticism for her racially tinged attacks on Williams' financial struggles, stemming from a failed business and large loans that he owed. Otherwise, she ran as a partner to Cuomo, touting her work on a task force on the opioid epidemic and economic development programs upstate -- often seeking to avoid discussion of the corruption scandals that have marred them -- and her advocacy for survivors of sexual assault.
She also repeatedly pointed to Williams' conservative personal positions on abortion and marriage equality. The Council member had to justify those opinions throughout the campaign, explaining that they are his own personally held views and that he has never and would never vote against the rights of women and the LGBTQ community.
Williams similarly brought up Hochul's own conservative past, including her relationship with the National Rifle Association and her outright opposition to granting driver's licenses to undocumented immigrants, both positions on which she has distanced herself and expressed regret.
In the November general election, Cuomo and Hochul will run on a joint ticket against Dutchess county executive Marc Molinaro, the Republican nominee for governor, and his running mate, Julie Killian, a former Rye City Council Member who recently ran unsuccessfully for state Senate, as well as the tickets of the Green and Libertarian parties, among others, like former Syracuse Mayor Stephanie Miner and her running mate, who have created their own independent ballot line.
The general election is November 6.