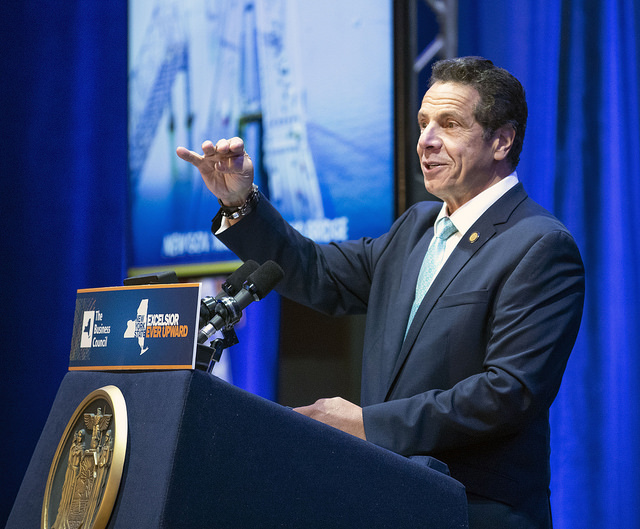 Photo: Mike Groll/Office of Governor Andrew M. Cuomo)
---
Governor Andrew Cuomo, a Democrat running for reelection to a third term, successfully claimed the Democratic Party nomination earlier this month after a bitter primary battle against actor and education activist Cynthia Nixon. But the victory came at significant cost as Cuomo spent more than $20 million this year alone, nearly ten times what Nixon spent in total as she attempted to unseat him.
Cuomo, who won with 64.4 percent of the vote to Nixon's 34.4 percent in the September 13 primary, is headed into the general election with roughly $11.6 million at his disposal, according to the latest campaign finance disclosures filed with the State Board of Elections.
In the three weeks covered by the filing, between September 1 and September 21, Cuomo's campaign spent more than $5 million and raised about $567,000. About $1.9 million was spent on television ads through the firm Media Fortitude Partners, and the campaign also transferred about $2.4 million to the New York State Democratic Committee, which Cuomo controls and which has been boosting his campaign with ads of its own, while also supporting Cuomo-aligned candidates, especially Lieutenant Governor Kathy Hochul and attorney general nominee Letitia James, the New York City Public Advocate.
So far, in this four-year election cycle, Cuomo has raised more than $36 million and spent more than $28 million. Not all of Cuomo's spending thus far went directly toward the primary alone -- even prior to defeating Nixon, he had begun spending on ads targeting Republican gubernatorial nominee Marc Molinaro, the Dutchess county executive. Cuomo received a total of 964,883 votes, spending about $29 per vote, while Nixon got 508,125, spending roughly $4.4 per vote.
Nixon raised $2.7 million in total for her campaign and spent about $2.2 million in her first-time bid for office, as of this post-primary filing. Her relatively lean campaign relied mostly on small-dollar individual donors rather than wealthy corporate ones and LLCs, which funded Cuomo's deep coffers. Nixon only ran ads in the last few days before the primary and was unable to overcome Cuomo's significant incumbency advantages, any issues Democratic voters had with her candidacy, and the governor's two-term resume.
Hochul, Cuomo's running-mate who has now joined him on the general election ticket, also beat her own primary challenger, Brooklyn City Council Member Jumaane Williams. Though Williams had far fewer resources for his campaign, the race was fairly tight. Hochul won with 53.3 percent against Williams' 46.7 percent.
Hochul spent about $318,000 in the last few weeks and raised $251,000. Her campaign has another $323,000 left. She raised a total of $2.3 million this cycle and has spent nearly $2.2 million of it.
Williams stumbled with his fundraising early on and only raised a total of $322,000 and spent about $278,000 over the entire campaign. He has just over $20,000 left in his account, which he could transfer to another city or state campaign account if he decides to run for another position before he is term-limited out of his current office in 2021.
Cuomo and Hochul will face the joint Republican ticket of Molinaro and lieutenant governor nominee Julie Killian, a former Rye City Council member and recent state senate candidate. Other general election contenders include the Green Party's Howie Hawkins, Libertarian Larry Sharpe, and Stephanie Miner, the former Syracuse mayor who is running as an independent, and their respective lieutenant governor running-mates.
In the four-way contest for the Democratic nomination for attorney general, James emerged as the victor, setting her up to face Republican Keith Wofford, Green Party nominee Michael Sussman, and the Reform Party's Nancy Sliwa. The seat was vacated by former Attorney General Eric Schneiderman, who resigned after facing allegations of physical abuse by multiple intimate partners.
James raised $2.2 million and spent about $1.9 million in total for her successful campaign, which got her 40.6 percent of the vote in the primary. She had about $275,000 left for the general election as of the post-primary filing, but is heavily favored in a state where Democrats outnumber Republicans two-to-one and no Republican has won statewide since 2002.
Fordham law professor Zephyr Teachout came in second in the race, with 31 percent, after running a grassroots campaign that also received the backing of several newspaper editorial boards. At times, Teachout's opponents appeared to view her as the frontrunner rather than James, who had the backing of Cuomo and the state's Democratic establishment. Teachout raised about $1.9 million and spent about $1.85 million in total.
Democratic Congressional Rep. Sean Patrick Maloney campaigned fairly lightly but doled out massive amounts of cash to blanket the airwaves with ads. Utilizing funds raised for his congressional reelection, Maloney raised nearly $3 million to run for attorney general and spent more than $5 million, but finished third with 25 percent of the vote.
Leecia Eve, a Verizon executive who has served as an aide to Cuomo, Hillary Clinton and Joe Biden, came in last with 3.4 percent. She raised about $408,000 and spent $417,000 on the campaign.
Note - This article has been updated to note the amount that Cuomo and Nixon spent per vote.