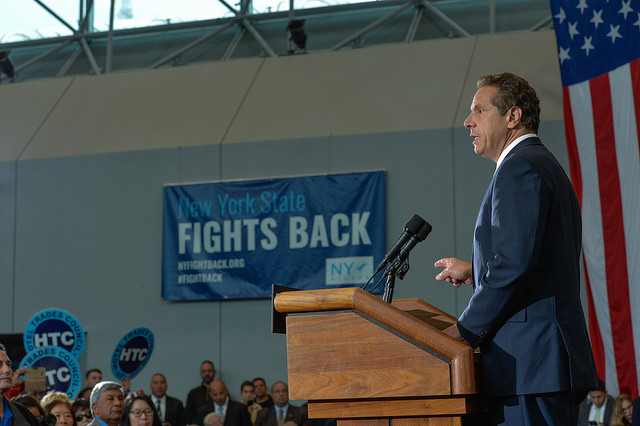 Gov. Cuomo (photo: New York State Democratic Party)
---
New York is frequently portrayed as one of the most solidly Democratic, "blue" states in the country, along with places like California and Massachusetts. And New York reliably votes for Democrats in presidential elections, has two Democratic United States senators, a majority of its U.S. House members are Democrats, it has exclusively elected Democratic governors and other statewide state-level officials since 2006, and a wide majority of its state Assembly members is Democratic.
But the state Senate is split almost evenly among Democrats and Republicans, nine of 27 members of the U.S. House of Representatives from New York are Republicans; and Donald Trump, while losing the state's overall vote by a wide margin against Hillary Clinton in the 2016 presidential election, won in more than two-thirds of the state's 62 counties, many of which are represented by Republican county executives and other GOP elected officials.
This year, in the first statewide vote since that election, Democratic Governor Andrew Cuomo is seeking a third term, having won by a two-to-one margin in a hotly-contested primary where he was challenged from his left as too much of a centrist, and now facing Republican Marc Molinaro, who portrays himself as a moderate, and others in the general election.
Cuomo is widely favored to win, but Republicans express hope that they can combat national trends and Cuomo's massive advantages to pull off an upset of a governor they argue has wide but shallow popularity and a long list of scandals and failures. In 2014, Cuomo dispatched Republican nominee Rob Astorino by a 52.7 percent to 39.2 percent margin, with Green Party nominee Howie Hawkins, who is running again this year, winning about 4.7 percent of the vote. Cuomo beat Carl Paladino in 2010 by an even greater margin, 63 percent to 33.5 percent.
Voters are now evaluating Cuomo with another term under his belt, and amid the swirl of both Trump's relative unpopularity and major corruption convictions in Cuomo's inner circle.
The vast "red" seen across those Trump counties, while not typically home to the state's population centers, and New York's large size and diversity indicate "blue" state is not the whole story. Just how "blue" is New York, really?
Cuomo has provided his own assessments of New York's politics. A day after winning the primary, he argued again that he is a liberal leader who gets things done, while also saying that the much-discussed progressive wave was "not even a ripple" in his race, despite Nixon's 34% of the primary vote and the fact several state Senate upsets from the left, and calling Alexandria Ocasio-Cortez's June primary victory over Rep. Joe Crowley a "fluke."
"I am progressive, and I delivered progressive results, and this is the most progressive state in the United States of America," Cuomo said.
Speaking to the Business Council of New York State on Tuesday at their upstate conference, Cuomo touted his passage of a property tax cap, one of his accomplishments most frequently praised by moderates and conservatives, and stressed other aspects of his fiscal restraint and record on taxes.
While Cuomo has regularly stressed that he must govern a vast state that includes conservative, Republican areas, especially upstate, he has also made direct attacks on "extreme conservatives" who he has said have taken over in Washington, D.C. and have had a presence in New York. He's directly targeted a handful of members of Congress from New York who he says have committed "treason" by voting for bills, like recently-passed tax reforms, that he says are bad for New York.
He went as far as to say, in 2014, that "extreme conservatives" have "no place in the State of New York, because that's not who New Yorkers are," comments that have become a regular talking point for Republicans. Still, Cuomo remains popular among Democrats, with solid numbers among independents and even decent approval ratings among Republicans (21% in a recent poll).
The Numbers
As of April of this year, Democratic enrollment statewide stood at 6,201,033 registered voters, just over 50 percent of all registered voters in the state. There are 2,823,758 registered Republicans, 22.7 percent of all registered voters, and 2,644,155 people registered unaffiliated with any party, 21.3 percent of all registered voters.
Within New York City, 68.28 percent of registered voters are Democrats, while outside the city only 37.76 percent of registered voters are Democrats. Still, Democrats still make up a plurality of registered voters outside the city, but Republicans trail by a much smaller margin, making up 31.15 percent of the non-city electorate.
Often, New York City's turnout in general elections doesn't match the enrollment ratio. Democratic turnout in the September primary vastly exceeded that of previous years, and the general election in November comes amid the so-called "blue wave" of Democratic activism opposed to Donald Trump.
The polling agency Gallup has found New York to be a liberal-leaning state in only 2016 and 2017; from 2008 to 2015, New York was grouped with the conservative-leaning states. The only two states that have usually been classified on the liberal end are Vermont and Massachusetts (states were only grouped as leaning liberal or conservative). Despite a reputation as a deep blue state, perhaps because of New York City's demographics, New York consistently elects more moderate officials like Cuomo, even in Democratic primaries that include the most "blue" New Yorkers, such as Cuomo's recent primary win by a wide margin.
Cuomo won most counties in the state in 2010, possibly owing to several controversial statements from Paladino that indicated he was racist and homophobic. Paladino only won handily in Western New York and two counties in the "Big Vermont" area. In 2014, Astorino won a wide majority of counties while Cuomo won big in highly populated New York City and the surrounding suburbs, as well as a few historically Democratic counties upstate such as Albany, Tompkins, and Onondaga, as well as Erie County.
The Democratic Divide and Voter Registration
Bruce Gyory, an attorney and Democratic political strategist unaffiliated with any campaigns, said that in primaries, progressives often do best in the eastern area of upstate, from Plattsburgh to Peekskill, which he characterized as a "Big Vermont." The region then generally votes Republican in general elections.
He said that white progressives often fail to connect with voters of color.
"The progressives have never been able to craft a true alliance with the larger bloc, which is the minority voters," Gyory said. This appeared to be true in Nixon's effort to defeat Cuomo, who has remained popular among voters of color, bedrock Democrats.
Both Cynthia Nixon and Zephyr Teachout achieved their best results in "Big Vermont" in their respective gubernatorial campaigns. Teachout's attorney general campaign also achieved its best results in this area in this year's just-completed primary.
Democratic registration has meaningfully increased since the 2014 election, with enrolled Democrats in the state increasing by about 300,000, from 5.9 million to 6.2 million, seeming to track with claims by Cynthia Nixon and others that the Democratic Party's reach has expanded and greater numbers of voters exist.
However, contrary to that narrative, registration has not meaningfully increased in the Democratic ranks since the election of Trump to the presidency. Records from the State Board of Elections shows that, between November 2016 and April 2018, only 21,300 new New York Democrats joined the party.
Nearly half the state's registered voters are not Democrats. There are 2.8 million registered Republicans and 2.6 million registered independents. In addition, there are 480,000 people registered with the Independence Party, 155,000 with the Conservative Party, 46,000 with the Working Families Party, 30,000 with the Green Party, 4,700 with the Women's Equality Party, 1,900 with the Reform Party, and 7,300 with other parties.
Despite Nixon's loss, progressives believe that the mass dislodging of former members of the state Senate's Independent Democratic Conference shows that the Democratic electorate is indeed progressive. Six of the eight members of what was until April the IDC, a rogue groups of Democrats who shared powers with Republicans in the Senate majority, which has been Republicans' only statewide stronghold in recent years, were defeated in their primaries earlier this month.
"The defeat of the IDC shows that the voters are tired of corporate Democrats and tired of transactional politics and want to see senators who are really going to represent them," said Karen Scharff, the outgoing executive director of Citizen Action, a progressive organization that endorsed Nixon in the primary. "I think at the statewide level, we saw the money overwhelm the ability of progressive candidates to get her voice fully heard."
The True Blue Coalition, a grassroots organizing effort that came out in force against IDC members, announced its support for 12 additional Democratic candidates for state Senate on Tuesday in seats that the group deemed "flippable" in the general election. The group will channel volunteers to their campaigns and promote the candidates' events; the candidates, all of whom True Blue has deemed progressive, aim to represent districts from Long Island to Brooklyn to Rochester.
Mia Pearlman, co-leader of True Blue NY, one of the activist groups in the coalition, said that New York is a "wannabe progressive state" held back by regressive voting and ethics laws, and by corruption. Pearlman, whose group was on the front lines in the anti-IDC battle, said that the defeat of six of the eight IDC members in the Democratic primary may herald better things to come, and that rallying around IDC challengers was an effective organizing strategy.
"The IDC was a perfect crucible for all these forces, because it was such an obvious wrong that needed to be righted," Pearlman said. Greater awareness of the IDC very well may have led to its collapse, a fact the coalition is remembering for November. "People want to be more prepared when they get to the ballot box."
"Success for us will be when the New York State Senate has a real solid majority of not only Democrats, but with a huge majority of progressive democrats," Pearlman said.
Like Pearlman, Scharff believes that New York is indeed a progressive state, but that "barriers to democracy" such as New York's voting laws and campaign finance system ensure that progressive candidates are kept out of the halls of power in Albany. She cited New York City's public election financing system as evidence that progressive candidates can win major elections when structural barriers are torn down, and that the electoral system in the state needs major reforms. Many activists have also focused on legislative redistricting, noting that a deal reached in 2012 among Cuomo and legislative leaders allowed Democrats the likelihood of greater Assembly control and Republicans an upper hand in Senate districts, likely allowing the GOP to keep the slim majority it has held onto of late.
"Money can become overwhelming in a big race like that. And I think we've seen in citywide races, like in the mayoral races, that progressive candidates can win," Scharff said. "Bill de Blasio won on a very progressive platform twice. And Cynthia's platform and de Blasio's platform have a lot of similarities, and you would think they'd have a lot of similar appeal to voters. But Bill de Blasio was able to run in a system that had public financing, and in a system where he was able to be competitive in resources with his opponents. And Cynthia had to run in a race where her opponent was outspending her ten-to-one plus eight years of incumbency."
'Giuliani Democrats'
Despite the liberal reputations of both Massachusetts and Vermont, both currently have moderate Republican governors. Charlie Baker, the Republican governor of Massachusetts, is the most popular governor in the country, according to Morning Consult.
"I live in two-to-one Democratic Rockland County and we've had a Republican County Executive for the last 25 years," said Michael Lawler, a political strategist who is an advisor to the state Republican Party and campaigns. "Why? Because, again, even Democratic voters understand that high taxes are not a solution to every problem. So, when you look at Democratic voters in the suburbs, they may be registered Democrat, but you have a lot of police officers, firefighters, construction trade union members, they're probably all mostly registered Democrat, but they vote Republican. Why? Because Republicans are much better on their issues."
It is those voters widely credited with helping to elect both Rudolph Giuliani and Michael Bloomberg as mayor of New York City, covering the 20 years of Republican or independent leadership before de Blasio's election in 2013.
Lawler believes that Cuomo's lurch leftward on certain issues has hurt him among suburban and rural voters, but that the most salient issue is the poor economic performance upstate, where the Democratic registration advantage is very narrow. He noted high taxes and out-migration, and specifically cited Cuomo's ban on fracking as a job-killing endeavor done to appease environmentalists.
"When you have a governor who's pardoning cop killers and a Democratic Assembly that stands in the way of certain reforms, then these voters are not going to vote reflexively Democratic," he said.
He also cited corruption, which informs one of the main planks of the Molinaro campaign, with the GOP nominee arguing that it has eroded confidence in state government and led to a "corruption tax" that all New Yorkers pay due to government malfunction. It led one-third of Democratic primary voters to vote against the two-term incumbent, he and other Cuomo opponents say.
"So Andrew Cuomo, there's a reason he spent nearly $25 million in the primary," said Lawler. "Nobody likes him." To Lawler, the specter of Trump in the minds of voters does not outweigh the performance of the state under Cuomo.
But Gyory believes that the Trump factor has necessarily negated Republicans' chances this year, and that Molinaro would have been better off running in 2022, at which point Trump may be out of power (if he loses this year, Molinaro could of course run again).
No post-primary general election polls have been taken, but two polls over the summer showed Cuomo with a substantial lead over Molinaro, who was already on a quest to build name recognition, raise funds, and prepare for the September to November sprint. A June Siena poll gave Cuomo 56 percent to Molinaro's 37 percent and a July Quinnipiac poll gave Cuomo 57 percent to Molinaro's 31 percent in hypothetical head-to-head match-ups. When the Quinnipiac poll included third party candidates, Cuomo got 43 percent on the Democratic line, Molinaro got 23 percent on the Republican line, Nixon got 13 percent on the Working Families line, Larry Sharpe got 3 percent on the Libertarian line, Howie Hawkins got 2 percent on the Green Party line, and Stephanie Miner got 1 percent on the Serve America Party line.
Trump's approval rating in New York remains very low, with only 36 percent approval versus 57 percent disapproval according to Quinnipiac in July. This could cast a shadow on any Republican chances at statewide victory, and Cuomo has been attempting to tie Molinaro to Trump for months. Democrats appear motivated to cast anti-Trump votes this November in races across the board.
The current atmosphere is in distinct contrast to New York under previous Republican governors such as Thomas Dewey, Nelson Rockefeller, and George Pataki, when the national Republican brand was not as toxic in the state and the national party did not define the state party, Gyory argues.
"Republicans have been defined by the national Republican brand, and that has really hurt them in New York State," Gyory said. He noted that, in most instances, Republicans have no hopes of winning statewide unless they dominate the unaffiliated vote and capture roughly one-third of New York City, a particularly daunting endeavor with a moderate Democrat in the Governor's Mansion.