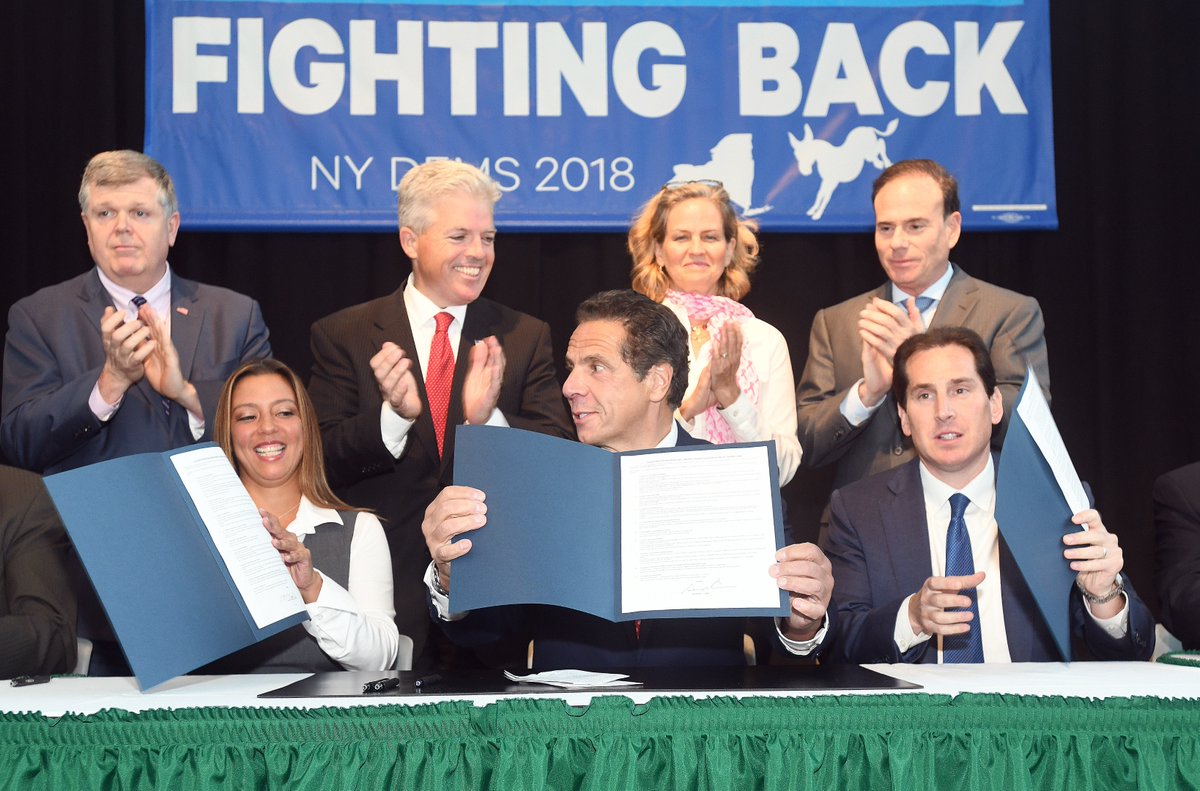 Cuomo & Long Island candidates (photo: @andrewcuomo)
---
Having resoundingly won the Democratic Party nomination for a third term last month, Governor Andrew Cuomo is now directing the enormous campaign and party machinery that propelled his victory to focus its efforts on the New York State Senate and the U.S. House of Representatives. In a break from past cycles when he has been criticized for doing too little for his party and its candidates, Cuomo has pledged to leverage the significant resources, financial and human, at his fingertips to help Democrats flip control of the two legislative chambers, one each at the state and federal levels, to better counter what he says are harmful policies of the Trump administration and Republican-led Congress.
On Monday, Cuomo stood alongside several state Senate candidates at LIU Post on Long Island, unveiling a nine-point Long Island-focused pledge to regain Democratic control of the legislative chamber -- Democrats need to pick up a net of one seat in the Senate, while in the Assembly they enjoy an overwhelming majority. Alongside a slate of Democratic Senate candidates, Cuomo signed the pledge, which includes measures he's already put into place and others he has said he supports but hasn't been able to get through the Republican-led Senate.
Cuomo and the battleground candidates promised to continue the state's 2 percent property tax cap, which he says will protect Long Island residents from the federal government's reduction of state and local tax (SALT) deductibility; he called for more funding for the MTA from New York City; he touted his $150 billion infrastructure plan, which includes modernizing the Long Island Rail Road; pledged to codify the protections of Roe v. Wade into state law; backed ethics and voting reforms; promised to continue investing in combating the MS-13 gang; and pushed his proposal for a red flag gun protection bill. He also spoke of providing more funding to public schools and protecting access to clean water.
"We need the New York State Senate, because the only security we're going to have are the laws of the State of New York as they are tearing down our rights and values in Washington," Cuomo said.
On Tuesday, the governor made a brief stop at the Stars & Stripes Democratic Club in southern Brooklyn to publicly endorse Andrew Gounardes, the Democrat challenging State Senator Marty Golden in one of the few New York City districts represented by a Republican. Cuomo repeated many of the same talking points from his Monday speech, which he has honed for his own campaign, warning of the ills of Republican control of government at the state and federal level and painting himself and New York State as the bulwark against Trump and the many threats his administration has levelled -- against women, immigrants, the LGBTQ community, Puerto Ricans, for instance.
"Elections matter. This one really, really matters," Cuomo said, speaking of a broad disaffection among the electorate, on both sides of the aisle. The governor and Gounardes also signed a pledge, mostly similar to the one from Monday but including a focus on New York City issues such as a promise to pass speed camera legislation for school zones and expanding rent stabilization, and not including Long Island-focused planks like the LIRR and demanding more MTA funding from the city.
The September 13 primary saw a massive increase in turnout among Democratic voters, which many have cited as evidence of an ongoing and growing "blue wave" that is similarly boosting Democratic candidates across the country and expected by some to come crashing down upon Republicans on Election Day, November 6. But Cuomo's own interpretation has differed somewhat, including when he dismissed the notion of a progressive wave the day after he won his primary, despite the fact that his under-funded opponent received more than 500,000 votes (to Cuomo's nearly 1 million).
"I don't like the expression the 'blue wave', because the 'blue wave' suggests its partisan," Cuomo said at Tuesday's rally in Bensonhurst, "that it's Democrats who are offended. It's not just Democrats who are offended...What this president is doing is not anti-Democratic, it's anti-American...This is not a blue wave, my friends. This is a red, white, and blue wave."
Last month, in the immediate aftermath of his primary win, just as he had done a few months after Donald Trump assumed office, Cuomo rallied the troops, but to his tune. "[T]he truth is this president and his extreme conservative colleagues have declared war on the State of New York. They are attacking our rights, our values, and our economy," Cuomo said at a September 18 Democratic rally billed as an effort to relaunch the general election campaign to swing the state Senate and help flip the U.S. House. For nearly 20 minutes, Cuomo, newly invigorated from his primary win, inveighed against the "extreme conservative freight train" from Washington running roughshod over New Yorkers, and promised "more organizing, more mobilizing" to capture the energy of the Democratic base.
"[W]e're gonna take this energy that we now have and we're going to build on this energy," he said. "It's not going away...There's a whole new Democratic movement. They're responding to what we did and they're responding to what they want to do by stopping this threat in Washington. And we have to build on that energy."
A spokesperson for Cuomo's campaign said he plans to personally raise funds and campaign for ten Democratic candidates running against sitting Republican congressional representatives -- he's already sent each of them a maximum donation of $2,700 through a federal political action committee, Cuomo NY Take Back the House. The candidates include Perry Gershon, Liuba Grechen Shirley, Max Rose, Antonio Delgado, Tedra Cobb, Anthony Brindisi, Tracy Mitrano, Dana Balter, Joe Morelle and Nate McMurray. Politico New York reported last month that the broader effort Cuomo had promised had yet to materialize as he seemed more preoccupied with his own primary challenger, actor and education activist Cynthia Nixon. He has so far only held a fundraiser for Brindisi.
Among the Democratic state Senate candidates who have Cuomo's support are some who are challenging incumbents and others running for open seats. He is also bolstering two Democratic Senators facing Republican challengers. They include Monica Martinez who is challenging Dean Murray in District 3; Lou D'Amaro, who is challenging Sen. Phil Boyle in District 4; Jim Gaughran, who is challenging Sen. Carl Marcellino in District 5; Anna Kaplan, who is challenging Sen. Elaine Phillips in District 7; Peter Harkham, who is challenging Sen. Terrence Murphy in District 40; Karyn Smythe who is challenging Sen. Sue Serino in District 41; Gounardes challenging Golden in District 22; and Democratic Senators John Brooks, who is being challenged by Massapequa Park Mayor Jeff Pravato in District 8, and Todd Kaminsky, who is being challenged by former Nassau lawmaker Francis Becker Jr. Cuomo's campaign has donated the maximum primary limit of $7,000 to all those candidates, save for Gounardes and Kaminsky. If he decides to do so, Cuomo could direct another $11,000 to each candidate's campaign for the general election.
The campaign is currently in the process of scheduling fundraisers for the congressional candidates and has already set up eight events to support the state Senate contenders, starting on Wednesday, October 3, with a fundraiser for Smythe. Fundraisers are scheduled to support Gounardes and D'Amaro on October 9; for Martinez on October 12; for Brooks and Kaminsky on October 15; for Harckham on October 21; and for Kaplan on October 22.
But it's not only campaign cash that Cuomo will corral for the candidates. His campaign infrastructure and the State Democratic Party's assets are being put to use to raise name recognition for the candidates and to get voters to the polls. Some of the congressional seats also overlap with the competitive Senate districts, giving Cuomo the ability to kill three birds with one stone as he also campaigns for his own reelection, perhaps without making it too obvious. The governor is facing a handful of challengers led by Republican nominee Marc Molinaro.
According to the Cuomo campaign spokesperson, there are more than 25 state party staffers in the field, training and engaging Democrats on the ground and leading Get Out The Vote efforts across the state. In congressional districts 1, 11, 19, 22 and 24 -- the five identified by the Democratic Congressional Campaign Committee under their 'Red to Blue' campaign effort -- the state party has sent campus organizers to rally young people, and in major metropolitan regions, organizers are recruiting volunteers to aid in those battleground districts. The party is also using digital and social media and data analytics to bolster outreach.
There's also the tried-and-tested method of campaign mailers, in which the State Democratic Party has invested hundreds of thousands of dollars, the campaign spokesperson said, urging voters to support candidates including Rose, Brindisi, Gershon, and Delgado. (At this point there have been no other controversies with such mailers beyond the one that has dogged Cuomo and the party that sought to falsely tie Cynthia Nixon to anti-semitism in the final weeks of the primary.)
The party and campaign together spent millions on its statewide primary ticket -- to set up field offices and organizers -- and the campaign spokesperson said they would expand on that infrastructure for the general election.
Lieutenant Governor Kathy Hochul, who prevailed in last month's primary over challenger Jumaane Williams, a Brooklyn City Council member, is also leading her own parallel effort to support female candidates for Congress and State Senate. "Republican control of Congress and the New York State Senate has been a disastrous disappointment for all New Yorkers, especially women and middle class families," Hochul said in a September 28 statement, launching the general election effort. She announced her support for four Congressional candidates -- Grechen Shirley, Cobb, Mitrano and Balter -- and five State Senate candidates -- Martinez, Kaplan, Smythe, Jen Metzger and Jen Lunsford.
On Sunday, Hochul was scheduled to meet voters alongside Alessandra Biaggi, who defeated Democratic State Senator Jeff Klein in the September 13 primary, but the event was cancelled because Biaggi was sick, according to Hochul's campaign. The planned event appeared to be a signal to Senator Jeff Klein, who Biaggi defeated in the primary, to publicly concede and bow out of the race on the other ballot lines he has for the general election. Election Day is November 6.