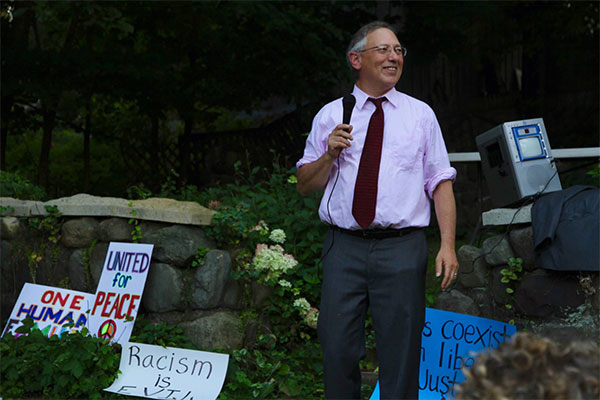 photo via Sussman campaign on Twitter
---
A 19-year-old from Flatbush, Brooklyn sat in the Iron Forge, a middle-eastern restaurant on Q Street in Washington, D.C., and looked around. He had started his internship with the Democratic National Committee, and was given the opportunity to choose from a group of candidates whose campaign he wanted to work on. He saw the men around him, who he would work with in the coming months, the fall of 1973: Georgians Hamilton Jordan, Jodi Powell, Bert Lance, and Griffin Bell, along with the governor, Jimmy Carter.
The young Brooklynite took that fall semester off from college as he transferred from the University of Chicago to Amherst College, immersing himself in politics, and went on to work on Carter's campaign for president, meeting Ralph Nader, a well-known political activist and attorney credited with pushing consumer protection legislation such as the Clean Water Act, Freedom of Information Act, Whistleblower Protection Act, and more. He learned from Nader, and worked with him and Mark Green, later the New York City Public Advocate, on environmental issues, and went on to do his own public-interest work as a civil rights lawyer, including in the Department of Justice and for the NAACP. His most famous work came in Yonkers, New York, where he won a landmark case aimed at tearing down the city's racial segregation, among other cases, and where he organized his fellow Democrats, holding rallies, and speaking at many public events on a variety of causes over decades.
Now 64 years old, Michael Sussman is running for Attorney General of New York as the Green Party candidate, his first run for statewide elected office after decades of political and legal work advancing progressive causes. He's abandoned the Democrats for the Greens, he says, because "leading Democrats in the state have failed to advocate strongly enough for the interests that I care about, and I think that in some cases they've failed to do that because of personal interests and corruption."
He's running for attorney general because "from corruption to public health to the environment...these areas are all of huge and critical importance and I think you need someone as attorney general who has life experience as a litigator."
He's promising if elected to investigate Governor Andrew Cuomo, who is favored to win a third term this fall, and he's pulling few punches when it comes to the frontrunner in his race, Democratic nominee Letitia James, currently the New York City Public Advocate, who has Cuomo's full backing.
"I was a Democrat for 45 years," Sussman said at a recent candidates event in Yonkers, addressing the crowd just after James spoke. "I ran for county executive of my county, I've done some of the most significant civil rights and environmental cases of my generation, but I refused in 2017 to run as a Democrat in New York State for Attorney General, for one good reason: the duopoly of corrupt practices."
"We cannot have someone running on the slate with Mr. Cuomo expected to vigorously prosecute Mr. Cuomo and political corruption in our state -- it's an inherent conflict," Sussman said, "and until and unless we recognize it frontally and say we need an independent attorney general, someone like me who has 40 years of experience litigating, in every court -- Supreme Court of the United States, 400 arguments in the Court of Appeals in New York, a thousand cases in federal court...I don't want to depend on the Trump Justice Department to clean up political corruption in New York. I want an attorney general in New York who is independent enough to clean up corruption, it's very simple."
If he can somehow get enough New Yorkers to hear his message and consider voting Green, Sussman believes he would be the clear choice for attorney general among voters who are overwhelmingly Democratic. He's traveling the state, walking local communities from Brooklyn to Buffalo, he says, posting short videos to his Twitter feed, and proposing things like strengthening the public integrity unit of the attorney general's office and imposing "a sweeping public finance law to disconnect big money from state politics."
Lou Young, Sussman's communications director, tweeted, "If he could meet every voter in person he would win in a landslide. Michael Sussman just needs to he heard to be believed. It's that simple."
He won't meet every voter and it may not be that simple even if he did, of course, given the strength of James' candidacy, which includes the powerful backing of Cuomo and the state party he controls, not to mention challenges raising money and name recognition.
While the odds of him pulling off a victory that would shock New York, and beyond, are quite long, Sussman is the type of "third party" candidate who may garner significant attention in a political atmosphere where voters on the left are frustrated with what many perceive as a corrupt and disconnected gubernatorial administration and state Legislature. But how many of the hundreds of thousands of voters who backed Cynthia Nixon for governor or Zephyr Teachout for attorney general in their respective Democratic primaries are willing to consider Sussman is an open question, especially given James' progressive bona fides (she would also be the first woman of color to win a statewide position).
But with the question of independence from Cuomo still hanging over the attorney general race, which also includes Republican nominee Keith Wofford, among others, and given his decades of relevant experience, Sussman believes more voters should take a look at his campaign.
Roots
Sussman, born in 1954 the son of an accountant father and music teacher mother, is unsure exactly where his interest in civil rights first began. Perhaps from his father, who had done work with African-Americans in the discriminatory south but emphasized to his son that the north was no different, or from his grandmother, a radical socialist. But Sussman points to something simpler.
"I always had a feeling in the playground for the underdog," Sussman said in an hour-long interview. "When we chose teams to play ball and I was 6, 7, 8 years old, I was a fairly good athlete then and would always take the kids on my team that the good athletes didn't want on their team. It's something that I can remember back a long way, feeling an affinity for people who are viewed as either nonconforming or not functional at the same level — whatever that level was — of others, and otherwise being excluded from the game so to speak. So I guess my life's work has been about that subject in a general sense and consistent for a very long time."
"For whatever reason and however it happened," Sussman says, his upbringing "imprinted on me a sense of obligation that even though we were not a wealthy family, we were a middle-income family, that our job was essentially to give back."
Sussman says he decided at age 12 he would do this by becoming a civil rights lawyer. Although he would go on to represent people of color in countless cases, Sussman says he grew up in a monoracial Flatbush. The only black person he knew was his mother's maid, he said, adding that having a maid was "somewhat usual for even middle-income people in those days."
"I remember trying to understand the experience of, Esse was her name, as even though she lived in New York City, in the same borough we were in, it seemed like miles away, centuries away," Sussman said.
Later, while attending the University of Chicago as an undergraduate, Sussman had his internship with the DNC, meeting Jimmy Carter. Yet Carter's early presidential campaign was not the most historic event he was being exposed to — his uncle, Barry Sussman, was then an editor at the Washington Post, Michael Sussman recounts, and it was in Barry's home that the now famous Bob Woodward and Carl Bernstein began their investigation.
"So I was able to see the origins of the Watergate case as it was developed in their basement in Barry's house in Potomac, Maryland, and then during the days I worked with Jimmy Carter," Sussman said about his 1973 experience.
Sussman says he's sought to surround himself with people doing great things.
"I've always told my children, I have seven children, 'Try to find yourself amongst the people who are doing what you think is important,'" Sussman said. "I think that you have to see what your capabilities are, you have to see who is doing work that you emulate and that you admire, and I think you have to try and put yourself in a position to learn from greatness, really."
While Sussman is not a household name himself, he became a prominent civil rights lawyer with an acclaimed show on HBO, "Show Me a Hero," about his most famous case.
Resume
Sussman graduated in 1978 with honors from Harvard Law School, where he was in the same class as now-CEO of Goldman Sachs, Lloyd Blankfein, who Sussman says "was not a stellar student." After graduating, Sussman took his most well-known case, the aforementioned, representing a local chapter of the NAACP in Yonkers that sued the city for its segregated school districts. After 26 years of legal proceedings that went all the way to the Supreme Court, the 2007 result was $300 million in funding to desegregate schools and build affordable housing.
Out of law school, Sussman had been working at the Justice Department's Civil Rights Division in October of 1978, during Carter's presidency. He worked on efforts to stop school segregation and housing discrimination. However, Sussman says this changed in 1981 when Ronald Reagan became president. According to Sussman, William French Smith, Reagan's attorney general, said that the Civil Rights Division needed to focus on elevating the rights of white people. Sussman says he "made a fuss internally," speaking to a former debate partner of his from University of Chicago and the man he was working under, Deputy Attorney General Edward Schmults. After getting no response, Sussman left the Justice Department, and was offered a job with the NAACP.
"I met the major forces in American Civil Rights Law at that time: Joseph Rowl, William Taylor, Thomas Atkins, Nathaniel Jones, lawyers from generations older than mine who were doing the major work as I thought," Sussman said, "and I became friends with them and they viewed me as someone that could carry on the work. So, I was blessed to be offered a job as assistant general counsel at the NAACP national office in New York City."
It was then that Sussman began work on the case, which had been filed by a local chapter of the NAACP in 1980. The case accused the city of Yonkers — including city officials, lawyers and judges — of being discriminatory and engaging in housing segregation, which caused school segregation. To diminish said segregation, the city and school board would have to work together to reorganize the school system and create housing opportunities for low-income people that were not in "ghettoized areas," as Sussman put it.
Believing the Reagan administration's stance on civil rights made it unreliable in defense, the national office of the NAACP saw an opportunity to become involved and secure a victory. Still, it was 2007 before a ruling in the case, with Judge Leonard B. Sand ruling in favor of the NAACP and ordering Yonkers to build 200 public housing units and allow 600 houses to go to low-income families in the majority middle-class and white east side of town.
Sussman's civil rights career unfolded alongside that case, with some cases taken on behalf of friends but most dedicated to advancing certain causes, he says. He has represented a Pace University student who was shot by police in 2010 — although the Justice Department decided not to charges against the officer involved — and won $6 million for the family, and won a $45 million settlement against the state for black and Hispanic workers in a discrimination case, for example.
Sussman now lives in Orange County, where his law firm, Sussman and Associates, is based in the town of Goshen. While he's mainly worked in Washington, Yonkers, and Orange County, Sussman has also opened "empowerment centers" designed to help underprivileged people in Liberty, Monticello, and Port Jervis.
Sussman has also worked defending students suspended by their schools, including Elzie Coleman, then a potential Olympic sprinter who was suspended for getting in a fight. Sussman argued that suspending Coleman violated his due process and would cause "immediate and irreparable harm" as it would impact Coleman's ability to qualify for scholarships necessary for him to go to college. Sussman used this same argument in a variety of cases against school districts. He also represented Putnam County District Attorney Adam Levy in a case of defamation, after the sheriff of the county accused him of harboring an undocumented immigrant, among other things — Sussman won the case, reaching a $150,000 settlement.
In a case of sexual harassment, Sussman represented an Orange County Health Department worker who accused her boss of making sexual advances, and firing her after she refused them. Sussman says his work was mainly centered around certain causes, while he occasionally took work due to relationships with clients.
"There are situations where people will come to and out of personal loyalty or out of the feeling that there is some important issue that is being raised in their case, I will defend them, if you will," Sussman said. "Most of the work I've done is not based on that. Most of the work I've done is based on what I might call cause-driven lawyering. That is, I'm known to do cases of employment discrimination, sexual harassment, education law."
In some cases Sussman found him defending those accused of sexual harassment, rather than the other way around. In 2002, when a coworker accused forensic scientist for the New York State Police John Graziano of sexual harassment, her complaint did not lead to any punishment, as despite human resources finding probable cause, it did not go to trial. After this, women working with Graziano started treating him poorly, and so he filed a lawsuit alleging they harassed him due to his gender, suing under Title IX. Sussman defended him in this case, which was dismissed.
One of the students Sussman represented was suspended for allegedly having sex with two girls on school property, but separately accused of forcing another student to touch him sexually. Sussman focused on the cases of sexual activity, and claimed that the school punishing him much more severely than the girls involved was a Title IX violation. He won the case.
"It posed an issue of gender stereotyping that I think is interesting and important," Sussman said. "[The student] was engaged in what the school district defined as consensual sexual activity with two girls in school, separately, and the two girls were slapped on the wrist and he was suspended for a school year basically and I thought that was absurd."
According to a press release announcing his 2018 run for attorney general, the Green Party highlighted that from 2006 to 2010, Sussman represented "a class of 4,700 African American and Hispanic state workers [against the Attorney General's office] in a lawsuit challenging the promotional test used by the State of New York for civil service promotions" and that the "cae ended in a settlement of $45,000,000 for the class."
One apparent blemish on Sussman's record came in 2002. In 2014, the New York Post reported that in 2002 Sussman had had his law license suspended for a year for "commingling personal and client funds."
Running for Attorney General
It is in the areas he's focused his legal career that Sussman believes the state should be enforcing laws more strictly. He argues his experience makes him uniquely suited to do so if elected as attorney general, and should cause voters to take notice of his candidacy to become the state's top legal officer, charged with upholding laws, defending the state in legal action, and other responsibilities.
"I feel that there needs to be vigorous enforcement of our state's laws in those regards and I'm aware that laws are not self-enforcing," Sussman said. "I'm also aware that there are not many civil-rights lawyers in our region that have expertise like I have in the courts."
"It's shameful that both in regards to civil rights laws and environmental laws and laws protecting health and safety in our state, the AG office has made, from my perspective, minimal contributions over the last 30 or 40 years, despite so-called progressive people running the office," he continued. "Either they don't understand the laws or they're not really interested in enforcing them to the extent necessary in our state."
Sussman, who had previously been on his town board as a Democrat, and ran for county executive of Orange County as one, says his shift to the Green Party in November came due to frustration over issues of corruption and failure to act by Democrats in New York.
"First of all, I feel that Mr. Cuomo is corrupt, I feel that Mr. Schumer is in the pocket of Wall Street," Sussman said of Gov. Andrew Cuomo and U.S. Senator from New York Charles Schumer, the minority leader. "I feel that leading Democrats in the state have failed to advocate strongly enough for the interests that I care about, and I think that in some cases they've failed to do that because of personal interests and corruption. So I don't see the Democratic Party right now as being the answer."
Sussman gave an example of a Competitive Power Ventures gas-fired power plant being approved in his county despite residents being outspoken concerning the potential environmental and human health risks from large emissions of carbon dioxide, carcinogens, neurotoxins, and other dangerous chemicals. In this case, Sussman says neither Democrats nor Republicans would talk to protestors when trying to prevent the plant from getting approved. Yet, now that it has started operating, both Democrats and Republicans are against the plant. Both Democrats and Republicans, he believes, are seen by many as representing a politics-first mentality.
"Part of that increasing alienation is that people think both parties represent the same thing, and I think that's true," Sussman said. "Particularly for the attorney general race, I see a perpetuation of the same patterns of clubishness and I don't think that's going to solve anything."
Sussman has been critical of James, the Democratic nominee, as seeking the attorney general position only to increase her chances of becoming governor in the future, of which there is little evidence, in part given James' own background as a public defender and assistant attorney general. Recently, he has said that Republican nominee Keith Wofford also sees the position as a way to reach higher office, an assertion there's also little support for as Wofford, a corporate attorney, runs for office for the first time.
"I genuinely believe that the Democratic Party candidate wants to be governor, which she has every right, but I don't see this position as a stepping stone," Sussman said. "With that sort of ambition, what ends up happening, is that people don't do what they need to do in this office because of looking over their shoulder."
At the Yonkers candidates' event, Sussman both praised James' work as public advocate and said that her use of the office as a litigator has been wanting, given that she has been kicked off of a number of suits for lack of standing. He said the two agree on almost every social issue, from taking on the NRA to protecting immigrants, but said that the deciding factors for voters must be his resume as an attorney and the contrast between his and James' relationships with Governor Cuomo.
"I am ready from day one to litigate -- whether it's Donald Trump or whether it's Andrew Cuomo," Sussman said. "And guess what, it's going to be Andrew Cuomo."
Cuomo's shuttering of the Moreland Commission to Investigate Public Corruption was "insulting to every citizen in New York State," Sussman said, speaking just after James. "I didn't hear my opponent say one thing about him, nor would I expect to, she's running on the same ticket. You can proclaim independence, but you can't be independent if that's your running mate, it's simply impossible."
On Wofford, Sussman said in the interview, "The Republican candidate is not someone who has experience with public law, he's chosen other career paths, and I don't think that you start in public law as attorney general of New York."
"This is it for me, and if I get the position, against all odds, then I would use the office and the lawyers in that office, 672 of them, to the fullest extent I could do enforce the laws I see in New York that deal with discrimination and environmental degradation, health threats," Sussman said, pointing to the powers of the attorney general to uphold certain laws in New York, along with the office's responsibilities to defend state government. But on the latter, Sussman says, "I would do much less knee-jerk defense of state agencies, which engage, unfortunately, in ongoing patterns of segregated behavior, discriminatory behavior."
Sussman has litigated against the state on multiple occasions, and believes that a 45-day review period should be put in place for every case filed against the state, allowing the attorney general's office to decide if the state had committed whatever alleged infraction the suit claims. Sussman says if he were to find that the behavior is as it's alleged and if it is lawless, he would not defend it — instead, he would "settle the case, resolve the issue, take action against the individuals and agencies responsible and clean up the state."
"I would not just knee-jerk defend them in state or federal court. I would force those agencies to comply with the law," Sussman said. "Again, no attorney general has ever said that or done that. Certainly my opponents in this race are not saying that or doing that. Tish James was with the state attorney general's office and was involved in the defense of many discrimination cases, which is quite the contrary to my feelings and philosophy."
Sussman continually asserted his advantage in experience over his competition, which also includes Libertarian Christopher Garvey and Nancy Sliwa of the Reform Party, and said that if elected he would begin to clean the state of the stains of corruption by pushing public campaign financing and prosecuting those who use their positions for their own gain.
"I feel that they don't have the depth of my experience in public law, they don't have the depth of my experience as an advocate,' Sussman concluded about his opponents, "they don't have the depth of my life experience, that's just how I feel about it."
Ben Max contributed to this story.
Note: this article has been updated to clarify Lou Young's relationship to Sussman and Sussman's graduation status from Harvard Law School, which had been misrepresented to do a Gotham Gazette error.