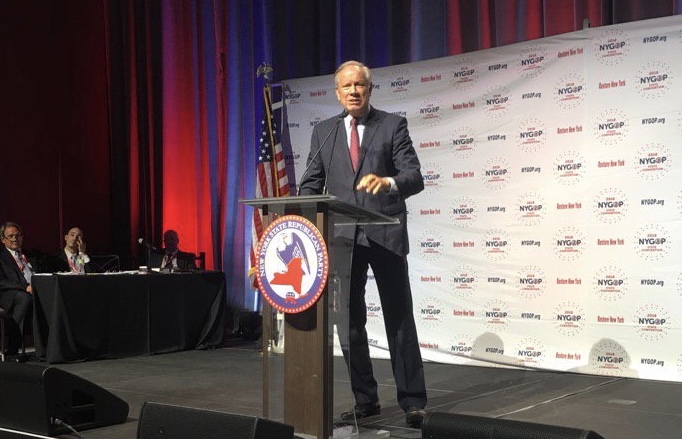 former Gov. George Pataki at the 2018 NY GOP convention
---
The New York Republican Party is on the brink -- perhaps not of extinction, but of a certain type of political wilderness -- and one longtime party figure says he knows where things went wrong and what to do about it.
Republicans have not occupied a statewide office since George Pataki left the governor's mansion at the end of 2006, and barring a massive upset in November, the statewide offices will continue to be occupied by Democrats from 2019 through 2022. Meanwhile, the state Senate, New York's lone longstanding bastion of Republican power, appears increasingly likely to be captured by the Democrats this year, producing the first unified state government since 2009.
Republicans currently hold a slim one-seat majority in the Senate and Democrats believe they could flip a half-dozen or more seats in what is broadly expected to be a wave year as the party responds to election of Donald Trump and subsequent policies out of Washington, D.C. Meanwhile, GOP gubernatorial nominee Marc Molinaro, currently the Dutchess county executive and a talented politician with a moderate message, is not only behind the Trump eight ball, but severely underfunded and not well-known as he tries to topple a second-generation governor seeking a third term.
"The state has moved farther to the left, and the idea that somehow people are actually saying that Marc could pull an upset, I don't know what world they're living in," said Tom Doherty, a former top aide to Pataki and currently a political consultant, during a recent interview on the Max & Murphy radio show on WBAI.
Trying to unseat Governor Andrew Cuomo, Molinaro has staked out a Pataki-esque Republican platform, criticizing high property taxes, increasing state spending, mismanagement of key state functions, runaway labor giveaways, and Albany's culture of corruption. Still, the most recent poll from Quinnipiac gave Cuomo a 23-point advantage over Molinaro in the general election.
Doherty, who has been active in Republican state politics for decades and has seen ups-and-downs in the GOP's fortunes in New York, characterized this poor showing, coupled with the apparently imminent loss in the Senate, as not a failure on the part of Molinaro, but on the existing leadership in the state party. In Doherty's eyes, leadership, particularly State Chair Ed Cox, has not provided the right vision and execution in the post-Pataki years.
"He's a wonderful man," Doherty said of Cox. "But I've known a lot of wonderful men who should not be the party leader."
The manifold problems plaguing the state GOP, according to Doherty and others, include a hard rightward lurch in a heavily Democratic state, a failure to build effective organizations all across the state with geographically applicable messaging and priorities that run good candidates for everything, and, of course, Donald Trump atop a party wherein most of the leadership has embraced the president despite his being deeply unpopular in New York. Cuomo has labeled Molinaro, who has said he didn't vote for Trump and has criticized some of his immigration and tax policies, a "Trump mini-me." Though it is not a fair characterization, it is likely effective with much of the New York electorate.
"Elections are always about the middle," Doherty said. "Where are the independents voting? The problem in New York is, you have so few Republicans in terms of the numbers versus Democrats that you have to get so many of the independents in your corner. Not only do you have to make sure your guys come out to vote, and this year that's a problem because Democrats seem very energized, extremely energized, it just made it more difficult for him."
While much of the New York GOP, including Cox and even county leaders in extremely-deep-blue New York City, has embraced Trump, the statewide path to victory for a Republican must include some Democrats and many independents, while also holding onto the Republican base. It's a tricky equation any year, but especially with a figure as polarizing as Trump involved.
Doherty said Molinaro needed to be better-funded, and that again goes to party leadership and infrastructure. Molinaro is a great candidate with a good message, Doherty said, but he has not had the support needed to get his name and message out to voters, making his very long odds nearly non-existent.
"Marc Molinaro is a phenomenal candidate," Doherty said on Max & Murphy. "If you were going to take a Republican candidate in the northeast, you need a George Pataki-like, moderate Republican to compete in the places like Connecticut, New Jersey, New York, Massachusetts, et cetera. He's a great guy. He has no state party operation behind him, he has no money behind him."
"And I keep hearing about these comparisons to George Pataki," he continued, drawing important distinctions in his eyes. "New York is not the George Pataki New York of 1994, where you were fighting to go get the Conservative Party endorsement, because you needed that. Quite frankly, you don't want that today in New York State."
New York is now a more Democratic state, while Pataki also had advantages, perhaps most especially a sitting Republican United States Senator, Al D'Amato, Doherty pointed out, and a very strong finance director and a state party chair, as well as ready-to-help and competent local leaders. "[E]very time we landed a plane somewhere, or got off the helicopter," Doherty said, local leaders "were there with massive rallies. None of that exists for Marc this time around, and that's sad."
Ben Max contributed to this story.