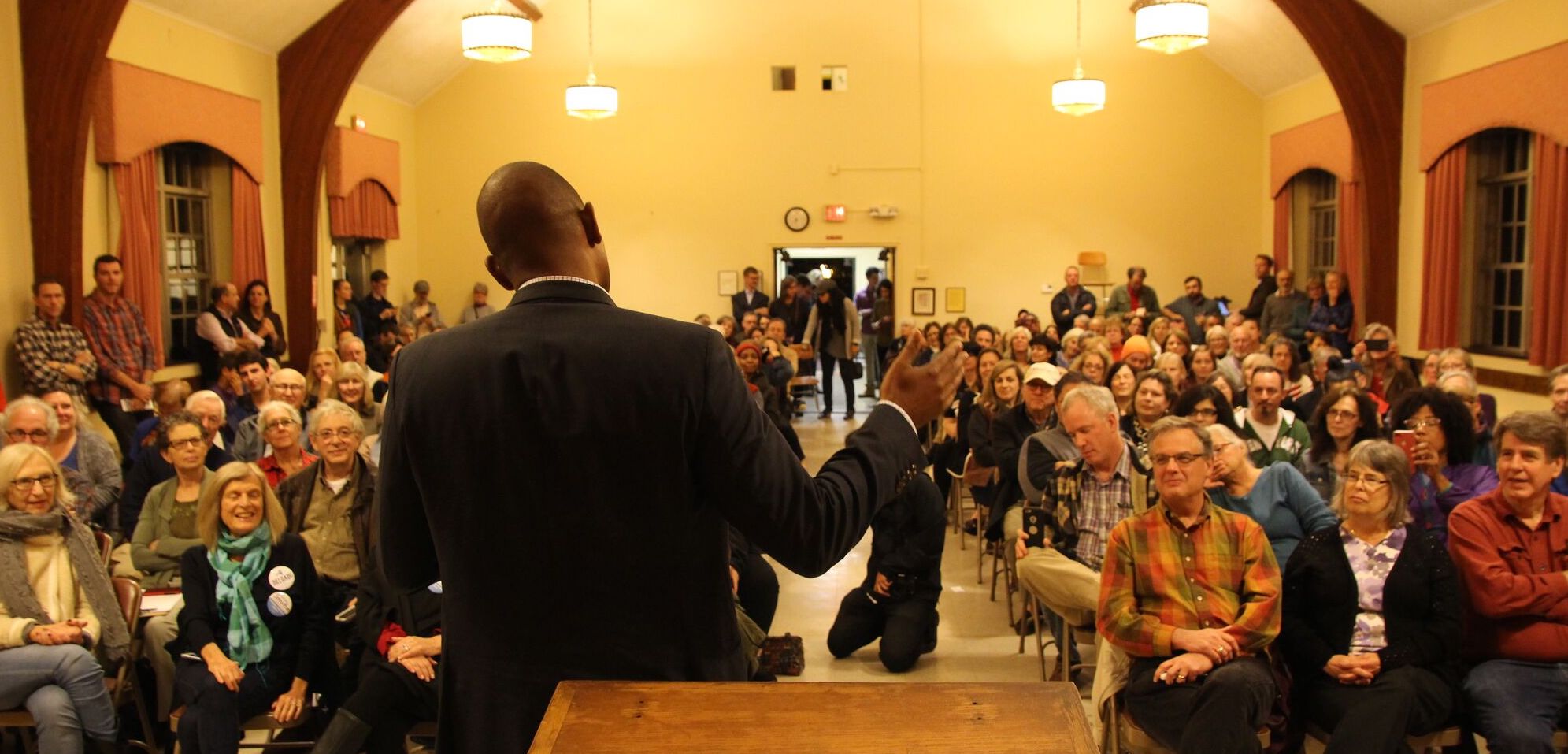 Antonio Delgado at Friday's town hall (photo: Brianna Zimmerman)
---
Hyde Park, New York — In one of the most critical battleground races of the Congressional midterm elections, Democrat Antonio Delgado held the last town hall of his campaign in Dutchess County on Friday, seeking to cement his relationship with constituents and drive home his message of unity and solutions-based leadership. Delgado is attempting to swing New York's 19th Congressional District out of Republican hands, part of Democrats' national effort to win back the House of Representatives this fall. He's facing incumbent Republican Rep. John Faso, who is seeking a second term representing parts of the state including the Catskills and Hudson Valley, north of New York City.
The race appears close in a swing district with nearly even Democratic and Republican voter enrollment. It voted for Barack Obama in 2008 and 2012, then went for Donald Trump in 2016. The district is nearly 90% white, and is characterized by small towns, a large constituency of farmers, small businesses, and the working poor, with huge infrastructure projects running through it like the Metro North rail line and the Taconic Parkway. Winning what was then an open seat due to the retirement of former Rep. Chris Gibson, a moderate Republican, Faso beat Zephyr Teachout in 2016 by a 9% margin as Trump won the district and the presidency.
Tuesday's polls showed this year's Faso-Delgado race to have razor-thin margins, though Delgado was up by 5 points in the most recent Monmouth survey, other polls show Faso leading. Outside money has poured into the race, with both candidates receiving support from the national campaign committees of the two major parties, though controversy has accompanied ads paid for by Republicans.
Both candidates have expressed support for bipartisanship in Congress, for local farmers, for bringing businesses back into the region, for protecting the gorgeous upstate environment, and for combating the opioid epidemic. They differ along party lines on other central issues to the campaign like gun rights, abortion, immigration, military funding, and healthcare.
Over the course of an hour and a half on Friday night at St. James Episcopal Church in Hyde Park, Delgado spoke of his youth growing up in Schenectady and and his wife's background in Woodstock, saying that coming from working-class families meant they were both raised with an idea of what it meant to "grow up before greed." He pitched a return to the values of his youth, when the working poor was not the largest growing class in America and teachers and education and labor were, according to him, valued differently.
"We were the last generation to really benefit from that old economic model," the 41-year-old said. "And we were standing — we still stand — on those values: integrity, honesty, decency, service, compassion, love, because that's how we were raised."
Delgado's central message to the roughly 100 people gathered — some of whom were clearly already supporters — was that his style of leadership and representation would emphasize accountability to his constituents and a higher moral standard for political leaders. At times prompted by questions and at times not, he repeatedly pitched a vision for the district that includes bipartisan infrastructure investment and decriminalized substance abuse, as well as job growth while preserving the environment. He emphasized civil discourse.
"It's important to set the example, for ourselves and the community beyond, of what democracy ought to look like and feel like," Delgado said early in the evening, sounding more like Obama than Trump. "That we can disagree and do so agreeably. That we can be respectful towards each other, and be civil, and ground our conversation in intellectual honesty, and decency."
Delgado, who is African-American, is running against Faso, who is white, on a liberal platform in what has been a heated campaign where race has been a significant factor and racism has boiled to the surface. Should Delgado win, he would be the first person of color to represent New York's 19th district in Congress.
But Delgado hasn't focused on race in his campaign — rather the need for a set of elected officials who can find common ground when dealing with diverse views and perspectives. Even as the National Republican Congressional Committee has run a series of ads highlighting the Harvard-trained lawyer and Rhodes scholar's past foray into rap music, which many have called racialized or racist.
At Friday's town hall, Delgado joked about the ads, saying, "My parents were a little bemused by that choice not 'cause of what I was saying but because they thought — well, you might want to use your law degree."
Delgado's focus on issues he sees as unifying a divided constituency was clear as he sought to make his closing pitch, win votes, and inspire volunteers in the final days before the election. He gave charismatic oratory and detailed answers to questions about complex problems throughout the night.
President Trump is supporting Faso, while former President Obama has endorsed Delgado. The race has received national attention both due to its closeness, as well as the amount of money raised and spent by both sides, and the controversial ads.
While the attacks have flown, both candidates have also preached bipartisanship, understanding that the path to victory is through voters in the middle, perhaps many of them unaffiliated with any party.
"Rebuilding and remaking this country anew, economically speaking, is where we can meet across the aisle," Delgado said on Friday to a round of applause.
For his part, Faso has run his campaign on promises to work on bipartisan legislation on healthcare, fixing immigration policy, climate change, and infrastructure.
While Delgado applauded Faso's support of the STOP Act, which deals with opioid abuse, on Friday he criticized several of Faso's first term choices. Delgado disavowed Faso's vote for the Financial Support Act, which he said enables risky lending practices for large banks, among others, and accused him of being swayed in office due to donations from big pharmaceutical companies. In contrast Delgado asked those in attendance to remember that his campaign has not taken any money from those drug companies.
"We don't owe anybody in D.C. anything, no one brought me up, no one recruited me," Delgado said to those gathered. "Only folks I care about and are beholden to, day in and day out, are you. And we need to restore that bar [for elected officials]."
Faso voted against the Trump-led tax overhaul and voted for the Trump-supported American Health Care Act of 2017, which peeled back aspects of the Affordable Care Act, known as Obamacare.
After beating out seven other Democrats in the June primary and earning 22% of the vote, Delgado has been able to raise significant funds and excite audiences with his speeches, but while polls show a close race, only Tuesday will tell whether he's been able to capture enough of his primary opponents' supporters and earn the confidence of thousands of other voters in this swing district.
In New York and across the country, every seat in the House of Representatives is on the ballot this year, and as Democrats attempt to swing the chamber and take some control of government in Washington, the Delgado-Faso race is seen by some as one of the most critical bellwethers. If Democrats are going to take the House, it is the type of race they need to win.
On the ground in Hyde Park before the town hall, constituents expressed very different needs and takes on the race, in which there are two other candidates: Steven Greenfield is the Green Party nominee, and Diane Neil is running as an independent.
Lesley Pinto, the 20-year-old owner of El Guacamole in Hyde Park, plans to vote for Delgado in the hope that her two small local businesses will receive tax breaks, allowing her to buy a house with her husband, Carlos Pinto. She also likes his stance on immigration laws, as both her parents and many friends and family are Mexican immigrants.
A 71-year-old man and his wife who own a small jewelry store in Hyde Park are firm Faso supporters. They spoke of their concern that social welfare programs are cutting into their profits as the minimum wage rises and tax breaks don't favor them -- and they expressed doubts about Delgado's promises to help small businesses. Episcopalians, they support Faso's anti-abortion stance and, gun owners, appreciate his opposition to more gun regulations.
Toward the end of the town hall, Delgado was asked how he would maintain his moral compass in office in the current political climate.
"You," Delgado said. "I'm gonna do the work for everyday Americans. I'm gonna come back and host town halls, just like this. I'm gonna show up and listen and be accountable."