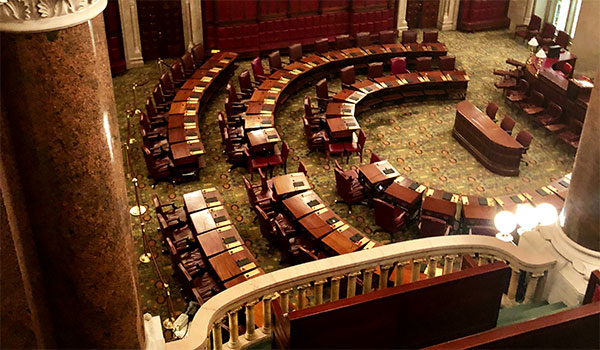 (Photo via Wiki Commons)
---
Statewide elected officials, legislators and agency heads are slated to get pay raises next year following recommendations issued Thursday by a four-member panel that was created in this year's state budget.
The New York State Compensation Committee voted on Thursday to raise the salaries of legislators for the first time in nearly twenty years, as well as for the four statewide offices and for executive agency commissioners. The committee will publicly release a report and deliver it to Governor Andrew Cuomo and the State Legislature on Monday outlining their binding recommendations on phasing in the salary increases over three years, accompanied by certain ethics reform measures. The raises will go into effect by January 1 unless the state legislature meets and rejects them.
The committee -- which included State Comptroller Tom DiNapoli, New York City Comptroller Scott Stringer, former State Comptroller and SUNY Board Chair Carl McCall, and former New York City Comptroller and CUNY Board Chair Bill Thompson -- was created in the state budget to determine an appropriate raise for legislators, based on cost of living and on salaries for legislators in other states. The current base pay for state legislators stands at $79,500 and has remained unchanged since 1999.
Per the panel's unanimous recommendations, salaries for legislators will be raised to $130,000 by 2021, with lawmakers set to receive $110,000 in 2019 and $120,000 in 2020. The commission also recommended limiting outside income for legislators to 15 percent of their salary, in line with the rules for members of Congress, and the elimination of committee stipends -- commonly referred to as lulus -- for all but the top leadership in both legislative chambers.
"I think in looking at the fact that they haven't had a raise in twenty years...when you talk about the issues of fairness, it is not the right thing," Thompson said, arguing that the idea that legislators only work part-time is a mischaracterization due to their in-district work. The limits on outside income will take effect in 2020, because, according to McCall, legislators would need time to disengage from their outside income-generating activities and could not do so right away.
The panel also endorsed raising the governor's salary to $250,000 by 2021, up from the current $179,000. The lieutenant governor, attorney general, and state comptroller, each of whom currently make $151,000, will see their pay rise to $210,000 salary by 2021. DiNapoli recused himself from that vote.
The pay raise committee was originally meant to be chaired by Chief Judge Janet DiFiore, but DiFiore announced in May that she would not serve because she believed a judge determining legislative pay was unconstitutional. The broader constitutionality of the committee has also been challenged, as it is still unclear whether a pay raise can be authorized by outside officials or if it must be approved by the legislature. The panel members, however, insisted that their recommendations are enforceable for all their proposals except the raises for the governor and lieutenant governor, which must be approved by a joint resolution of the legislature. They also maintained that tying the raises to an outside income limitation and curbing committee stipends was within their authority, which could potentially invite legal challenges going forward.
When the salary raises are fully implemented by 2021, New York will surpass California and have the highest-paid governor and legislature in the nation. McCall noted that coupling the pay increase with outside income limitations would also quell the discontent New Yorkers feel about giving raises to a legislature that has long been marred by scandal and corruption. "We really have to make sure that we send the signals to the public about how serious they are about doing their job and doing it well," McCall said.
For executive agency heads, the panel proposed four classes of salary, a decrease from the current six, which will be assigned depending on the agency. By 2021, commissioners in the top class will make $220,000 and commissioners in the bottom class will make $170,000.
Legislative leaders have expressed support for the panel's recommendations. Senate Majority Leader Andrea Stewart-Cousins announced her support for the measure on Thursday, hours before the meeting, while also concurrently declaring support for ethics reform. Assembly Speaker Carl Heastie testified to the Commission last week in favor of the raise, noting that legislators have financial strains similar to their constituents. "They too must finance college loans, meet the cost of child care, and provide for the wellbeing of elderly parents and loved ones at home," Heastie said. He further argued that, because so many legislators live in the expensive New York City metro area, a pay raise was warranted to more adequately reflect the high cost of living here.
The New York Public Interest Research Group, which advocates for government reform, was skeptical of the panel's recommendations, pushing for a more comprehensive set of "corruption-busting" reforms. "While we agree that the Congressional model is appropriate to regulate legislators' outside income, advancing a reform in this area alone is inadequate," said NYPIRG's Blair Horner, in a statement. "We note that the ethical problems that have plagued the state have not been limited to the legislative branch. Given the stunning pay-to-play scandals that have rocked government, reforms in that area must be addressed. Failure to do so highlights the inadequacy of the reform package."