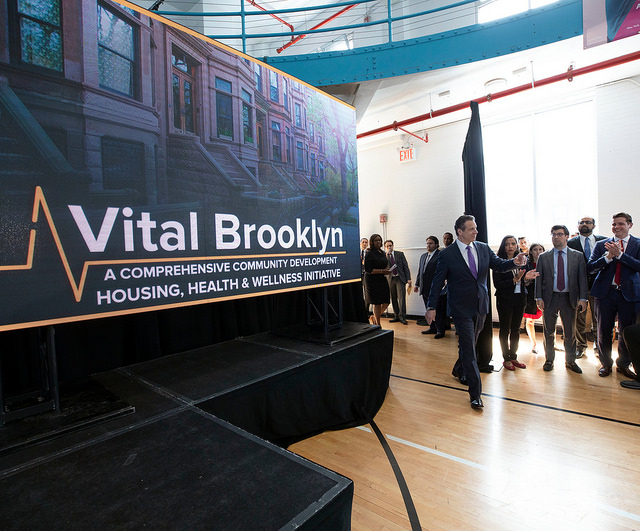 Cuomo & Vital Brooklyn (photo: Mike Groll/Governor's Office)
---
In March of 2017, Governor Andrew Cuomo unveiled what he described as a groundbreaking initiative to "bring health and wellness to one of the most disadvantaged parts of the state." That place was Central Brooklyn, where roubling health indicators of all types plague residents, from diabetes rates to poverty levels to inadequate access to quality health care.
Cuomo said the plan, named Vital Brooklyn, came with $1.4 billion in state funds to pay for a long list of items across the borough, from playground renovations to job training to resiliency projects — all with the aim of fighting "entrenched pockets of poverty" in a comprehensive way, he said at the time.
"What is the area in this state that has the greatest social need? If you look at unemployment rates, food stamps, physical inactivity, number of murders, one of the greatest areas of need in the entire state is Central Brooklyn. And it's not even close," Cuomo said.
Since then, the governor has made nearly a dozen announcements related to Vital Brooklyn, six of them taking place from June to September in the lead-up to this year's gubernatorial primary in which candidates for statewide offices heavily courted Central Brooklyn voters. At those events, Cuomo emphasized state funding for an oyster reef restoration project ($400,000), 22 community gardens ($3.1 million), fresh food programs ($1.8 million) and a new 407-acre state park to be named after iconic Brooklyn Congressional Rep. Shirley Chisholm — an announcement made eight days before the primary.
In total, the governor's office says there are 8,800 projects funded under the Vital Brooklyn umbrella, funded by the $1.4 billion (a dollar amount unchanged since spring of 2017, according to the state budget office). However, it's important to note that those touted by the governor — such as those gardens, farmers markets and state park — make up a small slice of the total funding. The much larger pieces of the pie fall into just two (albeit very big) categories: housing and health care.
In fact, nine out of every 10 dollars spent through Vital Brooklyn fall into the housing and health care columns: $578 million for subsidized housing in rapidly gentrifying areas (for example, a 2,400-unit project just announced in East New York) and $700 million, allocated in 2015, for a new health care system that aims to restructure and revive three of Brooklyn's struggling hospitals.
While some aspects of Vital Brooklyn are quickly taking shape, others will take months or years to materialize. Some officials, including several who have excitedly joined Cuomo at celebratory announcements, are lauding the investments, but critics of the project worry it's not enough — and take issue with how Vital Brooklyn was rolled out, and how the money is divvied up.
Brooklyn Borough President Eric Adams said in a recent interview that his office wasn't asked to give input on the project (the state instead took comments from advisory boards convened through the area's elected state Assembly members) and he feels the funding is too small in scope and dollar amount, even if the governor's frequent appearances make it appear otherwise.
"We have to have a re-examination of the state allocations and are we doing what's right by Brooklyn," he said, particularly in relation to the Bronx, which Adams feels has gotten significantly more financial help from the state; Bronx Borough President Ruben Diaz, Jr. is a close ally of the governor.
Earlier this year, he put it more bluntly earlier in an interview on the Max & Murphy podcast.
"You can't keep brushing off and rolling out the same billion-dollar project," he said in May.
When asked to respond to that claim — and whether or not the Vital Brooklyn announcements were made in relation to this year's primary — Cuomo spokesperson Tyrone Stevens' comment was brief: "Bogus."
"This is simple: Our significant new investment in Brooklyn is based on a multi-pronged strategy to uplift communities that have been ignored for too long," Stevens said in an email. "We're proud of this effort, and we will not be shy about talking to local residents about the important work we're doing to make their neighborhoods a better place to live."
Big Spending: Health Care
Of Vital Brooklyn's $1.4 billion, fully half is dedicated to a new health care system for Brooklyn. That funding comes from a $700 million capital grant made through the Health Care Facilities Transformation Program included in the 2015-2016 state budget, allocated two years before it was announced as part of Vital Brooklyn.
The funding will go to One Brooklyn Health System (OBHS), a newly formed operator that will combine the management of three previously separate Central Brooklyn hospitals — Kingsbrook Jewish Medical Center in East Flatbush, Interfaith Medical Center in Bedford-Stuyvesant, and Brookdale University Hospital Medical Center serving Brownsville and East New York — into one not-for-profit corporation.
LaRay Brown, previously the president and CEO of Interfaith, is heading up the new venture. She says she's been pushing for years for the "incredibly impactful" amount of state funding that will support dozens of major projects throughout the new health care system.
Inside the buildings, the $700 million will pay for "boring things, but essential things," Brown said, like replacing elevators, repairing HVAC systems and updating an outdated fire alarm system.
"I say they're boring, but they're critical to providing safe and comfortable patient care," she said.
The medical centers will get major upgrades to their patient facilities, too. According to Request for Proposal documents from OBHS, Brookdale will build out a new 33-bed intensive care unit, renovate a 40-year-old operating room suite and upgrade all of the facility's inpatient psychiatric units among others improvements. At Interfaith, the medical center's emergency room will be upgraded and expanded, inpatient medical units will be renovated and new equipment such as MRI and x-ray machines will be installed. Major medical equipment will be replaced at Kingsbrook, as well, the documents show.
Overall, the idea for the restructuring and redesign is to merge services among the three hospitals in order to form a more streamlined organization — and hopefully, in the end, become more financially stable.
That's according to state officials from the Public Health and Health Planning Council who approved the creation of OBHS in December of 2016. A report to the council at the time concluded that, operating separately, the hospitals require hundreds of millions of dollars in operating subsidies from the state every year "and are otherwise not financially sustainable." (According to budget data from a PHHPC report, operating funds given to the three hospitals from the state totaled $169 million in 2015-16, then rose to $245 million in 2016-17 and $250 million in 2017-18.)
"They've come together … in an effort to try to restructure and become more efficient and reduce its dependence on specialty subsidies," state health department official Charles Abel told the council before it approved the OBHS application.
To achieve those efficiencies, OBHS will reorganize how certain operations run within the three hospitals. For example, Brown said, Kingsbrook will no longer have inpatient medical-surgical beds and, though it will still have an emergency room, patients in need of ongoing acute or complex care will be transferred elsewhere, likely to Brookdale, which Brown said will become the system's "center of excellence."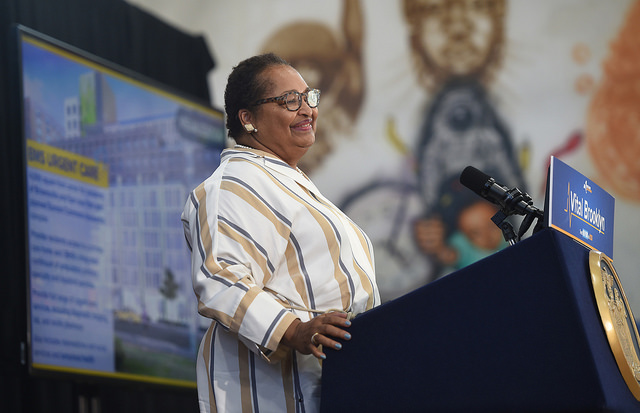 "As the inpatient acute care role diminishes at Kingsbrook, that role increases at Brookdale," said Brown (pictured).
But Brown is careful to note the restructuring effort should not be considered a consolidation. Current assessments by OBHS show no material difference between the number of current beds and projected beds in the system, according to OBHS' Dona Green. In the end, Brown says the quality and quantity of services will expand.
"Because these hospitals are coming together and because of the state's commitment to invest in these hospitals, the Central Brooklyn community served by these hospitals will get more services, and not less," Brown said.
That sentiment was echoed by Assemblymember Latrice Walker of District 55 in Brownsville, who has been waiting for years to see this funding come through for the hospital system, particularly at Brookdale, where many of her constituents go for care — and where her own brother died of gunshot wounds when he was 19, she said.
"I'm confident the services will be reinvigorated and enumerated. I don't think we're going to lose anything here," she said. "Quite the contrary — we're actually gaining."
By the totality of the health facilities in the works under Vital Brooklyn, that appears to be the case. A chunk of the initiative's healthcare funding — $210 million in all — is allocated to create 32 new ambulatory care facilities, or community health centers, under the OBHS umbrella. The goal there is to create more medical offices, outpatient surgical facilities and urgent care options with a more long-term goal of reducing unnecessary trips to emergency rooms.
"We need to start moving toward people having primary care physicians so that the emergency room isn't their doctor office," Walker said.
Cuomo put it this way when announcing some of the 32 ambulatory care locations in July of this year: "It's not just about a hospital where you go when you're very sick."
"Prevent the illness in the first place," he continued. "Have more community-based healthcare systems that are focused on wellness, and health, as opposed to waiting for a person to get sick, and then be in acute need."
These new ambulatory centers are meant to handle a diverse slate of same-day health services, including diagnostic work, rehabilitation, or even major procedures such as hip replacements, according to Bill Hammond, the Director of Health Policy at the Empire Center think tank.
Ambulatory centers have a lot of benefits, he said. For the patient, it's generally a more comfortable experience to avoid spending a night at a hospital, and there's less risk of infection. For hospitals, increasing outpatient services makes a lot of financial sense.
"It's less expensive," he said. "Hospitals come with a lot of overhead."
That idea is in line with a healthcare trend more generally to move patients out of traditional inpatient hospitals and toward ambulatory centers for all kinds of services, from preventative doctor visits all the way up to certain surgeries. The move from "reliance on hospital-based services" to more outpatient services "is a major policy shift," said Brown of OBHS. And it takes place within the context of years of financial struggle, and at times closure, for many hospitals, particularly those serving low-income communities, as costs have continued to rise.
To combat that, the Vital Brooklyn plan puts a priority on the financial viability of health care projects funded under the plan. Included in guidelines for evaluating applicants to Vital Brooklyn, the state's website says it will consider "the extent to which the proposed projects further the development of primary care and other outpatient services; the extent to which the proposed projects contribute to the long-term sustainability of the applicant or preservation of essential health services; and the extent to which the proposed projects involve partnerships with community-based health care providers," among other criteria.
With the funding for the new 32 health facilities, the state hopes to roughly double the number of ambulatory care visits in Central Brooklyn, increasing capacity for 742,000 more visits every year, according to the governor's office.
Exactly where all that new health care capacity will be built is unknown; all 32 locations have not yet been finalized. But Cuomo announced plans in July for renovations and the expansion of several existing health care centers, including the Bishop Walker Health Care Center in Prospect Heights, the Pierre Toussaint Health Center in Crown Heights and the Brownsville Multi-Service Center. In addition to those locations, several health care providers including the Bed-Stuy Family Health Center, Community Health Network, and ODA Primary Health Care Network have been chosen by the state to build new health centers in Brooklyn, providing both primary and specialty care.
Some of the 32 new ambulatory health centers will be built within new developments underwritten by the second largest piece of the Vital Brooklyn funding: affordable housing.
Housing on State and Hospital Sites
In all, the state will spend $578 million — or more than 40 percent of the total Vital Brooklyn package — on subsidized housing, with a goal to build 4,000 new units over several years.
The governor has repeatedly linked overall health goals of Vital Brooklyn to housing, particularly in rapidly gentrifying areas such as East New York where speculative buying and building, combined with a 2016 rezoning, has put pressure on poor residents.
"It starts in the home, having the right housing, having the right environment, having the right support. And that's where we're going to start. We need afford affordable housing because out people are being displaced. Gentrification is everywhere," the governor said at a Vital Brooklyn event earlier this year.
How all those units will be constructed is still up in the air, but details on some of the development sites are beginning to emerge. Late last month, the state announced four winning bids to develop housing on land owned by the three OBHS hospitals or on state-controlled land, including one complex in East New York that's set to deliver the bulk of the subsidized housing funded under Vital Brooklyn.
On Nov. 29, the state chose Westchester-based L+M Development Partners, Harlem-based construction group Apex Building, and two social services organizations — RiseBoro Community Partnership and Services for the Underserved — to bring a massive, 2,400-unit development to the site of the former Brooklyn Developmental Center, a home for developmentally delayed adults that closed in 2015. The three other chosen projects — two to be built on land owned by Interfaith hospital and another on land owned by Brookdale Hospital — will bring another 328 subsidized units to the borough.
At the same time the state announced those projects, it rolled out another set of request for proposals (RFPs) on eight state-controlled sites around the borough, including several hospital parking lots set to be replaced by new buildings. Proposals for five of the sites are due by February 28, 2019 and the three others are due by April 30, according to the RFP documents.
A majority of the affordable housing will be funded by $568 million allocated through the state's Homes and Community Renewal agency, with a goal of creating 3,000 units. In addition, the governor said in August $15 million in federal tax credits have been allocated by the state for future housing developments on land controlled by the New York City Housing Authority (NYCHA). In his announcement on that initiative, the governor said he hopes to support the creation of 1,000 units of housing. However, no specific sites for those developments have been announced and will be "reviewed on a rolling basis by HCR as NYCHA makes properties available through its disposition process," according to a press release.
The need for housing is the number one priority for Brooklyn residents, Borough President Adams said, and he gave credit to Vital Brooklyn for addressing the issue. He also acknowledged the plans would bring much-needed resources — including park space and options for healthy food — to the area. But he thinks it doesn't go far enough.
"We're dealing with historical inequities. People who were denied food access before — OK, let's give them more farmer's market," he said. "Those things are great. But if we're going to invest, let's be visionaries in our investment."
He would have liked to see more funding allocated to grandparent housing, which is set aside for grandparents who are the primary caregivers to young children, and even more resources given to the hospital network, he said.
More criticism of the governor's Vital Brooklyn plan came from the East New York district where the large Brooklyn Developmental Center site is set to be rebuilt under the initiative. The complex will have 100 percent subsidized apartments set aside for a combination of formerly homeless New Yorkers, households earning less than 50 percent of the area median income (AMI) — a federal guideline for determining the cost of affordable housing — and the rest for households earning less than 80 percent of the AMI. Currently for a family of three, 80 percent of AMI equals $62,150 a year.
That may sound like a win in a low-income area like East New York. But with the median household income of East New York at $34,512 per year (according to data from the city's Housing Preservation and Development agency), the development doesn't satisfy one of the neighborhood's longtime leaders.
Assemblymember Charles Barron says his district needs even more low-cost units because only a fraction of its residents are in the 80-percent income range. And, overall, he thinks Vital Brooklyn doesn't go far enough in a state with a $168 billion budget, and billions more in capital spending.
"You see $600, $700 million and think it's wonderful and a lot of money," he said. "That is peanuts."
In particular, he wants to see more support for the healthcare system.
"It's simply not enough money for three hospitals," he said.
In response, Cuomo spokesperson Stevens said in a statement that the Vital Brooklyn investment is "delivering substantial resources and coordinated services to support neighborhoods that have long been neglected."
"We believe this massive commitment is something to celebrate, not politicize with cheap attacks that are untethered to reality," he said.
Looking for Results
The governor has often said, for him, Vital Brooklyn is a project that brings his own career full circle, from when he was working on housing in East New York as a young man, to now. In speaking about it, he says he has wanted to help turn Brooklyn around for years.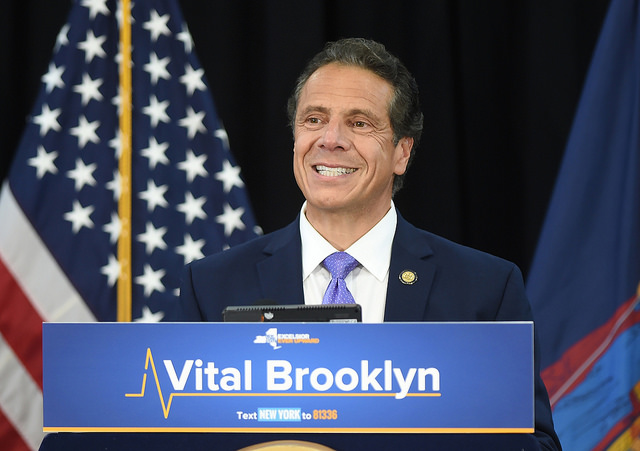 "I never lost the inspiration, and the hope, and the optimism, of what you can do when you do it right," he said in a speech on the project in April, nearly half-way through his eighth year in office. "For me, this is something special. This is something that is long overdue. It's an investment in people who desperately have needed help, and have been ignored for too long."
But it may take quite a while to see all of the Vital Brooklyn projects come to life. Some of the smaller pieces of the puzzle, like a pilot program for youth-run food markets and construction on new playgrounds, are beginning this year and next, the governor has said. For the larger, more complicated parts, however, it could take years; for example, some of the first units of housing are estimated to come online in 2021 and others — like the East New York project — is not slated for completion until 2026, the governor's office said.
The health center restructuring, too, will takes years to finish. When it's finally complete, it remains to be seen whether the largest part of Vital Brooklyn — the $700 million in health care capital funding — will make a substantive difference to financially shore up the three Central Brooklyn hospitals.
Hammond of the Empire Center said if the plan is a good one that reconfigures the facilities' operations significantly, it "could put them in a different position to succeed," though he was hesitant to say whether he believes the restructuring will prove successful long-term.
But the health funding is not peanuts, as Barron said, nor is it a groundbreaking amount, as one may think from the governor's announcements. The reality is somewhere in the middle.
"The state routinely spends billions and billions of dollars on health care all over the state," both in discretionary grants and capital allocations, Hammond said. "On any given day, you could go to a different community and announce a very large-sounding dollar amount…and it would be absolutely routine."
However, on a per-resident basis, Brooklyn is getting more than the average — while falling far below the state's most generous allocations. Hammond found the state spent $190 per resident in capital health care spending in the last five years in New York State. In Kings County, the per-resident breakdown equaled $264 per resident, which is "significantly more than the state average," he said. But that figure is dwarfed by another capital grant also given in 2015 to a hospital system in Oneida County, where spending totaled $1,297 per resident.
For all those funding plans, however, the dollars have not yet started to flow, according to Brown of OBHS. Before that happens, several bureaucratic steps must take place, including complying with transparency regulations approved by the state comptroller's office. She hopes that will be complete in the new year.
"Everyone is endeavouring to get [approval]…by early 2019," she said, while emphasizing it's hard to make an exact estimate, as she and her team are figuring out the complexities of the project as they go along.
"We're all entering a new journey here," she said.
***
by Rachel Holliday Smith for Gotham Gazette
@rachelholliday
@GothamGazette
All photos via the Governor's Office on flickr.