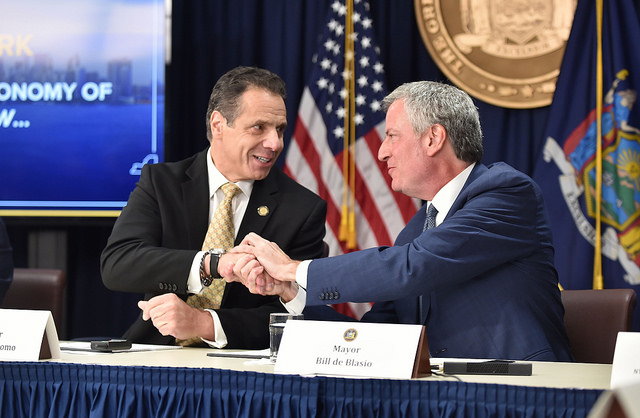 Cuomo & de Blasio celebrate Amazon to NY (photo: Kevin P. Coughlin/Governor's Office)
---
1. Will Kirsten Gillibrand and/or Michael Bloomberg run for President?
2. Will Andrew Cuomo explore a presidential run?
3. How will Chuck Schumer perform as Senate minority leader amid a new power dynamic in Washington? What impact will Rep. Alexandria Ocasio-Cortez have as she officially takes office and the year progresses? What other New York representatives will make significant impact in the new Washington, especially given new powerful committee roles? Will Gateway funding from the federal government come through? Are there other major decisions related to federal funding or policy that impact New York?
4. How will Cuomo's third term start, with major accomplishments, acrimony with legislators - both? How much of his outlined "first 100 days" agenda will he get passed in that time period?
5. What will and won't pass in Albany before and through a budget deal at the end of March? Will the budget be on time? How will the changes in the federal tax code affect New York? Where will the areas of more easy agreement be among the legislative majorities and Cuomo? What subjects will prove most contentious? What will be left over to the legislative session after the budget?
6. Will the Reproductive Health Act sail through? The Child Victims Act (with what details)? Will marijuana be legalized and if so, what will the regulations look like? Will congestion pricing pass? The Dream Act? Which pieces of gun control will pass? What will the New York Green New Deal look like exactly? Will cash bail be abolished? Will anything be done about plastic bags? Will rent regulations, such as and especially vacancy decontrol, be reformed/eliminated/extended? Will there be hearings and real debate over single-payer health care (the New York Health Act)? Will there be any movement on granting driver's licenses to undocumented immigrants? Will sweeping voting reforms actually be passed? Will there be strong new state government ethics and campaign finance laws? And so on...
7. Where will the annual fight over education aid land this year? What other key education battles will emerge? Will there be legislation related to teacher evaluations? Will anything happen regarding admissions to New York City's specialized high schools? Will mayoral control of New York City schools be extended? What will happen with the charter school cap? Will mayoral control be extended to another municipality, like Rochester?
8. How will Andrea Stewart-Cousins perform as Senate Majority Leader and how will the new Senate Democratic majority run the chamber? Which new state senators will set themselves apart?
9. Will the Legislature hold tough oversight hearings? Will there be one on the MTA? Will there be hearings on sexual misconduct in government and the private sector? Will laws meant to prevent sexual misconduct passed in 2018 be strengthened in 2019?
10. How will Assembly Speaker Carl Heastie approach the new world order in Albany? How will Heastie's relationship with Cuomo evolve? How hard left will the Assembly Democrats push?
11. Will state lawmakers take any significant action to change the outcomes of the decisions of the legislative and executive compensation commission?
12. How will Letitia James perform as Attorney General? Will her efforts to investigate President Donald Trump, his associates and enterprises, show results? Will she be the independent actor she has promised with regard to Governor Cuomo and other elected officials?
13. What next steps will Comptroller Tom DiNapoli take in his management of the state pension fund, especially with regard to fossil fuel companies and the question of divestment? How will DiNapoli approach his oversight role?
14. Who will be the next head of the MTA? Will the MTA be restructured? Can the next MTA chair, Andy Byford, Governor Cuomo and state legislators save the subways? Can they, along with Mayor de Blasio, resuscitate the buses? Will MTA labor and construction costs be reined in? How will the MTA's capital needs be funded?
15. Can Cuomo and de Blasio work together productively on anything? Many things?
16. Will Mayor de Blasio regain some mojo? Will the mayor put forth new, exciting ideas?
17. Who will be the next Deputy Mayor for Housing and Economic Development? Will there be (m)any high-profile departures of top administration officials?
18. How will de Blasio's programs evolve and proceed in 2019 -- will he adjust his affordable housing plan further? Will he figure out funding for the BQX by securing the federal dollars he says are needed? Can he again rethink his approach to homelessness to more quickly reduce the number of people living in shelters? Which neighborhoods will the city rezone in 2019?
Will crime continue to drop? Will the city become safer for pedestrians and bicyclists? Will the mayor do anything serious about street congestion?
19. What's next in the process for Amazon to create a Queens campus? Will there be sustained protests? How will community outreach go? Will there be changes to the deal announced, like some planned return/investment of subsidies? Is there anything opponents, especially in the state Legislature, can do to stop or significantly alter the deal? How will the Cuomo-de Blasio alliance on Amazon evolve? Will they stay united in defense of the project or will the like-mindedness fray given de Blasio's comments about subsidies?
20. What will be the result of the NYPD trial of Officer Daniel Pantaleo? Will anything larger change in how the NYPD deals with accountability for its officers? Will the state repeal or drastically alter the 50-a section of civil rights law that relates to making officers' personnel records publicly available?
21. Who will run NYCHA? Will the federal government insert itself in a new, formal way? Will Mayor de Blasio appoint someone new as Chair? Will de Blasio and NYCHA move ahead aggressively with the new NYCHA 2.0 plan that de Blasio and others unveiled at the end of 2018?
22. How will Margaret Garnett perform as Department of Investigation commissioner? Will anything come of the reported investigation into whether Mayor de Blasio or City Hall officials interfered with a city investigation into the education yeshivas provide?
23. Where will things go with oversight of those yeshivas and new state guidelines to ensure they are providing substantially equivalent secular education to public schools?
24. Will anyone do anything about rampant parking placard abuse?
25. Will anything be done to help distressed taxi drivers in the city, especially with regard to medallion debt? What's next in terms of regulating Uber/Lyft and such companies?
26. How aggressively will the city, the Department of Education and Chancellor Richard Carranza push local school districts to pass rezonings and changes in admissions policies aimed at racial integration? What will happen with de Blasio's Renewal Schools program? How will the rollout of de Blasio's "3-K" program proceed?
27. Who will be the next New York City Public Advocate (the election is February 26!)? Who will run in the fall election for that same position?
28. How will Speaker Corey Johnson perform as acting Public Advocate from January 1 to February 27? How else will Johnson make his mark in 2019? Will he give a State of the City speech and announce bold proposals? What will his push for city control of the subways and buses look like? Will the City Council pass bills the Mayor doesn't agree to? Will it force the Mayor to use his first veto since taking office?
29. What will be the key battles in the next city budget negotiations? Will de Blasio and the City Council take steps to increase savings and reduce spending?
30. What will the 2019 New York City Charter Revision Commission put on the November ballot? How will those proposals fare? Will there be major overhauls to how New York City does its budgeting and/or land use? Will there be instant-runoff voting?
31. Who will be the next Queens District Attorney? Will there be competitive races in the Bronx or on Staten Island for those two DA positions?
32. Will Chirlane McCray's political plans become clearer? Will we get any sense of what Mayor de Blasio is eyeing post-mayoralty?
33. What will be the next steps in the early 2021 mayoral campaign -- will Corey Johnson join Scott Stringer, Ruben Diaz, Jr., and Eric Adams as candidates clearly intent on running? Who else might float their names or signal their exploration? Who will take the first steps toward running for City Comptroller in 2021? Who else will emerge as candidates for the various borough president positions? (We know Jimmy Van Bramer is running for Queens BP and Robert Cornegy Jr. is running for Brooklyn BP)
34. Will there be apparent jockeying to become the next City Council Speaker?
35. What steps will Republicans in New York take to remake the party and prepare for future elections? What role will 2018 gubernatorial nominee Marc Molinaro have moving forward? Can the party develop its bench, and better line candidates up for citywide, statewide, and other key positions? Can it set the groundwork to regain the state Senate in 2020? Will the state party and party leaders rethink their approach to President Trump?
This article has been updated.