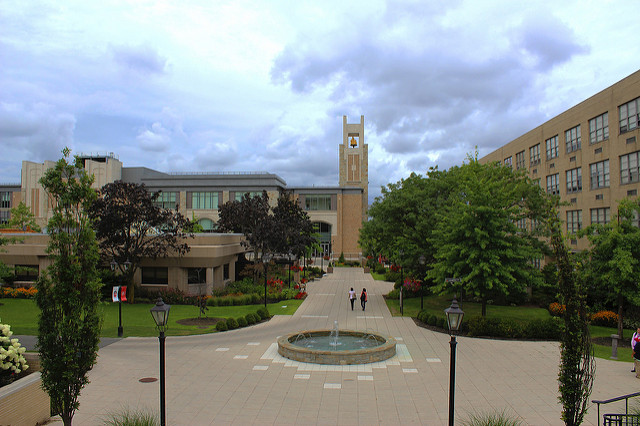 St. John's University (photo via St. John's on flickr)
---
The legalization of adult recreational marijuana use is on Governor Andrew Cuomo's 2019 agenda for the first 100 days of his new term, and the governor is expected to announce details of his legalization proposal on Tuesday, during a joint State of the State speech and executive budget presentation. There appears to be support for the measure, at least the general concept of recreational marijuana use becoming legal for adults in New York, among the Democratic majorities of both houses of the state Legislature, meaning legalization could occur within the next few months, with a likely age requirement of 21.
However, regardless of changes to state law, college students 21 or older may need to consult a different set of guidelines — institutions of higher education in New York may continue to ban marijuana use on campus and punish students who smoke on school grounds, several sources indicated to Gotham Gazette.
In other states that have legalized recreational marijuana use, from Washington to Massachusetts, this is the norm. Many colleges receive federal funds through research programs or grants and also allocate federal financial aid or FAFSA to students. In order to continue using federal funding and aid, colleges must continue to enforce federal law, according to sources at multiple universities.
The Drug-Free Workplace Act of 1988 is a federal law signed by President Ronald Reagan that requires those who receive contracts or grants from the government to maintain a drug-free workplace. The Drug Free Schools and Communities Act is another federal law requiring universities receiving federal funding to implement a program to prevent the use of illegal substances by students and employees. Both of these laws prevent colleges and universities from enacting marijuana legalization.
Ken McConnellogue, Vice President of Communication at the University of Colorado, told Gotham Gazette that marijuana use on campus is still a punishable offense there. Students caught using the substance are warned, although the university has a "three strikes, you're out" policy. The third offense of any kind by a student often results in expulsion, he said.
"Marijuana, like alcohol, is banned on our campuses," McConnellogue said. "Although we're not so naive as to think students aren't using it just like alcohol."
In response to the passage of Colorado Amendment 64 — the ballot measure initiative that legalized recreational marijuana in the state in 2012 — McConnellogue said that the university has increased its efforts to educate students on the law and university policy, as well as to enforce its policy against the drug.
Students are not the only ones that need educating about the university's policy, as parents from out of state who send their kids to Colorado are often concerned about the campus environment, according to McConnellogue.
"They worry students are walking around on campus smoking a joint," McConnellogue said.
Brian Browne, Executive Director of University Relations at St. John's University, said that if New York legalizes adult marijuana use the Queens school would be following a similar path to the University of Colorado, and continue to enforce federal law.
"The proposed legalization of recreational marijuana in New York State will most likely not put any new or legal high in New York's higher education," Browne wrote in an email to Gotham Gazette. "As long as marijuana remains a controlled substance according to federal law, we can expect that most college campuses will continue to ban marijuana use by students and employees regardless of state law."
New York University spokesperson Shonna Keogan confirmed that NYU would also continue to enforce federal law.
"In compliance with federal law, NYU does not permit possession, use, or distribution of marijuana in any form for any purpose on campus," Keogan wrote in an email to the Gazette.
While colleges plan to continue to ban use on campus, it appears legal marijuana is indeed coming to New York. Governor Cuomo first called on the Department of Health to conduct a study in January of 2018, then commissioned a workgroup in August and began a series of listening sessions around the state in September, lasting until mid-October.
In addition, the state conducted a report that concluded that there would be a net positive effect if marijuana was legalized in New York, despite some potential negatives. Other state agencies and subject matter experts were consulted by the Department of Health in the hopes of getting a complete picture of the issue, though Cuomo has not outlined his proposed legal and regulatory system yet.
The process is one that Sandy Mullins, Senior Research Scholar in the Litmus program at NYU's Marron Institute, believes had a positive result. As Washington Governor Jay Inslee's senior policy advisor, Mullins was involved in the legalization process that occurred in that state in 2012.
Mullins said that the Marijuana Regulation and Taxation Act, which is the proposed legislation that would legalize marijuana in New York that has been introduced in the state Legislature, is already a step in the right direction compared to other states because it is legislation rather than a ballot initiative. In states like Colorado and Washington, legalization has occurred through ballot initiatives or amendments that cannot be changed easily. Most amendments require a supermajority in the Legislature to be changed, or passage by voters. Washington State Initiative 502, which legalized marijuana there, could not be changed until a year after it passed. By legalizing through legislation, New York leaves the ability to amend the law fairly quickly and efficiently if necessary.
"Creating the draft and having public input into that draft legislation and having minds around it, that in and of itself was a very thoughtful process," Mullins said. "As a policy wonk, it made me tear up, just looking at their process and this legislation that was so thoughtfully crafted."
That legislation is not necessarily what Cuomo will propose, though, and the governor and Legislature will need to come to an agreement on the details of New York is to legalize recreational marijuana use, including a detailed regulatory scheme.
During the listening sessions, two major concerns were brought up, according to marijuana legalization activists who attended. Some worry that youth use and driving while under the influence will increase if the legislation is passed.
The Drug Policy Alliance is an advocacy group that supports policy that decriminalizes drug use, among other things. Deputy State Director of the DPA Melissa Moore said that based on states that have gone through the process, these fears can be alleviated.
"Some of the concerns around youth use and driving, in particular, are really assuaged by looking at the data from states that have legalized for years," Moore said. "We see from Colorado that youth use has remained stable, if not actually declined, since legalization."
A study done by the libertarian think-tank the Reason Foundation found that "There are few convincing conclusions to be drawn concerning the risk of traffic accident fatalities from marijuana legalization."
Mayor Bill de Blasio released a 77-page report on December 20 with his own recommendations for how the legalization process should occur. In it, the report cites multiple studies that suggest youth use does not increase after legalization.
"Recent studies show that following legalization in other states, past-month use generally remained stable or declined among adolescents and college students" the report says.
Angela Hawken, Professor of Public Policy at the NYU Marron Institute of Urban Management and a member of Governor Cuomo's workgroup, suggested that this decline in use may be due to legalization making smoking marijuana less of a defiant act for adolescents, and mentioned the National Organization for the Reform of Marijuana Laws, an activist group.
"NORML was predicting that adolescent use would go down in the face of legalization because it throws the rebellious act out the door," Hawken said.
One aspect of legalization that may cause problems for universities, especially in New York City, is the inevitable opening of retail marijuana stores near campuses. At the University of Colorado Boulder, McConnellogue says that such shops have gone so far as to ask if the university would be willing to put a 2-for-1 coupon in the welcome week packets they give to students.
Although the university declined, retail stores opening near campuses is something the college does not have power over.
"We don't control what happens beyond the borders of our campus," McConnellogue said. These types of considerations could be part of how regulations are drawn up by lawmakers, however.
For colleges like Columbia, New York University, and CUNY, among others embedded into New York City neighborhoods, distinguishing between on and off campus, and making sure students know the boundaries, could pose some difficulty. However, for some schools, drug use is against the code of student conduct, and so impermissible wherever it occurs.
Emerson student Anissa Gardizy, who has written about marijuana policy at her Boston area university for the school newspaper, said that this is the case at Emerson.
"You would assume that if you have an apartment and you find your own lease that you can do whatever you want if it's legal in your state," Gardizy said. "But technically not if you're an Emerson student."
All told, even if official school policy at any higher education institution is that marijuana use is banned, enforcement is another -- like with alcohol on campuses. At the University of Colorado, McConnellogue says enforcement has increased.
"In some senses, we have had greater numbers of tickets and counters with students, but that's not so much to do with marijuana legalization but to do with our efforts to enforce [the ban on] illegal substances," McConnellogue said.
In contrast, Gardizy said that Emerson has seemed to have introduced a less strict policy in the wake of Massachusetts legalization.
"I feel like Emerson is more focused on keeping us safe as students, they're not going out of their way to bust students or get them in trouble and get them a criminal record," Gardizy said. "Our RAs don't go around smelling the rooms, I think the big thing that people worry about is if the smell interferes with someone else's learning. If someone doesn't want that smell and they report it to the RA then they'll go and deal with it."
Around the same time recreational marijuana use was legalized, Emerson changed its policy regarding the drug. In the past, if an RA (resident assistant) knocked on a student's door and said they smelled marijuana, the student would immediately have to attend a conduct hearing. Now, a "scent notice" is left on the door, essentially a warning — students only have to attend a conduct hearing if they receive three scent notices.
Assemblymember Richard Gottfried, a Manhattan Democrat who chairs the Health Committee in the New York State Assembly and has supported marijuana legalization for decades, does not think universities should be enforcing the federal ban on marijuana.
"Generally I don't think colleges should be in the business of enforcing criminal law except in cases where the behavior threatens people's safety or undermines the college's functioning," Gottfried wrote in a statement to Gotham Gazette. "I don't believe any colleges in adult use states have actually lost funding over non-enforcement of Federal marijuana laws. But if a college chooses to ban adult marijuana on campus even when it becomes legal, I would hope it's treated similarly to a college banning alcohol, rather than in a disproportionate way where simple possession costs students their housing or financial aid."
Dr. Hawken, of NYU and Cuomo's workgroup, said that the issue of what legalization means for colleges and students had not been brought to her attention before, and that she could see why some may encourage both strict and lenient enforcement.

"Everybody is concerned about 'what does this mean for younger brains?' and the brain science is still emerging and is still unclear. So if there are parents and if there are educators that are concerned I don't think those are trivial concerns," Hawken said. "But it is hugely challenging, and you want to make sure whatever regulatory environment you put in...[doesn't] have adverse consequences either. You don't want to derail a life and you can end up having a system of regulation in place that does more harm than good."
Governor Cuomo's proposal for the details of legalization will move the discussion into a new phase, which may include legislative hearings. A Cuomo spokesperson told Gotham Gazette the governor has been taking a wide variety of perspectives into account as he drafts his plan.
"The state is looking at the legalization of recreational marijuana and evaluating issues affecting all communities, including college communities," said Jason Conwall, a Cuomo representative.