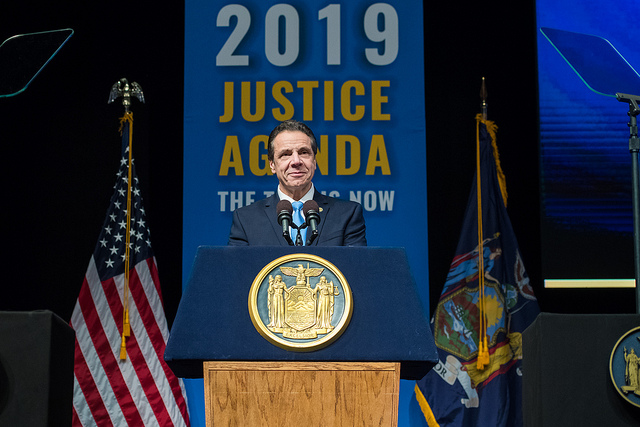 (photo via the Governor's office)
---
Governor Andrew Cuomo, a Democrat starting his third term, laid out an ambitious social, economic, and racial "justice agenda" at his State of the State speech on Tuesday as he also presented a $175.2 billion executive budget proposal for the 2020 state fiscal year that begins April 1.
Speaking at the Hart Theater in Albany, Cuomo celebrated full Democratic control of the State Legislature for the first time in his tenure and promised quick movement on a raft of legislation within the first 100 days of the new legislative session, which began last week. "We're off with a bang," Cuomo mused, as he began his roughly 80-minute speech by playing a video of the Tuesday morning demolition of the old Tappan Zee bridge. Indeed, the returning Democratic majority in the Assembly and new majority in the Senate have already begun passing bills long-stalled in what had been the Republican-led upper chamber, including several voting reforms and protections for LGBT New Yorkers -- all legislation Cuomo is expected to soon sign.
Cuomo had already articulated much of his State of the State policy agenda in the previous weeks, but added new elements both in his speech and the accompanying policy book, while also reviewing what he sees as his top accomplishments and connecting policy plans to his budget outline. He also repeatedly took issue with federal policies, such as tax reforms he said are causing crises in the state, and sought to juxtapose New York with the Trump administration on issues like immigration.
With both the Assembly and Senate under the party's control, Cuomo and the Legislature are in a position to advance sweeping progressive bills and a budget that would make significant shifts in everything from education and health care to elections, women's rights, the criminal justice system, environmental and rent regulations, mass transit, and labor protections, to name a few. The governor outlined policies from ending the use of cash bail to legalizing recreational adult use of marijuana to a "Green New Deal" for New York that increases investments in renewable energy. He also outlined sweeping campaign finance and government ethics reform plans, some of which may set up clashes with the Legislature, and made a surprise announcement that he and Comptroller Tom DiNapoli had come to an agreement about contract pre-review that the governor had previously resisted.
As he has done since running for reelection, and most forcefully in his inaugural speech on Ellis Island on New Year's Day, Cuomo presented New York as a countervailing force to the federal government under President Donald Trump and as a vanguard for progressive policies in the nation. Though he has dismissed rumors that he harbors greater ambitions for 2020, the speech could easily sketch the outline of a presidential campaign.
"We face real challenges in the state of New York," Cuomo said. "We have a federal government that is assaulting our values, our liberties, our rights and our economy."
Cuomo noted that the state would have to fill a budget gap of $3.1 billion, even as he boasted of his record on fiscal management, reduction in taxes to their lowest in decades, and positive credit ratings for the state. But he warned of slowing revenues, blaming the 2017 federal tax code overhaul that reduced the State and Local Tax (SALT) deduction that New York taxpayers can claim. While pointing to an increased overall tax burden for many New Yorkers, especially those who pay high property taxes, Cuomo pitched proposals to reduce taxes on the middle-class at a cost of $1.8 billion and to permanently cap property tax increases at 2 percent annually (everywhere outside New York City), something the state has done annually for several years.
On both education and health care funding, which comprise the two largest chunks of the state budget, Cuomo proposed a 3.6 percent increase. He proposed a total education budget of $27.7 billion, an increase of $1 billion, and floated a new funding method called the "Education Equity" formula, to ensure that state aid to poorer districts is distributed equitably to poorer schools, rather than what he depicted as the lopsided distribution under the current 'Foundation Aid' formula that does not dictate where money goes within districts. Education funding may also form the basis for disagreement with the Legislature, both houses of which are likely to push for more than a $1 billion increase in overall state funding to localities.
Health care spending would increase to $19.6 billion, up from $18.9 billion, though the governor also warned of federal cuts, including $2.5 billion to Disproportionate Share Hospital (DSH) payments and $1 billion to cost-share reduction payments, besides the perennial threat from Republicans seeking to undermine the Affordable Care Act.
A leader who wants to be known as a builder, and one who can get large projects completed, Cuomo touted his successful infrastructure projects and those that will come to completion in the next few years. At the same time, he took no ownership of the crisis at the Metropolitan Transportation Authority (MTA), seeking, as he has done in the past, to deflect blame for the crumbling subway system and the mismanaged agency where he appoints the largest share of board members and its leadership. Cuomo proposed overhauling the agency to clarify who controls it, though he already does, in effect, but did not offer specifics. He also reiterated a push for a congestion pricing proposal that he said could bring in $15 billion for the agency (apparently over a ten-year window, though details have not been released), far short of its estimated needs, and insisted that any other need should be split evenly between the city and state, setting up another battle with Mayor Bill de Blasio.
Cuomo proposed a broad agenda of women's rights protections, including codifying the protections of Roe v. Wade by amending the state constitution, passing the Reproductive Health Act and the Comprehensive Contraception Coverage Act. He also said he would enact the Equal Rights Amendment, outlaw revenge pornography, eliminate the statute of limitations for rape, modernize the pay equity law and take efforts to reduce maternal mortality rates and the related racial disparities.
Touting the state's passage of strong gun protections in his first term -- Cuomo mentioned he was speaking on the sixth anniversary of passage of his signature SAFE Act legislation -- the governor pushed for enacting new regulations including a "red flag" bill, expanding the waiting period for background checks, and banning bump stocks, all of which appear likely to sail through the Legislature.
The governor also put forth his version of a Green New Deal, which would move the state towards 100 percent clean energy by 2040. He said he would create a new Climate Action Council to reduce the state's carbon footprint, establish a $70 million property tax compensation fund to incentivize localities to close obsolete power plants and transition to clean energy, and announced several investments in clean water infrastructure and expanding environmental protection efforts.
Cuomo called for the passage of several other bills that languished for years when Republicans controlled the Senate, including the Jose Peralta Dream Act (renamed for the state Senator who passed away last year and had championed it), the Child Victims Act, and reformed rent regulations to protect tenants and the state's affordable housing stock.
He also reiterated a call for a criminal justice reform package that would eliminate cash bail and enact speedy trial reform and discovery reform. In further outlining his support for legalizing the recreational use of marijuana for adults, Cuomo said it is expected to bring in about $300 million in annual tax revenue for the state, though the governor's proposal would allow municipalities to opt out of allowing marijuana stores. He insisted that legalization would have to go hand-in-hand with decriminalization, pushing for automatically sealing certain marijuana-related criminal records, and investment in communities.
"Let's stop the disproportionate impact on communities of color," he said. "Let's create an industry that empowers the poor communities that paid the price and not the rich corporations that come in to make a profit."
Toward the end of his speech, Cuomo again performed the annual ritual of discussing the need for building public trust in government and preventing the repeated scandals that have rocked the state, including his administration and many legislators. The governor outlined a host of proposals -- many repeated from past years, several new -- meant to ensure greater transparency in government and prevent public corruption.
He unveiled a "Lobbying Code of Conduct" which would lower the threshold for financial disclosure of lobbying, expand the period of time that legislators and policy-makers in state government are banned from lobbying after they leave their positions, and require increased conflicts of interest disclosures by lobbyists. If the Legislature refuses to take up the idea, Cuomo said he would unilaterally prohibit any lobbyists that do not voluntarily follow the code from lobbying the executive branch. Additionally, he proposed a number of campaign finance reforms -- banning corporate contributions, establishing a public campaign financing program, reducing contribution limits, and completely closing the LLC loophole (with expressed intention for further action, the state Legislature passed bills on Monday to severely limit contributions from LLCs but it remains open to exploitation).
Cuomo also announced a proposal to expand the Freedom of Information Law to cover the state Legislature, an idea that has been around for decades but rejected by legislators, and the state procurement reforms on which he reached an agreement with Comptroller DiNapoli.
In a news conference in Albany after the governor's speech, Mayor de Blasio broadly praised the platform that Cuomo set out to achieve. In particular, he was encouraged that Cuomo separately proposed extending mayoral control of New York City schools, set to expire in June, by three years. In previous years when it was due to expire, the governor had also suggested a three-year extension but he and Republicans in the Senate had used mayoral control as leverage to extract concessions from the city. There may still be some appetite in both branches for pushing de Blasio on his leadership of city schools.
The mayor did strike a note of caution about a few items. He insisted on the need for a long-term funding stream for the MTA -- he has been hesitant to fully embrace congestion pricing and has instead said a millionaire's tax would be the best solution -- and said Cuomo's portrayal of the history of the agency's funding -- that the state has stepped in to fund it in recent years while the city has been reducing its contributions -- "simply wasn't accurate." As he has indicated in the past, he disagreed that the city should bear half the costs of funding shortfalls in MTA needs. He also pushed back against the governor's critique of the city's school funding formula, insisting that the city has consistently sent money to the schools that need it most.
De Blasio promised he would have more to say as he and his team review Cuomo's proposals in fine print, and offer their own rebuttals to Cuomo's depiction of MTA and school funding.
The governor's speech now sets the stage for negotiations with the Legislature, which will soon issue its own budget priorities. However, it appears that the pace of action in Albany will be far different from past years where almost every significant legislative action was lumped into a big budget agreement right around the April 1 deadline. Legislators have already shown they plan to pass legislation and send it to Cuomo to sign.
And for the first time this year, there will no longer be the infamous "three men in a room" negotiating the spending plan for the next year, as Senator Andrea Stewart-Cousins, the first female leader of a legislative chamber, will join the governor and Assembly Speaker Carl Heastie in hashing out policy and budget deals as those negotiations are needed.