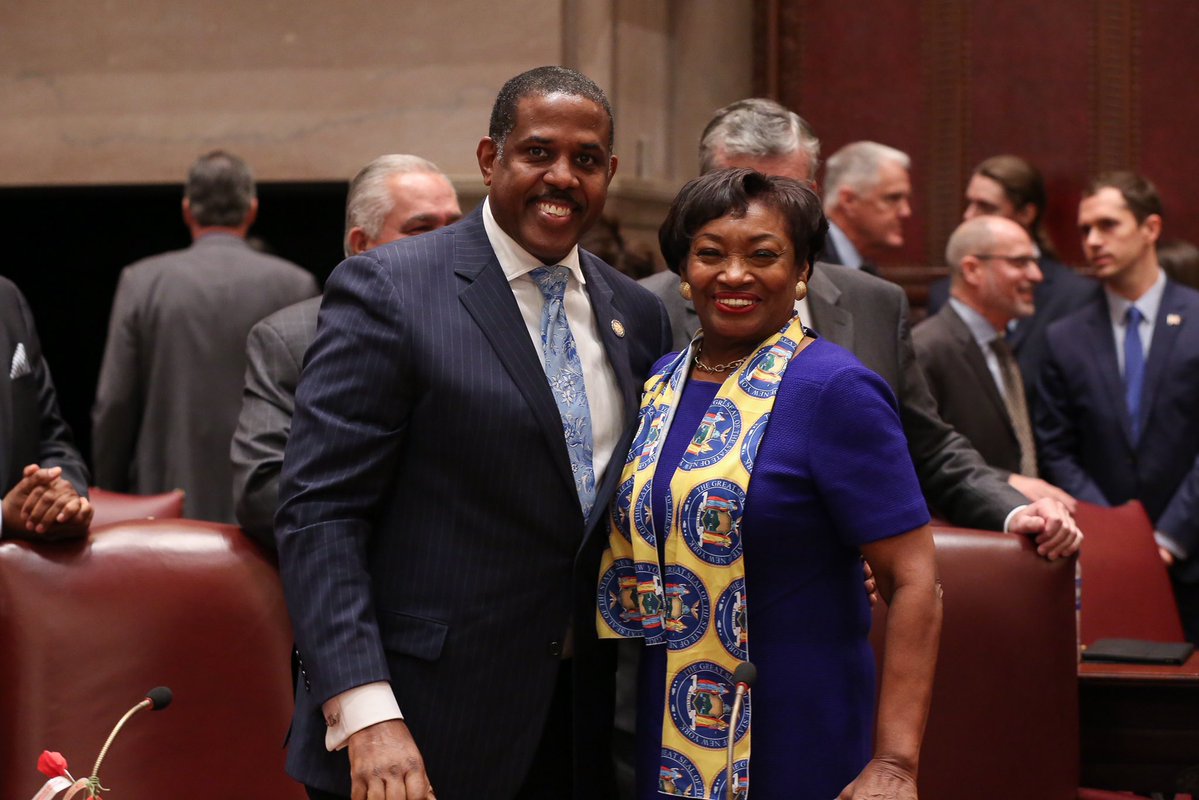 Senator Parker, left, with Majority Leader Stewart-Cousins (photo: @SenatorParker)
---
The newly-seated Democratic majority in the state Senate does not seem inclined to take any formal action against one of its members, Senator Kevin Parker of Brooklyn, for an inappropriate Twitter outburst last month, directed at a Republican Senate staffer, or his apparent misuse of his official parking placard.
In tweets on December 18, GOP spokesperson Candice Giove had highlighted what seemed to be Parker's inappropriate use of his parking placard. Parker responded with a shocking tweet, writing "Kill yourself!" to Giove. He later deleted the tweet but not before it was widely shared and memorialized, becoming the subject of a good deal of attention both on social media and in news reports.
The incident sparked a quick backlash against Parker, who has a history of losing his temper and getting in trouble for it. Elected officials, including those within his party, were quick to condemn his flippant remark about suicide. And many also raised the underlying question of whether he was among the public officials, elected and not, that have been abusing the parking privileges they receive as a perk of the job, which has become a broader issue in New York City in recent years.
Parker later expressed some contrition. "I sincerely apologize," he tweeted. "I used a poor choice of words. Suicide is a serious thing and and (sic) should not be made light of." But he continued to criticize Giove on Twitter and elsewhere, calling her "an internet troll" in an interview with the New York Daily News. In a statement at the time, which was between the elections where Democrats flipped the Senate and their official ascent to control of the upper chamber, now-Senate Majority Leader Andrea Stewart-Cousins said, "I was disappointed in Senator Parker's tweet. Suicide is a serious issue and should not be joked about in this manner. I am glad that he has apologized."
But that may be the end of it. Stewart-Cousins' office did not respond to repeated requests for comment on whether Parker would face any formal action for his behavior. The incident is not being probed by the Senate's Committee on Ethics and Internal Governance, chaired by Senator Alessandra Biaggi, who has promised to reinvigorate what has been a dormant committee despite constant ethical lapses among state officials. And Parker himself told Gotham Gazette in a phone interview that the matter was "handled internally."
In response, Senate GOP spokesperson Scott Reif had harsh words for the Senate majority. "Senator Parker tells a young female staffer to go kill herself and the Democrats don't give him so much as a slap on the wrist?," Reif said in an email to Gotham Gazette. "Punish him for his inappropriate rhetoric. Punish him for violating the parking placard rules. But don't just bury your head in the sand. Despite their talk, it looks like the new Democratic Majority doesn't really care about ethics after all."
Parker, in the phone interview, said he'd learned his lesson. "The rules have been reinforced to me and I will continue to abide by the rules," he said. "We've moved on. We're passing legislation."
But he refused to address whether he had improperly used his parking placard. "It's a tempest in a teacup, I'm not going down that road," he said. And he would not reveal details of how the matter was resolved. "That's a private conversation between me and the majority leader," he said.
There are several avenues for holding state legislators to account for their conduct in office. Besides the ethics committee, there are the oversight and enforcement bodies -- the Joint Commission on Public Ethics and the Legislative Ethics Commission -- charged with investigating and penalizing violations of Public Officers Law (though the law is written vaguely and may be hard to apply to Parker's situation).
Biaggi's committee is not taking up the issue. "The first priority for the ethics committee is to ensure there are clear standards of behavior and a clear means for dealing with alleged violations in a timely manner," said David Neustadt, a spokesperson for Biaggi. "The first focus of the ethics committee is dealing with the issue of sexual harassment and ensuring that New York State is a leader in making sure everyone is safe at work."
On the potential parking placard violation, Neustadt said, "It's up to the issuing authority to make sure that parking placard holders know and follow the rules. It's up to the police to issue parking tickets when placards are used inappropriately."
It's unclear if there have been any complaints filed with either JCOPE or the LEC, or if either body is looking into the incident. Such investigations are usually kept confidential under state law. "We can't comment on anything that is or might be an investigative matter," said Walter McClure, a JCOPE spokesperson.
Alex Camarda, senior policy advisor at Reinvent Albany, a group that advocates for government reform, transparency, and accountability, said Parker's inappropriate comments and alleged placard misuse "ought to be looked at" by both the Senate and JCOPE.
"They should err on the side of acting formally, even for low-level infractions, because it sets a serious tone," he said.