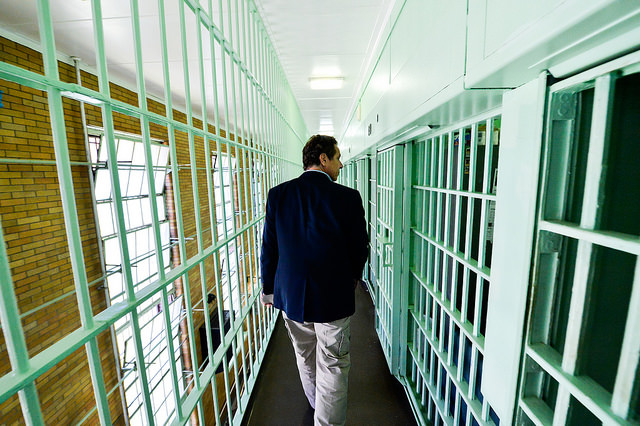 (photo: the governor's office)
---
Taking the stage at the Global Citizen Festival in Central Park last September, Governor Andrew Cuomo promised to end cash bail "once and for all," a move that would launch New York into the national spotlight with New Jersey and California. "In America you are still innocent until proven guilty," he told the cheering crowd. "And that's whether you're black or white. That's whether you're rich or poor."
The elimination of the cash bail system, under which poor black and Hispanic New Yorkers are disproportionately incarcerated pre-trial, does seem imminent thanks to a new Democratic majority in the state Senate. Assembly Speaker Carl Heastie, whose chamber last year passed legislation that only limited cash bail, assured faith leaders at Trinity Chapel in Manhattan on Thursday that, "I support a 100-percent-ending-of-cash-bail system."
But big questions remain: who will be eligible for pretrial incarceration, what constraints will be put on judges, the reach of controversial ankle bracelets.
Cuomo's recently-released budget proposal calls for more extensive pretrial detention and monitoring than an advocate-backed bill in the Legislature, and several Democrats told Gotham Gazette they want broad judicial discretion on domestic violence cases: a red flag for advocates who see a window for bias. As Democrats use their new power to rapidly pass progressive legislation, bail reform, in all its complexity, could prove a test of how far they'll go.
"We have to remember there's a presumption of innocence," warns Democratic Assemblymember Dan Quart of Manhattan. "The point of bail is not to judge or adjudicate people."
The New York City jail population has decreased by 1,500 over the last two years, according to a December report from the Independent Commission on New York City Criminal Justice. Still, as of September more than a third of the 8,200 people in city jails were held pre-trial on misdemeanors or nonviolent felonies. More than 90 percent of the jail population is people of color. The commission, led by former chief judge Jonathan Lippman, estimates substantial bail reform could reduce the population by 3,000 people.
Deputy Senate Leader Michael Gianaris of Queens likes to remind reporters that the FREEnewyork campaign, composed of more than 150 grassroots groups, has dubbed his bail reform bill with Manhattan Assemblymember Danny O'Donnell the "gold standard." It eliminates cash bail and was a non-starter in the Republican-controlled Senate.
Under the Gianaris/O'Donnell bill, most defendants would be released on their own recognizance. Possible exceptions include witness intimidation cases, and felony cases where the defendant is accused of attempting to seriously injure another person.
Anyone eligible for pretrial incarceration would be entitled to a hearing where a judge evaluates evidence and considers less-restrictive alternatives, like mandatory check-ins. These hearings would mark a "huge step forward," says JoAnne Page, president of the Fortune Society, a nonprofit that provides prison reentry services. Currently, setting bail is "a decision that happens in a heartbeat."
Cuomo's budget proposal also eliminates cash bail and mandates pretrial hearings. However, his net of eligibility for pretrial detention is much wider, including Class A felonies like murder, conspiracy, and controlled substance charges; most violent B and C felonies like rape, assault and weapon possession (burglary and robbery are excluded); and cases where the judge deems the defendant a threat to the physical safety of someone in their family or household, regardless of the severity of the charges.
Alphonso David, Cuomo's counsel, told Gotham Gazette that the governor intentionally excluded controversial public safety assessment tools (which Mayor Bill de Blasio has endorsed). These tools rely on data points like a defendant's age and criminal history, and have been met with allegations of racial bias in New Jersey and California.
But if decarceration is the goal, advocates warn, the net of eligibility for pretrial incarceration must be much smaller -- lest judges balk at losing cash bail and fall back on detention.
"Unfortunately, the same decision-makers who are deciding to set bail on our clients now are going to be the ones who decide whether or not, after an evidentiary hearing, to keep that person remanded," says Legal Aid Society attorney Marie Ndiaye. "The only thing you can do to really, really decarcerate is just by really, really limiting the number of people who could even be eligible for that kind of treatment."
Cuomo also wants electronic monitoring as an option for people charged with felonies and domestic violence misdemeanors. "When you have something like electronic monitoring there's a very real risk that it means the expansion of social control," warns Page, of the Fortune Society. "The threshold you pass before you put an electronic bracelet on someone is much lower than locking them up."
Last year, the Assembly passed a proposal that would have preserved cash bail and electronic monitoring in felony and domestic violence misdemeanor cases -- a broad category that includes verbal threats. "I'll be the first one to say the Assembly bill wasn't good enough," Heastie told advocates Thursday.
O'Donnell also dismissed the Walker bill as a relic earlier this month. "In previous years the Assembly would come up with bills we thought might pass muster in the Republican Senate," he explained. "Those days are over. I would hope that my colleagues would come around and take this bolder approach."
But there is still substantial Democratic support in the Assembly for the domestic violence provisions in the Walker bill. "There are going to be enough Democrats, me among them, who will be raising the issue," said Assemblymember Amy Paulin of Scarsdale. "If we don't protect domestic violence [victims], I won't be voting for the bill."
"Whether it's cash bail or pretrial detention I'm not worried about that," added Assemblymember Patricia Fahy of Albany. "My interest is the bottom line…that we are not tying any judicial hands in keeping our streets safe, or our households safe."
This is a point of entry for the state District Attorneys Association, which opposes expansive bail reform on the grounds that it curtails prosecutorial discretion. "We have serious concerns about, with the swipe of a pen, creating a proposal that has calamitous effects on public safety," Albany County District Attorney David Soares told Gotham Gazette.
Domestic violence advocates in the FREEnewyork campaign say this logic is at odds with the ultimate goal of significantly decreasing jail populations, and relies too heavily on the perceptions of law enforcement. "Particularly for LGBTQ people," cautions Audacia Ray of the New York City Anti-Violence project, "the way police and prosecutors perceive what is happening is often faulty and racist."
Senate and Assembly leaders tell Gotham Gazette that they hope to come up with a compromise before budget negotiations, which are set to begin in earnest in March. A budget deal is due April 1. "The old ways of Albany involved trading one thing against an unrelated thing," Gianaris said. "The new New York Senate is trying hard to break that mold."
"The tricky thing with bail," he added, "is that if we don't do it right, things can get worse rather than better."