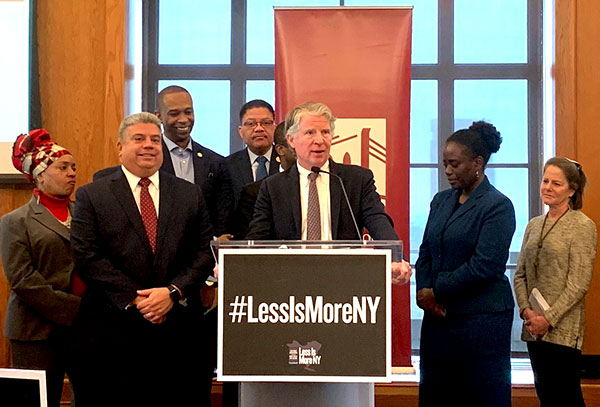 Manhattan DA Cy Vance (photo: @ManhattanDA)
---
District attorneys wield nearly unfettered discretion as to whether to prosecute potential defendants, but nothing in the law prevents lawyers for the accused from donating to a district attorney's election campaign. Most New Yorkers became aware of this glaring blindspot in the state's campaign finance law in 2017, following news that Manhattan District Attorney Cy Vance's campaign had accepted thousands of dollars from an attorney for Harvey Weinstein, the disgraced Hollywood mogul who Vance's office had declined to prosecute after he allegedly groped a woman and was caught on tape seemingly admitting to the act.
But the state Legislature could soon make sweeping changes to the rules governing district attorney campaign financing, as Assemblymember Dan Quart and Senator Liz Krueger, both Manhattan Democrats, are pursuing legislation to enact stringent restrictions on who can contribute, and how much, to candidates running for district attorney, of which there are 62, one for each county, across the state.
"Reforming of our campaign finance laws with respect to how district attorneys and candidates for district attorneys run is critical," Quart said in a phone interview, "so that the public gets confidence that decisions made by district attorneys are on the merits and free of any conflicts." Quart is rumored to be considering a run for Manhattan DA in 2021.
The proposed legislation would require that all district attorney candidates disclose to the state Board of Elections whether they have accepted campaign contributions from a law firm or an attorney at that law firm representing a criminal defendant in any New York state court. The bill would also mandate that the BOE create a statewide "legal dealings database" with the names of every licensed attorney, law firm or a firm executive who represents an individual or corporation in a criminal proceeding in any state court. The individuals and firms in the database would be restricted to donating only $320 to any district attorney candidate.
Spokespeople for Assembly Speaker Carl Heastie and Senate Majority Leader Andrea Stewart-Cousins did not respond to requests for comment about support for district attorney campaign finance reform. Hazel Crampton-Hays, a spokesperson for Governor Andrew Cuomo, said in a statement, "The Governor has put forward a comprehensive ethics package in the Executive Budget and we will review any additional legislation if it passes both houses."
The proposal was first introduced by Quart in October 2017, shortly after Vance, a Democrat, requested an external, independent review of his campaign finances to rebut allegations that his office gave favorable treatment to Weinstein and other wealthy actual or potential defendants, including Ivanka Trump and Donald Trump Jr., whose lawyers gave to this campaign and who Vance's office declined to prosecute for alleged criminal fraud in the sale of condos in the Trump SoHo hotel development.
The review was conducted by the Center for the Advancement of Public Integrity at Columbia University, which issued seven recommendations for district attorney candidates to prevent real and perceived conflicts of interest or unconscious bias by prosecutors. They include blind fundraising (so candidates are not aware of donor identities), refusing or limiting contributions from donors with real or perceived conflicts, a strict firewall between a DA's office and campaign, refusing contributions from one's own office staff and their spouses, strong donor vetting processes, requiring certifications of eligibility to contribute, and published campaign contribution policies.
Quart and Krueger's bill would establish some of those firewalls. Quart's legal dealings database is modelled on New York City's own "doing business" database that logs companies and individuals who have contracts with the city and limits how much they can contribute to candidates in local elections. The $320 limit applies to candidates for borough president, whose districts are equivalent to the jurisdiction of a district attorney in the city. "I took those rules and that principle and applied it to district attorneys' races," Quart said.
The proposal would apply statewide. So, for instance, a law firm representing a defendant in Suffolk County wouldn't be able to give more than $320 to a candidate running for Brooklyn District Attorney.
"It is vital that every New Yorker be able to trust our judicial system to reach conclusions based solely on the fact of cases, without even the perception that other influences might affect the results," Senator Krueger said in a statement. "District Attorneys hold a singularly powerful position in our system, and therefore must be held to the highest standards to avoid potential conflicts of interest. This bill will help ensure that in New York, justice remains blind."
The bill doesn't cover all of CAPI's recommendations, however. Berit Berger, executive director of CAPI, said the legislation is a "good start" but could go further. "The legislation does not require district attorneys to adopt blinding procedures that shield them from learning their donors' identities," she pointed out, in an email to Gotham Gazette. Blinding standards are currently used by candidates running for judicial seats in New York.
"As we explained in our report, this approach would most clearly address the conflicts of interest issue and safeguard against any conscious and unconscious bias in favor of campaign contributors," Berger continued. "While the increased transparency from disclosing contributions from attorneys or firms representing criminal defendants is a great first step, I think more is needed to truly preserve the integrity of this fundraising process."
It's unclear if the bill will be supported or opposed by the District Attorneys Association of New York. Morgan Bitton, a DAASNY spokesperson, said the association is reviewing the proposal and that its legislative committee is set to meet later this month.
If the bill passes into law, Quart believes it could be in place for the 2021 elections. If he runs for Manhattan District Attorney that year, it would put him in contest with Vance, who will be up for reelection but has not declared whether he will run again or not. "My dissatisfaction with Cy Vance, the Manhattan District Attorney is well known," Quart said, insisting that he had not made any decisions about his own political future yet. "I have said that whether this legislation passes or not, I would self-police in a way if I were a candidate in 2021."
Whether Vance decides to seek reelection or not, the 2021 race could be a crowded one. This year, with no incumbent running, the race to be the next Queens District Attorney features more than half a dozen Democratic hopefuls, while races in the Bronx and on Staten Island with incumbents running again have sparse fields.
For his part, Vance, a former DAASNY president himself, supports Quart's proposal. "As DA Vance said last year when he announced the most restrictive voluntary campaign finance limits of any elected prosecutor in New York, 'legislative action is the surest way to achieve lasting, mandatory campaign finance reform,'" said a spokesperson for his campaign, who also noted Vance's support for a public matching funds program for DA candidates, which is not part of the Quart-Krueger legislation, but could potentially be included in any broader public campaign finance system that Democrats in Albany hope to pass this year. Assemblymember Tom Abinanti, a Democrat, has reintroduced a bill this year that would establish such a public financing system for candidates for district attorney and supreme court justices.
But the Vance spokesperson did say the Legislature should consider the feasibility of the legal dealings database proposal, which would be far more vast than New York City's doing business portal. "As Columbia's report notes with regard to the City database, 'the class of individuals subject to Doing Business restrictions in New York City is relatively small, and is limited to senior company executives, major stakeholders, and registered lobbyists' – as opposed to the vast and fluid population of lawyers who represent criminal defendants in New York State," the spokesperson said.
Note - This article has been updated to note that Assemblymember Tom Abinanti reintroduced a bill on public financing for district attorneys and supreme court judges.