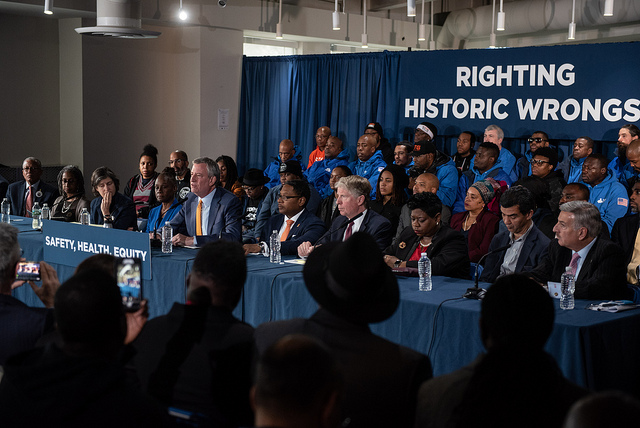 Mayor de Blasio discusses marijuana policy (photo: Michael Appleton/Mayor's Office)
---
New York seems poised to enact the country's first automatic record-clearing guidelines for past marijuana convictions. Doing so, advocates and officials say, could remove barriers for hundreds of thousands of New Yorkers whose convictions -- for behavior that may soon be legal -- complicate tasks ranging from obtaining child custody to job searching to renting an apartment.
Automatic record-clearing is part of a larger ongoing discussion on legalizing adult marijuana use in New York, something Governor Andrew Cuomo has made a 2019 priority after years of opposition that also has support in both Democratically-controlled houses of the state Legislature. "Legalize adult-used cannabis," Cuomo said in his State of the State address in January. "Stop the disproportionate criminal impact on communities of color."
Bronx Senator and Senate health committee chair Gustavo Rivera also emphasized on the Capitol Pressroom with Susan Arbetter earlier this month that "the primary concern for many of us is the restorative justice aspect of this."
New Yorkers poised to benefit from record-clearing for past marijuana offenses are majority black and Hispanic. In New York City, these communities made up 85 percent of marijuana possession arrests in 2016. It's still unclear, though, how many crimes will be eligible for automatic clearing. There are also different record-clearing processes within an automatic framework: to seal a record is to shield it from view, while to expunge it -- advocates' preference -- removes it completely.
Melissa Moore, deputy New York director for the Drug Policy Alliance, said advocates with the statewide marijuana abolition campaign Start SMART took notes on California's approach to marijuana legalization. There, people with certain marijuana-related convictions were invited to apply for their records to be cleared. The Drug Policy Alliance has hosted free legal clinics in the state to assist them. "It's still onerous," says Moore. "In New York, how do we do this in such a way that places the lowest burden possible on individuals who have already been wronged? Making it automatic."
"I believe that the Governor's office shares the goal of Assemblymember Peoples-Stokes and I," stated Senator Liz Krueger, "to create a mechanism for automatically clearing records for marijuana offenses that would no longer be crimes." Krueger, a Manhattan Democrat, carries the Legislature's Marijuana Regulation and Taxation Act along with Assemblymember Crystal Peoples-Stokes, a Buffalo Democrat who is also the majority leader of the Assembly.
As for scope, Cuomo's budget proposal would automatically clear the low-level possession convictions that make up the majority of marijuana arrests -- 800,000 over the last 20 years according to his office -- by amending existing record-sealing procedures. By contrast, Democrats in the Legislature have in recent legislative sessions proposed clearing more records: all possession-related, and some sale-related, convictions.
"We recognize and see where the governor was trying to go and we think it just needs to be much more expansive," says Kassandra Frederique, New York director of the Drug Policy Alliance. "If we are going to end the criminalization of marijuana in this state, then we have to end the criminalization of marijuana in this state, wholesale."
"We have three goals," Cuomo's counsel Alphonso David told Gotham Gazette, defending Cuomo's proposal. "The first goal is to make sure that we advance social justice. The second is to advance economic development, and the third is to protect public health and safety. Our proposal addresses all three goals."
Currently there is no expungement procedure in New York, and the governor's office has indicated he prefers sealing. But advocates say expungement would remove ambiguity. "You would be able to say, 'I have no criminal record,' and that would be the end of the conversation," says Legal Aid Society attorney Emma Goodman, an expungement expert who helped draft relevant bill language shared with Krueger's office in January.
Advocates have proposed that court records, including criminal complaints and any written decisions, be marked as expunged, while ancillary records such as fingerprints and mugshots are physically destroyed. (Even expunged marijuana convictions can be grounds for deportation, notes Immigrant Defense Project Supervising Attorney Marie Mark, so the proposal includes additional protective measures for non-citizens.)
"Expungement means completely erasing these convictions and criminal records to give New Yorkers of color a fresh start," said Samaria Phillips, manager of the We Rise to Legalize campaign, in a statement. Her group is attending the New York State Association of Black and Puerto Rican Legislators' annual conference on Saturday in Albany to call for expungement.
Mayor Bill de Blasio also endorsed automatic expungement in a December 2018 task force report from his administration, with the caveat that district attorneys should have the ability to challenge on a case-by-case basis. "Expungement should occur as an automatic process…to minimize procedural burdens on those with past convictions," the report states.
But in the interview, David emphasized the governor's support for sealing. Because New York has strong sealing laws, he argued, the "impact of sealing is a functional equivalent of expungement, while immunizing the legislation from potential legal challenge."
Senator Krueger's chief of staff, Brad Usher, also confirmed that her office does not have a preference so long as the process is automatic.
"While sealing does essentially the same thing to the record, it does not bring the same level of clarity and peace of mind," Goodman challenges. "Sealing is ambiguous and confusing for employers and people with convictions, whereas expungement is not."