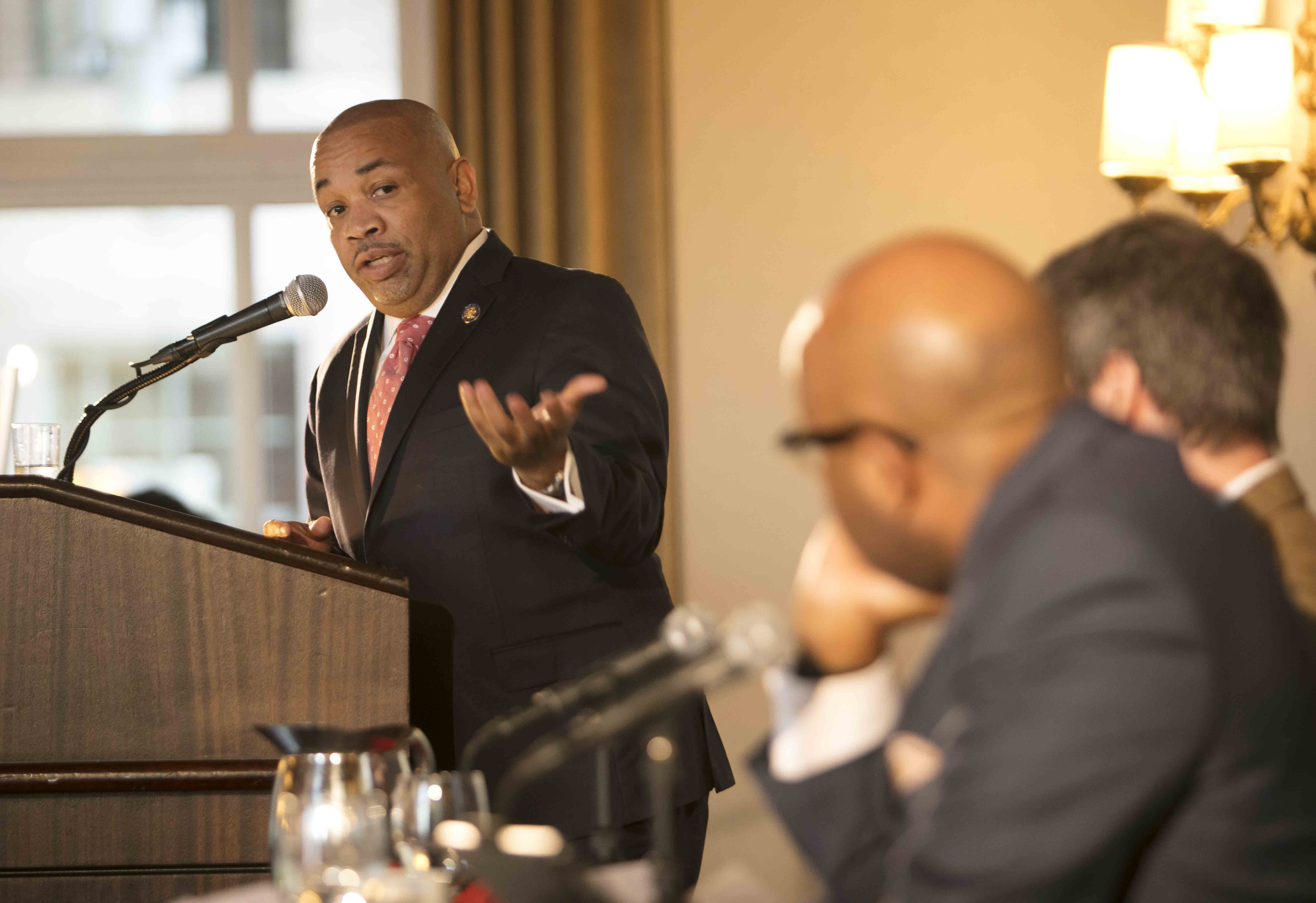 (photo: Buck Ennis/Crain's)
---
Though Democrats have for years blamed Republican intransigence for the failure of key campaign finance and ethics reforms in Albany, those measures still appear stalled even as their party controls the entire state Legislature and governor's office. On Friday, Assembly Speaker Carl Heastie said that the votes are not there in his chamber to approve a public-matching campaign finance system, despite the fact that the Assembly has repeatedly passed such a measure in the past when Republicans controlled the Senate.
Heastie appeared at a Crain's New York Business forum at the New York Athletic Club, where he gave remarks about the Assembly's accomplishments and priorities, then took questions from Erik Engquist of Crain's and Errol Louis of NY1, before also speaking with other reporters after the event.
With a new state budget due April 1, Heastie said it appeared unlikely that the Assembly would approve public campaign financing before or within that deal, though it is a long-held Democratic goal espoused not only by Assembly Democrats but also the new state Senate Democratic majority and Governor Andrew Cuomo.
"I think the members want to discuss it but I'd say right now what the concerns are on IEs [independent expenditures], problems with [New York City's] campaign finance system, also with a shortage of [state] money, I think they want to have the discussion but I'd say right now there's not 76 members who want to move forward with it in the next three weeks in the budget," Heastie said in response to a question from Gotham Gazette, and referring to the minimum number of votes needed to advance a bill in the 150-seat chamber.
The speaker later tweeted to add to his comments from the morning, writing that the Assembly does want to consider a small-dollar matching program, but one that does not use public money.
Heastie also threw cold water on a state Senate-approved bill to limit campaign contributions from entities seeking state contracts and downplayed the need for additional government ethics reforms, saying that law enforcement entities catch bad actors and he is "still waiting for the idea of the bill that will really fix people's morality."
Asked about it by the moderators, Heastie expressed concerns that a bill passed on Tuesday by the state Senate could end up hurting the party in power. The bill, S3167, prohibits companies bidding for state contracts from contributing to "officeholders with authority over procuring entities" within a specific window of time, therefore applying largely to the executive branch, namely the governor.
Though Heastie's conference has advanced similar bills in previous years, he hesitated to endorse that measure, which was sponsored by new state Senator Zellnor Myrie from Brooklyn.
"On the premise of it, it sounds great. Yeah, anybody who wants to bid on a contract, yeah they shouldn't have the opportunity to make contributions to the governing entity because there could be the appearance that somebody's trying to grease the skids," Heastie said. "But the way that the legislation is drafted...it just covers such a vast number of people so that one company who...bids on a contract, their lobbyist, and it doesn't just stop there, every other company that that lobbyist is responsible for is now radioactive."
The bill would also put the State Democratic Party and Governor Andrew Cuomo, a third-term Democrat, "in a bind," he said, because it would exclude them from raising funds from entities who would be able to donate to Republicans who don't hold the same authority in state government. The bill includes a prohibition on contributions "indirectly or directly, to political committees operationally controlled by officeholders with authority over state governmental entities" that receive and review bids and issue contracts. "So I guess that on the surface the bill sounds like a great idea, but it really does put the governor and the Democratic Party at a huge disadvantage as compared to the Republican Party," he said.
Asked about Heastie's comments, Jonathan Timm, a spokesperson for Senator Myrie, said in a statement, "The history of corruption in New York State government demonstrates that inaction is not an option. As with any other legislation, this bill will be subject to negotiation with the Assembly, and the Senator looks forward to working with them to clean up state government in the best way possible."
Speaking to reporters after Friday's event, Heastie then tempered expectations about public campaign financing, which appeared for months as though it would be a crowning achievement of the new Democratic era in Albany.
His comments weren't taken lightly by a variety of advocates, including the Fair Elections for New York coalition, which has been pushing the state to adopt a small-donor matching system similar to the one in place in New York City, among other reforms.
"Historically, the Assembly Democrats have supported people-powered elections anchored with a small-donor matching system," the coalition pointed out in a Friday statement, responding to Heastie's comments as initially reported by Gotham Gazette.
"'Fair elections' is the policy that will really shake up the status quo, and thus the real test of the new Albany," continued the coalition statement, referring to the Fair Elections Act that the Democratic Assembly has passed in previous sessions and that Senate Democrats have supported in the minority. "Passing this legislation now, in the budget, is the best chance for New York to once again lead the nation by having a campaign finance system that gives everyday New Yorkers as loud a voice as the wealthiest donors."
The coalition is made up of more than 200 groups, including labor unions such as 32BJ, tenant organizers such as New York Communities for Change, immigrant advocates like the New York Immigration Coalition, environmental and racial justice groups such as the Sunrise Movement and VOCAL-NY, good government advocates like Reinvent Albany and more.
Urging the governor and legislative leaders to reject a budget that does not include public campaign financing, the coalition offered solutions for Heastie's concerns. It said a public financing system should not include spending limits, therefore mitigating the effect of outside independent expenditure campaigns; suggested that New York follow Connecticut's public matching program, which gives assistance to candidates in using small dollar contributions, compared to New York City's program that many have called too punitive; and pointed out that the total budget ramifications of public financing were between $40-60 million, which wouldn't even be apparent in the short term and could hardly affect a $175 billion state budget. The annual costs, the coalition estimated, would be less than $3 annually for every New Yorker.
Asked to comment on Heastie's statements, neither the office of Senator Majority Leader Andrea Stewart-Cousins nor that of Governor Cuomo responded.
After seeing the blowback to his comments, Heastie issued another statement on Twitter Friday afternoon, writing, "I want to be clear – the Assembly Majority is supportive of limiting the influence of money in our elections through consideration of a small dollar donor matching system that does not rely on scarce public funds. Our members are not ready to support the NYC model for the entire state, but we will continue to have discussions in order to reach our goals."
Ben Max contributed to this story.
This story has been updated.
Note - This article has been updated with comment from a spokesperson for Senator Zellnor Myrie.