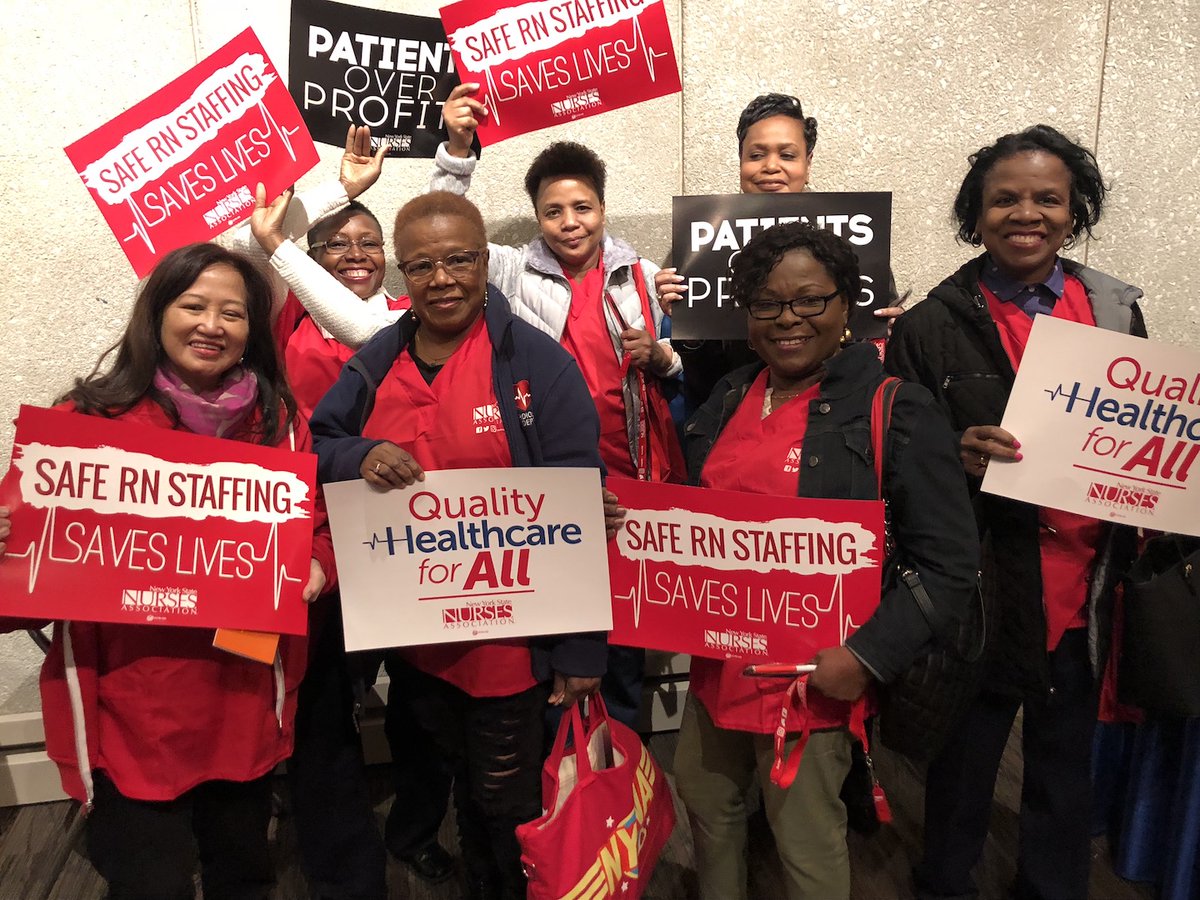 (photo: @nynurses)
---
During one night shift at the children's hospital where she worked as a nurse, Nicolette Mabeza's unit filled up with intubated children. She and the other nurses were frantic.
"It was just the entire floor running around," said Mabeza, who worked in the intensive care unit at NewYork-Presbyterian Morgan Stanley Children's Hospital in Washington Heights. "Some nurses had two intubated patients and they weren't even right next to each other."
Nurses stretched to the limit by understaffing would regularly cry on the job, she said.
"Not only does it make you feel that you're being a terrible nurse," said Mabeza. "You also wonder, why should patients come here if nurses can't give the adequate care that they deserve?"
Feeling that she could no longer do her job in good conscience, she quit last April after less than a year at the hospital.
After years of complaints, understaffing has become a major point of conflict between the nurses union and private hospitals in New York City.
Around 13,000 nurses could strike this month if negotiations fail between the New York State Nurses Association and a group of three major hospital systems, union leaders say.
Nurses from Montefiore, Mount Sinai, St. Luke's-Mount Sinai West, and New York-Presbyterian hospitals authorized a strike last week and announced a rally for safe staffing on Monday, March 18 at Mount Sinai Hospital in East Harlem.
"We're saying enough is enough," said Carl Ginsburg, a spokesperson for the union, which represents 37,000 nurses. "No sooner do we make a deal than we drift back into this danger zone."
He said contract negotiations have slowed to a crawl with the New York City Hospital Alliance, an informal bargaining group of private hospitals that includes Montefiore, New York-Presbyterian, and Mount Sinai hospitals.
On the bargaining table is an increase in nurse-to-patient ratios in emergency rooms and intensive care units. Staffing levels have reached dangerously low levels, putting the safety of both nurses and patients at risk, Ginsburg said.
"Sometimes where a nurse should be caring for five patients, she's caring for eight or 10," said Ginsburg. "Make no mistake – it's dangerous."
In 2018, more than 12,000 nurses signed "Protest of Assignment" forms to complain about unsafe conditions at Montefiore, Mount Sinai, and New York Presbyterian.
A spokesperson for the NYC Hospital Alliance said that hospitals are financially stretched because of state Medicaid cuts. He added that the recent "Protest of Assignment" forms account for a negligible portion of the total number of nurse shifts.
Understaffing at hospitals forces nurses to make tough choices, said Anthony Ciampa, a nurse at New York Presbyterian for the last 14 years.
"I had to make the decision whether to hang blood or to help an elderly patient eat," said Ciampa. "No nurse should be forced to make these types of decisions."
The elderly patient sat in front of the food – unable to eat – while Ciampa took care of the blood transfusion, he said. By the time Ciampa was able to help, the patient's food tray had been removed, untouched.
"I'm still upset about that," said Ciampa, who is currently representing the union in contract negotiations. "It was like torture to sit there with the meal in front of you and not be able to eat it."
Outside Brooklyn Hospital Center last month, nurses were reluctant to talk about staffing conditions, fearing retaliation from their employers.
"Everybody's understaffed," said a medical assistant who requested anonymity and said she has worked at the hospital for more than 20 years. "The patients are not getting adequate care."
But the NYC Hospital Alliance denied reports that understaffing is leading to unsafe conditions, and said that enforced staffing ratios would be costly and ineffective.
"The reality is that the union's rigid, mandated staffing ratios would lower the quality of patient care by overriding the professional judgment of nurses and healthcare professionals and crowding out other members of the care team," said Linden Zakula, a spokesperson for the group.
Zakula said that state budget cuts to Medicaid have resulted in a loss of $240 million in expected funding for the three hospital groups combined.
"Alliance hospitals respect our nurses and are committed to bargaining in good faith," said Zakula. "We are doing everything we can to reach an agreement that is fair, reasonable, and responsible for all parties."
In the last few years, several New York City Council members have shown support for more staffing regulation at hospitals.
"Nurses are some of the most important people in the hospital," said New York City Council Member Carlina Rivera. "It's important that they feel they have the resources they need to be supported in some of the most stressful environments."
Rivera, who chairs the Council's Committee on Hospitals, cosponsored a resolution in 2018 that called on the state Legislature to pass the Safe Staffing for Quality Care Act.
The bill would set specific nurse-to-patient ratios by hospital unit, and would ensure that nurses can't be assigned to more patients than specified. Hospitals that break the law would be fined.
But there is no vote in sight for either the Council resolution or the state bill, which are both stuck in committee.
For many years, safe staffing legislation was met with resistance from Republicans who controlled the New York Senate.
Last week, New York Assemblymember Karines Reyes said she was confident that the Senate's new Democratic majority would bolster the bill's chances of passing.
"Apart from the Republican Senate's pushback in past years, the primary obstacle posed to the legislation stems from the conflicting opinions of hospital administrators," said Reyes, who is also a registered nurse in the Oncology Department at Montefiore Einstein Hospital. "These points of view fail to acknowledge that safe staffing is about saving lives. The legislation is paramount to the safety and outcomes of patients while not only providing adequate staffing to nurses, but to ancillary staff as well."
While several states have laws that address nurse staffing, California is the only state that requires hospital units to maintain a minimum nurse-to-patient ratio.
Under that law – in effect since 2004 – critical care units in California must have at least one nurse for every two patients. The required nurse-to-patient ratio varies by department, with 1-to-4 for labor and delivery units and 1-to-6 for psychiatric units.
A 2010 study published by the National Institutes of Health found that mandated nurse-to-patient ratios resulted in fewer patient deaths and better morale for nurses compared to other states without similar legislation.
***
Gaspard Le Dem is a freelance journalist. On Twitter @GLD_Live.
@GothamGazette
Note: this story has been updated to change $300 million to $240 million based on corrected information provided by Zakula of NYC Hospital Alliance.