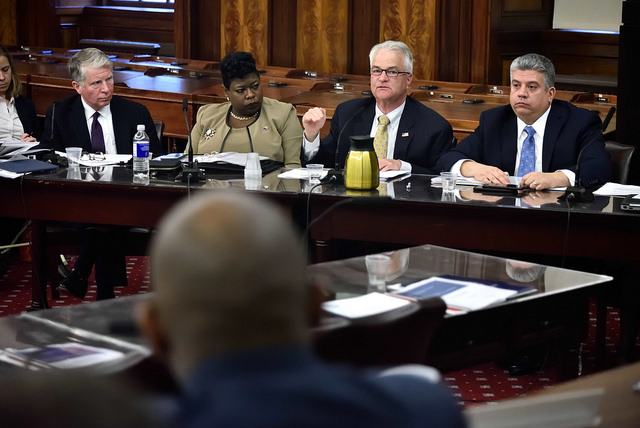 District Attorneys (photo: John McCarten/City Council)
---
Advocates who are pushing to reform the criminal justice system by focusing on the powerful role that district attorneys play as enforcers of the law often cite Larry Krasner as a model. Krasner was elected the district attorney of Philadelphia in 2017 on a comprehensive reform platform and in November last year, just 11 months into his first term, he pulled out of the statewide Pennsylvania District Attorneys Association. Krasner blamed the association for holding back much-needed reform and advocating for overly harsh prosecutorial policies.
Reformers and advocates in New York hailed Krasner's withdrawal as an example to follow. They've long argued that the District Attorney's Association of the State of New York (DAASNY) is one of the biggest roadblocks to criminal justice reform making its way through the state Legislature. DAASNY essentially acts as a lobbying group for prosecutors, critics say, and attempts to water down legislation to maintain the already significant discretionary authority that individual district attorneys enjoy.
"Ultimately this is about power not wanting to lose power," said Erin George, statewide Criminal Justice Campaigns Director for Citizen Action of New York. "The DA's association is set against reforms that would threaten the unbridled power they have in the current pretrial system to railroad New Yorkers and drive the case outcomes and convictions that they're looking to secure."
It's a harsh assessment backed by years of seeing DAASNY oppose efforts to change New York's drug sentencing laws, early release policies, criminal charges for gravity knife possession, and a commission to investigate prosecutorial misconduct. This year, with Democrats in full control of the Legislature, advocates are again seeing the largely invisible hand of DAASNY guiding legislation to reform the state's discovery, bail, and speedy trial laws. George said the association's "fear mongering narratives and dog whistle tactics" become "the political narrative that has to be responded to and the issues sort of avalanche."
Last month, a coalition of advocacy groups including Citizen Action, VOCAL-NY, New York Communities for Change, and JustLeadershipUSA formally sent letters calling on several sitting district attorneys who call themselves progressives to step down from DAASNY, publicly disavow the association and support reform legislation in Albany. The letters were sent to Brooklyn DA Eric Gonzalez, Manhattan DA Cy Vance, Erie County DA John Flynn, Suffolk County DA Timothy Sini, and Nassau County DA Madeline Singas.
"DAASNY is once again, the primary opposition to passing legislative changes that would advance justice, equity and an end to mass incarceration in New York State," the letter reads. Early last month, Citizen Action also sent a similar letter directly to Albany DA David Soares, a Democrat and the current president of DAASNY.
Soares was elected as a reformer himself but has since disappointed activists who say he has acted more in DAASNY's interests than in the interests of justice. But he rejects their criticism.
"There is an unfortunate misperception that DAASNY is opposed to reform. This is far from the truth," Soares said in a statement to Gotham Gazette. "For decades DAASNY has been at the forefront of alternatives to incarceration programs. We supported legislation to allow the sealing of past criminal convictions and to help convicted offenders obtain a second chance."
He said that DAASNY supports both discovery and bail reform but does not support "discovery measures that threaten the safety of victims and witnesses" or "bail reform measures that undermine the safety of domestic violence and sexual assault victims." Soares was among 15 prosecutors who recently wrote to Governor Andrew Cuomo, Senate Majority Leader Andrea Stewart-Cousins, and Assembly Speaker Carl Heastie to profess support for ending cash bail and overhauling the state's bail system. "The only people who should be detained pretrial are those who a judge finds pose a specific, clear and credible threat to the physical safety of the community, or who are a risk of intentionally evading their court dates," they wrote.
For advocates like George, the issue at hand is DAASNY's "unbridled power, unequal power" in Albany. Just as individual DA's leverage their authority to win favorable pleas, even if it means withholding evidence that could be beneficial to defendants until just before trial, they say DAASNY leverages its authority to impact bills that have been moved through grassroots efforts.
Nick Malinowski, civil rights campaign director of VOCAL-NY, said DAASNY's role has become all that more apparent this year. In past years, Republicans held the state Senate and were more often than not opposed to the types of progressive bills being championed by Democratic legislators and advocacy groups. Yet, DAASNY has continued to push back against reform. "What we're seeing is the impact of DAASNY, which traditionally had been influencing Republicans. It's having a similar influence even with a Democratically-controlled Senate," Malinowski said. "They're doing the same type of fear-mongering."
Malinowski cited outright misinformation being put out by the association. For instance, in an op-ed in the Times Herald Record, Orange County DA David Hoovler, the vice president of DAASNY, argued that the governor's discovery reform proposal being considered in Albany would open up witnesses to intimidation and threat since it would make their addresses public. "That's not actually what's in the bill and these guys know that," Malinowski pointed out, noting that the bill allows prosecutors to provide "adequate alternative contact information" of witnesses instead of addresses. That could include an email or phone number, Malinowski said. Bills introduced in the state Legislature similarly contain witness protections.
"DAASNY, which is a lobbying group for prosecutors, like any other advocacy group, they are in Albany lobbying legislators to increase the power and influence of their constituents, which are prosecutors," he added. "Their constituency is not crime victims, it's not voters, it's not the public. It's prosecutors."
While DAASNY does influence legislation and the legislative process, its leaders are not registered lobbyists. Soares opposes use of the term lobbyist group, instead calling DAASNY a trade organization.
Vance's office declined to comment for this story. The Albany Times Union reported that he and others targeted by the coalition of advocates did not plan to leave DAASNY.
Advocates are hoping to make membership in DAASNY a litmus test for progressives, as is evident in Queens. Seven candidates are hoping to secure the Democratic primary nomination for Queens DA June 25 as DA Richard Brown, who has been in office for nearly three decades, is retiring as of June 1. His term ends this year. In the mix are several candidates trying to out-progressive each other. Most, if not all, have said they will reform the office, which has jurisdiction over the city's most diverse and second-largest borough.
Two of the candidates, City Council Member Rory Lancman and public defender Tiffany Cabán, have pledged that they will not join DAASNY. Lancman has said he has seen DAASNY's obstructive efforts firsthand when he was a member of the state Assembly. "I'm not joining DAASNY. And I plan on having a *robust* legislative affairs office to lobby for real reform in Albany & NYC (and Washington where necessary)," he tweeted in October last year. "If you're an elected official fighting for reform, I'm going to have your back."
Similarly, Cabán called out DAASNY in a tweet last month for lobbying against the open discovery bill. "The DA Association of the State of New York is wrong to oppose it, which is why I will exit DAASNY & work instead with DAs who share our values," she wrote.
Soares did not seem to take kindly to those pledges. "My advice to those District Attorney candidates who are pledging to not join DAASNY as part of their campaign tactic is this: Rejecting DAASNY may make you a political darling amongst a small segment of supporters, but it won't make you a better prosecutor."
The other candidates in Queens haven't been as willing to shun DAASNY, even as they say they disagree with the association's positions on certain reforms. Among them are former State Supreme Court Judge Gregory Lasak, Queens Borough President Melinda Katz, former prosecutors Mina Malik and Betty Lugo, and Jose Nieves, a former senior prosecutor in the Brooklyn DA's office. (Emma Whitford reported for Gotham Gazette that Lugo and Nieves intended to join DAASNY, even though both have expressed reservations about the association's position on discovery reform).
Lasak said in a statement that he intends to implement or advocate for several reforms after joining DAASNY, including creating a Conviction Integrity Unit, expanding diversion programs, and ending cash bail on low-level, non-violent offenses. "I've always believed that the best way to change an organization is from within," he said. "It's easy to throw stones from the outside but it won't effect [sic] real change."
Malik, similarly, argued that it would be "misguided" to leave Queens' 2.4 million residents "without a voice in the room" even as she said she disagrees with DAASNY on bail and discovery reform. "My role with DAASNY would be to advocate for Queens and to organize from within to empower progressive DAs. I would keep all options on the table, including withdrawal, if membership in DAASNY proves fruitless to those aims," she said in a statement.
Katz said she intended to "export" the progressive policies she implements in the Queens DA's office to the association's other members. "You can't be heard if you're not at the table," she said in a phone interview. "I think you can institute the policies that we care deeply about here, like no cash bail, like discovery reform...I can do all of that without legislation in Albany. I'm strong enough to believe that should I be sitting on an organization that has the other DAs on it, that I can help move them in that direction too."
Advocates, however, are hoping their collective clamor will make DAASNY a pro.minent enough issue for voters who are increasingly beginning to pay attention to how district attorneys wield their power. Malinowski issued a simple warning. "You can't say that you're a progressive prosecutor and then at the same time be part of a lobbying group that is trying to kill every piece of progressive legislation."
Note - This article has been updated to clarify a quote from Erin George of Citizen Action