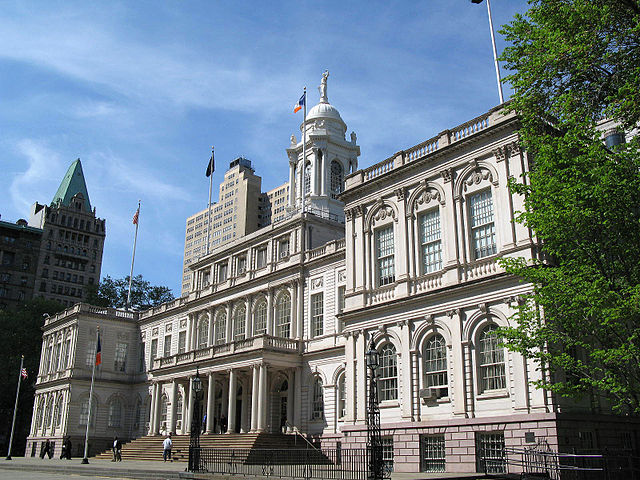 New York City Hall
---
What to watch for this week in New York politics:
While the nation's attention is on the Mueller Report, in New York, a state budget is due in just a few days -- by the April 1 start of the new fiscal year -- and negotiations in Albany will take center stage this week. Unresolved issues include what "revenue raisers" will be included, how much will be spent on a variety of programs and services, most notably the two biggest areas of state spending: education and health care, and whether there will be agreement among the two Democratic legislative majorities and Governor Andrew Cuomo over policies like criminal justice reform, marijuana legalization, congesting pricing and MTA reform, campaign finance reform, making the current property tax cap permanent, and more.
As Mayor Bill de Blasio and others in New York City attempt to influence the details of the state budget, and the city may face significant funding cuts and cost shifts from the state, there is a lot happening that is more city-centric this week, including ongoing city budget hearings at the City Council. The Council will hold a variety of budget and non-budget hearings this week, highlighted by an oversight hearing on First Lady Chirlane McCray's Thrive NYC program, a hearing on a package of legislation meant to curb parking placard abuse, and several budget hearings, like that related to homeless services.
This week will also mark intensifying debate over the city's plan to shut down the Rikers Island jails and build new or renovate existing jails in the four boroughs beyond Staten Island. There is controversy surrounding the plans, especially the site chosen in the Bronx (Borough President Ruben Diaz, Jr., led a Sunday rally in opposition and pushing for the site he prefers) and the size of the proposed jail in for downtown Manhattan. There will be an initial City Planning Commission hearing on Monday as the four jail site plans are packaged together to go through the city land use review processs.
On Monday, Governor Cuomo is scheduled to be in Albany as state budget negotiations enter what is supposed to be their final week, while Mayor de Blasio is in Washington, D.C. participating in the annual AIPAC conference. The mayor, who continues to flirt with a presidential bid, is due to return to the city on Monday afternoon. On Sunday, already-declared candidate for president and U.S. Senator Kirsten Gillibrand held a Manhattan rally to officially kick off her campaign.
There are many events to be aware of this week -- see our day-by-day rundown below.
***Do you have events or topics for us to include in an upcoming Week Ahead in New York Politics?
e-mail Gotham Gazette editor Ben Max: This email address is being protected from spambots. You need JavaScript enabled to view it.***
The run of the week in detail:
Monday
The New York State Legislature will be in session on Monday in Albany. A budget is due within a week, by April 1.
Mayor de Blasio remains in Washington D.C. for the annual AIPAC conference. He participated in a Q&A discussion on Sunday and will deliver remarks on Monday at 9:30 a.m. On Monday evening, the mayor will appear on NY1's Inside City Hall in the 7 and 11 p.m. hours.
The following City Council committees will hold preliminary budget hearings on Monday:
--General Welfare at 10 a.m., regarding the Human Resources Administration, the Department of Social Services, and the Department of Homeless Services.
--Civil and Human Rights at 11 a.m., regarding the Human Rights Commission and the Equal Employment Practices Commission.
--Juvenile Justice and General Welfare jointly at 1 p.m., regarding the Administration for Children's Services.
--Hospitals at 2 p.m., regarding the Health + Hospitals Corporation.
Also at the City Council on Monday: the Committee on Housing and Buildings will meet at 10 a.m. to discuss proposed laws related to water tower inspections, including requiring the city to remind tower owners electronically of filing deadlines for annual certifications and holding information sessions for owners regarding inspections.
At 9:30 a.m. Monday, elected officials, youth in foster care, and child welfare providers will rally at the steps of City Hall to "demand equal opportunity for young people in foster care," which would include investments in "long-term coaching and robust academic, career development, and independent living supports for foster youth from middle school to age 26." The rally will take place ahead of the General Welfare Committee's scheduled preliminary budget hearing.
At 10 a.m. Monday at Queens Borough Hall, Borough President Melinda Katz will chair a meeting of the Flushing Meadows Corona Park Improvement Fund board of directors.
At 11 a.m. Monday at City Hall, "YAFFED, yeshiva and nonpublic schools graduates, and good government groups will join together to demand private schools stop covering for yeshivas by attempting to circumvent reasonable state oversight."
At 11:30 a.m. Monday in Rochester, Lieutenant Governor Kathy Hochul will join Senator Charles Schumer and others at the dedication for the Rep. Louise M. Slaughter Rochester Station.
At 11:30 a.m. Monday in Albany, "state lawmakers, consumers, physicians, pharmacists to rally for rejection of Governor's opioid excise tax in final budget." Participants will include Assemblymembers Linda Rosenthal, Richard Gottfried, and John McDonald. "While dubbed a tax on opioid manufacturers, in actuality if New York imposes an opioid excise tax on prescription medications, as proposed by the Governor in his SFY 19-20 Budget, the tax can and will be passed down to patients and the health providers who care for them. New York would be the first to impose a tax of this kind on a medication..."
On Monday, Comptroller Scott Stringer, City Council Speaker Corey Johnson, and Manhattan Borough President Gale Brewer will be among those to speak at the 108th commemoration of the Triangle Factory Fire.
At 1 p.m. Monday, "The City Planning Commission (CPC) will hold a public Review Session and hear details about the New York City Borough-Based Jail System application. The Mayor's Office of Criminal Justice (MOCJ) and the Department of City Planning (DCP) will present the proposal to the commissioners and answer their questions."
At 6 p.m. Monday at City Hall, the 2019 Charter Revision Commission will hold its seventh "issues forum" featuring experts on the specific focus topic at hand and potential charter revisions. This forum will focus on the city's governance and land use policies, with topics to include the Board of Standards and Appeals, the Landmarks Preservation Commission, and the roles of the Borough Presidents.
Tuesday
The New York State Legislature will be in session on Tuesday in Albany.
At 10:30 a.m. Tuesday, the Joint Commission on Public Ethics will meet in Albany.
On Tuesday at 10:30 a.m. in Albany, "Senator Brad Hoylman, Assemblymember Yuh-Line Niou, and consumer advocates will host a press conference to urge the legislature to pass their (S3297-A/A675-A), which would effectively ban unwanted robocalls in New York State."
The following City Council committees will hold preliminary budget hearings on Tuesday:
--Contracts at 10 a.m., regarding the Mayor's Office of Contracts.
--Oversight and Investigation at noon, regarding the Department of Investigation.
--Finance at 1 p.m., regarding Thrive NYC.
--Mental Health at 2 p.m., regarding the Department of Health & Mental Hygiene.
Also at the City Council on Tuesday:
--The Committee on Justice System will meet at 10 a.m. to discuss a resolution calling on New York State and the city's District Attorneys to expunge all city misdemeanor marijuana convictions.
--The Committee on Land Use will meet at 11 a.m.
--The Committee on Health will meet at 3 p.m. to discuss several proposed laws, including ones requiring city restaurants serving kids' meals to limit the number of drinks they serve containing added sugars and sweeteners, requiring the city to report annually to the council on water tower inspections, requiring the city to conduct a "year-long assessment of all potential determinants of Legionnaires' disease in the city," and allowing individuals to redact the name of physicians from their birth certificate if the physician's license has since been revoked.
On Tuesday morning at New York Law School: "Is a New Power Structure in NYC Real Estate Development and Land Use Coming With the 2019 Charter Revision?" a panel discussion moderated by Ross F. Moskowitz of Stroock & Stroock & Lavan and including panelists: Basha Gerhards of the Real Estate Board of New York, David G. Greenfield of Metropolitan Council on Jewish Poverty, Miriam Harris of Trinity Place Holdings, Catherine McVay Hughes, former chair of Community Board 1 Manhattan, and Carl Weisbrod of HR&A Advisors.
At 7 p.m. Tuesday, City Comptroller Scott Stringer will hold a town hall meeting at the Bedford Stuyvesant Restoration Corporation in Brooklyn. Joining Stringer will be Assemblymember Tremaine Wright and City Council Members Robert Cornegy, Stephen Levin, and Laurie Cumbo.
Wednesday
The New York State Legislature will be in session on Wednesday in Albany.
At 10 a.m. Wednesday, the MTA will hold a board meeting at its Manhattan headquarters.
At 10 a.m. Wednesday, the City Planning Commission will hold a public meeting at 120 Broadway.
The following City Council committees will hold preliminary budget hearings on Wednesday:
--Finance at 10 a.m., regarding the Department of Finance.
--Finance and Capital Budget jointly at 11 a.m., regarding the Department of Design and Construction and the Office of Management and Budget.
Also at the City Council on Wednesday: The Committee on Transportation will meet at 1 p.m. to discuss several proposed laws related to parking enforcement. These include prohibiting vehicles with city-issued placards from blocking bike lanes, bus lanes, crosswalks, sidewalks, or hydrants except in emergencies, requiring vehicles misusing permits to be towed, creating a standardized application process for parking placards and posting the data online, requiring 311 to accept complaints related to misuse of placards, and requiring the NYPD to evaluate sites based on 311 complaints regarding misuse of placards.
At 6 p.m. Wednesday, the Panel for Educational Policy will meet at the High School of Fashion Industries in Chelsea.
At 7:30 p.m. Wednesday, Amplify Her will host a forum for women candidates for Queens District Attorney at the Rego Center Community Room in Rego Park. The candidates in attendance will be Tiffany Caban, Melinda Katz, Betty Lugo, and Mina Malik.
Thursday
The New York State Legislature will be in session on Thursday.
The City Council will hold a stated meeting at 1:30 p.m. Thursday. It will be preceded by the usual press conference led by Council Speaker Corey Johnson.
Also at the City Council on Thursday:
--The Committee on Finance will meet at 10 a.m.
--The Committee on Rules, Privileges, and Elections will meet at 10:30 a.m. to discuss the mayor's nomination of David Burney to the City Planning Commission.
At 9:30 a.m. Thursday, Empire State Development will hold a directors' meeting.
At 10:30 a.m. Thursday, Comptroller Tom DiNapoli will give remarks at the NYS Government Finance Officers' Association, Inc. 2019 Annual Conference in Albany.
At 6 p.m. Thursday, City & State will host the "Above & Beyond Gala" at the Dream Downtown Hotel in Chelsea, honoring "30 women who exhibit exemplary leadership in their fields and have made important contributions to society in the sectors of business, public service, health care, law, lobbying, real estate and construction and nonprofits." Queens Borough President and DA candidate Melinda Katz and State Senator Alessandra Biaggi will deliver keynote remarks.
Friday and the weekend
The New York State Legislature will be in session on Friday in Albany.
Mayor Bill de Blasio may make his weekly appearance on WNYC's The Brian Lehrer Show on Friday at 10 a.m.
The state budget is due by midnight Sunday.
***
Have events or topics for us to include in an upcoming Week Ahead in New York Politics? E-mail Gotham Gazette executive editor Ben Max any time: This email address is being protected from spambots. You need JavaScript enabled to view it. (please use "For Week Ahead" as email subject).
***
by Ben Brachfeld and Ben Max
@GothamGazette