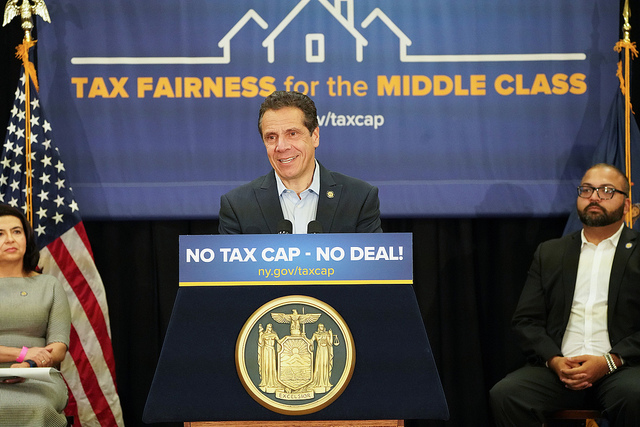 Gov. Cuomo on Long Island (photo: governor's office)
---
Before Democrats reclaimed the state Senate last year, Governor Andrew Cuomo spent years triangulating with the Democratic-controlled Assembly, two factions of Senate Democrats, and the Republican Senate majority. The arrangement allowed him a heavy hand over the legislative and budget agendas in Albany and gave him the ability to claim credit and deflect blame as he saw fit (though critics didn't always buy his explanations). Progressive legislation regularly withered on the vine unless it had Cuomo's imprimatur, usually accompanied by some form of mutually beneficial compromise with rogue Democrats and Republicans.
If this year's budget negotiations have proved anything it's that old habits die hard and Cuomo is unwilling to ease his stranglehold on state government, even when dealing with members of his own party. He's continued to strongly, and perhaps shrewdly, set the foundation for negotiations. But some of the policies he has prioritized have long been wedge issues between lawmakers representing New York City on the one hand and upstate and suburban districts on the other.
On a few of the governor's topline agenda items -- congestion pricing, recreational marijuana legalization, criminal justice reforms, and a property tax cap -- that divide has seemed most apparent this year, at times apparently stoked by Cuomo himself, and the governor has sought to leverage the budget deadline to push for their passage. Notably, he has said he's willing to allow a late budget to accomplish his goals, which would mean that legislators could lose out on pay raises that are contingent on the budget passing on time, giving the governor additional leverage over the process.
While Cuomo has said he finds himself "liberated" by full Democratic control of the state Legislature and the ability to pass legislation that stalled for years, he's also been overtly antagonistic to his colleagues in the Legislature, particularly in the state Senate, for what he says is them failing to grasp the necessities of governing, sabotaging the deal to bring an Amazon campus to Queens, and hesitating to follow through on several policies that Republicans opposed for years.
Senate Majority Leader Andrea Stewart-Cousins half-jokingly attributed it to "Senate Democratic derangement syndrome," but many Democratic legislators have been taken aback by Cuomo's approach, even if most have not been surprised. After an initial sprint of legislative activity that smacked of Democratic bonhomie, the Legislature slowed down as fault lines and a less rosy picture emerged amid negotiations over complex topics and some apparent backtracking.
With news articles and political commentary pointing to the close bond between Heastie and Stewart-Cousins, and the power of the all-Democratic Legislature vis-a-vis the governor, Cuomo appeared to seek to increase his leverage, by having certain Democratic candidates sign policy pledges during last year's campaign, setting out his "first 100 days" agenda in December, casting blame on Long Island Democrats for not doing enough to keep the Amazon deal on track, and more.
Of late, he's focused his top priorities on issues that alternately appeal more to New York City Democrats (congestion pricing, criminal justice reform) and suburban Democrats (property tax cap). He's rallied on Long Island and in the Hudson Valley with Democratic senators, declaring he would not approve a state budget without the annual tax cap made permanent, even though, as Heastie has said, the current cap doesn't even expire until next year. Meanwhile, he's publicly told those same Democratic senators, who may be hesitant about criminal justice reform, to pass it in the budget and "blame me."
It may all, or mostly, work out for Cuomo by the April 1 budget deadline, a major test for all the parties involved, but certainly an opportunity for Cuomo to both deliver on progressive promises and still show he's in charge.
"This isn't a game of risk, this is real life," said Rich Azzopardi, senior advisor to Cuomo, of the budget process in a statement responding to Gotham Gazette's inquiry about the governor's budget negotiation tactics and whether they were intended to divide Democrats as some have suggested. "If you excuse us, we're going to concentrate on developing a budget that works for all New Yorkers and I believe our partners in the legislature are doing the same."
"I think for the governor, his decisions about priorities in the state budget are about how can he get things done that he can brag about later and that continue to advance the narrative that he wants," said Evan Thies, co-founder of Pythia, a political strategy firm, "which is that he is still very much the most powerful person in the state and also on a national level a Democrat that can get things done and who seems to have moved his state to the left."
Overwhelmingly reelected for a third term in November, Cuomo was emboldened and quick to show how he would approach the newly elected Senate Democratic majority. He rallied with newly elected and returning members of the state Senate on Long Island shortly after the election, pledging to ensure that New York City pays its "fair share" of funding for the Metropolitan Transportation Authority (MTA) even as legislators within the city were hammering him for starving the agency of funding, meddling with its affairs, and letting the city's subways slide into chaos.
Cuomo pitched congestion pricing as the chief remedy to MTA problems, insisting it must be done in the budget but offering few details of how it would be implemented. For lawmakers in suburban areas outside New York City and even for those in the outer boroughs, it proved divisive and it appears that any proposal that will be included in the budget will include several key carve-outs and funding set asides for the Long Island Rail Road and the Metro North Railroad. The governor has also called for making it state law that the city and state must split 50-50 any MTA capital plan shortfall not covered by dedicating funding streams like that from congestion pricing.
Cuomo has also launched a campaign to make the state's 2 percent cap on annual property tax increases permanent, which is currently in place everywhere outside New York City. The cap has been a crowning Cuomo achievement, winning praise from members of both political parties, and renewed multiple times. He's rallied on Long Island three times in two weeks to push for it and has said he will not sign a spending plan without it, even saying that he's willing to let the budget be late.
Even the governor's proposal to legalize recreational marijuana seemed destined to create divisions along regional lines. It gave counties the ability to opt out of allowing sales, and several county executives -- including both on Long Island -- have already expressed intent to do so (something Cuomo said was not helpful in getting legalization passed in Albany). Meanwhile in New York City, which accounts for about a third of all regular marijuana users in the state and would make up an overwhelming part of any legal market, Mayor Bill de Blasio has already taken steps to reduce enforcement and has embraced legalization.
There are several key aspects of legalization to work out, and It's hardly a surprise that the governor said last week it appeared unlikely legalization would be in the budget, even though he was hoping to tap the revenue from it to fund the MTA. But even Cuomo's characterization of negotiations was disputed by lawmakers, such as Senator Liz Krueger, lead sponsor of legalization legislation, who said the parties aren't that far apart. (Cuomo shifted to embracing a pied-a-terre tax for New York City luxury apartments that would replace marijuana funding for the MTA, though that has also hit some roadblocks.)
"You'll notice a trend in the things that are actually getting done in the budget, which is that suburban Democrats agree with all of them," Thies said. "They are clearly the new pivotal block in Albany and that is well represented" in the marijuana bill's opt-out provision, the fact that congestion pricing will pay for commuter railroads and that issues like the tax cap "which may not have universal support within the Democratic caucus, are still being advanced aggressively."
Criminal justice reform, including banning cash bail and instituting speedy trial and open discovery reform, may be one of the governor's remaining priorities that does not necessarily have a substantial budget impact. But Cuomo has nonetheless insisted it must pass with the budget -- citing it as an important decision deadline -- despite various concerns being raised by district attorneys and lawmakers from more conservative districts outside the city, and by more progressive lawmakers and advocate who have certain prerequisites for new pretrial incarercation rules.
"I've had 7 years, 8 years with a Republican Senate with half a loaf, half a loaf, half a loaf—and getting these controversial issues and having to compromise everything," he said in a Monday interview on WAMC radio with host Alan Chartock. "So having a Democratic Senate is most liberating for me because I don't have to take half a loaf and criminal justice is one of those issues."
On issues like marijuana legalization and the broader criminal justice reform package, Heastie and Stewart-Cousins have not said anything is off the table; rather, they have indicated that both can be successfully approved after the budget and need not be rushed through by April 1. But the budget is where the governor enjoys maximum leverage and he has said that lawmakers can assign him the blame for passing controversial bills because there is no guarantee they will follow through in the post-budget session.
"I'll take the blame," he said at a March 11 news conference, when asked about the criminal justice reform package and whether it would lead to a backlash for suburban legislators. "When it's in the budget, it allows everybody to say, 'It wasn't me, it was the governor.' Let's be honest, right? That's what the budget allows you to do. They all go and they say, 'Yeah, I didn't support that, but the governor insisted on it.' And by the way, it will be true. It will be true. Blame me."
Dr. Jeanne Zaino, professor of political science at Iona College, described the governor's strategy as "a masterclass in terms of managing Albany," which she said has practically become a "one-party city" with Republicans out of power. "It's brand new territory for [Cuomo], having the Democrats in control and in the past, he was able to triangulate with Republicans," she said. "In my mind, he's trying to do a similar sort of dance, if you will, but in this way playing the suburban, upstate Democrats off the more urban downstate on a variety of issues...I think congestion pricing in my mind and the property tax cap are two of the biggest [issues] because they so glaringly pit the two against each other."
For advocates who have seen the type of horse-trading typified by the state budget process, the governor's push has raised some concerns. Nick Malinowski of VOCAL-NY noted that legislators from the Hudson Valley and Long Island haven't been supportive of criminal justice reforms, for instance. "We are very concerned as this moves into budget negotiations that issues like bail, like discovery reform, will be negotiated against other issues like property taxes and pay raises and all these other things," he said. "That is definitely something we've seen in the past with Republicans, Democrats, and Cuomo...From a democracy standpoint, it's a bad way of doing government."
Nick Sifuentes, executive director of the Tri-State Transportation Campaign, however, disagreed that the governor's efforts have been divisive, and credited him for bringing together a "fractious conference" on congestion pricing at least. "It's the single largest and difficult thing they've taken up this year," he said. "I really feel like the governor has actually generally played a helpful role in trying to get this thing to the finish line….I don't think this has been a year that the governor has very aggressively played sides off against each other to try and win something."