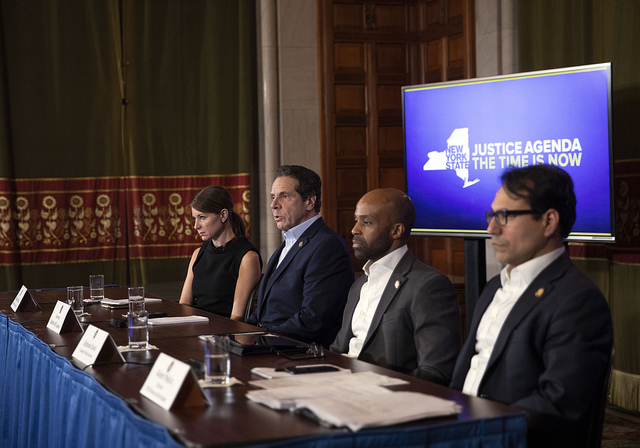 Cuomo and top aides announce budget deal (photo: Mike Groll/Governor's Office)
---
Governor Andrew Cuomo and legislative leaders agreed on a $175.5 billion state budget for fiscal year 2020, which begins Monday, that includes several significant policy changes for New York, including a congestion pricing program for New York City, a plastic bag ban of sorts, major criminal justice reforms, and a commitment to enact through a new commission a campaign finance program that includes public matching funds.
The deal, first announced by press release from the governor's office just after midnight Saturday and discussed in some detail by Cuomo at a Sunday press conference, also includes an agreement to make permanent the governor's signature 2% cap on annual property tax increases that applies everywhere outside New York City, as well as an MTA management reform plan tied to congestion pricing, and a $1 billion increase in overall education aid to localities, bringing the total up to $27.9 billion, with a new "education equity formula to ensure funding for poorer schools" that Cuomo had pushed for, though it does not appear to make significant immediate changes to how education aid is distributed.
The announcement also indicated that the parties -- Cuomo and the two legislative majorities, controlled by Democrats for the first time in the governor's more than eight years in office -- had kept in place planned middle class tax cuts.
"This is probably the broadest, most sweeping plan that we've done," Cuomo said during the Sunday press conference where he was flanked by his three top aides, held as the legislative houses debated and voted on the actual bills involved (the final bills were voted through in the early hours of Monday morning). Cuomo called it a strong progressive statement that includes several nation-leading initiatives, such as first-in-the-country congestion pricing.

While there is a great deal of detail still to discover in the budget language and both funding and policy decisions to dissect, the broad strokes of the overall agreement do point to a successful budget for Cuomo, who largely got what he wanted. As the governor noted Sunday, he has accomplished, at least in some form, most of the "first 100 days" agenda he set forth for the start of his third term during a December speech.

On several policy issues, advocates see too much compromise, and debate will surely play out over the coming days and beyond over the details of the deals reached. Republicans are also attacking Cuomo and his fellow Democrats for instituting several new taxes and fees.

Cuomo called for "perspective," saying it is "a difficult time for government, a difficult time for New York State" given federal actions, especially tax reform, the loss of the Amazon deal, climate change, and long-standing struggles like congestion in New York City, a flawed MTA management system, and a calcified, discriminatory criminal justice system in need of change.

The Democratic governor on Sunday gave a powerpoint presentation going through his "first 100 days" agenda and said he had accomplished "virtually" everything he set out to do, either prior to or in the budget deal, with marijuana legalization the biggest omission, though there are others. And some accomplishments are a matter of degree that will need to be assessed in the coming days and weeks.

Cuomo highlighted several from earlier in the year when the new all-Democratic Legislature quickly passed a series of bills, some of which Cuomo has signed, and discussed those at the top of the budget announcement sent out the night before, as well as other areas where he believes the state is making progress, such as environmental and health care policies.

"I thank Senate Majority Leader Andrea Stewart-Cousins and Assembly Speaker Carl Heastie for their partnership, and look forward to achieving the most productive legislative session in history," Cuomo said in a statement on the budget deal.

The governor, who effectively controls the MTA, said his 12 principles for MTA reform had been approved and would overhaul the inefficient state authority, leading to better performance and return-on-investment for taxpayers, including those who will be paying more given the new congestion pricing plan and other new taxes and fees in the budget, including a so-called mansion tax on home sales in New York City and an internet sales tax across the state.

The details of the congestion pricing scheme will be fully fleshed out by a committee and set to take effect in 2021 -- after the next state legislative elections.
Mayoral control of New York City schools is set to be extended for three more years, through the end of Mayor Bill de Blasio's second term, though the extension has some limited strings attached, with greater parental voice involved in the city's Panel for Educational Policy (PEP).

"[W]e funded school districts, not schools" Cuomo said when discussing education aid, but by mandating transparency in where the money was going, something approved last year, the state found that districts were not funding their poorer schools as much as they should have been, he said. This year's budget deal, with an increase in overall education aid, includes a mandate that districts prioritize funding to poorer schools and show they're doing so. The governor appeared especially happy with the outcome on this issue, among a handful of others where he said he had ushered through major progress.

One other area of particular importance to the governor is criminal justice reform. The budget eliminates cash bail for misdemeanors and non-violent felonies, creating a more just justice system, the governor said, allowing roughly 90% of defendants charged to avoid jail as their legal process unfolds. Cuomo indicated he still wants to address in some way bail for those charged with violent felonies, but the parties were able to get to agreement on all other charges and went ahead with that. He also noted speedy trial and discovery reforms have been approved.

The governor said he is "very excited about" what is being called a plastic bag "ban" though there are a number of carve-outs for single-use plastic bags. They will be banned from use by grocery and other retail stores, though they will be allowed for food delivery. The plastic bag limitations are accompanied by a five cent fee on paper bags, part of the push to encourage New Yorkers to carry reusable bags with them.
"This year's State budget represents very real progress in addressing some of the most pressing needs of New Yorkers," said Mayor de Blasio in a statement, broadly praising extension of mayoral control of city schools, the passage of congestion pricing, criminal justice reforms and the plastic bag ban. But, "The news from Albany wasn't all good," he added, noting that the budget includes several funding cuts to New York City, including $125 million in cuts to funding for assistance to low-income families and $59 million cut from public health services.
Along with bail reform and congestion pricing, the other apparently most difficult issue to find compromise on was campaign finance reform, with a public matching system. The agreement reached shows agreement on some principles but punts the actual decision-making to a new commission, which will soon be established and have until December 1 to produce results. Those results will then be binding unless the Legislature convenes to overturn them before the end of the year.

Asked during his Sunday press conference why the parties created a commission to get the details of campaign finance reform done, Cuomo said "it's too complicated" and ran through a series of challenging questions involved, including whether candidates for state offices running in different localities would receive the same matching funds considering that there are different media markets.

"What we're hearing is that the deal lacks a number of key elements we said would be critical if we went with what was already a compromise to have a commission handle legislative details: there seems to be no solid guarantee that we'll have a public financing of elections system on the books with lower contribution limits, independent enforcement or a 6-to-1 match," said Dave Palmer, Campaign Manager for the Fair Elections campaign, in a Sunday statement. The Fair Elections campaign is a broad coalition of groups that have been pushing for voting and campaign finance reforms.

In the wake of the agreement being finalized, the campaign issued a statement blaming Assembly Democrats for the half-a-loaf, and calling for "timely," "expert," and "independent" appointees to the commission.

"A massive grassroots effort came together this year to demand a new day in Albany, with a small-donor matching system that would give everyday New Yorkers a real voice in our political system. Despite the inclusion of public financing in the Governor's Executive Budget and the efforts by the Senate Democrats and Majority Leader Andrea Stewart-Cousins to get it done, the Assembly's unwillingness to come through on its decades-long promise has left us with a Commission that will offer a way to yet again pledge reform with no guarantee of delivering. In addition, the Governor is using a public financing commission as a way to attack fusion voting, something that has nothing to do with a public campaign financing system."

The new commission will also look at New York's fusion voting system, whereby political parties can nominate the same candidate for the same office. Cuomo, who appears to support an end to fusion voting in part because of his long-running feud with the Working Families Party, said that fusion voting and public campaign financing may not be compatible, though there has been no problem for both in New York City, where it is candidates who receive matching funds no matter how many ballot lines they appear on.

A variety of other decisions were made in the budget, some more quickly discovered or publicized than others. The budget appears to include funding for the Dream Act and for localities to implement early voting, both of which were passed into law earlier this year, legalization of electronic poll books, and the state codification of elements fo the federal Affordable Care Act and health exchange.

Budget language will be pored over for days and weeks to come -- as is annual tradition in Albany, lawmakers were voting through dense budget bills without having had the time to fully review them.

Also on Sunday Cuomo talked about three issues he plans to work with the Legislature on over the next two-plus months until the end of the legislative session: marijuana legalization, rent regulations, and expansion of the prevailing wage on construction projects that receive public benefits.
Note - This article has been updated with comment from Mayor Bill de Blasio.