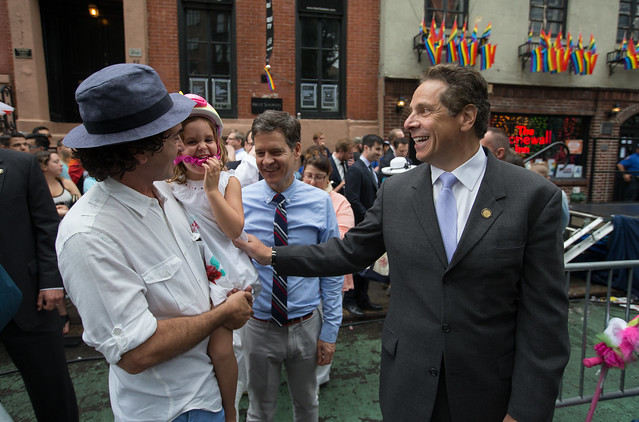 Sen. Hoylman, middle, with his husband & daughter, & Gov. Cuomo, right (photo: governor's office)
---
When Marisa Horowitz-Jaffe and her husband, Doug Jaffe, wanted to have a baby, they faced numerous obstacles before the birth of their twins via a surrogate in a Dallas hospital eight years ago.
Their twins were born in a Texas hospital because the couple was forced to travel out of state in order to use a surrogate. New York is one of only two states in the country to criminalize surrogacy, a fact Horowitz-Jaffe was unaware of when her fertility issues began.
"Finding out surrogacy was illegal where I live, I was like, 'What?' It was like New York state giving me a middle finger," she said. Paying for airfare, hotels, and other incidentals on top of fertility treatments, as well as the logistics of shipping temperature-controlled medications and transporting their premature twins back to New York added to an already stressful experience, she said.
The couple was not able to conceive a baby through intercourse. Determined to have a child, Horowitz-Jaffe went through rounds of in vitro fertilization (IVF) and embryonic transfers, including using egg donors. She went through multiple failed procedures and a miscarriage of a 20-week-old fetus before she and her husband made the decision to use a surrogate through an agency, which matched them with a woman in Texas.
Five years later, with 12 total rounds of IVF, and $250,000 spent out of pocket, Horowitz-Jaffe and her husband finally had not one child, but two. It would have been far easier, she said, if their surrogate had lived in the next town over, instead of thousands of miles away.
Now, a four-year-old bill in Albany could soon become law and prevent New Yorkers from having a similar ordeal. The bill would not only legalize surrogacy but add protections for surrogates, including health insurance provided by the intended parents. Called the Child-Parent Security Act and sponsored by Senator Brad Hoylman, a Manhattan Democrat, and Assemblymember Amy Paulin, a Democrat from White Plains, the bill aims to repeal the state's 1992 ban on surrogacy, which specifically prohibits parents from hiring or compensating a person for carrying a child to term for them.
Bans in New York and elsewhere, many since reversed, came soon after a famous 1980s case. In 1985, Mary Beth Whitehead of New Jersey agreed to be a surrogate for a male-female couple and do so using her own egg, as the wife in the couple was diagnosed with multiple sclerosis. Whitehead was paid $10,000 for her role in the pregnancy, but after the birth decided to keep the baby and return the money. Conflict ensued, turning the incident into the famous 'Baby M' case, in which New Jersey's Supreme Court ruled that paying women to bear children was illegal. Since then, surrogacies across the country have been gestational, meaning both a donor egg and donor sperm were used.
Marc Solomon, an LGBT activist who spent 15 years working on marriage equality, is overseeing a campaign in support of the Child-Parent Security Act through the Family Equality Council, a nonprofit organization.
Solomon mentioned ways in which lesbian parents or single women are not protected under current New York law, such as non-biological parents having to go through a costly adoption process to be legal parents of their children. Single women, according to Solomon, have no legal recourse if they have a child with a known (non-anonymous) sperm donor, as the donor could sue for custody of the child. Both of these scenarios would be avoided with the passage of the bill.
If the bill passes, it would allow non-biological parents to go through the court to get a certificate stating their legal parentage of a child carried by a surrogate. "[The bill] would put New York in the caliber of states that it's usually associated with, like California, Washington state, Connecticut, other progressive states where surrogacy is allowed under certain circumstances, where everyone is protected," said Solomon.
The bill was originally introduced in 2015 and, according to Paulin, could not pass the state Senate due to the Republican majority, which acted as a counterweight and oppositional force to the Assembly Democratic majority for most of the past several decades, until this year. Senate Minority Leader John Flanagan's office did not respond to multiple inquiries for comment for this story. With the Senate now controlled by Democrats after last year's elections and Democratic Governor Andrew Cuomo showing support for the bill in his 2019 state of the state policy book, the chances of it passing are greatly improved as the spring legislative session moves ahead.
"It's never had as much traction as it's had this year," said Paulin.
With a new state budget in place as of April 1, the legislative session will now deal with a variety of other policy matters until its scheduled conclusion in mid-June. It's unclear which of a long list of issues – including surrogacy legalization, rent regulation reform, marijuana legalization, and more – will find resolution.
An attempt to pass the Child-Parent Security Act was made earlier in the year with its inclusion in Cuomo's 2019-2020 budget proposal. It was ultimately excluded from the budget deal that emerged among Cuomo and the legislative majorities. Hoylman, whose two children were carried by a surrogate in California, said changes had been made to the bill's text and there was not enough time in the budget process to address them before it was voted upon.
Those changes, according to Hoylman, include ensuring surrogates have legal counsel and health insurance provided by the intended parents and were implemented following some opposition from advocacy groups. Cuomo's policy statement also stipulates surrogates be allowed to make their own health care decisions, which would include their right to an abortion. Surrogates and intended parents would enter into a legal contract, ensuring what the governor's policy proposal called "fully-informed consent."
"The Governor believes New York surrogacy laws are antiquated and discriminatory against same-sex couples and couples struggling with fertility," a Cuomo spokesperson said in a statement to Gotham Gazette. "That's why he proposed righting this wrong by creating a new and long-overdue path for these New Yorkers to have children that provides legal protections for the parents-to-be and the women who choose to become surrogates. We look forward to working with the Legislature to address this issue."
"Overall, we need to make certain that wellbeing of surrogates and donors is the centerpiece of any legislation," said Hoylman. A revision of the bill is expected to be made available in the next week or two. Both Hoylman and Paulin said they expect the legislation to be voted on this spring.
Even if the legislation becomes law, the surrogacy process itself will remain expensive, as it is not covered by health insurance. To Solomon, that's an additional reason to legalize surrogacy in New York. "The expense of having to go in and out of state, and have a surrogate fly in and go to doctor's appointments, and go to the delivery and travel back, adds thousands of dollars to the process," he said. "If you're concerned about making the opportunity of having a child available to people of lower means, it's a case for legalizing and having surrogacy in New York."
Horowitz-Jaffe hopes the bill will pass sooner rather than later, so other families do not experience what she went through to have her twins. "I don't know why [politicians] have to make things harder. Going through infertility itself sucks," she said. "And when they throw this on top of it? It doesn't have to be this way."