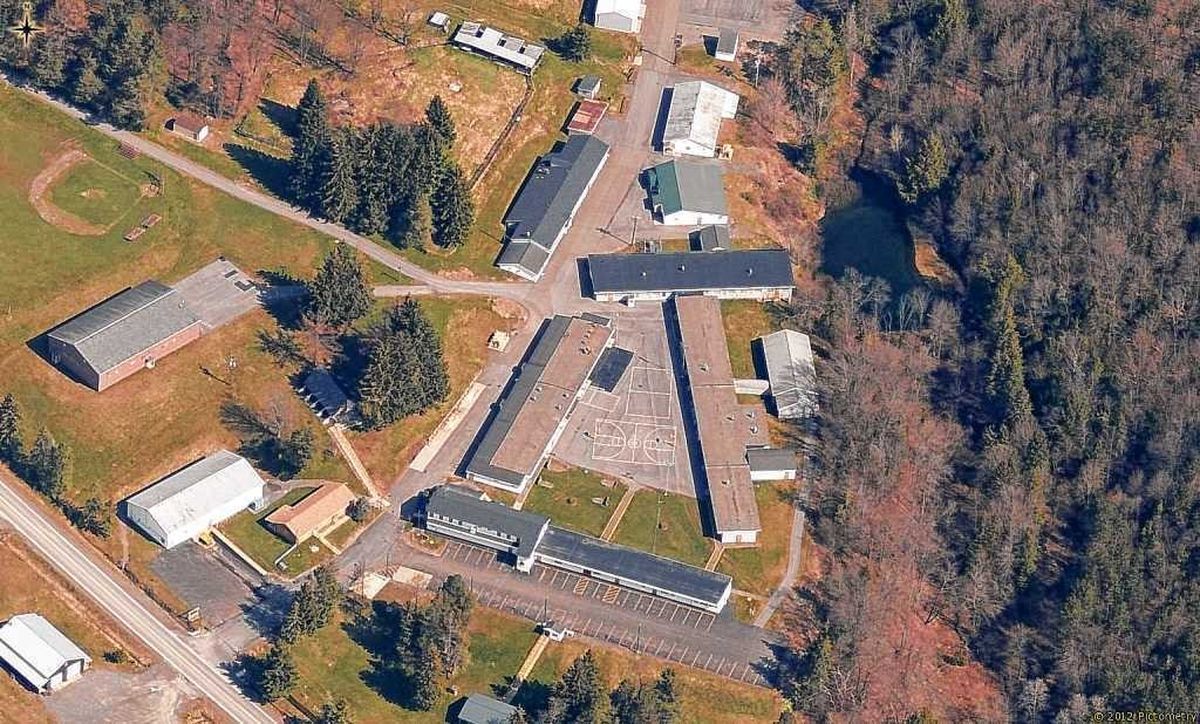 Former Camp Georgetown Correctional Facility is expected to soon become Camp Brihat Yoga Retreat (photo: Madison County IDA)
---
As New York continues to drastically reduce its incarceration rate, many prisons have become surplus. The state prison population has fallen from its peak of approximately 72,600 in 1999 to 47,400 this year.
Governor Andrew Cuomo, under whom 24 prisons and juvenile detention centers have already been shuttered, introduced and passed legislation as part of the new state budget that would allow him to shut down two or three more prisons, depending on the number of beds in the prisons chosen. While the overall trend is a positive sign to many given the fight against mass incarceration and, according to executive chamber estimations, the additional closures could save state government tens of millions of dollars every year, prison closures can leave local economies vulnerable.
Some areas have historically relied on prisons for employment and as commerce centers. Local elected officials often fight prison closure plans, fearful of what a shuttered prison may mean for local jobs and economic activity. When prisons close, guards and administrators are often transferred to other facilities, meaning jobs remain but they change location. Local businesses lose customers and towns look for other means to boost their economies.
Repurposing prison facilities can cushion the loss of a 'prison economy,' and with the growing number of shuttered prisons around New York, the effort to spin prisons into new uses has become an enticing endeavor for both the public and private sectors.
Some former New York prison facilities have already found new life -- a film studio, an office park, a planned yoga retreat -- while others sit vacant, some for sale. One has been been converted into a venue where nonprofits serve formerly incarcerated people. Empire State Development (ESD), the state's economic development wing, has been tasked with offloading the closed correctional facilities that have been shut down, as well as supporting the redevelopment of the communities they were located in. They have funded projects in all the regions where prisons were shut down.
While former downstate prisons are flourishing anew, the state faces challenges with many others. Most prisons successfully repurposed are within New York City, where there is more limited space and high demand for real estate, and a thriving economy. Repurposing prisons upstate is more often than not an uphill battle.
On the south shore of Staten Island, the former 900-bed Arthur Kill Correctional Facility was bought from the state for $7 million, with an additional $20 million also invested, by Broadway Stages, a film and television production company that has been part of Emmy winning shows like Master of None and The Marvelous Mrs. Maisel. The company has converted the facility into a studio to film shows set in prisons like Orange is the New Black, also an Emmy winner. Previously, Broadway Stages filmed prison scenes upstate.
The purchase of the prison has brought roughly 1,000 jobs to the facility itself thus far, with that number expected to triple once the second phase of the facility is refurbished, according to Samara Schaum, a spokesperson for Broadway Stages.
Other prisons in New York City have been taken over by not-for-profit companies.
In the Bronx the former Fulton Correctional Facility was handed over by the state to the Osborne Foundation, which repurposed it as a community re-entry center, providing temporary housing and job training to former prisoners. About $9.5 million was required to refurbish the old building, for which Bronx Borough President Ruben Diaz Jr.'s office and Empire State Development provided financial support.
The NoVo Foundation is also in the process of converting the closed Bayview Correctional Facility in Chelsea into "The Women's Building." which "will bring diverse organizations together, as they envision and build a better world for girls and women," according to its website.
In a phone interview, a spokesperson for Empire State Development explained the two processes by which the state offloads prisons: through auction and requests for proposals.
Auctions are handled by the state's Office of General Services, with prisons sold to private bidders. When a prison becomes private property through auction, it has to go through environmental review and the applicable municipal land use approval process.
ESD prefers to put out requests for proposals to ensure that the sites are repurposed in ways that benefit the surrounding communities the most, according to the ESD spokesperson. "We try and figure out a use that is compatible with the community and compatible in terms of creating jobs," said the spokesperson, who requested anonymity.
Last year, ESD put out a request for proposal for the shuttered Mount McGregor Correctional Facility in Saratoga, for which there has been one proposal to turn the facility into a resort. The Camp Chateaugay Correctional Facility was up for auction last year too. It appeared as though a Canadian company bought it for $600,000 to turn it into a Jewish summer camp. However, the deal fell through. The state tried selling it again, but the last date to submit a bid was November 8, 2018.
Some prisons change ownership but don't see new life particularly quickly.
Gilbert Rybicki, a Canadian business person, bought the Lyon Mountain Facility, in remote Dannemora, New York through a 2013 auction for $140,000. The prison continues to sit vacant today.
"He bought the prison to influence the town of Dannemora," said Town Supervisor Bill Chase. According to Chase, Rybicki has been in business with Dannemora indirectly for one of the town's resources, ore sand -- a byproduct of iron ore mining, used in construction. Chase believes that Rybicki was hoping to obtain a contract for Dannemora's ore sand himself, and bought the prison to turn it into an ore sand processing center. However, he was outbid at an auction for the ore sand contract.
Chase believes that the facility has a lot of potential and can be turned into a variety of things, including a car repair center in the garage the prison left behind, a gym using the prison's old gym facility, or a drug treatment center. "I've even had some people try and help him do something with the building, but all he has done is put a sign out there trying to rent it," said Chase.
Contacted by Gotham Gazette, Rybicki said he is still not sure what he will do with the facility, and will likely wait for the summer before making a decision.
Another prison buyer has ideas, but has had trouble making his vision a reality because of state bureaucracy, he said. Also in 2013, Shekhar Patel bought the former Camp Georgetown facility located an hour from Syracuse. He originally intended to turn it into a technology summer camp for middle and high school students. However, he changed his mind and now hopes to turn the facility into a yoga retreat, called Camp Brihat. But in order to make it functional for his purposes, Patel said he had to modify a wastewater treatment plant.
In April 2017, Patel requested a permit from the Department of Environmental Conservation (DEC) to modify the wastewater treatment plant and has spent the past two years following up, trying to get the state to act on his permit, he said. Patel finally received a response from the DEC on March 25 of this year.
The email from a DEC representative, Tara Blum, said, "Unfortunately due to other priorities, I have not had time to work on your SPDES permit modification. However, today I was directed by my supervisor, Tom Vigneault (he is copied on this email) to work on your facility, the Camp Brihat draft permit immediately."
Patel was given a tentative acceptance for his permit request on April 11. He must now advertise the modification of the wastewater treatment in the local paper for a month and allow the public to comment on the modifications. The DEC will grant him the permit within the next month based on community reaction.
Patel was apparently lucky to have completed his purchase. Other prison sales are hindered by bureaucracy and conflict. In Franklin County, the sale of the Camp Gabriels Correctional Facility has been stalled as the facility belongs to one government agency while the land belongs to another. Camp Pharsalia, in Chenango County, lies on Forest Preserve land.
Because some of these facilities have not been sold or repurposed, the state has attempted to provide a cushion to the towns in which they reside.
In 2012 and 2014, Governor Cuomo introduced tax incentives and capital funding as part of the Economic Transformation Program (ETP) to aid communities impacted by prison closures. Roughly $82 million was expected to go to 15 communities impacted by prison closures.
In the Mohawk Valley, funds are going towards the Mohawk Valley Regional Economic Development Council, Marcy Nanocenter, Griffiss International Airport, and a river walk in the city of Rome. So far, almost $60 million of the ETP funding has been committed while almost $40 million has already been disbursed.
There are some hopeful signs for prison refurbishment upstate. The former Mid-Orange Correctional Facility in the town of Warwick was closed in 2011 and transferred to the Warwick Valley Local Development Corporation. The site is perhaps the most successful prison rehabilitation upstate, as several innovative companies have decided to build and invest there.
The site's previous main occupier, Yard Sports Village, filed for bankruptcy, but new investors have been swarming in, according to Warwick Town Supervisor Michael Sweeton. The new businesses include the Hudson Valley Sports Complex, Craftify, a craft brewer has a production facility with a tasting room on site, Eden Restorations, which provides custom building restorations, Transtech, a company that puts bodies on buses, and Citiva, a medical marijuana producer whose site is currently under construction.
"It's taken a little bit, but it is really rolling now and we really believe we are going to have it built out in the next year or two and we are really excited about that," said Sweeton. "People are employed in the town and people are coming to the area as well."