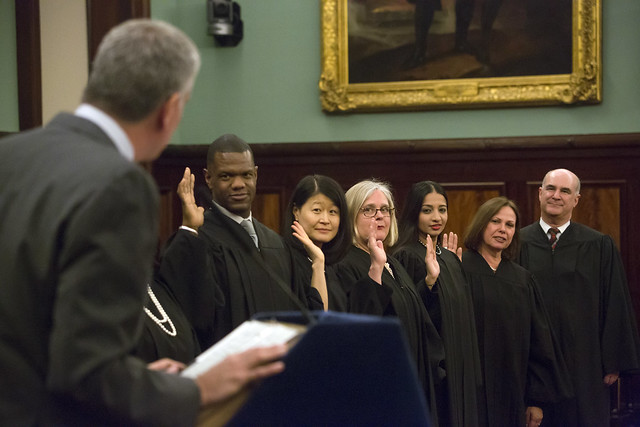 (photo: Ed Reed/Mayoral Photography Office)
---
While it is a relatively quiet year for elections in New York City, there are several significant races underway that will be decided in the June primary and November general elections, not to mention proposals to change city governance from the 2019 Charter Revision Commission that will be on the fall ballot. The election slate this year includes often-overlooked judicial races, mostly for Civil Court.
New York City voters will go to the polls this year, including for the June 25 party primaries where they exist, for races including Public Advocate and the District Attorneys of Queens, Staten Island, and the Bronx. As of April, the only competitive primary race among those four 2019 elections appears to be the crowded Democratic one for Queens District Attorney, where the long-time officeholder, Richard Brown, recently passed, though he had already announced his retirement, creating a race with no incumbent, unlike the others.
Additionally, voters will select nominees for 17 Civil Court judgeships and one Surrogate's Court judgeship.
Of the 17 Civil Court positions, four are in the Bronx, two in Brooklyn, five in Manhattan, four in Queens, and two on Staten Island. The Surrogate's Court position is one of two Surrogate judgeships in Brooklyn. There are also 15 Supreme Court vacancies in Manhattan (3), Brooklyn (5), Queens (5), and the Bronx (2). However, in Supreme Court elections, voters elect delegates to send to judicial nomination conventions, where the nominees are then selected for the general election ballot.
Some Civil Court judges are elected by a whole county and others are elected from a district within a county. Nine of the judgeships on the ballot this year are countywide positions, while eight are for district-level positions.
The Civil Court is responsible for civil cases of up to $25,000 in claims and judges elected to this court serve ten-year terms, earning an annual salary of $193,500. Civil Court judges can continue serving, if they are re-elected every ten years, until the end of the year that they turn 70.
Twelve of the 17 vacancies for the Civil Court this year have occured because the incumbents were elected to the Surrogate's Court or the Supreme Court, both of which are considered to be steps up in the judicial system. Further steps up in the state judicial system require a gubernatorial appointment.
Surrogate's Court judges are countywide elected positions, with one or two Surrogate's judges in each of New York City's five boroughs. These judges have jurisdiction over cases involving estates of the deceased and affairs of their descendants. They serve 14-year terms and earn an annual salary of $208,000. Like Civil Court judges, Surrogate's Court judges must retire at the end of the year in which they turn 70.
The Supreme Court has jurisdiction over all crimes prosecuted by indictment, although it shares some jurisdiction with the Criminal Court and Family Court, and over civil cases with claims over $25,000. Supreme Court justices are elected by judicial districts that are coterminous with counties. Justices serve 14-year terms and have annual salaries of $208,000.
Judicial vacancies can occur because of the expiration of a term, a judge being elected or appointed to another office, or a judge reaching the mandatory retirement age (70). Supreme Court justices can obtain up to three two-year waivers to continue serving until they reach the age of 76, but lower court judges do not have this opportunity. When a vacancy occurs before a term is completed, the mayor appoints someone to serve until the end of the year.
The process for electing judges in New York is heavily reliant on the political parties.
The New York City Bar Association even tells prospective judges that "political party nomination (especially the Democratic Party nomination, in all counties except Richmond) is very important for election." In every borough except Staten Island (Richmond County), the Democratic Party nominees for judgeships are almost always elected in the November general elections.
These judicial primaries are usually low-turnout and low-information contests. At times, there are only enough candidates on the ballot for the number of seats available, essentially giving voters no options and guaranteeing victory to those whose names do appear. That's not always the case, however, and there are some competitive races this year.
New York Courts & Judicial Elections
The New York judiciary is complex and often confusing.
The lowest levels of the judiciary are Family, Criminal, and Civil Courts. Family and Criminal Court judges in New York City are appointed by the mayor and serve ten-year terms. Civil Court judges are popularly elected, either countywide or in local election districts.
There are 120 Civil Court judge positions in New York City, but only about 50 actually sit in the Civil Court. The others sit in the two other lower courts and some sit as acting Supreme Court justices. The Criminal Court has 105 judges. Surrogate's Courts usually have one judge per county, as is the case in the Bronx, Staten Island, and Queens, but Manhattan and Brooklyn each have two Surrogate judges.
The only Surrogate's Court race this year will be for one of the two seats in Brooklyn and the winner of that race will serve for a term that would run until 2033. Two Surrogate's Court judges were recently elected in Brooklyn and Staten Island and both positions would next come up for reelection in 2032. Matthew Titone, Staten Island's Surrogate judge, will have to resign at the end of 2031, the year that he reaches the age limit.
The next elections for the two Manhattan Surrogate judgeships will take place in 2022 and 2026. The Bronx will next have an election for its Surrogate judgeship in 2026 and Queens will have its next election in 2024. All four current incumbents would be unable to serve full terms if they seek reelection.
Schedules for Civil Court elections are more difficult to project because Civil Court judges often run for Supreme Court or Surrogate's Court judgeships, which are higher-paying and have a wider jurisdiction. When an election is held to fill a Civil Court vacancy, the winner will then serve a full ten-year term. In the rest of New York State outside of the city, Family Court judges are elected rather than appointed.
The Supreme Court (the main trial court, not the court of last resort in the state) has another method of selection. During primaries, voters choose delegates by state Assembly district to a party's state judicial nominating convention where the candidates for the general election are chosen. According to the Brennan Center for Justice, these delegates "almost always" run unopposed and are "handpicked" by party leaders. In 2015, for example, the Bronx only had one competitive delegate election out of 11 Assembly districts.
For higher-level courts, such as the Court of Claims, the Appellate Division of the Supreme Court, and the Court of Appeals, the governor appoints the justices. Appellate Division justices must be selected from Supreme Court justices and Court of Claims and Court of Appeals nominations need to be confirmed by the State Senate.
Family Courts deal with domestic cases such as juvenile delinquency, parental rights, adoption, and certain cases involving minors. Criminal Courts handle misdemeanors and lesser crimes as well as arraignment for felonies.
Civil Courts hear civil lawsuits for less than $25,000, and can also be designated to work in the Family and Criminal Courts as well.
There is also a "housing part" of Civil Court, but these judges are appointed by the administrative judge of the Civil Court in the respective borough. Additionally, there are Surrogate's Courts. Surrogate judgeships are countywide elected positions. Most counties in the state have one surrogate, but New York County (Manhattan) and Kings County (Brooklyn) each have two. Surrogates in the five New York City counties serve for 14-year terms, while surrogates outside of the city serve ten-year terms.
The next level of the state judiciary is the Supreme Court, which is a misleading term. In most states and the federal judiciary, the Supreme Court is the highest-level court, but in New York the Supreme Court handles all cases for crimes prosecuted by indictment and civil cases in excess of a $25,000 claim. Supreme Court justices are elected in countywide judicial districts and serve for 14-year terms.
The most recent Supreme Court elections were in 2018 and the next elections will take place in 2020, when at least 26 judgeships will be on the ballot.
The Court of Appeals is the highest court in the New York judiciary, analogous to the Supreme Court in the federal judiciary. This court has final review of any case in the state judicial system. Court of Appeals justices are appointed by the governor from a list of nominees from the Commission on Judicial Nominations, and approved by the State Senate. These justices serve 14-year terms. There is not expected to be a vacancy at the Court of Appeals until 2022 and all current justices have been appointed by Governor Andrew Cuomo.
Janet DiFiore, the former Westchester District Attorney, is the current Chief Judge of New York State. The Chief Judge can be appointed either from incumbent Court of Appeals justices or from outside the court, as DiFiore was in 2016 when Cuomo named her chief judge.
The 2019 Local Judicial Elections
Generally, New York City voters choose judges for the Civil Court and Surrogate's Court at the ballot box, while the mayor appoints judges to the Criminal Court and Family Court.
County parties play an especially outsized role in judicial elections.
Each county Democratic Party has some form of a judicial screening committee that reviews applications submitted by potential judges. These screening committees are comprised of designees from both the county party and local bar associations or other legal organizations, such as the Metropolitan Black Bar Association and the Brooklyn Legal Services Corporation. The committees assess which applicants are most qualified and submit those names to the county party.
Ballot access is another major step for judicial candidates; in most races there is only one candidate. As the New York City Bar Association explains in its publication "How to Become a Judge," "support from political clubs can ease a candidate's burden in collecting [ballot] signatures, as club members will frequently provide labor to collect signatures."
Of the 17 Civil Court judgeships up for election across the five boroughs this year, nine are countywide, including two in the Bronx, one in Brooklyn, two in Manhattan, three in Queens, and one in Staten Island. When two or more judgeships are on the ballot for a single jurisdiction, voters are asked to vote for multiple candidates.
There are also eight judgeships elected by districts within counties. The Bronx has two district-level judicial elections this year, in both of its Municipal Districts, the 1st (Wakefield, Williamsbridge, Parkchester, Soundview, Hunts Point, Castle Hill, City Island, and Throggs Neck) and 2nd (Riverdale, Kingsbridge, West Bronx, Morrisania, and Mott Haven). In Brooklyn, Kings County's 4th Municipal District covers Brownsville, Canarsie, and East Flatbush.
Manhattan has three district-level judicial elections this year, the 3rd Municipal District (Chelsea and Hell's Kitchen), the 4th (Murray Hill, Kips Bay, Peter Cooper Village, and Stuyvesant Town), and the 9th (Midtown and part of the Upper East Side).
In Queens, the 5th Municipal District comprises Breezy Point, Roxbury, Belle Harbor, Rockaway Park, Seaside, Hammels, Edgemere, and Far Rockaway. Staten Island's 1st Municipal District includes Elm Park, West Brighton, St. George, Mariners Harbor, Graniteville, Bulls Head, and New Springville.
Few judicial elections in New York are competitive.
In 2016, just five out of 46 judicial elections were contested races.
There will be five competitive primaries this year: four Civil Court contests (Manhattan's 4th municipal district, Brooklyn's 1st and 6th, and a Queens county-wide seat) and one Surrogate's Court race (Brooklyn).
Manhattan's 4th district has two candidates running, Lynne M. Fischman Uniman and E. Grace Park. Uniman has received the endorsements of Rep. Carolyn Maloney, Assemblymember Dan Quart, and the Lexington Democratic Club, among others. Park is being backed by Assemblymembers Harvey Epstein, Richard Gottfried, and Yuh-Line Niou, City Council Members Carlina Rivera and Mark Levine, and other officials and clubs.
The Queens countywide race is between Wyatt N. Gibbons and Lumarie Maldonado-Cruz. The Queens Democratic Party endorsed Gibbons in February. Maldonado-Cruz is currently a staff attorney to the Character and Fitness Committee of the Appellate Division, First Department.
In Brooklyn's 1st district, there is a two-way race between D. Bernadette Neckles and Edward King. Neckles is a Court Attorney Referee in the Brooklyn Supreme Court and has been endorsed by the Brooklyn Young Democrats. Edward King says he has been a practicing attorney for 35 years.
The race for Brooklyn's 6th district features four candidates: Alice Nicholson, Caroline Cohen, Chinyelu Udoh, and Tehilah Berman. Nicholson specializes in foreclosure prevention law and previously worked at Bedford-Stuyvesant Legal Services. Cohen's practice focuses on gender and pregnancy discrimination and she has received endorsements from three Brooklyn Assembly members and the Brooklyn Young Democrats. Udoh is currently a law clerk at the Manhattan Supreme Court. Berman is a law clerk at the Brooklyn Supreme Court and has been endorsed by Alan Dershowitz, whom she worked for as a pro bono attorney.
In Brooklyn, Margarita Lopez Torres, one of two Surrogate's Court judges in the borough, is running for reelection. Meredith Jones, one of Torres' two challengers, says that she "is the only candidate found qualified [by the Kings County Democrats] who can serve the complete term of office." Lopez Torres would have to leave office in 2021, two years into a new 14-year term, because of the mandatory retirement age. Jones would be able to serve the complete term. If Lopez Torres wins and must then retire at the end of 2021, another election would take place in 2022. The third candidates in the race, Elena Baron, is a Civil Court judge who was first elected to that position in 2017 from Brooklyn's 6th district.
Notably, in the early 2000s, Lopez Torres challenged New York's system of judicial elections in New York State Board of Elections v. Lopez Torres, a case that was ultimately decided in the state's favor at the Supreme Court.
Lopez Torres had specifically claimed that New York's process of selecting Supreme Court judges, in which voters elect delegates who select party nominees, was unconstitutional because it made candidates too reliant on political parties. While a Civil Court judge, Lopez Torres made three unsuccessful attempts to be selected as a Democratic Party nominee for a Supreme Court judgeship. She alleged that that she was unsuccessful because she had a falling out with party leaders over her refusal to make patronage hires. Two lower courts sided with Lopez Torres, but the Supreme Court decided in favor of the Board of Elections.
Lopez Torres was initially elected to the Surrogate's Court in 2005, without support from the county Democratic Party. For her reelection bid, she has received endorsements from most of Brooklyn's elected officials, including Public Advocate Jumaane Williams, Rep. Hakeem Jeffries, Rep. Nydia Velázquez, Borough President Eric Adams, ten Assembly members, three State Senators, and three City Council members. The Brooklyn Democratic Party "no longer harbors [an] animus towards me," according to Lopez Torres, which she attributes to County Party Chair Frank Seddio not making similar requests for patronage hires as previous party leaders had made that sparked her legal challenge. Lopez Torres also pointed to their brief overlapping tenures on the Surrogate's Court bench, before Seddio resigned over allegations of misusing campaign funds.
As with direct judicial elections, judicial nominating convention delegates run mostly unopposed in New York City. As there are often a dozen or more delegates elected in each Assembly district, delegate candidates run as slates or groups together. There are nine districts out of 65 in the city in which two or more slates are competing.
In Manhattan, the 71st (Hamilton Heights, Washington Heights, Harlem), 72nd (Hamilton Heights, Washington Heights, Inwood, Harlem) and 75th districts (Murray Hill, Chelsea, Clinton, Midtown, Upper West Side) are competitive. The 72nd district contest even has four slates running against each other.
Brooklyn's 50th (Greenpoint, Williamsburg, Fort Greene) and 60th Assembly districts (East New York) each have two slates running against each other. In Staten Island, all four of its Assembly districts are competitive, including the 61st (Elm Park, West Brighton, St. George), 62nd (Pleasant Plains, Annadale), 63rd (Old Place, Bulls Head, New Springville), and 64th (Bay Terrace, Midland Beach, Dongan Hills) districts, with two slates running against each other in which.
Parties still hold delegate elections during the primaries in counties that do not have any current Supreme Court vacancies, as is currently the case for Staten Island. If a vacancy arises before June, the election would be held in November of the same year. "While it's unlikely to happen, parties can't take a chance," according to Jerry Skurnik, a political consultant and co-founder of Prime New York.
Primary day is June 25. The general election will be November 5.