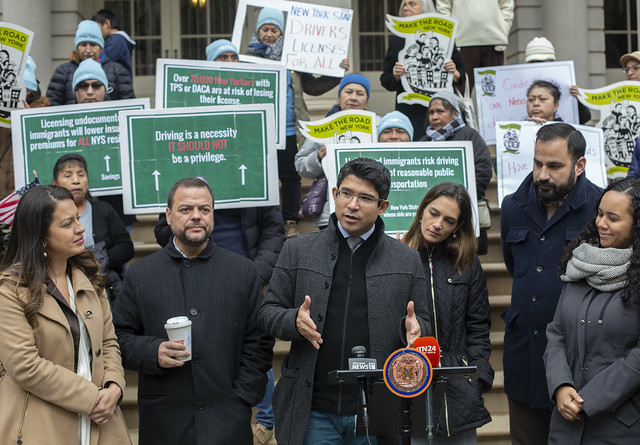 (photo: John McCarten/City Council)
---
A new statewide poll by the progressive think tank Data for Progress finds plurality support for a proposal to allow undocumented immigrants to obtain driver's licenses, and majority support for legislation requiring "good cause" eviction of tenants and for legislation requiring schools to limit the use of student suspensions. The findings are likely to buoy Democrats in the Legislature as well as advocates attempting to pass those pieces of legislation, among other progressive priorities, before the end of the state legislative session in June.
The poll, conducted with 1,189 registered New York voters April 8-10, found that 42.4% of respondents indicated support for the "driver's licenses for all" measure, compared to 37.6% opposed, with 16.1% not taking a position, and 4% unsure.
The percentage of respondents in support jumped slightly when the question was modified to include certain caveats: when told that driver's licenses for all would improve road safety and bring in $50 million in annual revenue, the margin jumps to 47.4% support to 31% opposed; and when told that the measure would reduce the risk of deportation for immigrants, the margin increases to 46.9% support to 32.9% opposed.
The support numbers are a slight jump from those of a March Quinnipiac poll, which saw 37% support for the driver's license measure, but the opposition is much lower than in that poll, which saw 57% opposition.
Among respondents, 40.3% are registered Democrats, 17.9% registered Republicans, 13.8% registered with a different party, and 22.7% not affiliated with any party; 71.1% of respondents self-identified as white, 12.9% as black, and 16% identified as a different race.
The poll was conducted using "online web panels in English," according to Data for Progress. "Responses were weighted by gender, age, race, party registration, geography and education to targets derived from the most recent voter file available, ensuring that the poll reflects the current New York State electorate, without taking into consideration an individual's probability of voting in any given election. A subset of responses were matched to the voter file to validate the findings of the poll."
Since the passage earlier this year of the DREAM Act, which allows undocumented students to qualify for state higher education aid programs, immigrants' rights activists have shifted their focus to the driver's licenses proposal as their foremost legislative priority.
"These data show what we're seeing in communities across the state, including the suburbs and rural areas: there is broad support for restoring access to driver's licenses to all qualified drivers, regardless of immigration status," said Javier Valdes, co-Executive Director of Make the Road New York, in a statement. "A surging chorus of New Yorkers want legislators to take action to make our roads safer by enabling all drivers to be able to go through the same licensing process—which would also boost the state's economy and keep families together."
In January, the New York Immigration Coalition launched a $1 million campaign to promote the driver's license measure, spending on TV, radio, social media, and billboard ads as well as on lobbying.
A 2017 study by the Fiscal Policy Institute, a liberal think tank, found that the measure would bring in about $26 million in one-time revenues, such as license application fees and license plate fees, and $57 million in annual recurring revenues such as car registration fees and gas taxes. These revenues would come from an estimated 265,000 new drivers who would obtain licenses in the state if the measure were to pass.
Like other proposals, the driver's license measure is a longstanding policy goal for activists that has been given new life by the shift in Albany to full Democratic control. Assembly Speaker Carl Heastie tweeted in March that he would look to advance the measure post-budget, and Governor Andrew Cuomo publicly supports it, but Senate Majority Leader Andrea Stewart-Cousins has been noncommittal.
Good Cause Eviction
As for the good cause eviction measure, which would prohibit evictions for failure to pay an "unconscionable" rent increase, the polling margin is overwhelming, at 68.1% support compared to 17.4% opposed, with 11.3% not taking a position and 3.2% unsure.
Sponsored by State Senator Julia Salazar, a Brooklyn Democrat, and Assemblymember Pamela Hunter, a Syracuse Democrat, the legislation would prohibit landlords from evicting market-rate tenants for failure to pay an "unconscionable" rent increase, defined in the legislation as a percentage increase beyond 150% of the annual percentage change in the regional Consumer Price Index.
The measure would be a significant step toward "universal rent control," which has become a rallying cry of the left and a source of serious concern for real estate interests.
The state's rent regulations will expire on June 15 if legislators do not renew them beforehand. Housing affordability advocates have identified this session as an opportunity to get various long-sought reforms to the state's regulations passed by the now-Democratic state government, such as repealing vacancy decontrol and vacancy bonuses, and scrapping or significantly modifying rent hikes associated with "major capital improvements."
"New Yorkers across this state know that there's an affordable housing crisis, and part of the way to address it is to ensure that all tenants have basic protections," said Delsenia Glover, Executive Director of Tenants and Neighbors, in a statement responding to the poll. "This good cause eviction bill is wildly popular because it would address the gaping hole in our rent laws that currently leaves five million renters statewide out in the cold."
Limiting School Suspensions
Meanwhile, 55.6% of respondents to the poll supported the idea of legislation to limit the use of student suspensions in school compared to 21.9% opposed, with 19% not taking a position and 3.6% unsure. Poll-takers were asked, "In New York State, students of color and students with disabilities are disproportionately suspended and disciplined for minor school infractions. There is currently a bill in the legislature that would ensure that school districts implement codes of conduct limiting the use of suspension as a disciplinary response to minor infractions, and encouraging the use of alternatives to suspension. Do you support or oppose this proposal?"
The Safe and Supportive Schools Act limiting school suspensions, sponsored by Brooklyn Democratic Senator Velmanette Montgomery and Queens Democratic Assemblymember Cathy Nolan, has also seen renewed interest this session, though it's been a lower profile issue than driver's licenses or rent reform. The measure would prohibit suspensions of longer than 20 days (currently suspensions can last an entire academic year), would ban suspensions of students in kindergarten through third grade, and would prohibit suspensions for minor offenses such as dress code violations or tardiness.
The bill would also require schools to establish a code of conduct to govern conduct and disciplinary responses tied to offenses, replacing more ad hoc dispersal of punishment. Data has shown that black students and students with disabilities are disproportionately likely to receive harsher punishments for the same infractions. John Jay College of Criminal Justice's Data Collaborative for Justice released a report in March showing black students are three times more likely than white students to be suspended for the same offenses, while students with disabilities are twice as likely to be suspended as their non-disabled peers.
Similar changes as included the state bill have been advanced in New York City, leading to a sharp drop in the use of suspensions during Mayor Bill de Blasio's tenure, though suspensions rose for this first time in his mayoralty last year.