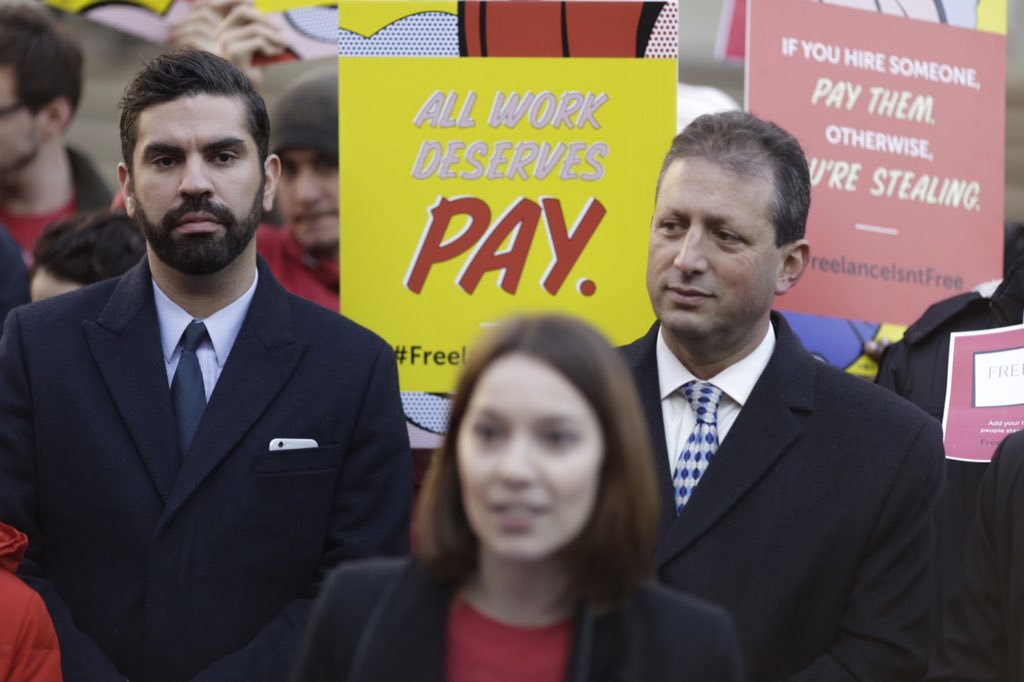 Council Members Rafael Espinal, left, & Brad Lander (photo: City Council)
---
Two years ago, the New York City Council's Freelance Isn't Free Act went into effect, giving freelance workers legal protections against wage theft, delayed payments, employer retaliation, and lack of contracts for their work. The first-of-its-kind law has since allowed the city to recoup thousands of dollars in wages for hundreds of freelancers and was broadly praised as a laudable and necessary step in a changed and still-changing economy.
But as the City Council, with Mayor Bill de Blasio's support, has taken additional steps to help independent contractors and freelance workers in the booming 'gig economy,' similar action has been glaringly lacking at the state level.
In December, when Governor Andrew Cuomo unveiled his "first 100 days agenda" for the start of his third term in 2019, with a speech at the Roosevelt Institute in Manhattan, he spoke of New York's changing economy and the challenges that freelance workers face, seemingly putting down a marker that the state would pursue action on the topic.
"The so-called gig economy is a growing economic engine. Freelancers, independent contractors, consultants are replacing traditional employees," he said. "And while many welcome the freedom and the flexibility of these arrangements, there are also pitfalls that go along with the positive. Gig jobs do not come with paid sick leave, they do not come with vacation days, or parental rights, or workers' compensation, or protection against work related discrimination, or protections against wage and hour violations. We want an economy that moves forward. We want an economy of tomorrow. But we want an economy that moves everyone forward, not just some forward."
But Cuomo did not follow suit with any proposals either in his January State of the State speech or executive budget presentation. The final budget agreement reached with the Legislature at the end of March did not include new protections for gig economy workers. It appears to be the only issue Cuomo mentioned in his December speech where he did not then follow up with concrete proposals.
In January, Hazel Crampton-Hays, then a spokesperson for the governor, said in a statement to Gotham Gazette that the administration was "exploring whether we need new rules to help protect impacted workers or whether the Department of Labor can issue regulations."
In a statement on Thursday, Cuomo spokesperson Caitlin Girouard said, "We are engaging with the legislature, interested stakeholders and relevant state agencies on ways to address this issue and come up with meaningful solutions."
New York City, meanwhile, has been attempting to bring a semblance of order and accountability to the gig economy through local laws. Last year, the City Council passed a living wage requirement for drivers who work for app-based ride-hailing services like Uber and Lyft. The bill was challenged in court by Lyft and upheld by a state Supreme Court judge just this Wednesday.
Council Member Brad Lander, who spearheaded the Freelance Isn't Free Act, says his legislation should be enacted statewide, rather than through regulation by the Labor Department, as just the first step in addressing the woes of a growing sector of workers.
"The vote was 51 to nothing here, the Republicans voted for it. Everyone agrees you should not be cheated out of getting paid for work you did and I would think it would be a no-brainer to pass it," he said in an interview outside City Hall earlier this year.
The law has clearly been working. According to data from the city's Department of Consumer Affairs, the agency tasked with enforcing the law, to date, the department has received 561 inquiries about the law and fielded 764 complaints from freelancers, and has helped them recover just under $1 million ($978,928.66) in lost wages.
The department is also set to hold a Freelance Isn't Free Day on May 15, exactly two years since the law took effect, at the Freelancers Hub in Brooklyn.
"New York City knows the value of its many freelancer workers and the challenges they face, and we are proud to have implemented the Freelance Isn't Free Act—the first and only law of its kind in the country," DCA spokesperson Abigail Lootens said in a statement.
"Albany has just not gotten started yet," said Lander, a Brooklyn Democrat. "I'm glad the governor spoke to it in his 100 day agenda, I'm sorry they haven't yet moved forward with proposals. The Freelance Isn't Free Act, taking it statewide, that's a great place to start."
Among the major challenges of creating new legislation, Lander said, is the lack of uniformity in who is considered a freelancer or independent contractor, and the myriad sectors where lax enforcement means workers are exploited. Day laborers and domestic workers, for instance, are viewed as independent workers but not officially considered so. (As an aside, Lander even said recently-passed laws to provide predictable schedules to fast food workers were necessary since they were increasingly being treated like independent workers.)
"As freelance and independent work have grown, a set of problems have grown in the economy because it wasn't designed to provide protections and supports for those workers and there's really some gaping holes," Lander said. "Some of them are hard to fix. It's not easy to figure out how to do portable benefits and retirement security. We should solve those problems and we're gonna keep pushing forward here at the Council."
At the state level, Assemblymember Harry Bronson, a Monroe County Democrat, has introduced a bill to ensure independent contractors are paid on time. In a statement, Bronson emphasized that the state's workforce has dramatically changed but labor laws have not kept pace. "The modern economy has led to the rise of individual workers being classified - or intentionally misclassified - as "independent contractors" or "freelancers." Many of these independent contractors do the same work as traditional employees, and in some cases participate in work alongside traditional employees, yet they are not afforded the same wage, hour, and benefit protections under the law as their traditionally employed counterparts," he said. "This increases their vulnerability to wage theft and creates barriers to health, retirement and other benefits traditional employees receive." Bronson also said he is working on similar legislation to protect workers in the gig economy.
New York City had more than half a million independent workers last year, according to a May 2018 report by freelance online platform Fiverr, which partnered with Rockbridge Associates to analyze Census Bureau statistics. The report found that independent workers brought in $103 billion in revenue for the state between 2011-2015.
"Governor Cuomo was absolutely right to mention the issues facing freelance and independent workers in his 2019 agenda but it's really disappointing that the issues seem to have fallen off the radar since then," said Eli Dvorkin, policy director of the Center for an Urban Future, a nonprofit think tank.
Dvorkin said the state's social security net hasn't kept up with the changing economy and that the state can't "regulate our way out of this challenge" by solely focusing on issues such as protections against worker discrimination or how to classify an independent contractor. The state needs to take a proactive approach, he said, and could become "the leading state pioneering portable benefits, which would be a system of flexible benefits that are accessible to independent workers and that travel with workers as they move from job to job."
No state across the country has passed legislation to establish portable benefits for independent workers, though a bill has twice been introduced in the Washington State legislature and Dvorkin speculated that it could soon pass. In New York, former Assemblymember Joe Morelle, who was elected to the U.S. House of Representatives last year, floated the idea of legislation on portable benefits but it seemed to fizzle away.
For legislators looking for inspiration, Dvorkin said a portable benefits program could feasibly be modelled after the Black Car Fund, which was created by the state Legislature in 1999 to provide workers compensation to livery car drivers.
"We developed this system 20 years ago. We just haven't really updated it or done anything really focused on these issues since then," Dvorkin said. The fund's recently-exposed fiscal management issues notwithstanding, he said it provides the basic framework for mandating a surcharge, either in one sector or across different sectors, that would feed a fund for workers, giving them access to health insurance and workers compensation, among other benefits.
"Without being able to pool your needs with others in your situation, your costs are much higher," Dvorkin said. "On a pretty basic level, we think the right approach would be one in which the clients, customers, are paying at least part of the cost of the benefits. That would make the system fair."
He also urged the state to push the burgeoning tech sector to innovate solutions to providing benefits. He cited, for example, startups like Propel, which created an app to provide access to SNAP benefits, and Alia, designed by NDWA Labs, an arm of the National Domestic Workers Alliance, to give house cleaners access to benefits.
"Building out an architecture for the evolving economy that provides better worker supports and protection is a big task," Council Member Lander said. "We've gotten started on it at the city level but we have a long way to go."