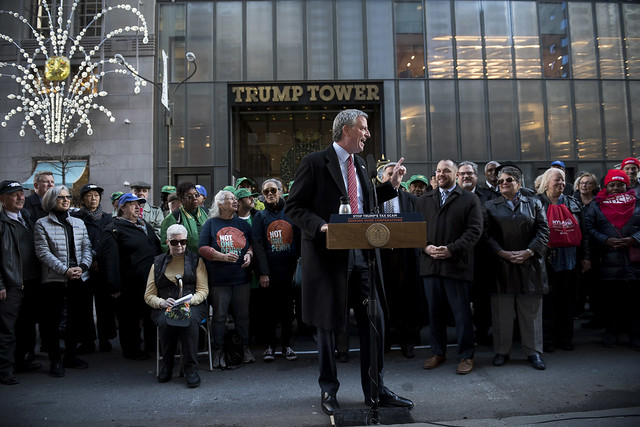 (photo: Ed Reed/Mayoral Photography Office)
---
Mayor Bill de Blasio, a Democrat serving his second and final term, officially announced on Thursday morning that he is running for President of the United States.
De Blasio made the announcement with a YouTube video followed by a television interview on ABC's Good Morning America. He's scheduled to speak to reporters Thursday afternoon in Manhattan before flying to Iowa then South Carolina over the weekend.
"There's plenty of money in this world. There's plenty of money in this country -- it's just in the wrong hands," de Blasio said in his launch video, using a line that he has repeatedly employed over the last few months. He touted several accomplishments, including a $15 minimum wage in the city and paid family leave, and declared his campaign theme, "Working People First," as he promised to oppose President Donald Trump, whom he called a bully. "As president, I will take on the wealthy, I will take on the big corporations," de Blasio said. "I will not rest until this government serves working people."
The mayor has been toying with the decision for months, taking several trips to early presidential primary states including Iowa, New Hampshire, Nevada, and South Carolina, announcing city policies -- like the New York City Green New Deal -- with national themes and in national news publications, and holding big-dollar fundraisers for his federal political action committee, Fairness PAC, which paid for the trips out of state.
De Blasio, who pledged when running for reelection in 2017 to serve his full second term, created the PAC in July last year, just seven months into that new term as mayor and quickly raised another round of questions about his fundraising from entities seeking city business after fundraising scandals had plagued roughly two years of his first term.
The mayor's quest for the highest elected office in the land seems especially long-shot, though he does appear to have already hit the low polling threshold needed to qualify for the first Democratic primary debate at the end of June.
He enters a crowded field of 22 other Democrats already seeking the party's nomination, several of whom have more years of experience at the national level, led by former Vice President Joe Biden and several sitting U.S. senators, including Bernie Sanders, Elizabeth Warren, Kamala Harris, and Cory Booker. His own close advisors and staff have ridiculed or at least questioned the idea of a presidential run, and a Quinnipiac University poll released April 3 found that 75% of New Yorkers say he shouldn't run for president.
While de Blasio hits just 1% in the early polling, if he registers with voters at all, Biden has been the frontrunner with 30% and higher. De Blasio, who oversees a municipal workforce of more than 330,000 workers in a city of 8.5 million people, appears to have his work cut out for him to even catch Mayor Pete Buttigieg, of South Bend, Indiana, who runs a city of barely over 102,000 residents, fewer than a New York City Council district, but has made a big early splash in the race.
But, it is still early in the process and de Blasio has never lost an election. In fact, he comes to the race widely seen as a stronger political operative than chief executive, though he plans to run on his record as the leader of the country's largest city, where he will say he has implemented a long list of progressive priorities that most others in the race have only talked about. That list will start with universal pre-kindergarten, but also go into health care, the environment, rights for workers, and issues like police-community relations (while also driving crime down to record lows) and protecting immigrant communities.
On the flip side, critics -- as well as members of the local media who have followed the mayor closely -- will point to his shortcomings in battling the city's homelessness and public housing crises that he inherited and promised to address, as well as his limited efforts in addressing the city's traffic congestion and public transit failures, though on some fronts more responsibility lies with the state government and Governor Andrew Cuomo.
But mention of Cuomo, who has expressed support for Biden for president, also gets to a problem for de Blasio: even aside from the notoriously difficult governor, the mayor does not have strong relationships with fellow Democratic officials in New York. There will be few, if any, local officials jumping on board with his campaign early on.
In combination with clear ethical failings and the welcoming of what many have deemed a "pay to play" culture, de Blasio has also appeared more concerned with his own image and personal preferences than showing New Yorkers that he is a dedicated servant to what is best for the city.
De Blasio began his political career as an aide in former Mayor David Dinkins' administration. He went on to serve a stint at the federal Department of Housing and Urban Development as regional director for New York and New Jersey under President Bill Clinton and HUD Secretary Andrew Cuomo. He was later elected to two terms in the New York City Council, representing District 39 in Brooklyn, and won the race for public advocate, a citywide position, in 2009.
In what de Blasio will surely argue as a harbinger for this presidential primary, he came from behind to win a crowded mayoral race in 2013, defeating several Democrats far more favored early on to secure the nomination and cruise to victory in the general election where Democrats were hungry to take power after 20 years of Mayors Rudy Giuliani and Michael Bloomberg.
In some ways, the mayor's announcement mirrors his actions leading up to the 2016 presidential race, when he hemmed and hawed for months before endorsing former Secretary of State Hillary Clinton, who would go on to become the first woman nominee for president from a major party in history. The mayor paid the political price, with the Clinton team rebuffing his offers to campaign for her in Iowa and then at the Democratic National Convention in Philadelphia, where de Blasio received a far-from-ideal speaking slot.
Following Clinton's loss to Donald Trump, de Blasio more closely embraced Sanders, the progressive, socialist, independent U.S. Senator from Vermont who had been Clinton's biggest rival for the nomination. On the scale between Clintonian centrism and Sanders' progressivism, de Blasio lies somewhere in the middle. He was elected mayor promising to shake up city governance and address the "tale of two cities" he said was plaguing the five boroughs. He pledged a long agenda of policies to create more equity.
But de Blasio's time in office has fallen short of his lofty campaign rhetoric. He has alienated progressive allies on key issues like affordable housing and police reform, and failed to convince many close watchers of his management abilities, especially with regard to homelessness. Once considered a shrewd political operative who successfully ran Clinton's first campaign for U.S. Senate in New York and tapped into the city zeitgeist in his upset mayoral win, he has since garnered a reputation as a feckless executive, with a paternalistic and condescending attitude towards critics, members of the media, and even everyday New Yorkers.
If de Blasio felt that his own personal progressive politics had left the Democratic Party behind in 2016, this year has proved somewhat the opposite, with several of the top contenders rushing to take positions on the left that even de Blasio has been careful to adopt, raising questions about what lane the mayor has in the crowded primary.
For instance, de Blasio long opposed legalizing recreational marijuana use, only to reverse course once it seemed to become politically infeasible to maintain that stance. Having been elected on a platform of police reform, he has disappointed criminal justice advocates who say his policies and positions defer to the NYPD rather than implement true accountability for abuse of power by officers.
De Blasio will, however, likely espouse positions on many issues that come closer to those of economic populists Warren and Sanders, with calls for higher taxes on upper earners and corporations. The mayor's recent coziness with Amazon may throw a wrinkle into that equation, however. De Blasio has also expressed support for Medicare for All and the Green New Deal on the federal level.
Where the mayor will try to separate himself is as a chief executive, selling his blend of government leadership with progressive vision, and a long list of policy accomplishments in New York.
De Blasio has a mixed bag of accomplishments and failures in his five-and-a-half years in office. By several measures, New Yorkers are better off than they were before he came to power. Crime has continued to drop to historical lows and the city's economy continues to diversify, jobs have continued to grow, and unemployment is at an all-time low.
Early on in his administration, the mayor championed a universal pre-kindergarten program that has been broadly successful and widely praised. He has launched an ambitious housing program to create and maintain hundreds of thousands of units of affordable housing by 2026 -- the plan has been modified and expanded and the city says it is ahead of schedule in meeting its target. He's implemented a programs to provide free lawyers to poor tenants facing eviction, municipal identification cards to all, including undocumented immigrants, free school lunches to all students, and more.
But several crises remain unresolved. Homelessness has grown significantly under his watch, though with a variety of programs in place and many billions being spent the shelter population has finally leveled off and even dropped some from its record high earlier this year. Affordable housing remains out of reach for many low- and middle-income New Yorkers as the mayor's plan, many say, is not working fast enough or creating a sufficient number of deeply affordable units while exacerbating gentrification. De Blasio has been exceedinly hesitant to tackle the city's deeply segregated schools and though he has put the city on a path to close the Rikers Island jails, he has overseen a persistent pattern of violence at the current facilities.
Though the subways are run by the MTA, a state authority under Cuomo's control, de Blasio has been criticized for failing to advocate more strongly for the public transit system and for prioritizing car culture, including over the buses where he can have more impact.
One of the biggest blots on his administration has been his handling of a lead exposure crisis at the New York City Housing Authority, public housing to more than 400,000 residents.
De Blasio has overseen a massive increase in the city budget, from about $72.5 billion when he took office in 2014, to a proposed $92.5 billion for the fiscal year due to start July 1. Though city coffers have been overflowing, budget watchdogs have been raising red flags about the mayor's spending and lack of attention to programmatic and departmental efficiencies.
Besides his perceived weaknesses as a chief executive, de Blasio is also bound to face questions about his ethical behavior, or lack thereof. In his first term, he created two outside nonprofit groups to push for policy priorities, as well as to aide Democrats in flipping the State Senate that was then controlled by Republicans. But his fundraising tactics for the nonprofits and Senate campaigns -- which relied on big money donors who had business before the city -- caught the attention of the Manhattan District Attorney and the U.S. Attorney for the Southern District of New York.
Both offices probed the mayor and his associates, but filed no charges and eventually closed their investigations. But the Manhattan D.A., Cy Vance, castigated the mayor for violating the "spirit and intent" of laws preventing conflicts of interest by seeking donations from individuals and then taking favorable actions for those donors. The city's Department of Investigation, an independent watchdog, found that the mayor violated conflicts of interest law as well, and the state Joint Commission on Public Ethics continues to look into the state campaign matter.
As public advocate, de Blasio graded city agencies on their degree of transparency, based on their responses to Freedom of Information law requests. As mayor, his administration has been slow to fulfill FOIL inquiries and fought a long legal battle with NY1 and the New York Post to prevent disclosure of his emails with outside personal advisors termed "agents of the city" in a tenuous legal argument that was eventually rejected by a state appeals court judge.
While for his first mayoral race de Blasio talked about ending the "tale of two cities" by reducing income inequality, he altered the lens in recent years, perhaps due to the fact that income inequality has been difficult to budge, especially given his lack of control over most tax rates in the city. De Blasio has moved to discussing his efforts to foster "the fairest big city in the country," a notion that may be put to the test as he seeks to win the Democratic nomination for President.
Ben Max contributed to this article.