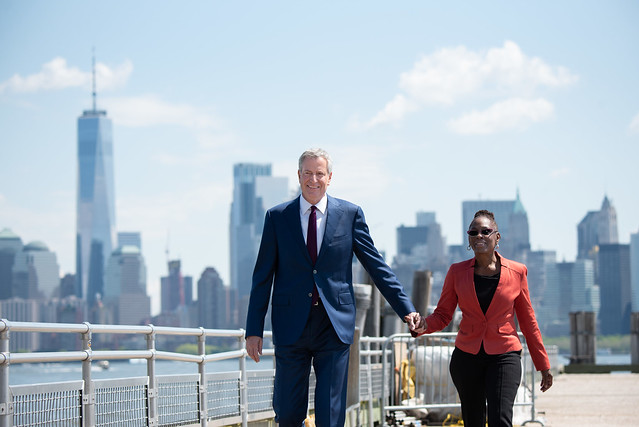 (photo: Michael Appleton/Mayoral Photography)
---
Mayor Bill de Blasio has announced his campaign for President of the United States, hoping to win the Democratic nomination and face President Donald Trump in the 2020 general election. De Blasio's decision to run raises many questions. Here are eight big ones.
1. Can he run for president and run the city at the same time?
De Blasio of course says yes, he can run the city and run for president at the same time. First Deputy Mayor Dean Fuleihan will be in charge of the day-to-day in his absence, and he will be in constant touch with his team when he's traveling, as he says has been the case during his fairly frequent trips outside the city even before announcing a presidential bid.
Asked by WNYC radio's Brian Lehrer on Friday, de Blasio called it "a very valid question" and said he has "thought about this a lot."

He continued:
"I'm absolutely convinced that my administration and I can continue to serve this city very, very effectively. This is my sixth year in this job, I know exactly the agenda that I am implementing, it's very, very developed at this point – pre-K for all now going to be 3-K for all and keeping the city safe, safest big city in America and continuing to get safer as you've seen from the recent news and everything we are doing to create and protect affordable housing. That's all going to go – and I think it is going to intensify as we move forward because we have a great team. We have a very clear vision of where we are going to build up, you know, our city in the right way. And I am confident that I am going to be able to get the job done wherever I am. I've traveled before, I stay in touch with all the key folks in my administration constantly. We are going to keep things moving forward in New York City."
He went on to say that the problems facing the city and its people cannot only be solved by city government, and talked about the imperative of denying Trump another term, citing global warming, infrastructure, resiliency, and health care.

But it remains to be seen how much the campaign takes de Blasio out of the city, both physically and mentally. Being on the trail is grueling and requires significant time and energy, including prepping for visits to far-flung places where it's important to know local issues and leaders. He'll need to develop real domestic and foreign policy chops if he's in this for the long haul. There's also the fundraising time that is surely intensifying now that he's a declared candidate.

Still, the mayor may ironically be determined enough to show that he can do both that he is in some ways more engaged with running the city than he has been. Many New Yorkers already see him as aloof enough that his presidential bid was met with half-jokes that it won't make a difference if he's traveling the country on a more frequent basis.

What's interesting, though, is that de Blasio -- a leader of many contradictions -- is somehow known as both a micro-manager and disengaged. He's noted the irony of these dual characterizations himself, pointing out that critics really should choose one -- preferably that he's a micro-manager, though he doesn't like the insinuation that he moves on decisions too slowly as a result. Yet, it is actually possible to be both, and he may be pulling it off as he is known to stall review and approval of decisions that members of his administration suggest and to hold few meetings with his agency commissioners, spend little time at City Hall, and focus significant energy on building a national profile, an effort that started during his second year in office.

The city has major crises to deal with (homelessness, crumbling public housing, measles, lack of affordability, hate crimes, failing schools, congested streets) and de Blasio has controversial plans that he must convince New Yorkers to support (NYCHA infill, homeless shelter openings, neighborhood rezonings), not to mention the day-to-day of running effective, efficient city services.

How will de Blasio, and his constituents, handle it when there's an emergency and he's out of town?

2. Can he raise money? And from whom?
De Blasio, the 23rd Democrat in the race, is getting a somewhat late start to the presidential campaign. Though no votes will be cast until February of next year, he has to ramp up fairly quickly to have a real shot at making waves, and this of course includes raising money.
He just opened his federal campaign account. Who is donating? Most likely he'll get several thousand small donations from long-time supporters, New Yorkers who have backed him for years and believe he's doing a good job as mayor (though de Blasio's approval ratings are not strong, there's still plenty of New Yorkers who believe in him, and even if many don't think he should run for president, they may be willing to give him a few bucks to get it out of his system).
But the larger money, up to the $2,750 cap on individual donations to a presidential candidate, may likely come from the same types of folks -- individuals with or seeking favorable action from de Blasio's city administration -- that have given to his other fundraising entities and landed him in some hot water, including several law enforcement investigations.
De Blasio has repeatedly declined to make his early fundraising numbers public, saying he doesn't plan to release them until the first mandated filing, in July, which is indicative of a slow start. He needs 65,000 individual contributions (in combination with the 1% in three different qualifying polls that he has already received) to have a good shot at making the first Democratic primary debate in late June, for which there are 20 slots over the course of two nights.
That might be a tough haul.
Can de Blasio raise enough money to run even a skeletal campaign for a few months, build some momentum while not crossing ethical lines, and start to pick up financial support from voters across the country? Time will tell.
3. Does he have a "lane"?
With 22 other candidates in the field, it would seem virtually every "lane" is already filled with a Democratic presidential candidate of a certain combination of experience, political philosophy, and demography. But, de Blasio believes he has a lane as the candidate with the right mix of progressive vision, executive experience, toughness to take on Trump, and crossover appeal.
Even with Senators Bernie Sanders and Elizabeth Warren seemingly dominating the far left of the primary and its political territory, de Blasio thinks he can make inroads as someone who isn't just talking about progressive ideas for "working people," but has actually implemented a suite of those goals, from an expansion of early childhood education to benefits for workers like paid sick leave.
He'll have a variety of similar talking points to Sanders and Warren, it seems, straight from his main campaign line that "there's plenty of money in the country, it's just in the wrong hands."
Like others in the race, de Blasio is targeting the Obama coalition of white progressives and people of color, which actually happens to be the de Blasio coalition. But, he also seems intent on wooing white moderates, perhaps including some who voted for Trump or didn't feel motivated to vote for Hillary Clinton.
Can de Blasio break Joe Biden's grip on many of the Obama coalition voters, especially voters of color? And how strong is that grip anyway? But what about Kamala Harris and Cory Booker, the two black candidates in the race, not to mention the appeal that Warren and perhaps others may have simply based on their platform, personality, or both?
Asked about support among black voters, which is de Blasio's strongest demographic group in New York City, he told WNYC's Lehrer, "Look, one thing I'm proud of is I've always been able to build a very broad coalition. You know when I won in 2013 I ran against a very diverse field in the primary. There was obviously a woman candidate, a candidate from the LGBT community, an African-American candidate. I ended up winning all of those demographics in that primary."
Pushed a little further, with Lehrer naming Harris and Booker, de Blasio said, "I'm not here to compare against my fellow candidates," but that he'd "make a broader point – I have proven for people of all backgrounds that you can have a government that puts money back in the hands of working people."
He said all communities across the city appreciate what he's done, a claim that is not supported by polling data.
"But I'll tell you something," he added, "I think for African-American voters and all voters, they are not looking first at demographics, they are looking at who can produce for them and their families. And I have a track record of actually achieving progressive outcomes that help working people that I'll put up against any candidate."
4. What's he running on?
First and foremost, de Blasio is running on his record of five-plus years as mayor of New York City, which he will, it seems, parlay into a policy vision for the country. He's running on the fact that he is the "CEO" of the biggest city in the United States, with a larger population than most states and a bigger budget than all states but two (New York and California).
"Every goal we have is about fighting income inequality and helping working people secure an economic future they can believe in," de Blasio wrote in a fundraising email this week, reminding supporters of his core 2013 campaign message. De Blasio has shied away from talking about the fight against "income inequality" in recent years, likely as an acknowledgement that without the power to alter most tax rates, he has not really been able to make a serious dent in the relevant numbers. Instead, he mostly talks about "opportunity" and "equity" and "fairness," with a second term goal of making New York "the fairest big city in the country," something he hasn't really explained how to measure.
"I'm running because I've made big, substantial, progressive changes," de Blasio told MSNBC host David Gura on Sunday morning from South Carolina, "pre-K for all, paid sick days, guaranteed health care for all New Yorkers, including mental health services. We're now working this year to get done legislation that will be guaranteeing two weeks paid time off for every working person. These are fundamental changes that working Americans deserve. And the difference is there's a lot of great candidates...but I'm talking about things that have actually been done, that I've achieved."
So far, de Blasio has only really talked about his achievements in New York, with no early announcements about his policy plans for a de Blasio presidency, though he has seemed to indicate that he wants to extend several New York City initiatives, like pre-K, across the country.
"I am going to come out with position papers over time," de Blasio told WNYC's Lehrer on Friday, when Lehrer pressed him on if he had a federal affordable housing policy. "I'm giving you a flavor of what I'm thinking, and you'll understand it's going to take a little time to formulate the formal proposals. But I actually think a lot of what we have done has a lot of application elsewhere and for federal policy."
Seemingly spitballing a bit, with reference to New York City and State policies, de Blasio had mentioned a few possible planks, saying, "we could use a national policy to help encourage the right kind of rent regulation...How do you get policies at the federal level that encourage things like stopping illegal eviction? I think it can be done, because we've seen it work in New York City. And clearly passing laws either locally or there's some kind of national legislation to require the creation of affordable housing when developers are allowed to build, you know, in a bigger way than was previously allowed. That's something I think is really good model that could be used anywhere."
If de Blasio's running on his record as a CEO, how much will his failures as mayor, both programmatically and ethically, hurt him? Will his campaign finance scandals travel? Will voters care that he has struggled greatly with reducing homelessness and that the public housing authority he oversees is not only falling apart, but has been home to a lead paint scandal? Though he's spearheaded progress in many areas, the mayor hasn't nearly been able to solve a variety of major challenges facing New York, leading some to wonder why he thinks he's ready to lead the country.
5. What's his game plan?
De Blasio actually has the potential to perform above what are now very low expectations in Iowa, New Hampshire, and South Carolina, where, respectively, he has worked on the caucuses before (Edwards 2004, Clinton 2008); his wife, Chirlane McCray has roots and he knows a bit as a Massachusetts native himself; and he could appeal to some of the core black voters.
However, it is hard at this point to see many voters in the early states shunning the top tier of candidates that includes Biden, Sanders, Warren, Harris, and, at least for now, South Bend Mayor Pete Buttigieg. There's also Booker and Beto O'Rourke, and then others who would not at this point be considered in or near the top tier, though there's a lot of time between now and the February Iowa caucuses.
It's clear that de Blasio has decided attacking Trump, including by repeatedly using the nickname "Con Don" (because Trump is "a con artist"), is an important strategy for getting media and popular attention as well as early campaign donations, all seemingly helped by Trump's must-punch-back mentality.
De Blasio is already using Trump's taunts as alleged evidence that Trump sees him as a threat, which is of course a stretch, and as a fundraising tool. He does risk turning off some voters by eagerly mucking it up with Trump and coming across as less-than-presidential.
But the key for de Blasio now is attention and momentum. He'll want to make enough progress, slowly but steadily, that he starts to really register in polling, gets more media buzz, and catches a few people in the polls to consistenly make it into "the conversation," part of the second tier, let's say. There's a long way to go.
As de Blasio assesses the field, one important question he's already beginning to face is how aggressive he'll be not only with Trump but with his fellow Democrats, especially those who appear toward the top of the polls. Will he attack Biden as a centrist whose time has passed? Will he say Sanders and Warren haven't really accomplished anything?
One factor that could come into play here is if de Blasio has secondary goals in mind, short of winning the Democratic nomination and becoming president. Does he want to be the next Democratic National Committee chair? Does he want a cabinet post in the administration of the Democrat who is able to knock off Trump, if the nominee can do so?
6. How's Andrew Cuomo going to handle this?
Unless he's excited to potentially watch de Blasio crash and burn as a presidential candidate, Governor Andrew Cuomo can't be too happy seeing de Blasio pursue this campaign and all the attention, even if much of it is negative, that comes with it.
It will be interesting to see how Cuomo might make de Blasio pay for taking the leap that in some ways Cuomo surely wishes he was taking and for the mayor's absences from the city. Cuomo, who has expressed full-throated support for Biden and may be interested in a position in a potential Biden administration, has rarely passed up an opportunity to leverage a de Blasio weakness into his own gain in what is, as Cuomo sees it, the zero sum game of politics.
On Thursday, the day de Blasio announced his campaign, Cuomo added two events to his public schedule, competing with de Blasio's first press conference as a presidential candidate. Cuomo declined to take reporters' questions, though, providing no public reaction to date to de Blasio's decision to run.
7. Who else will fill the city power vacuum?
The 2021 mayoral race is already underway, with the only known likely candidates -- Brooklyn Borough President Eric Adams, Bronx Borough President Ruben Diaz Jr., Comptroller Scott Stringer, and City Council Speaker Corey Johnson, all Democrats -- each taking steps to prepare for a run, including their positioning relative to de Blasio, who is term-limited from running for mayor again.
As the mayor is absent more from the city, it will be worth watching how each of the four, and perhaps others eyeing a mayoral run or just looking to take some of the mayor's unused political capital, responds. The likely 2021 candidates would be ramping up anyway, but de Blasio's presidential campaign offers more opportunity for them to snatch headlines and appear more engaged with the city they hope to lead and de Blasio appears bored with.
To an extent, Johnson is initially in the driver's seat given he is currently negotiating the city budget, due by July 1, with de Blasio. The City Council may be able to extract additional concessions from de Blasio who will not want conflict at home as he talks up voters across the country. And, virtually anything the mayor may agree to from Council demands will only create additional talking points he can use on the campaign trail.
8. What will this do to his legacy?
In terms of the potential downside of a presidential run for de Blasio, perhaps the most glaring questions are: One, how might this hurt the city he was elected to lead and claims to love? And two, what might this campaign do to his long-term legacy as New York's 109th mayor?
On the latter, de Blasio is already slogging through year six of his mayoralty with low but not disastrous approval numbers and a too-strong sense among many New Yorkers that he doesn't work that hard at his job or care enough about leading the city. This presidential run may only cement that image for many New Yorkers and push others into that category of skeptics, critics, and naysayers. De Blasio appears to fail to realize that he has a chance to push things in the other direction by putting his head down and executing, something he should have done in his first term, and if he had, perhaps more New Yorkers would look at him here in term two and think of him as presidential material, ready to step outside the five boroughs and lead.
But when de Blasio is remembered years from now, will the first thing people say be that he ran a ridiculous campaign for president that went nowhere but angered many New Yorkers, further undermining his accomplishments?
Will he be remembered as a mayor who had incredible luck in terms of a booming economy, the ability to spend billions on his priorities, and low crime, but was always so focused on growing a national profile, including a misguided presidential campaign, that he never came close to realizing his full potential as leader of the greatest city in the world?
Then again, it's unlikely, but he could win.