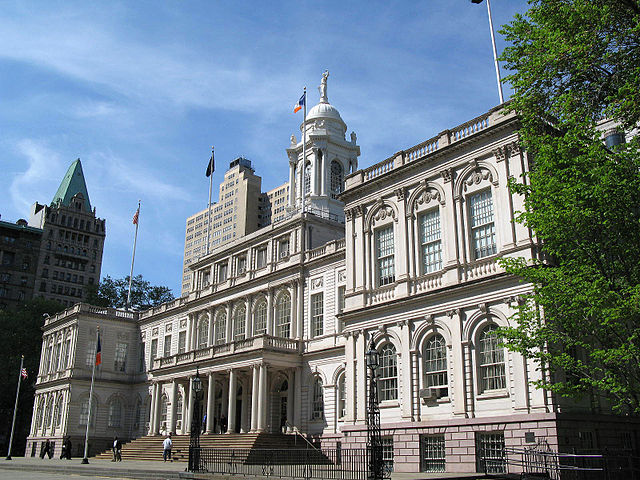 New York City Hall
---
What to watch for this week in New York politics:
The state Legislature this week is in session four of its final 11 days of the scheduled legislative session, which is set to end June 19. There is a long list of issues and bills that could see resolution by the end of the session, headlined by the state's expiring rent regulations, which apply to roughly 1 million New York City apartments. Governor Cuomo has laid out a ten-point agenda that includes strengthening those rent regulations, though the details are really what need to be worked out with the Democratic majorities in the two houses of the Legislature, and a variety of other policies like legalizing paid surrogacy.
Cuomo's agenda is missing new environmental regulations, though legislators have expressed interest in trying to pass the Climate and Community Protection Act. That's one of several issues to see if the Legislature is able to push Cuomo into agreement on anything not on his list. The governor will hold a press conference in Albany on Monday morning.
Mayor de Blasio, who was on the presidential campaign trail in South Carolina this weekend before returning to march in the Celebrate Israel Parade in Manhattan, will be visiting Albany Monday to lobby for his priorities. During a Friday interview on WNYC's The Brian Lehrer Show, de Blasio only named the rent regulations as his agenda. When pushed for more, he said making sure that marijuana is legalized the right way if adult-use regulations are passed, though that appears unlikely. The mayor did not offer any other priorities, though he and his administration have several others, including changes to MWBE contracting regulations, the legalization of certain e-bikes, and reform to the 50-a section of the civil rights law that shields police misconduct records.
According to the mayor's office, his end of session agenda includes rent regulations, employer protection provisions for the school bud industry, getting marijuana legalization done right, reforming the admissions requirements for the city's specialized high schools, MWBE discretionary threshold expansion, extending design-build authority to several city agencies and authorities, parole reform, the 50-a issue, and allowing judges to consider dangerousness when determining bail. De Blasio will flesh the agenda out a bit more when he holds a media availability Monday afternoon in Albany.
We may also this week see the typical monthly de Blasio-NYPD press conference on crime statistics that usually occurs the first week of a new month once data is available from the prior month.
It's a fairly quiet week at the City Council, but a few hearings are on the schedule, including an oversight hearing regarding NYCHA. The race for Queens District Attorney, which will be all-but-decided in the June 25 Democratic primary, will continue to heat up this week; the Board of Regents meets this week in Albany, and much more -- see our day-by-day rundown below.
***Do you have events or topics for us to include in an upcoming Week Ahead in New York Politics?
e-mail Gotham Gazette editor Ben Max: This email address is being protected from spambots. You need JavaScript enabled to view it.***
The run of the week in detail:
Monday
"On Monday, Mayor de Blasio will travel to Albany to meet with legislative leaders on end-of-session priorities." At 2 p.m., "the Mayor will hold a media availability on his end-of-session priorities...In the evening, the Mayor will appear live on NY1's Inside City Hall with Errol Louis."
Governor Cuomo will hold a press conference at 11 a.m. at the state Capitol on Monday.
The state Legislature will be in session on Monday in Albany.
The Board of Regents will hold a public meeting on Monday and Tuesday in Albany.
At 9:30 a.m. Monday, Assembly Speaker Carl Heastie will give the keynote address at the Baruch College commencement.
On Monday at 10 a.m. Public Advocate Jumaane Williams will speak to students at The Gateway School in Manhattan. At noon, Williams will participate in a press conference to launch Gun Violence Awareness Month. And at 7 p.m., Williams will be honored at the Jim Owles Liberal Democratic Club Gay Pride Awards.
At 11 a.m. Monday in Brooklyn, "Lieutenant Governor Kathy Hochul Honors Legacy of Women's Rights Movement in New York and Calls for Passage of the Equal Rights Amendment at P.S. 9 School Renaming for Suffragist Sarah Smith Garnet." At 4 p.m., "Hochul Highlights Support for Minority and Women Owned Businesses and State Investments in South Bronx." And at 5 p.m. "Hochul Celebrates Pride Month at LGBT Flag Raising Ceremony with Bronx Borough President Ruben Diaz Jr." at Bronx Borough Hall.
At noon in Albany: "Representatives of national and state environmental, health, and consumer organizations will be joining State Senator Brian Kavanagh and State Assemblymember Jamie Romeo at a news conference...to urge the State Legislature and the Governor to take action against the immediate and growing threat to the public's health posed by antibiotic-resistant "superbugs."" Participants will include Kavanagh, Romeo, NYPIRG, Consumer Reports, EarthJustice, and Dr. Saul Hymes.
At 1 p.m. in Manhattan, the City Planning Commission will hold a session to review zoning-related applications from all five boroughs, and to schedule public hearings for June 19.
At 2 p.m. Monday at City Hall, ""First Lady McCray will deliver remarks at the Mayor's Fund Board of Directors meeting. This event is open to the public...In the evening, the First Lady will attend the Public Theater's annual gala."
On Monday evening in Queens, a debate among the candidates for District Attorney, hosted by Sunnyside Community Services and moderated by WNYC radio's Beth Fertig. All seven Democratic candidates are expected to participate.
Tuesday, June 4
Tuesday will mark just three weeks until the June 25 primary elections.
The state Legislature will be in session Tuesday in Albany.
At the State Legislature in Albany on Tuesday:
--At 10 a.m., the Senate Standing Committee on Mental Health and Developmental Disabilities and the Senate Standing Committee on Health will hold a joint public hearing on suicide and suicide prevention.
--Also at 10 a.m., the Senate Standing Committee on Consumer Protection and the Senate Standing Committee on Internet and Technology will hold a joint public hearing "to conduct discussion on online privacy and what role the State Legislature should play in overseeing it."
At 6 p.m., City Comptroller Scott Stringer will host a Caribbean American Heritage Month celebration, honoring Carib News Inc., Sesame Flyers International Incorporated, and Mona Wyre-Maingo.
Wednesday, June 5
The state Legislature will be in session on Wednesday in Albany.
At 10 a.m. in Albany, the Senate Standing Committee on Racing, Gaming and Wagering and the the Senate Standing Committee on Domestic Animal Welfare will hold a joint public hearing "to Examine the Health of Racehorses while Training and Racing, and Resources for Aftercare."
At 10 a.m. in Manhattan, the City Planning Commission will hold a public meeting.
At 5 p.m. Wednesday, it's this week's Max & Murphy show on WBAI radio, 99.5FM and wbai.org.
Thursday, June 6
The state Legislature is in session Thursday in Albany.
At the City Council on Thursday:
--At 9:30 a.m., the Subcommittee on Zoning and Franchises will meet.
--At 10 a.m., the Committees on Public Safety and Public Housing will jointly meet to discuss safety and security in NYCHA.
--At 1:30 p.m., the Subcommittee on Landmarks, Public Sitting and Maritime Uses will meet.
At 8 a.m., the Association for a Better New York will host a discussion with U.S. Representative Max Rose (D-NY), where "the Congressman will be discussing his priorities and vision for New York City."
Also at 8 a.m. Thursday, the annual Personal Democracy Forum will begin: "Making Tech Civic" at Civic Hall. "Our theme this year, "Making Tech Civic," is an interrogation and creative exploration into ways we can reverse some of the negative impacts technology tools, companies, and policies have had on civic discourse, economy, social structures, and politics. How can we build better information ecosystems? How do we make technology companies more civic? Has power and data become too consolidated in just a few companies, and if so, how do we hold those companies and our governments accountable to higher standards or regulations?" Speakers will include Manhattan Borough President Gale Brewer, New York City Chief Technology Officer John Paul Farmer, Craig Newmark of Newmark Philanthropies, and others.
At 10 a.m. Thursday in Lower Manhattan, the NYC Industrial Development Agency will hold a public hearing.
At noon Thursday, the New York State Board of Elections will hold a Commissioners Meeting in Albany.
At 6:30 p.m. Thursday, the Brooklyn Historical Society will present "Eatin' Good in the 'Hood," a talk on the links between socioeconomics and access to nutrition. "Erick Castro of the Instagram account How to Be Vegan in the Hood and Iyeshima Harris of East New York Farms, dig into the realities of food inequality and trying to sustain a nutritious diet in an urban environment. Moderated by Esther Crain, Deputy Digital Editor of Health." Reserve a ticket here.
Also at 6:30 p.m. Thursday, the New York City Bar Association will host "#MeToo - Who's Watching the Courts?" "The #MeToo movement affects every part of society including the court system. How are the thousands of court employees as well as individuals and attorneys that are in the courts every day being protected? This panel will examine how this movement affects the courts and discuss how the federal and state courts monitor sexual abuse and harassment complaints." The talk will be moderated by Jennifer Rodgers of Columbia Law School; panelists in attendance will be Hon. John Gleeson of Debevoise & Plimpton LLP and Former United States District Judge for the Eastern District of New York; Robert Tembeckjian, Administrator & Counsel, at the New York State Commission on Judicial Conduct; and Kay-Ann Porter Campbell, Managing Inspector General for Bias Matters, at the Office of the Inspector General, New York State Unified Court System.
At 7:30 p.m. Thursday in Jackson Heights, U.S. Rep. Alexandria Ocasio-Cortez, City Council Member Costa Constantinides, State Senator Jessica Ramos, Assemblymember Catalina Cruz, and City Council Member Daniel Dromm will host a town hall on the potential of a "renewable future" of Rikers Island. "Professor Rebecca Bratspies, founding director of CUNY Law School's Center for Urban Environmental Reform (CUER), will moderate a panel that includes Cecil Corbin-Mark, Deputy Director and Director of Policy Initiatives at WE-ACT for Environmental Justice; Maritza Silva-Farrell, Executive Director of ALIGN; Rachel Spector, Director of the Environmental Justice Program at New York Lawyers for the Public Interest; and Just Leadership."
Friday, June 7
Mayor de Blasio may make his weekly appearance on WNYC's The Brian Lehrer Show at 10 a.m. Friday.
At 10 a.m. Friday at Flushing Town Hall, the state Senate will hold a hearing "To examine the legalization of E-Bikes and E-Scooters."
At 6:30 p.m. in Brooklyn, State Senators John Liu and Andrew Gounardes will hold a community forum on school diversity and specialized high school admissions (specifically the SHSAT) in South Brooklyn.
***
Have events or topics for us to include in an upcoming Week Ahead in New York Politics? E-mail Gotham Gazette executive editor Ben Max any time: This email address is being protected from spambots. You need JavaScript enabled to view it. (please use "For Week Ahead" as email subject).
***
by Ben Brachfeld and Ben Max
@GothamGazette