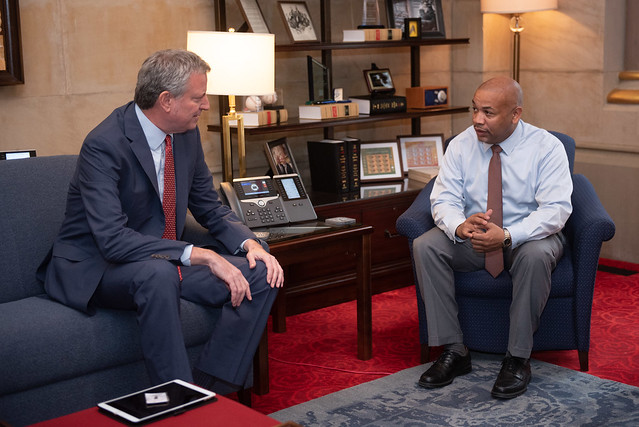 (photo: Michael Appleton/Mayoral Photography Office)
---
With 11 days of state legislative session left, including Monday, Mayor Bill de Blasio headed to Albany to confab with Senate Majority Leader Andrea Stewart-Cousins and Assembly Speaker Carl Heastie to push for several legislative priorities.
Among the major items on his agenda, according to mayoral spokesperson Freddi Goldstein, are reforming rent regulations, legalizing marijuana, eliminating the Specialized High School Admission Test (SHSAT), authorizing design-build contracting at several city agencies, expanding the discretionary threshold for awarding contracts to minority- and women-owned businesses (MWBEs), restoring employer protection provisions for school bus contracts, repealing Section 50-a of the state Civil Rights law, which shields disciplinary records of police officers, parole reform, and allowing judges to consider dangerousness of an individual as a factor when determining bail.
"There's a lot going on in the final weeks here of the legislative session," de Blasio said at a Monday afternoon news conference, before meeting with legislative leaders. "I want to say at the outset, I want to express my admiration for Speaker Heastie and Leader Stewart-Cousins. What they've achieved already this year has been remarkable, it's been historic. A lot more is going to happen over the next few weeks. This is going to be judged as one of the great legislative sessions in many decades."
De Blasio has mostly been quiet about his Albany priorities ahead of the June 19 end of the scheduled session, at which time a typical "big ugly" mash-up of bills may again pass through the Legislature and be approved by the governor. Active on the presidential campaign trial, de Blasio is making his presence felt in the state capital at what he says is the right time, given that little is decided in Albany before the final days before a budget is due or the legislative session ends. Questions linger, though, about de Blasios' focus on his mayoral duties, including pushing his state agenda, and about what kind of clout the mayor has among state leaders.
Unlike past years, where the mayor had to contend with a hostile Republican-controlled Senate, de Blasio finds himself in a stronger position as he negotiates with and lobbies his own Democratic allies. The mayor did not meet with Governor Andrew Cuomo on Monday but, on a few items on his list, he finds himself on the same page as Cuomo, who listed his own ten legislative priorities last week.
Cuomo's top priorities include rent regulation reform, strengthening the state's MWBE program, strengthening state sexual harassment laws, legalizing paid surrogacy, banning the 'gay and trans panic defense' for violent crimes, passing an Equal Rights amendment to the state constitution, approving drivers licenses for undocumented immigrants, ending the statute of limitations for second- and third-degree rape, passing a prevailing wage requirement for certain private construction, and pay equity for women.
"The first opportunity to pass these things was in the budget, so the items that are left are the items that we couldn't pass in the budget for one reason or another," Cuomo said at an unrelated news conference. "Either they were too difficult or we just couldn't get to them as a matter of time."
Rent regulations
In a May 20 op-ed for The New York Daily News, de Blasio railed against state rent regulations, which are expiring June 15 and apply to roughly 1 million New York City apartments, home to about twice that many New Yorkers.
Democrats, in control of both houses of the Legislature for the first time in nearly a decade, are advancing a massive overhaul of the current state rent laws that housing and tenant advocates have blamed for increasing unaffordability and a housing crisis in the state. It's unclear at this time, however, if the Assembly majority, Senate majority, and Cuomo can get on the same page with exactly how aggressive they want to be in favor of tenants. So far, de Blasio has sounded mostly aligned with Cuomo, a bit more moderate than where Assembly Democrats say they want to go with the laws. The Senate majority has not outlined its agenda.
"For 25 years, the landlord lobby has had the upper hand writing these rent laws," de Blasio wrote. "Now, we have a chance to do right by tenants and close the loopholes landlords have exploited. People's homes and security are on the line. There's no higher priority for the days left this session in Albany. I'm ready to fight alongside tenants, shoulder to shoulder, to get this done once and for all."
Last week, in a Friday interview on WNYC's The Brian Lehrer Show, de Blasio again said his top agenda item is reforming rent regulations. "Well on the Albany I'd say rent, rent and rent," de Blasio told Brian Lehrer. "I mean overwhelmingly, number one is to strengthen rent control, get rid of vacancy decontrol, get rid of the vacancy bonus, fix the whole situation with the major capital improvements and the apartment improvements so that tenants are not paying through the nose and constantly paying for something even after it's already been paid off, protect folks who have preferential rents, you know, stop the abuse of them."
Marijuana Legalization
De Blasio also insisted that the legalization of adult use of marijuana should be "done the right way." It has been looking increasingly likely that marijuana legalization will again fall off the table as decisions are made in the capital. Cuomo has repeatedly said he doesn't believe the votes are there in the Senate to pass legalization, citing reports from the Senate Democrats themselves.
"I still think it might happen, Brian, but I'm adamant about the fact it cannot lead to a new corporate reality and I fear this deeply that legalization of marijuana creates a new tobacco industry or a new opioid industry done the wrong way," de Blasio said. "If New York State as a progressive state is going to legalize marijuana it has to be done in a way that really empowers community-based businesses particularly in communities of color that suffered for so long because of draconian laws that sent people to prison for low-level drug offenses."
On Monday, he reiterated that position. "We have a chance to get it right. It does not have to be a sector dominated by big corporations. It can be something very different, and New York State has the power to do that, and that's what I'm going to fight for," he said.
SHSAT
The SHSAT is a single test used to determine admission to the city's eight specialized high schools, per state law that applies to the three most prominent of the eight. But de Blasio has sought to scrap the test in part to diversify the student population at those high schools, where black and Latino students are vastly underrepresented.
Though the mayor has the ability to eliminate the test at five of the eight schools, he has instead sought state authorization to do away with the test entirely. It is a controversial stance that has backers and opponents, and it appears unlikely that the Legislature and Cuomo will come to resolution on the issue by the end of session.
Design-Build
Design-build allows government agencies and authorities to solicit bids for infrastructure projects that, as the name suggests, combine both the designing and building aspects in one contract. It streamlines procurement, cutting down on time and costs. But New York City agencies need the state's approval to use design-build, and Mayor de Blasio has repeatedly pushed for it to little avail.
"Design- build is not high profile, but it's high impact," the mayor said on Monday. "We're talking about a methodology that saves across many, many construction projects, can save literally billions of dollars, can save years of construction time, much better for neighborhoods." The key agencies and authorities for which the mayor is seeking design build authority are the Department of Transportation, Department of Design and Construction, the Parks Department, Health + Hospitals, and the New York City Housing Authority.
MWBE Discretionary Funding
In the last few years, the city has successfully lobbied the state to increase the value of city contracts that can be awarded to Minority- and Women-Owned Business Enterprises (MWBEs) from $20,000 for goods and services to $150,000. Last year, the city awarded $3.7 billion in contracts to MWBEs, up from $1.6 billion in 2015. In March, de Blasio announced a state proposal that would expand the discretionary threshold to $1 million, estimating that it would increase MWBE contract awards by $500 million each year.
Reforming 50-a
Section 50-a of the state Civil Rights law prohibits the disclosure of the personnel records of police officers. Though the statute was not enforced for decades, the NYPD under de Blasio began to use it to prevent the disciplinary records of officers from being released to the public. De Blasio has defended the department's about-face on the policy as simply compliance with the law, but has repeatedly said he supports reforming the statute, a position that has been echoed by NYPD Commissioner James O'Neill.
Bail and Parole Reform
Earlier this year, the state Legislature passed several criminal justice reforms, including severely limiting the use of cash bail. But, while reform advocates want to completely eliminate cash bail, de Blasio has instead supported a "dangerousness" standard that would allow judges to factor in whether a defendant could pose a risk to public safety. "Remember, there are some people who are profoundly dangerous who have a proven, unfortunately, a proven record of being dangerous to their communities, but are not a flight risk," de Blasio said Monday. "In those cases, [the] judge's hands are tied and they do not have a ready way to hold them in the way they need to. We need to come up with a very precise definition of dangerousness so that it is not overused. But I think that's something that can and should be done while this legislature is still in session." Even as they accepted compromise on significant limits to the use of cash bail, legislators who backed bail reform have mostly balked at the idea of creating a "dangerousness" standard.
De Blasio is also in support of a bill, sponsored by Assemblymember Walter Mosley and State Senator Brian Benjamin, that would prevent parolees from being sent to jail for non-criminal, technical violations. The measure would further reduce the population of Rikers Island, which is necessary for the city's plan to close the scandal-plagued jail complex. De Blasio has also pushed for New York State parolees to be removed from city jails, which the administration says is the only population that has been increasing at Rikers.
Employer Protection Provisions
De Blasio has pushed since 2014 to restore Employee Protection Provisions (EPPs) to all school bus contracts awarded by the Department of Education. EPPs require bus companies to hire workers based off a seniority list, to ensure adequate wages and pension benefits. The inclusion of EPPs has been a priority for the New York City Council as well; the Council's Committee on Education passed a resolution last week calling on the state Legislature to approve EPPs in all current and future bus contracts.
MIssing from De Blasio's End of Session Agenda
De Blasio's recent comments and the list provided by his spokesperson do not include a variety of policies that the mayor has either expressed support for or interest in seeing addressed by state government. These include legalization of certain e-bikes and e-scooters, aggressive climate protection legislation, and more.
Note - This article has been updated to note that Mayor de Blasio supports reforming Section 50-a of the Civil Rights Law, not repealing it.
Note - This article has been updated with the mayor's comments from a Monday news conference.