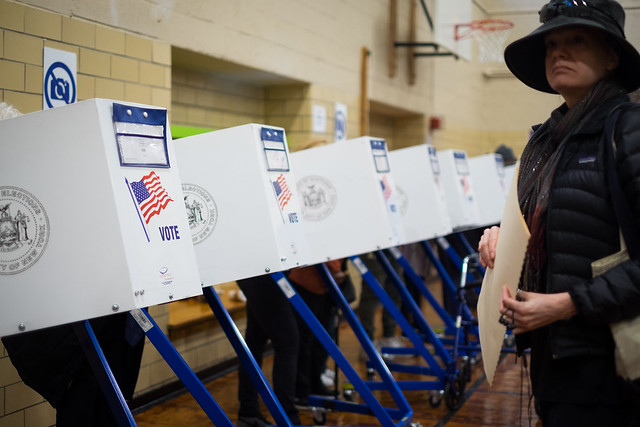 (photo: Edwin J. Torres/Mayoral Photo Office)
---
Though it is a relatively quiet year for elections, there are several just around the corner in New York City, with this year's party primary day coming up on Tuesday, June 25.
The general election is November 5.
There are a number of judicial elections taking place across the city, among other races.
The marquee election on June 25 is the crowded Democratic primary for Queens District Attorney, a race without an incumbent. The primary is all-but-certain to decide the election given how Democratic Queens is, but the general election field is not clear yet. Only registered Democrats can participate in the Queens DA primary.
In fact, almost all of the primaries taking place June 25 are within the Democratic primary. The only Republican elections are for party positions in the state committee and the county committee.
There's a second special election for Public Advocate coming up, but there are no primaries after only one candidate has emerged for the Democrats and one for the Republicans, incumbent Public Advocate Jumaane Williams and City Council Member Joseph Borelli, respectively. They will face off in November. Williams won the February special election that gives him the seat for the rest of this year, whereas the November winner will hold the position for 2020 and 2021.
There's also a second special election, with a Democratic primary coming up June 25, for Williams' old Brooklyn City Council seat. Farah Louis won last month's special election, and is being challenged in the party primary by several candidates she just beat out. It's unclear what the general election might look like in this election. Like Williams' win, Louis' win gives her the seat for the rest of the year, but the upcoming special election determines who will hold the position for 2020 and 2021, with the next regularly-scheduled city election cycle taking place in 2021.
Below is the full rundown of the races that will be on the ballot on June 25 and a partial preview of what's on the ballot in November -- we won't know the full November ballot for a couple of months.
-Supreme Court primaries elect delegates for judicial conventions (these apply to all Assembly districts; but only some are competitive and shown below)
-Civil Court and Surrogate's Court elections are directly for candidates for those positions; again, only some are competitive this year
-There are no primaries for the citywide position of Public Advocate: incumbent Jumaane Williams is the Democratic nominee; Republicans plan to nominate City Council Member Joe Borelli of Staten Island.
June 25 Primaries
The Bronx
In the Bronx, there are no competitive primaries for June 25.
-Democratic District Attorney Darcel Clarke is seeking reelection unopposed at this point.
-For two Supreme Court judgeships the delegate slates are running unopposed.
-For Civil Court, there are:
--two uncontested countywide candidates
--uncontested races in the 1st and 2nd districts: 1st is Wakefield, Williamsbridge, Parkchester, Soundview, Hunts Point, Castle Hill, City Island, and Throggs Neck; 2nd is Riverdale, Kingsbridge, West Bronx, Morrisania, and Mott Haven.
Manhattan
-For 3 Supreme Court delegate slates -- 71st, 72nd, 75th (plus alternates) -- there are contested Democratic primaries. All others are uncontested.
-For Civil Court, the 4th district judgeship (Murray Hill, Kips Bay, Peter Cooper Village, and Stuyvesant Town) is a Democratic primary between Lynne M. Fischman Uniman and E. Grace Park.
-Other Civil Court races are uncompetitive: two Countywide, and the 3rd (Chelsea and Hell's Kitchen) and 9th (Midtown and part of the Upper East Side) districts.
Brooklyn
-There is a special election primary in City Council District 45, where new incumbent Council Member Farah Louis, who won the May 14 special election, is being challenged by several candidates: Xamayla Rose, Monique Chandler-Waterman, Anthony Alexis, and Victor Jordan.
-For five 5 Supreme Court delegates slates, there are two competitive Democratic primaries in the 50th and 60th districts. The others are uncontested.
-There is a competitive Democratic primary for Surrogate's Court judge, where incumbent Margarita Lopez Torres is being challenged by Elena Baron and Meredith R. Jones.
-For Civil Court, there is a Democratic primary for a countywide position between D. Bernadette Neckles and Edward King.
-And there's a Democratic primary in the 6th Civil Court District among Alice A. Nicholson, Caroline P. Cohen, Chinyelu O. Udoh, and Tehilah H. Berman.
-There are Republican County Party elections for male and female State Committee and County Committee positions.
Queens
-There is a competitive primary for Queens District Attorney among Queens Borough President Melinda Katz, Gregory L. Lasak, Betty Lugo, City Council Member Rory I. Lancman, Jose L. Nieves, Tiffany Cabán, and Mina Quinto Malik.
-There are five uncontested races for Supreme Court judgeships.
-For Civil Court, there are two countywide judge races that are uncontested and a race for another countywide positions between Lumarie Maldonado-Cruz and Wyatt N. Gibbons.
-And there is an uncontested race for the 5th Civil Court District (Breezy Point, Roxbury, Belle Harbor, Rockaway Park, Seaside, Hammels, Edgemere, and Far Rockaway).
-There are Republican party elections for male and female State Committee members and county committee.
Staten Island
-Democratic District Attorney Michael McMahon is currently running unopposed.
-There are competitive Supreme Court delegate slate elections in the Democratic primaries for the 61st, 62nd, 63rd, and 64th districts. Other districts are uncontested.
-For Civil Court, one countywide race is uncontested, as is the race in the 1st Civil Court District (Elm Park, West Brighton, St. George, Mariners Harbor, Graniteville, Bulls Head, and New Springville).
-There are Democratic party elections for County Committee positions.
-There are Republicans party elections for County Committee positions.
[Voters can see exactly what their June 25 ballot will look like, if they have any elections to vote in, using Who's On The Ballot]
Ben Max contributed to this story.