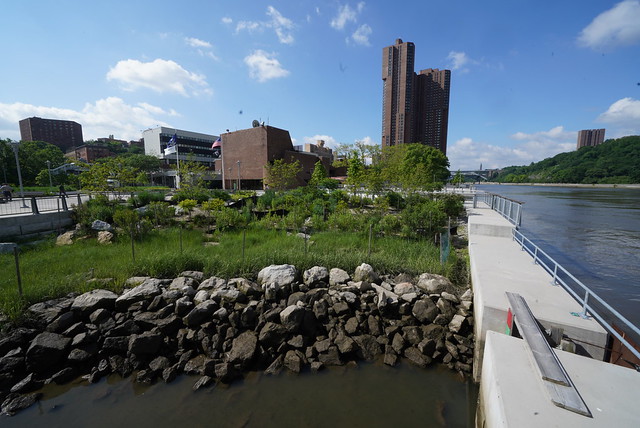 (photo: the Governor's office)
---
Governor Andrew Cuomo signed the Climate Leadership and Community Protection Act (CLCPA) into law last week, finalizing legislation that has been labeled "the most aggressive climate change legislation in the nation," "comprehensive," and a "historic compromise."
With its aggressive carbon emission reduction mandates and push toward renewable energy and a green economy, the CLCPA has been heralded by lawmakers and supporters as the most comprehensive and ambitious climate change legislation in the country, and as a model for other states. But at the same time, it's not all that activists wanted, after a significant and near-fatal disagreement between Cuomo and others over what requirements the legislation would include for state investment into communities that have borne the brunt of pollution and climate change.
Almost all legislators and activists who wanted to see a version of the legislative majorities' Climate and Community Protection Act passed are pleased with the CLCPA, which passed based on Cuomo's specifications, even as some say there is more to do and several next chapters to the push coming up soon. The legislation creates certain mandates, but there are also many unanswered questions and decisions still to be made in terms of its implementation.
Historic
The CLCPA will add the Climate Change Article to the Environmental Conservation Law, establishing a statewide greenhouse gas emission limit of 60% of 1990 levels by 2030 and 15% of 1990 levels by 2050. It calls for the state to reach net-zero emissions by 2050, meaning that most of the energy used in New York by 2050 will come from renewable sources like solar, wind, and hydro-power.
The law also mandates that 70% of the electricity consumed in New York State come from renewable sources by 2030 and 100% come from zero emission sources by 2040.
Cuomo released a statement calling the bill "the most aggressive climate change legislation in the nation," and he hopes this legislation will help New York -- which has one of the largest economies in the United States -- become a leader in global climate policy.
Legislative leaders and advocates alike have voiced their support for the bill.
"This bill sets New York on a course for a sustainable future by transitioning our state to clean renewable energy, unleashing the genius of American industry, and ensuring good paying jobs that work for all New Yorkers," Assemblymember Steve Englebright said in a statement announcing the law's passage. Englebright served as the lead sponsor of the bill in the assembly.
"In our coalition, we did a really intentional job of bringing together environmental justice and labor voices to the table so that we could develop a policy that benefits everybody," said Priya Mulgaonkar, policy organizer for the NYC Environmental Justice Alliance and member of the NYRenews coalition that helped lead the push for a sweeping climate bill. Appearing on the Max & Murphy podcast, Mulgaonkar noted that environmental advocates played a major role in the passage of the law.
Overseeing the emissions reductions will be a newly established 22-member New York State Climate Action Council, consisting of state agency leaders, business leaders, and environmental advocates. The governor will appoint the members of the council.
Including members of the business community on the Council will ensure that the law "cleans up industry and industry doesn't move out of state," said Miles Farmer, senior attorney at the Climate and Clean Energy Program of the Natural Resources Defense Council, appearing on the Capitol Pressroom last week. But, "at the end of the day the state agencies are going to be the ones that decide how to regulate," he told host Susan Arbetter.
The law will "call for a process that creates structures where the private market invests in clean technologies," Farmer said.
The law does not mandate any particular strategy for reducing carbon emissions, giving a wide berth to create and enforce new standards, something the new council will take on, followed by key state agencies involved.
The state will transition to 6,000 total megawatts of solar energy by 2025 and 9,000 total megawatts of wind energy by 2035. The state currently has a capacity of 2,000 megawatts of solar energy and nearly 2000 megawatts of wind energy, according to the New York Independent System Operator, which operates the state's electricity grid. In 2018, the entire state had an installed generating capacity of 39,064 megawatts from all fuel sources.
While more renewable forms of energy like wind and solar are thought to be more expensive than fossil fuels, that has proven not to be the case, Farmer said. "The track record is that every forecast of prices for wind and solar has not been ambitious enough," Farmer said on the Capitol Pressroom. "And the prices continue to plummet." Cuomo has repeatedly promised in recent weeks to soon announce a major expansion of the state's wind energy program.
The law will also create a process to ensure at least 35% of investments from clean energy funds are invested in communities most affected by climate change.
Compromise
"This is a compromise bill," Mulgaonkar said, noting that Cuomo did not consider the climate bill a priority for the Legislature until two weeks prior, when legislators and activists continued to push for passage of the Climate and Community Protection Act.
The bill Cuomo signed notably excluded some provisions that activists and some legislators wanted to see, especially those that aim to protect labor and climate-vulnerable communities.
Under the law, polluting industries and companies that cannot directly address all of their carbon emissions will be required to invest in "sound solutions to offset their emissions" elsewhere. However, some environmental advocates worry that requiring companies to invest in efforts to offset their carbon emissions allows them to employ loopholes that disadvantage more vulnerable communities. The environmental justice aspects of the legislation remain a bone of contention.
"All these sources of emissions that we want to curb are disproportionately sited in low-income communities and communities of color," Mulgaonkar said. "It's well-documented; you see higher rates of asthma, cancer, traffic accidents, you name it, from all of these noxious infrastructures."
For neighborhoods most affected by pollution, environmental justice was an integral component of the bill, Mulgaonkar said. Those neighborhoods most at risk, she said, "have been thinking about how to tackle climate change for years now."
Mulgaonkar noted the loss of the "equity provision" of the original CCPA, which would have dedicated 40% of clean energy funds to frontline communities, or those most affected by climate change and pollution. The provision that made it into the final version of the bill, however, is much more vague, fitting Cuomo's vision for the bill -- while the governor had expressed understanding of the calls for environmental justice, he repeatedly said he was wary of requirements for investments in certain places, instead wanting flexibility to choose the best projects to fit the environmental and green economy goals.
"The new NY climate law is not a win for justice. In fact, low income & communities of color got screwed [with] requirements for money into disadvantaged communities and high road labor standards gutted at Cuomo's insistence. Please people: don't act like it's a win when we lost," environmental activist Pete Sikora of New York Communities for Change wrote on Twitter.
While Sikora expressed dismay about elements of the CCPA that were lost or watered down in the CLCPA, some of his fellow activists responded with slightly more hopeful sentiments. Daniela Lapidous of NYRenews responded to Sikora to agree that the CLCPA was not as strong as the CCPA in terms of environmental justice requirements, but that the funding elements were always going to be annual budget battles, and that that would be the next frontier in the "fight," with a "pathway" for strong outcomes.
Stephan Edel, project director for New York Working Families wrote that now, with the CLCPA, "For the first time law mandates equity provisions, spending, oversight by communities, and a reorganization and analysis to ensure environmental and spending benefits are more equitably shared."
"The bill is incomplete but sets up even more wins," Edel added.
The "ambiguous" new provision will make it harder to fund the kinds of projects that communities actually want, Mulgaonkar said. "It comes down to the [dedicated] funding not being there in this version of the bill," she said.
Future
Along with the formation of the Climate Action Council and subsequent steps to implement the new law, the CLCPA will also face the challenge of transitioning workers to a "clean" or "green" economy, as in retraining workers in fossil fuel industries for more environmentally-friendly employment.
"You always hear people claiming that climate bills are going to kill jobs," Mulgaonkar said, but "we're going to continue standing with our labor partners" to protect them.
Despite any perceived or actual shortcomings, the CLCPA still has the potential to unite "workers who need to be transitioned to the new economy, and the front line communities that have dealt with these polluting industries for so long," Mulgaonkar said.
The CLCPA came as the final piece of a wave of climate-related legislation this year in Albany, with newly-powerful Democrats loosening the hold on long-desired bills. This session, the state Legislature passed bills banning plastic bags and toxic chemicals, improving child safety, preventing overfishing, and prohibiting oil and natural gas offshore drilling, among other efforts to curtail climate change.
"This has been the best environmental legislative session in a generation," Peter Iwanowicz, executive director of Environmental Advocates of New York, said in a statement. "Bills that have been environmental priorities for years passed the Legislature after having finally been given thoughtful and thorough consideration by new Senate leadership."